Easy home management for when your life is chaotic and you just can't do it all. Home management tips and plans to help you feel less overwhelmed.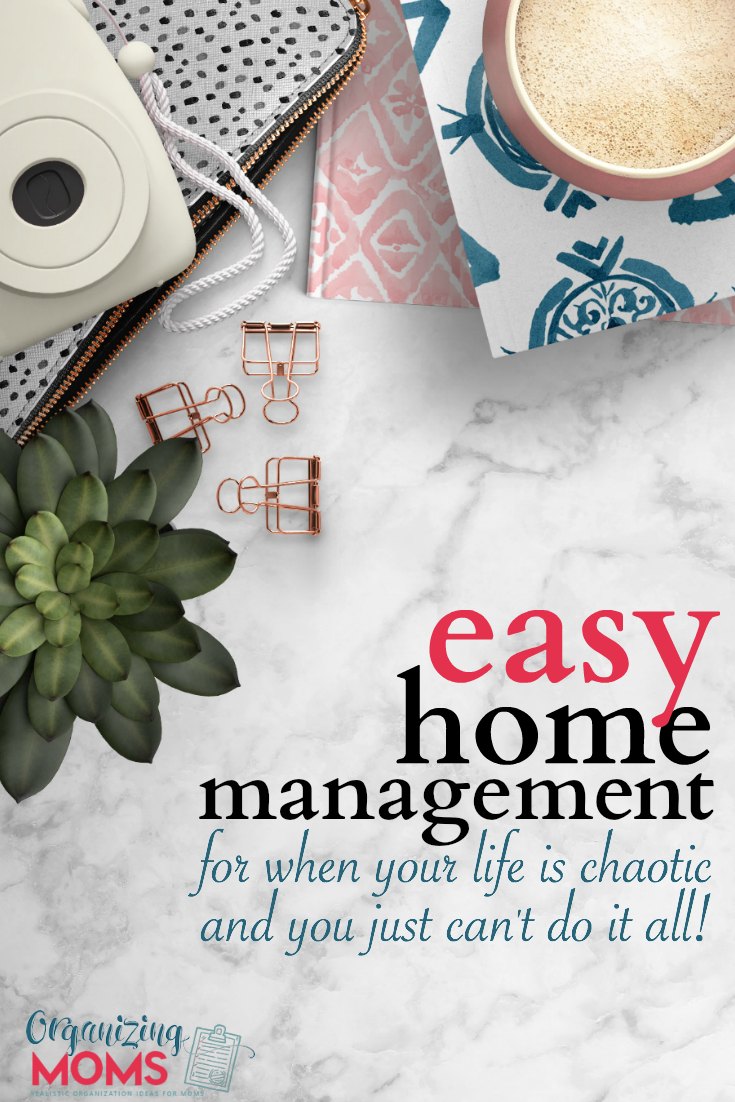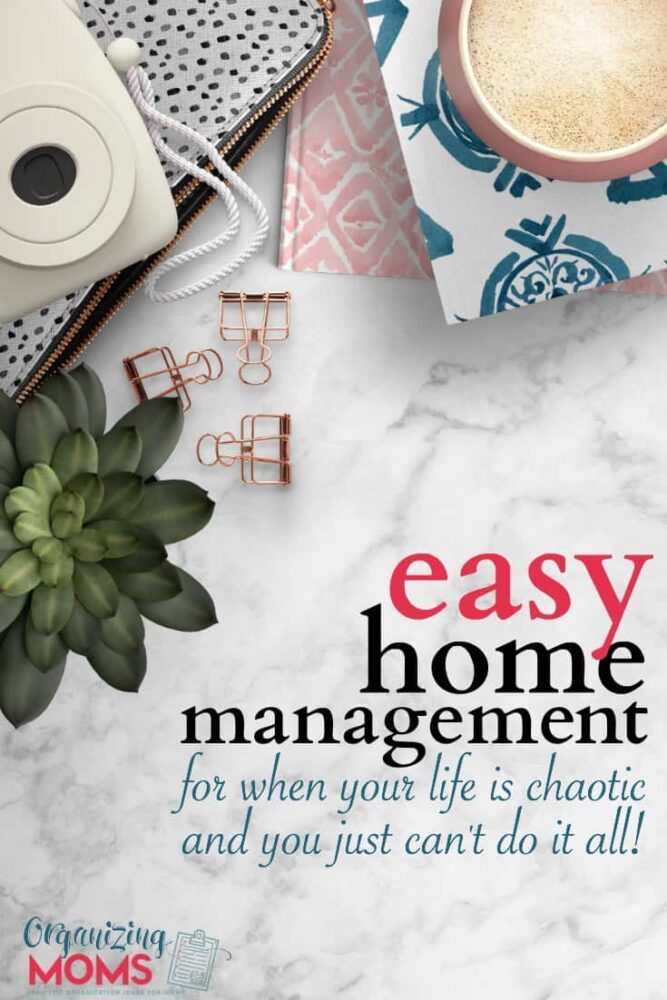 Easy Home Management
Do you feel like life is chaos, and you just can't do it all? You want help, and you need things to be easier ASAP? Need easy home management tips to simplify your life? Here are some home management plans you can create to lighten your load.
Why is home management so overwhelming?
Have you ever thought any of the following?
I have no help, and I have to do it all. It seems like everyone around me has it so much easier.
I have NO time.
I need a maid, or at least, I need my family to help me!
We have way too much stuff going on, and way too much stuff in our house.
I just don't think I can keep up with all of the demands.
Easy home management? Ha! Taking care of my home is just way too complicated.
If you're feeling like you're losing control, you're overwhelmed, or you're frustrated, you're not alone.
Today we have more demands on our time and energy than in generations before us.
We're expected to be organized, have perfect homes, be available to drive everyone everywhere, make delicious, home-cooked meals that everyone loves every day. We're in charge of family activities, scheduling, planning trips, remembering to take the garbage out, monitoring the child-appropriateness of TV shows, and hosting elaborate birthday parties and so much more.
It's exhausting!
The good news is that there are a lot of things we can do to take the pressure off. Some are easier than others, and I recommend starting with the stuff that's easy for you first.
If you're looking for a quick fix, enter your email address in the box below and get a free guide to helping you feel more organized and in-control this week. The read on to get started with a realistic action plan to make home management easier.
A Realistic Action Plan for Easy Home Management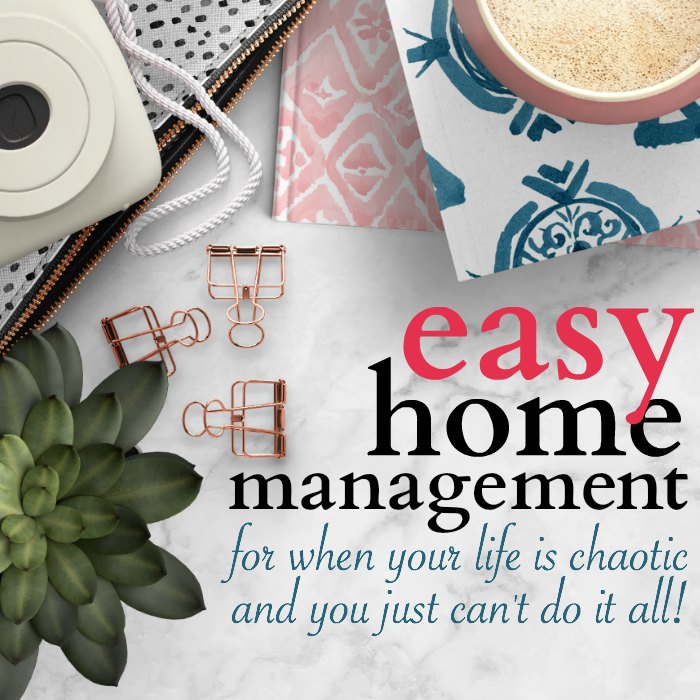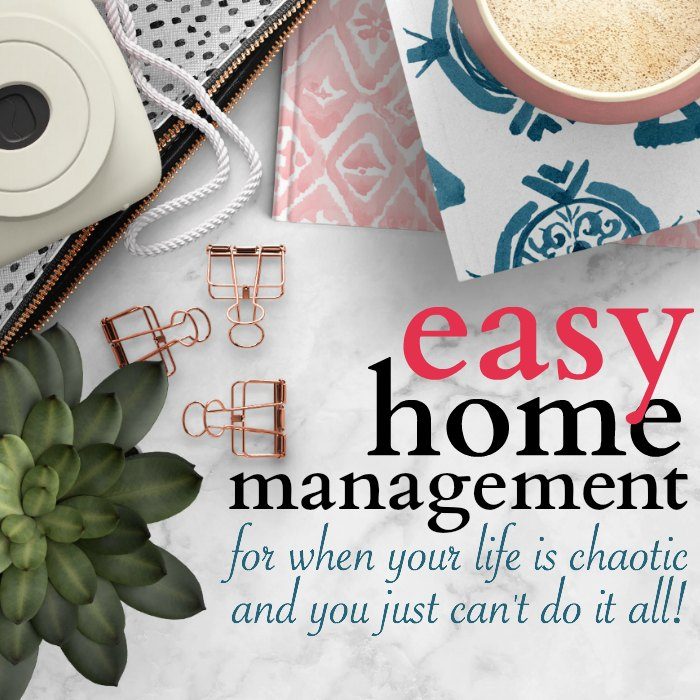 If you've had it, and you're ready to make some changes, here are some things you can do to take the pressure off:
Give yourself a break and cut yourself some slack. We're our own worst critics, and if you keep telling yourself that you're failing, or that you're helpless, you're going to feel worse. I know it sounds a little odd, but if you can tell yourself "I am making changes that will make things easier for myself," everytime you catch yourself thinking negatively, it will keep you moving forward. You ARE doing a lot. Focus on that, and not on the things you can't seem to get to.
Write down all of the things you're doing in a day. You'll be surprised to see just how much you're doing over the course of a day (even if you already know that you're doing a lot). When I first did this, I was shocked and it really helped me get motivated to make some changes.
For now, cut back on (or eliminate) non-essential tasks. Look at your list of all the things you do in a typical day, and start crossing off the things you don't absolutely have to do. Almost all of us can cut back on time spent on social media – it's a sneaky time stealer!
Create an essential routine. And don't forget to include things in it like time for yourself, showering, etc. Go here to learn more about creating an essential routine.
Get your family to help you. Especially the kiddos. Here's a good system for getting your kids to help out. Been there, done that? I love this article about how to get back on track with chores after a break. Sometimes our home management tasks and routines just need a reset.
Slowly set up a home management routine. I recommend easing into a new routine, and doing lots of testing for do-ability before committing to something you'd like to do permanently. Click here to see how you can set up a weekly home management routine that works for you.
Feeling overwhelmed, too busy, and out-of-control is all too common these days. I hope that following the steps above will bring you some peace.
Related: Easy Systems You Need to Use for Home Management
Looking for more easy home management ideas? Check out these tips —>
How Productive Moms Get So Much Done
A Weekly Home Management Routine that Works for You
Tackle Dreaded Tasks with a Power Hour
Simple Household Binder – You can set up a SIMPLE household binder today. It doesn't have to be fancy (even though the internet will tell you otherwise).
The Best Home Management Blogs for Inspiration
How to Make a Practical Home Management Binder
If you've read this far, I hope you'll also check out the video below. It kind of helps put everything in perspective: