Want to create an organization system that's easy to maintain? Organizing with baskets is the smartest way to conquer clutter, have a place for everything, and get organized once and for all.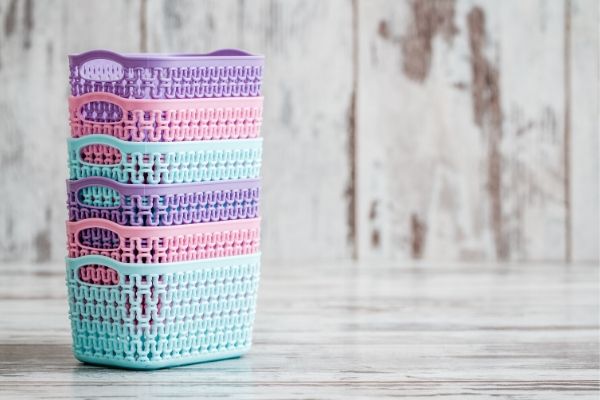 Organizing with Baskets
Using baskets for organization has many advantages over using other types of containers. Here's some benefits of using baskets to organize:
Eliminate visual clutter – When everything is stored away in a basket, you aren't constantly seeing the visual clutter of the contents inside. This creates a calming effect on your space.
Set limits – The size of your basket dictates how much stuff you're able to keep. So, if you have a craft basket that's overflowing with supplies, you know that it's either time to declutter some of the items in your basket, or add an additional basket. Most of the time, a quick declutter will solve the problem!
Make things easier to find – When you organize your belongings into baskets, you'll designate individual baskets for specific uses. This makes everything easier to find, because all of your items will have a designated storage space. Add labels to your baskets, and that will make finding things even easier!
Add beauty – Baskets can easily blend in with your home decor. Many baskets can serve as storage as well as beautiful statement pieces that give your home interior a warm, yet streamlined appearance.
Learn More About Organizing with Baskets
Looking for a specific idea or solution? Use the links below to jump to the category you need.
The Best Type of Basket for Organization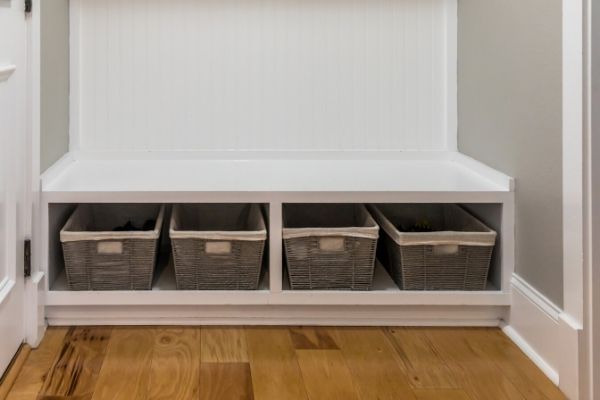 Have you ever wondered which types of bins, baskets, or boxes are the best for organizing stuff?
Of course, I think using pretty baskets is the best, but the type of basket you choose is also important.
I've been watching people get organized for years now, and I'm always trying to improve our own home organization as our family grows and goes through different seasons of life.
But recently, I realized something kind of amazing (yet so simple!) that kind of blew me away.
People tend to PROPERLY use bins/baskets/containers WITHOUT lids much more than containers that do have lids.
I've even noticed this in myself – if I can easily toss something into a basket, I'll do it.
But if I have to detach a lid to put something inside, often I'll just stick the item on top of the bin and promise myself that I'll put it away later.
And I think we all know that later almost never comes. At least not until I have had it with the mess and decide to do yet another big tidy.
Of course, there are situations where you really need lids. Like, in your garage, or in an area where you're stacking bins on top of each other.
But, if you notice that you tend to put items on top of bins instead of just putting them inside the bin itself, try just taking the lid off the bin for a while and see how it goes!
If you decide that using containers without lids is much better for you, you might want to consider investing in baskets for organization and storage.
Related: How to Make a Room Look Less Cluttered
Use Baskets to Organize Your Bathroom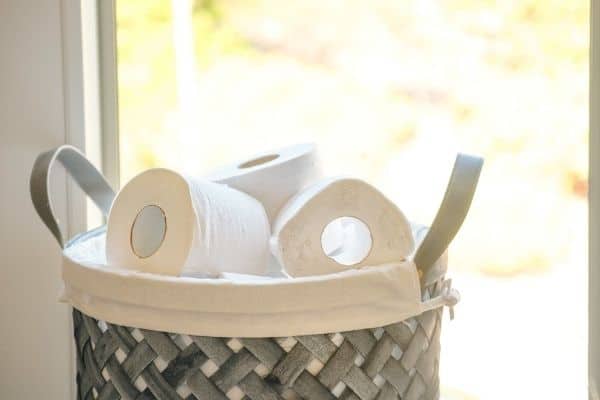 Baskets are a great way to organize a small bathroom.
They can be used to store toilet paper, towels, and other small items.
Baskets can also be hung on the wall to save space.
When choosing baskets for your bathroom, make sure to choose ones that are waterproof and easy to clean.
Closets Organized with Baskets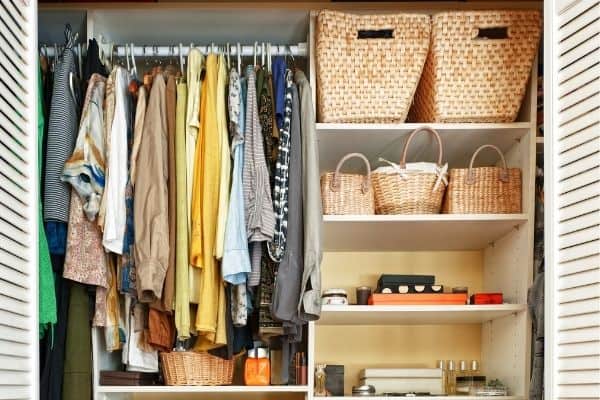 If your closet is in dire need of organization, baskets can be a lifesaver.
They come in all shapes and sizes, so you can find ones that perfectly fit your space.
Plus, they can be used to store everything from clothes to gloves to jewelry.
To get started, simply sort through your closet and divide items into categories.
Then, find baskets that will accommodate those items.
For example, you might put all of your winter clothes in one basket, while things like jeans and tee shirts could go in another. Once everything has its own place, you'll be able to find what you need quickly and easily.
Pantry Organization Using Baskets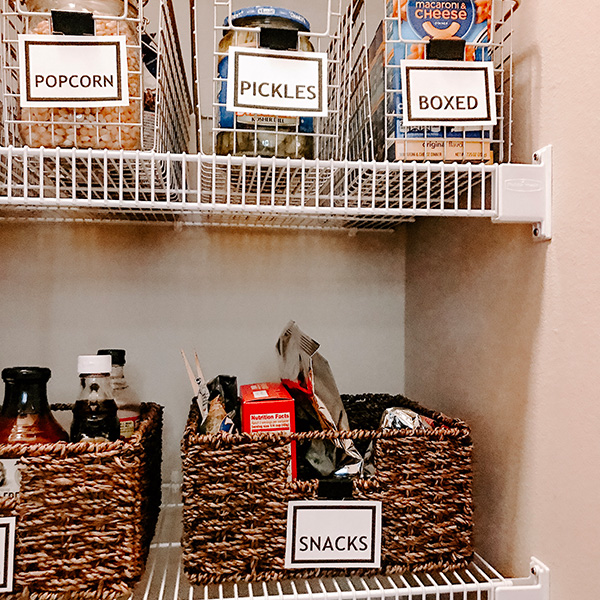 Baskets can be great pantry organization tools.
They can help to keep everything tidy and in its place.
They come in all shapes and sizes, so you can find baskets that fit your specific needs.
Wicker baskets are especially popular for organizing pantries because they have a natural look that goes well with most kitchen decors.
You can use baskets to store anything from spices and canned goods to snacks and cereals.
If you have limited space, baskets can help you make the most of your pantry shelf.
Small baskets can be used to store individual items, while larger baskets can be used to hold multiple items or bulkier items.
Linen Closet Organization with Baskets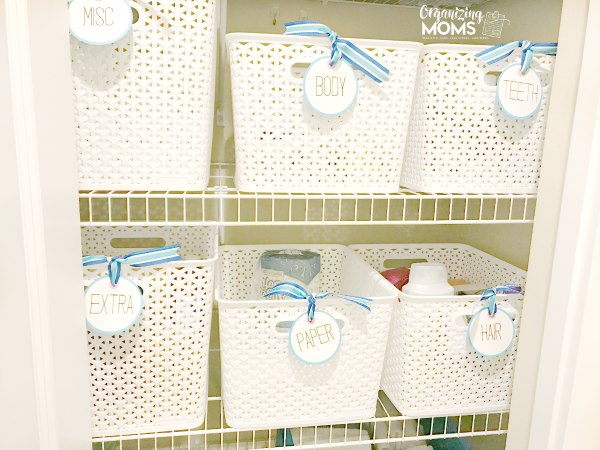 A linen closet can be a catch-all for towels, sheets, and other household items. basket organization can help to create some order out of the chaos.
Start by sorting items into categories, such as towels, bedding, and miscellaneous items.
Then, choose baskets that will fit easily on shelves or in a drawer.
Once the baskets are in place, label them so that everyone in the household knows where to find what they need.
This system is not only functional, but it can also be aesthetically pleasing.
Baskets come in a variety of colors and materials, so you can easily find one that fits your personal style.
With a little bit of effort, baskets can turn a cluttered linen closet into an organized oasis.
Laundry Room Organizing with Baskets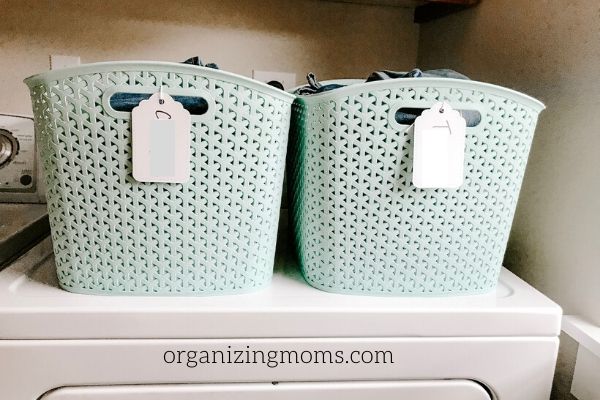 Any laundry room, no matter how small, can benefit from a little organization.
Baskets are a great way to achieve this, as they can be used to store laundry essentials such as laundry detergent, fabric softener, and dryer sheets.
A smaller laundry basket can be used to store laundry detergent, dryer sheets, and other laundry supplies.
Of course, a cute laundry hamper is great for sorting dirty laundry into whites, darks, and lights. But they can also double as a storage bin and be used to store out-of-season clothing if you have the extra space in your laundry room
And if you have a lot of laundry-related items, consider hanging a few hooks on the wall to keep baskets off the ground. You can hang the basket handles on the hooks to create extra storage space.
Wire Basket Storage Ideas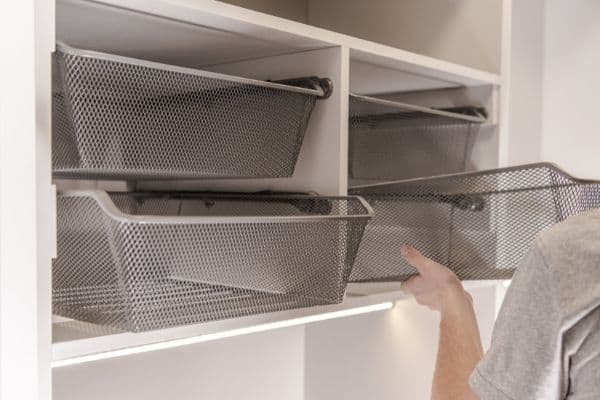 There are many different ways to use wire baskets for storage.
They come in various sizes, so you can find the perfect fit for your needs.
You can use them to store everything from clothes and linens to books and toys.
Wire baskets are also great for organizing your pantry or kitchen cabinets.
They allow you to see everything at a glance, so you can easily find what you're looking for.
And because they're made of wire, they're easy to clean and won't collect dust like other storage options.
Baskets for Storage in the Living Room
A large basket can be a helpful way to organize a living room.
It can be used to store pillows, extra blankets, and other items that are often used in the living room.
By keeping these items in a basket, they will be out of the way but still within easy reach.
A basket can also be placed on the coffee table or sofa as a "catch-all" for smaller items like remotes and batteries.
Throw blankets can be stored in a large basket next to the sofa, and pillows can be kept in a basket near the armchair.
By using baskets to organize the family room, it will be easier to keep the space tidy and clutter-free.
Organizing Playrooms with Baskets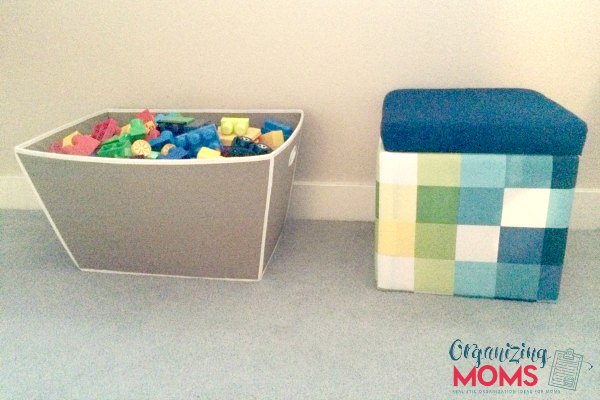 When it comes to kids and organization, baskets are your best friend.
They're great for storing all those little toys that seem to multiply overnight, and they can help to keep the playroom looking tidy.
Label the baskets, and make sure to put them in a place where kids can reach them easily.
For larger items like board games and puzzles, use bigger baskets or even storage bins.
You can also assign each child a specific cubby for their belongings.
Then, when it's time to clean up, everything has a place to go.
Baskets are also great for organizing art supplies, dress-up clothes, and other playroom essentials.
Baskets for Kitchen Storage
Baskets are perfect for kitchen organization.
They can be used to store items on a counter, on high shelves, and even on top of your fridge.
If you need easy access to items you want to store in hard-to-reach spaces, baskets with handles can make it easier to pull out what you need.
Baskets are also handy for storing items under kitchen sinks and in the refrigerator.
When choosing baskets for the kitchen, look for ones that are sturdy and easy to clean.
Also, make sure that the baskets you select will fit in the space you have available.
With a little planning, baskets can help you keep your kitchen organized and clutter-free.
Dollar Store Baskets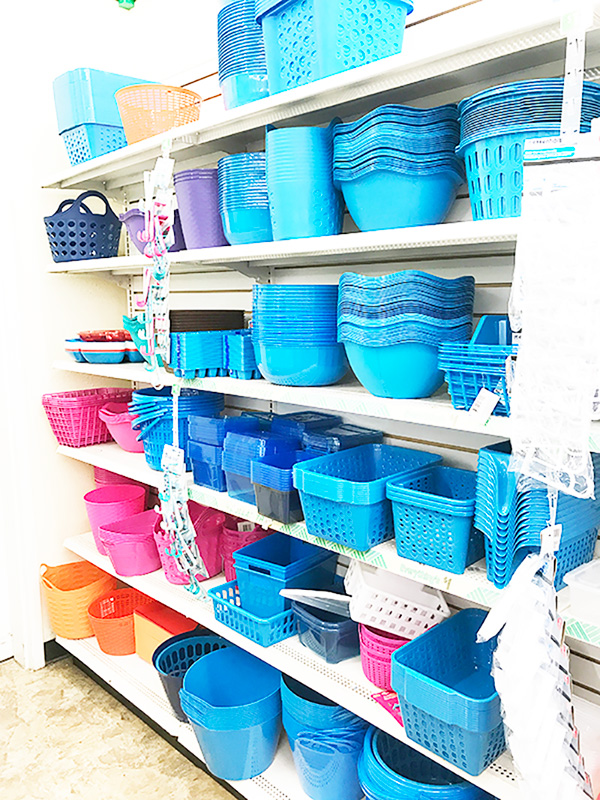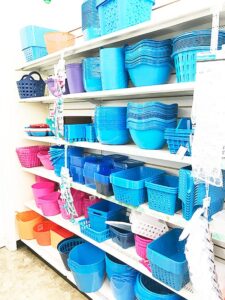 One of the most economical ways to get organized is to use dollar store baskets.
They are perfect for holding everything from yarn and fabric scraps to holiday decor and extra light bulbs.
They usually come in smaller sizes, which is helpful if you have a lot of tiny items to corral.
If you're short on storage space, dollar store baskets are also a great way to organize your basement or garage.
Label each basket with its contents, and then stack them on shelves or in bins.
You can even use baskets to organize your freezer – just make sure to label them clearly so you know what's inside.
Baskets for Storage in Your Home Office
Have a home office, but don't know how to keep it organized? Baskets can be a big help!
First, take an inventory of what you need to store in your home office.
Do you have a lot of paperwork?
Are you constantly misplacing your stapler or tape dispenser? Do you need a place to store extra printer paper?
Once you know what you need to store, you can start shopping for baskets.
Look for baskets that are the right size and shape for the items you need to store.
You may also want to find baskets with lids, so you can keep dust and debris out of your home office.
Finally, make sure to label each basket clearly, so you can always find what you're looking for.
Basket Organization Ideas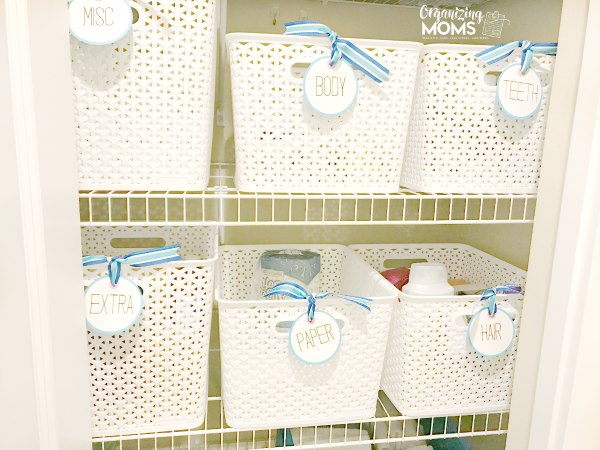 There are hundreds of ways you can clear clutter and get organized using baskets. Here are some ideas and organizing solutions that use baskets:
Favorite Baskets for Organizing Projects
Here are some beautiful baskets you can find online that will help you get organized and beautify your space:

This post contains affiliate links. I may receive a commission, at no cost to you, when you choose to use the links provided. See the Disclosure Policy for more information.
This is great for storing toys, or even extra blankets and throws in the family room.
Perfect for storing extra linens, craft supplies, or toys.
These farmhouse-style baskets are great for storing items you don't mind showing off! Great for pantry storage or beautiful linens.
Baskets with Attached Lift-Up Lids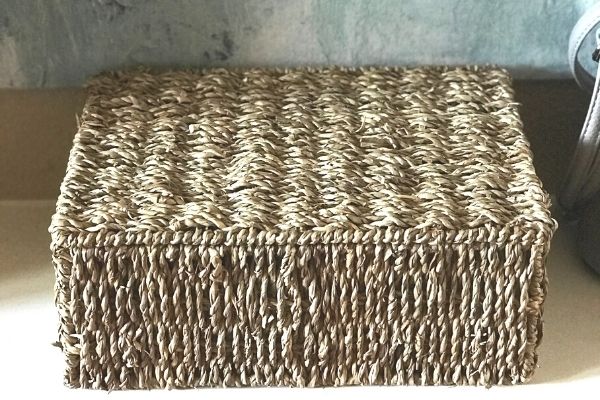 Normally I recommend using baskets without lids to make them easier to use.
But there's one exception to this rule.
A basket with an attached lid is perfect for holding keys, sunglasses, and other items in your entryway!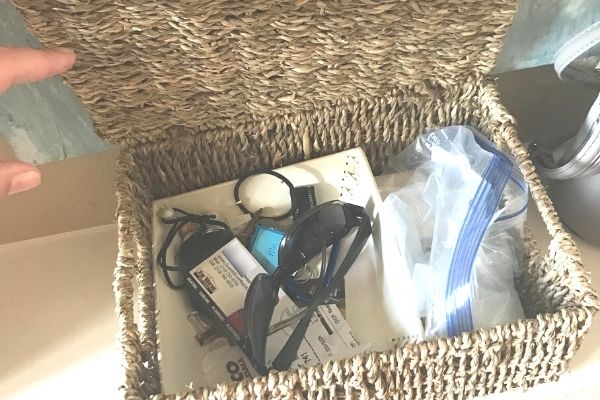 We keep a lot of necessities on a nook shelf that we pass by on our way out of the house.
It's the perfect place to store them, but having them out in the open creates an eyesore.
We bought a set of baskets with attached lids, and they've been the perfect storage solution for those odds and ends like our extra keys, fobs, and even our community pool pass in a plastic baggie.
We have a similar basket right next to our doorway that holds clean masks that we can grab before we head out.
Baskets with lids are good for concealing things you want to have handy, but don't want to have to look at all the time!
Go here to find a basket with a lid on Amazon.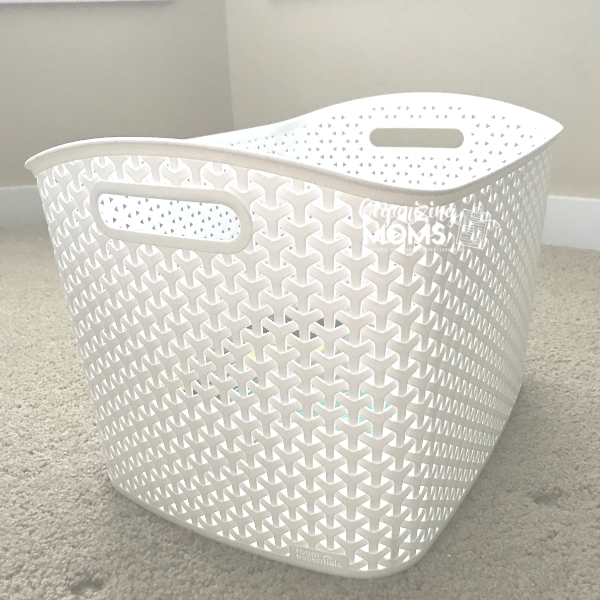 White Storage Baskets – These plastic baskets are beautiful, durable, and washable. Perfect for storing anything that might leak, or get messy!