Want to create an organization system that's easy to maintain? Organizing with baskets is the smartest way to conquer clutter, have a place for everything, and get organized once and for all.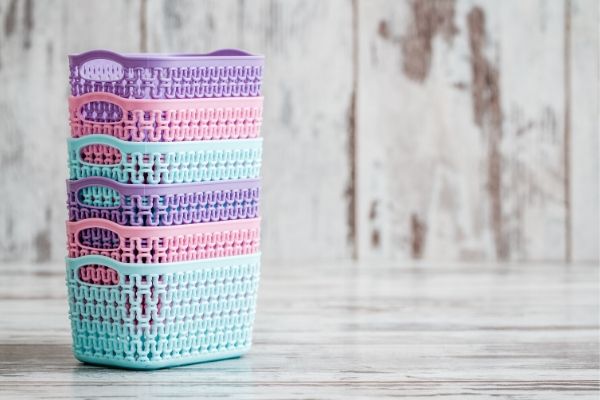 Organizing with Baskets
Using baskets for organization has many advantages over using other types of containers. Here's some benefits of using baskets to organize:
Eliminate visual clutter – When everything is stored away in a basket, you aren't constantly seeing the visual clutter of the contents inside. This creates a calming effect on your space.
Set limits – The size of your basket dictates how much stuff you're able to keep. So, if you have a craft basket that's overflowing with supplies, you know that it's either time to declutter some of the items in your basket, or add an additional basket. Most of the time, a quick declutter will solve the problem!
Make things easier to find – When you organize your belongings into baskets, you'll designate individual baskets for specific uses. This makes everything easier to find, because all of your items will have a designated storage space. Add labels to your baskets, and that will make finding things even easier!
Add beauty – Baskets can easily blend in with your home decor. Many baskets can serve as storage as well as beautiful statement pieces that give your home interior a warm, yet streamlined appearance.
Learn More About Organizing with Baskets
The Best Type of Basket for Organization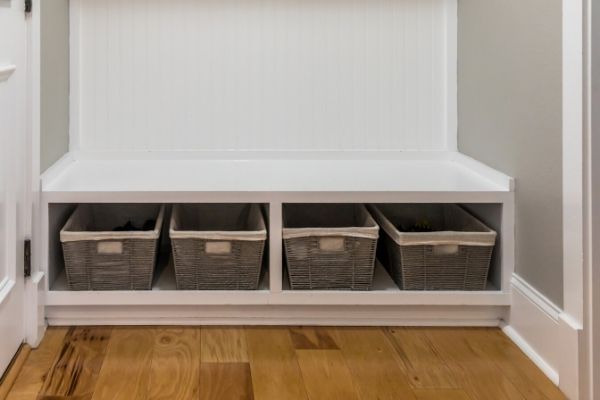 Have you ever wondered which types of bins, baskets, or boxes are the best for organizing stuff?
Of course, I think using pretty baskets is the best, but the type of basket you choose is also important.
I've been watching people get organized for years now, and I'm always trying to improve our own home organization as our family grows and goes through different seasons of life.
But recently, I realized something kind of amazing (yet so simple!) that kind of blew me away.
People tend to PROPERLY use bins/baskets/containers WITHOUT lids much more than containers that do have lids.
I've even noticed this in myself – if I can easily toss something into a basket, I'll do it.
But if I have to detach a lid to put something inside, often I'll just stick the item on top of the bin and promise myself that I'll put it away later.
And I think we all know that later almost never comes. At least not until I have had it with the mess and decide to do yet another big tidy.
Of course, there are situations where you really need lids. Like, in your garage, or in an area where you're stacking bins on top of each other.
But, if you notice that you tend to put items on top of bins instead of just putting them inside the bin itself, try just taking the lid off the bin for a while and see how it goes!
If you decide that using containers without lids is much better for you, you might want to consider investing in baskets for organization and storage.
Related: How to Make a Room Look Less Cluttered
Basket Organization Ideas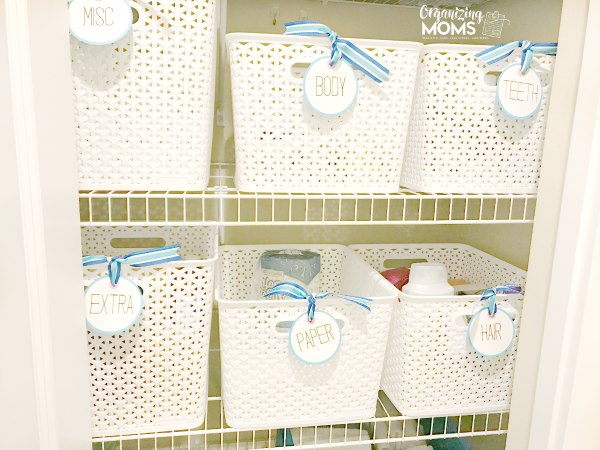 There are hundreds of ways you can clear clutter and get organized using baskets. Here are some ideas and organizing solutions that use baskets:
Favorite Baskets for Organizing Projects
Here are some beautiful baskets you can find online that will help you get organized and beautify your space:

This post contains affiliate links. I may receive a commission, at no cost to you, when you choose to use the links provided. See the Disclosure Policy for more information.
This is great for storing toys, or even extra blankets and throws in the family room.
Perfect for storing extra linens, craft supplies, or toys.
These farmhouse-style baskets are great for storing items you don't mind showing off! Great for pantry storage or beautiful linens.
Baskets with Attached Lift-Up Lids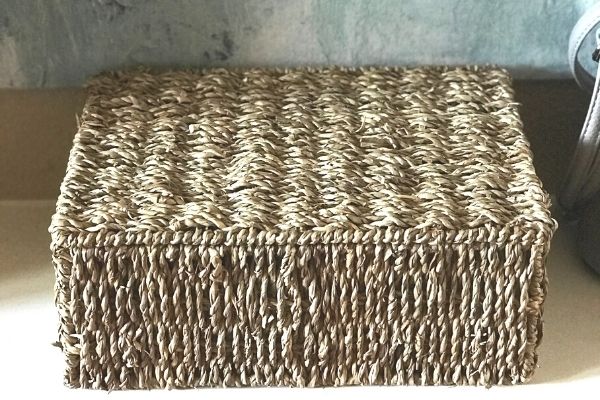 Normally I recommend using baskets without lids to make them easier to use.
But there's one exception to this rule.
A basket with an attached lid is perfect for holding keys, sunglasses, and other items in your entryway!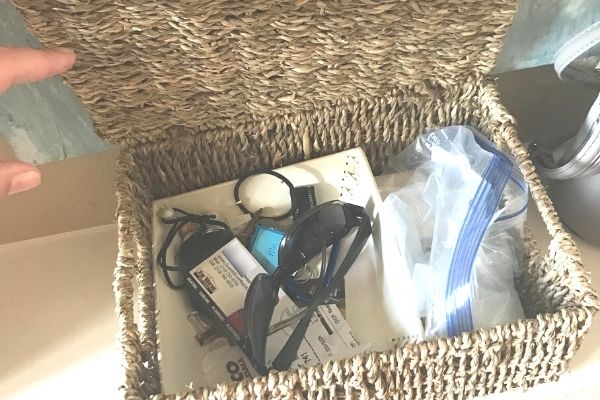 We keep a lot of necessities on a nook shelf that we pass by on our way out of the house.
It's the perfect place to store them, but having them out in the open creates an eyesore.
We bought a set of baskets with attached lids, and they've been the perfect storage solution for those odds and ends like our extra keys, fobs, and even our community pool pass in a plastic baggie.
We have a similar basket right next to our doorway that holds clean masks that we can grab before we head out.
Baskets with lids are good for concealing things you want to have handy, but don't want to have to look at all the time!
Go here to find a basket with a lid on Amazon.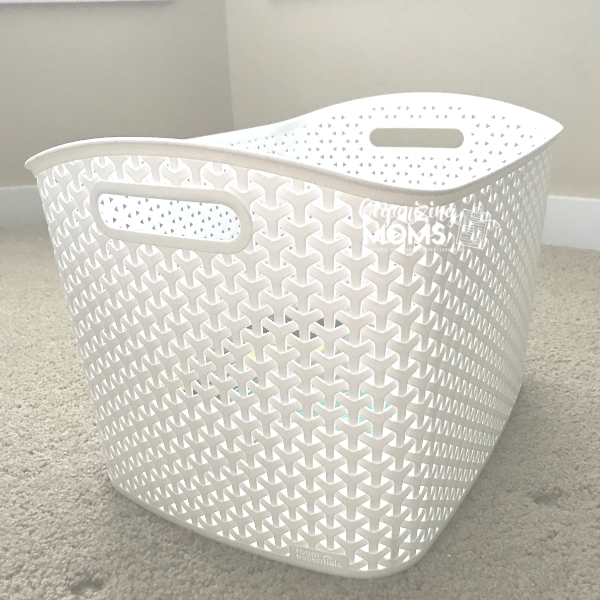 White Storage Baskets – These plastic baskets are beautiful, durable, and washable. Perfect for storing anything that might leak, or get messy!