How to create good routines that will actually work for you & your family. Step-by-step instructions for how to build routines that make your life easier.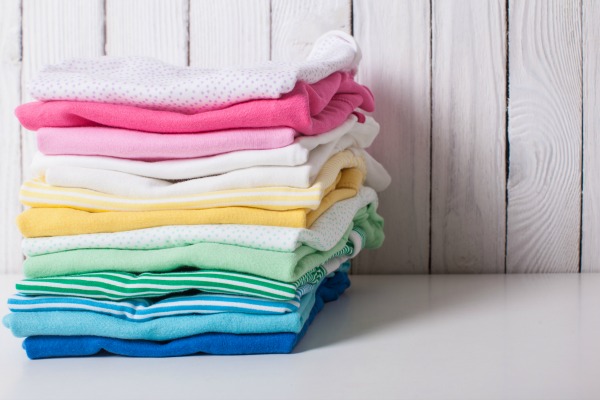 Routines
A good routine can make all the difference when you're learning how to organize your home.
That's what we hear all the time, but how in the world are we supposed to figure out what routines will work for us?
You've probably tried out a few routines here and there. Some of them stick, and some of them don't.
What's up with that?
Why Some Routines Just Don't Work for You
There are lots of reasons why some routines don't work. Here are the big ones:
They're not appropriate for your family in some way (size, age, temperament, enthusiasm for the routine, etc.)
Too many steps. No one has time for that.
Too difficult. Or too awful. When you think of having to do the same routine for the rest of your life and you're filled with dread, it's not going to stick. Especially if it's something you don't HAVE to do.
Not totally needed. Maybe you've set up an aspirational routine. You want to make fresh bread every single Monday. That's great, but it's a lot of work, and it's much easier to just buy bread at the store.
What Types of Routines Will Stick
There are certain routines that will stick. Here are some of the characteristics of effective routines:
They're easy to follow.
They have "triggers" that remind you to complete them. For example, every time go grocery shopping, you pop in to the library afterwards to return books and check out new ones.
They make your life easier and/or better.
You're able to stick with them long enough to make them automatic. And then, they're so easy that you don't even have to think about them!
They solve a problem.
You Need a Good Routine
You've probably stumbled on to this page because you NEED a routine for something. Maybe it's a bedtime routine for your kids. Maybe it's a laundry routine. Whatever it is, you've identified a problem, and you are looking for a routine to solve it.
Now comes the "fun" part, and the tough love…
If you really want to solve the problem you have with a routine, you're probably going to have to try a bunch of different ideas.
If you stumble on something great at first, that's wonderful.
But realistically, you will probably have to do some tweaking to a routine to make it a really GOOD one that you and your family will want to stick to.
It's worth the time it takes to work out the kinks!
Related: 33 Smart Morning Routine Ideas That'll Make Your Days Better
Plan It Out
Think of how you'd like your perfect routine to work. What needs to be included in the routine to solve the problems you've been experiencing. Then, start charting things out:
Make a list of EVERYTHING you'd like to do as part of the routine.
After you have your everything list, estimate how much time each task on the list will take.
Add up all of the time you'd spend on the routine. If you're like most people, the routine you had in mind is going to take way too long! That's okay…
Eliminate non-essential tasks from the list. Be brutal in this one. You can always add in the extras later if you feel you need them.
Start testing your routine. Stick with it for a few days, and make changes as you work through it.
Once you have a workable routine down, stick with it for at least 21 days. They say that's how long it takes to make a routine a habit that you don't have to think about.
Allow yourself the flexibility to change. If something's not working, don't throw in the towel. Brainstorm ways to make the routine work better for you.
Related: How to Make a Simple Chore Chart for Kids
How to Get Ideas for Great Routines
You may have a good routine going, but still feel like there's something missing. Maybe there's a tweak you could make to make everything WAY easier.
How do you figure out what will work for you?
Talk to other people in your situation. I've gotten great ideas just by talking to moms in the pickup line at school. Neighbors, parents at the playground, and people at church are all great sources of intel!
Join the Organizing Moms Community on Facebook. Once you're in, ask the group for ideas! The group is a great way to get ideas from other moms who might have a totally different perspective.
Check out the ideas about Routines and Habits on Organizing Moms. I'll leave a list of links below.
With some planning, tweaking, and flexibility, you can create a good routine that works for you and your family!
Related: Easy-to-Use Chore Chart Ideas for Kids
Ideas for Routines and Habits
Morning and Evening Routines for the School Year
How to Put Home Maintenance on Autopilot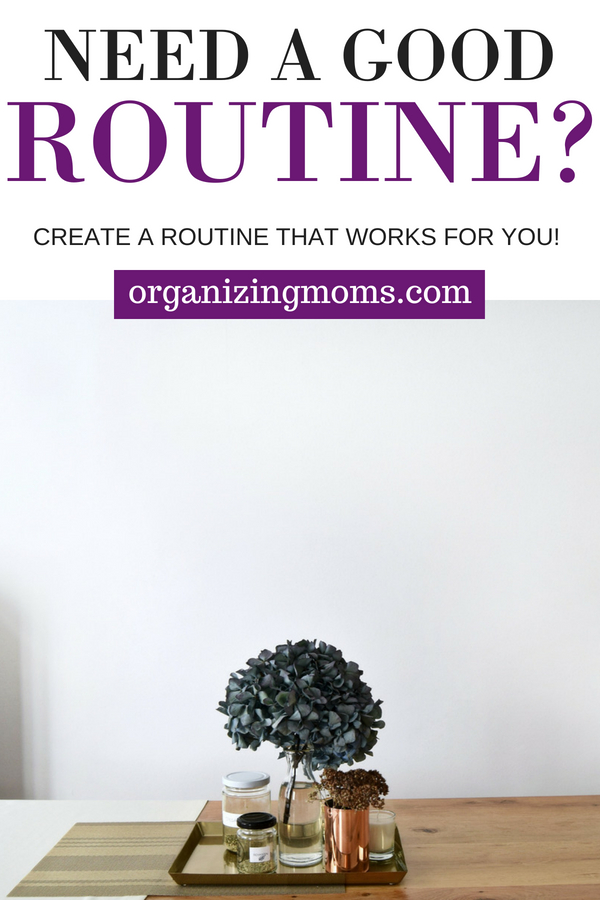 New to Organizing Moms? Start here, friend!