Get more clarity on your to-do list with this next actions list template. Create better next action steps, and organize your tasks by context to improve your time management.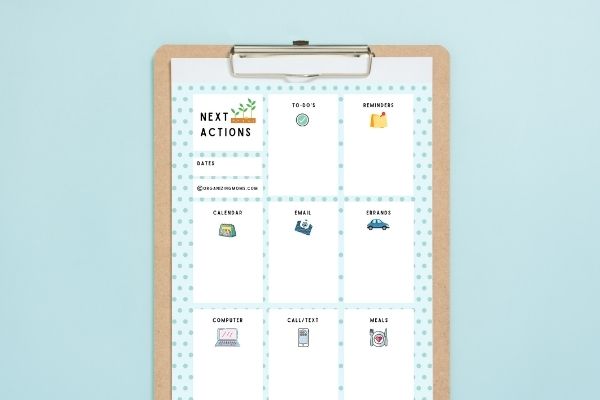 Next Actions List Template
Are you tired of feeling like you never make progress on your never-ending to-do list?
Using a context-based next actions list in place of a to-do list can help you prioritize your most important tasks, and make the most of your time every week.
In this article you'll learn more about next actions lists, and you can download a free next actions list template that's perfect for organizing your to-do list.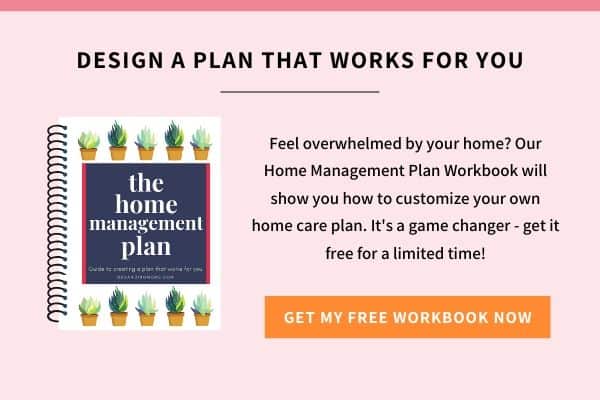 What Is a Next Actions List?
The Next Actions list was popularized by David Allen in his book Getting Things Done.
It's designed to help you keep moving forward with projects, and stave off procrastination by simplifying our tasks.
Normally when we make our to-do lists, we write down things like:
sign kids up for camp
fix roof
get new shoes
Those seem like simple tasks, but when you glance at your to-do list and see them, you realize that they're actually big projects that will involve a lot of steps.
A next actions list breaks down those steps and helps you focus on the next action you need to perform to keep that project moving forward.
Next Action List Example
If we convert our to-do list example from above to a next actions list, the tasks are the next things you'd need to do to keep those projects moving forward. Here's what it would look like:
download registration form from camp website
text neighbor to find out who they used for roof repair
search online to find location of store that sells the shoes I like
As you can see, the next actions list is more specific, and much less daunting than the to-do list example.
By breaking down our tasks into next actions, you won't feel as overwhelmed by your to-do list.
You may even be more motivated to take action, because the next action steps are easy to check off your list!
Next Actions by Context
Once you've converted your to-do list to a next actions list, increase your productivity even further by grouping your next actions by context.
So, if you have a lot of things you need to do on your computer, you'll put those tasks on a next actions list for when you're on your computer.
Have a few calls to make? Put them on a next actions list for calls.
Your context areas will vary depending on what types of tasks you typically handle.
Here are some common next actions categories:
Calendar (things to add to your calendar – checking on dates, etc.)
Calls/Texts
Computer
Errands
Emails
As you begin to translate your to-dos into next actions, you'll see ways you can group similar tasks together.
Once your next actions are grouped by context, you can complete many tasks in one sitting without having to jump from one "context" to another.
For example, if I'm at my computer, and I have an extra 5 minutes, I can complete a few of my computer next actions.
If you dread making phone calls, you can get them all done in one sitting by working through your calls next actions list.
Using a context-based next actions list helps you make the most of little pockets of time, and it saves you from having to switch from one context to another to get things done. It makes you much more efficient!
Related: How to Make the Most of Little Chunks of Time
Next Actions List Template Download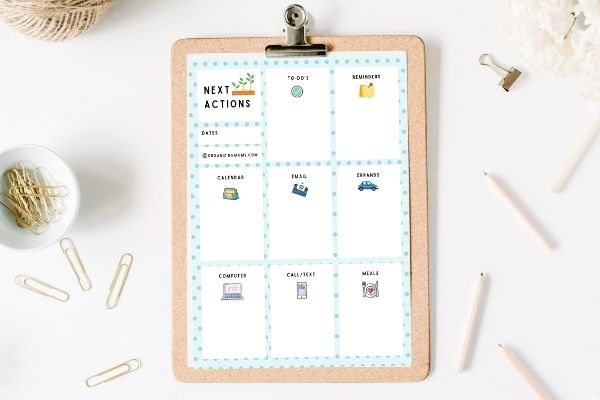 Once you're ready to start using a next actions list, you can download this freebie next actions template to help you get started.
It helps you organize your next actions by context.
Go here to get the free download.
How Often Should I Start a New Next Action List?
Each week, you should start a new next actions list as part of your weekly review.
But if you want to start a new list more frequently, that's great!
Make the system work for you – you get to decide!
You can take your next actions list template, and get it laminated. That way you can use a dry-erase marker, and use the same next actions list over and over.
Related: Changes you'll notice when you start to plan your weeks
What Should I Do With Tasks That Weren't Completed?
If something doesn't get done, carry it over to the next week's list.
But if there's a certain task that gets put off week after week, evaluate why that's happening:
Is it a task you could eliminate?
Is it too complicated? Can you break it down into even smaller tasks to make it more manageable?
Can you attach a reward to it?
I dread calling customer service for cable and insurance companies. When I know I'm going to be on hold for a while, I usually get myself a snack or treat to enjoy while I'm waiting.
Sometimes giving yourself a reward for doing dreaded tasks can help you move forward.
Related: Take Care of Your Nagging Tasks with a Power Hour
More Productivity Ideas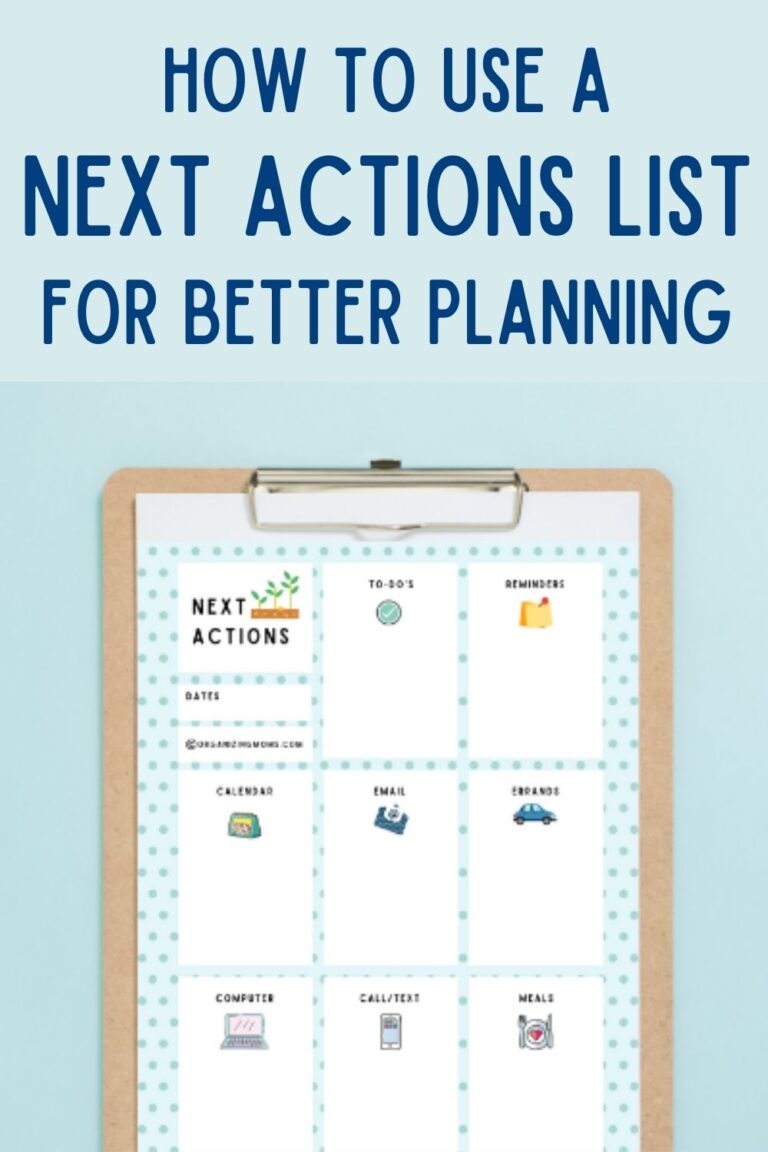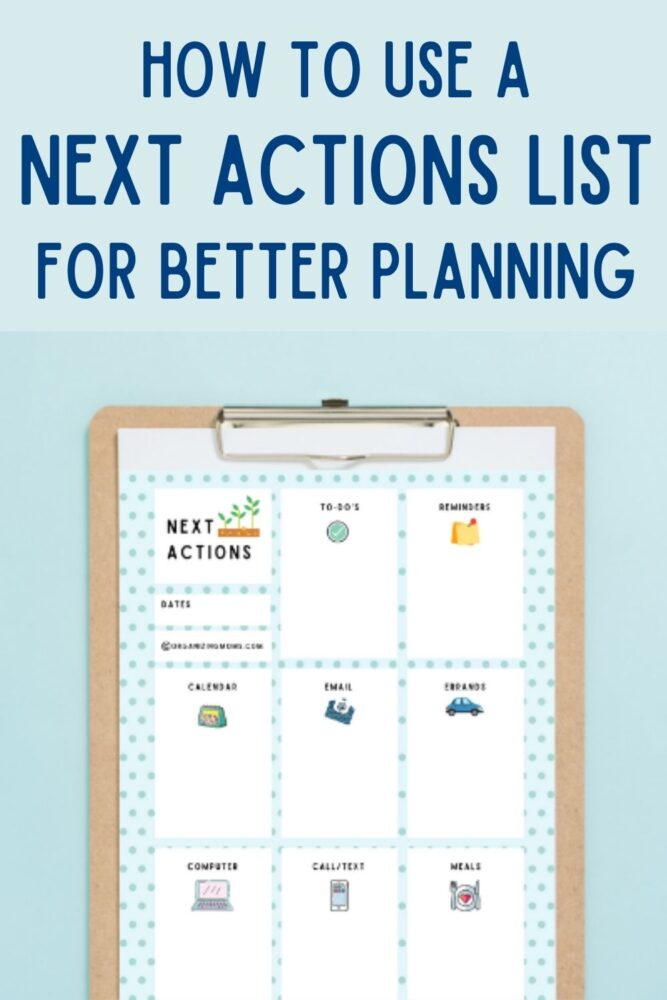 New to this community? Start here, friend!