How to plan your week for maximum productivity. How to effectively plan your week based on your goals, responsibilities, and lifestyle. Time management tips for weekly planning.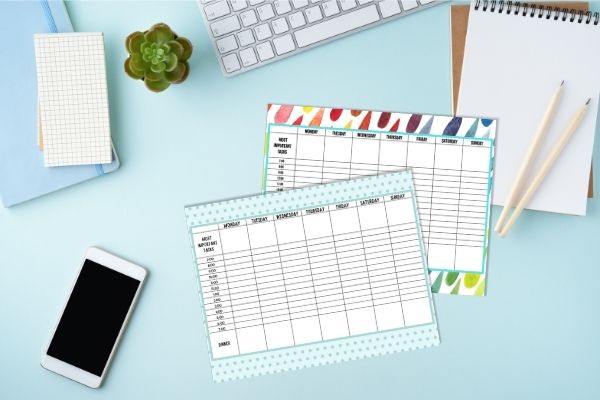 How to Plan Your Week
Planning out your week helps you be more productive, and saves you time.
Weekly planning helps you manage your daily to-do's, while also focusing on your long-term goals.
I started weekly planning years ago after reading Getting Things Done by David Allen. Over time I've modified my weekly planning system to meet my needs as a mom and a business owner.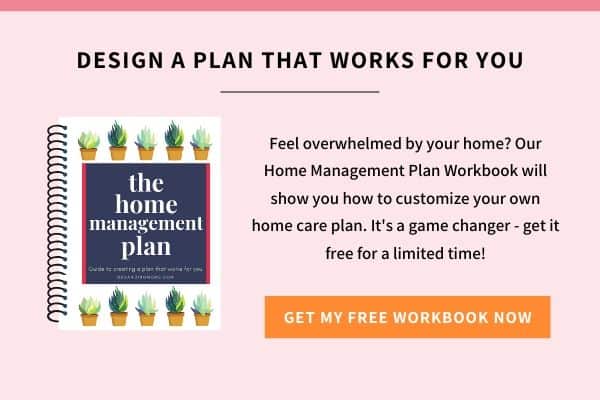 Today I want to share with you how I plan my week. I hope it gives you some ideas for implementing your own weekly planning routine.
Importance of Weekly Planning
Planning your week can seem like overkill at first. Especially if you're already in the habit of daily planning.
But taking the time to schedule your week helps you plan intentionally. Stepping back and taking a look at the big picture for the week helps you find opportunities, and make time to work on specific goals.
Having a mental picture of what your week will look like helps you make better decisions about how to use your time in the moment.
If you know you have days full of meetings at the end of the week, you can front-load your schedule at the beginning of the week so you can complete your most important tasks.
When planning out your week, you can block off time to work on specific projects, and rest assured that you also have time scheduled to work on daily tasks and whatever "urgent" matters come up.
How to Effectively Plan Your Week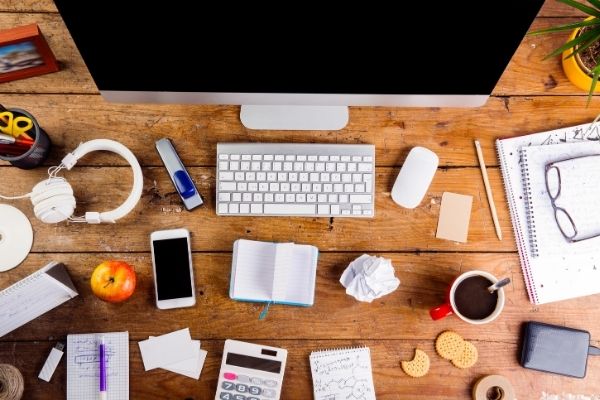 Before you plan your week, gather together all of your calendars, appointment books, important papers, to-do lists, and reminders.
If you have a weekly schedule planner, make sure you have that handy as well.
How to Plan Your Week: Step-by-Step
Create a Weekly Schedule
Before you begin planning your week, consider giving each day a specific theme based on your bigger goals.
For example, if you want to organize your photos, you can set aside one day each week where you know you'll schedule time to work on that specific project.
If you run a business, you can set aside certain days to spend time working on product creation, financials, or business operations.
Have a goal that you need to work towards every day? Schedule a time each day for it.
So, if you're planning on running a 5k, plan your runs ahead of time. If possible, run at the same time each day.
Reserve specific days for certain types of activities, or recurring events.
Related: Changes You'll Notice When You Start to Plan Your Weeks
Weekly Schedule Planner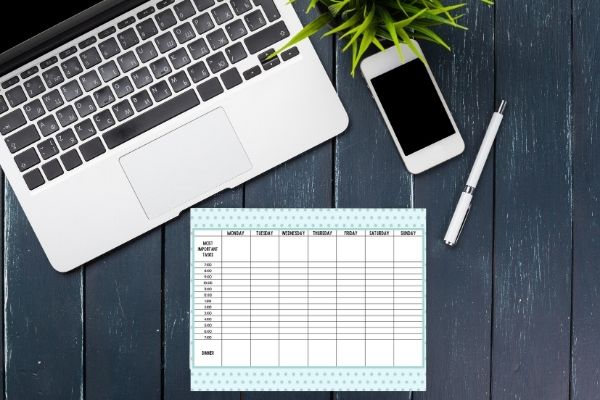 Once you've determined your weekly schedule, use a weekly schedule planner to draw out your week on paper.
Even if you use a digital calendar, taking the time to actually draw out your schedule on paper gives you a better understanding of how you'll be using your time in the upcoming week.
I highly recommend taking the time to plan out your week on paper, at least for the first few times you do a weekly planning session. There's something about putting pen to paper that helps you to internalize your weekly schedule, and make more realistic plans.
Draw time blocks for working on your goals. If you have specific themes for each day, block time for working on them.
Include daily recurring tasks, commuting time, etc.
Add in appointments, kids' activities, and meetings.
Set aside blocks of time to work on specific projects as needed.
Related: How Productive Moms Use Time Blocking
Process Your Inbox
Once you've drawn out your basic schedule for the week, it's time to process your inbox and make a list of any items you need to take care of this week.
Don't forget to check your email and text messages for items you'll need to include in your weekly schedule.
Don't have an inbox? For this step, brainstorm all of the to-do's you need to take care of in the upcoming week. Later, set up a basic inbox to capture all of your ideas, paperwork, and next actions.
Context-Based Next Actions List
Once you've processed through your inbox, put your to-do's on a context-based next actions list.
When you have bits of time during the week, you can grab your list, and work on similar tasks all at once.
For example, if you have 20 minutes before you need to pick up your kids from baseball practice, you can glance at your next actions list and make the calls on your list all at once.
Using a context-based next actions list helps you be more efficient with your time, and saves you from having to remember your important to-do's for the week.
If you have a lot of tasks on your next actions list, add a block of time to your weekly schedule to take care of the items on your list.
Grab the free printable next actions template in this article.
Review Your Goals
Once you've drawn out your weekly schedule, check it to make sure you have time allocated to working on your goals.
Even if you can fit in ten minutes to work on the things that are important to you, that will keep you moving forward.
If you need to, move things around to make your schedule work well for you.
Adjust Your Weekly Plan as Needed
When it comes to weekly planning, it's rare when your schedule actually works out exactly as you planned it.
And that's okay!
There will be disruptions, unexpected emergencies, canceled meetings, and projects that take more or less time than anticipated.
Adjust your schedule as you go through your week, and do your best to get to accomplish your most important tasks.
If something doesn't get done, you can carry it over to your to-do list for next week.
The more experienced you get at planning your week, the better you'll be at estimating how long things will take.
More Planning Ideas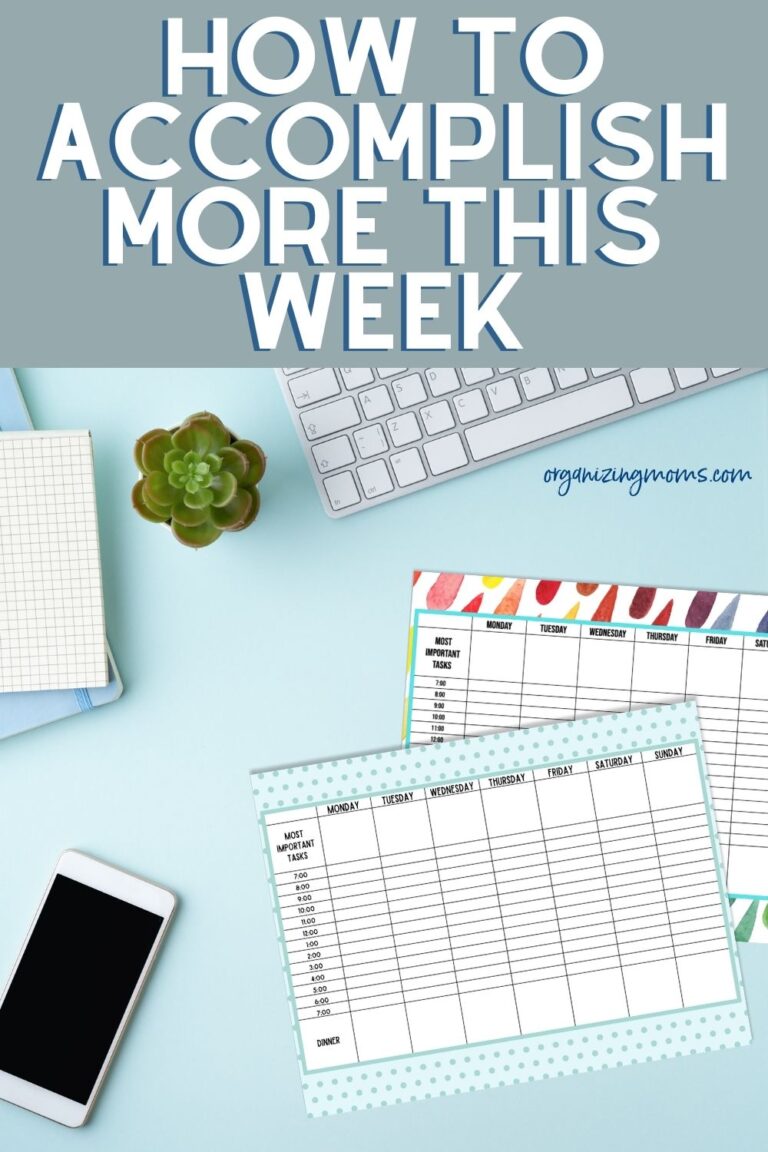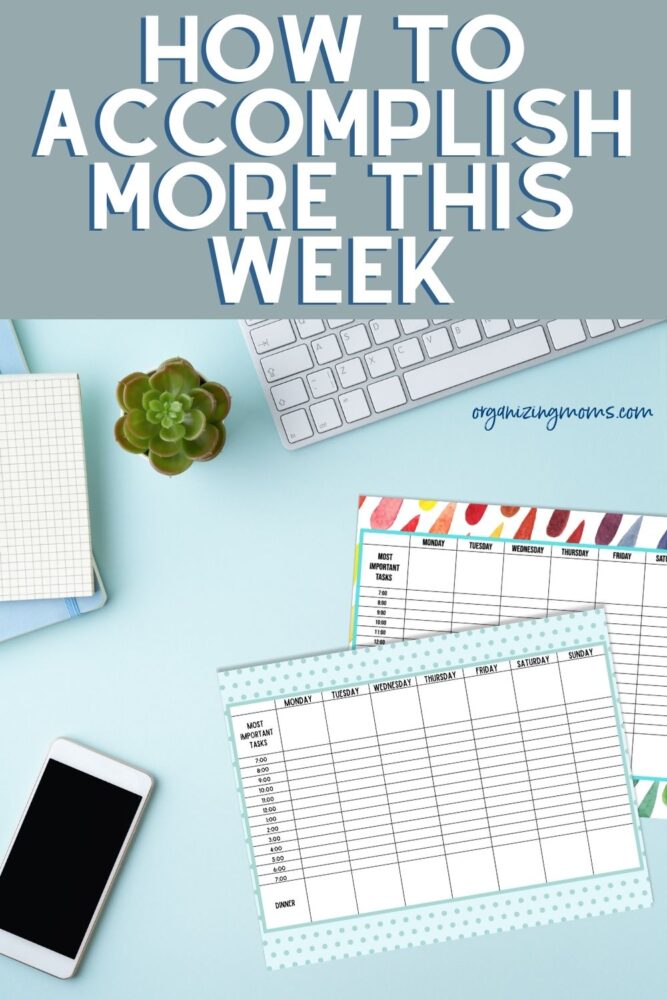 New to this community? Start here, friend!