Need a way to keep your papers organized? Check out my honest Sunday Basket review and see if it's a paper organization solution that could work for you.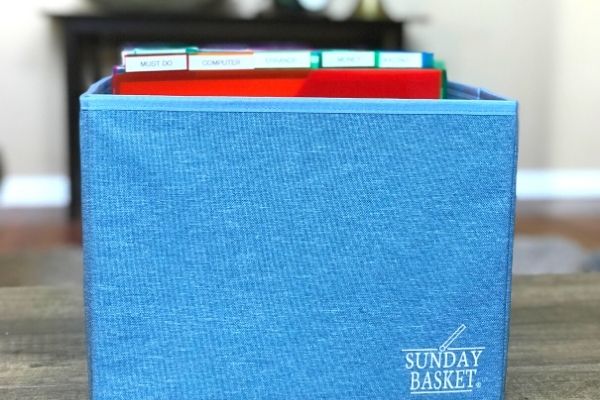 The Sunday Basket
If you're looking for a consistent system to help you with paper organization, the Sunday Basket might be the solution you've been looking for.
I've been doing weekly reviews or admin days for years now, but I've never been able to stay consistent with keeping up with it. I'd do a couple of weekly reviews, and then gradually get out of the habit of going through the papers in my inbox each week.
I've followed Lisa Woodruff of Organize 365 for ages, and I loved her book The Paper Solution.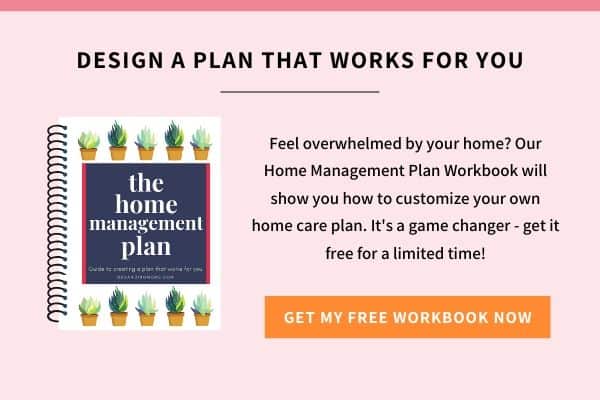 In her book, she talks about the Organize 365 Sunday Basket that she invented to help people manage their papers.
I finally decided to take the plunge and buy the Sunday Basket System to see if it would help me be more consistent with doing weekly reviews.
FYI – this article is NOT sponsored. I purchased the Sunday Basket myself, and thought it would be helpful to write a review for anyone who's interested in using the Sunday Basket.
Contents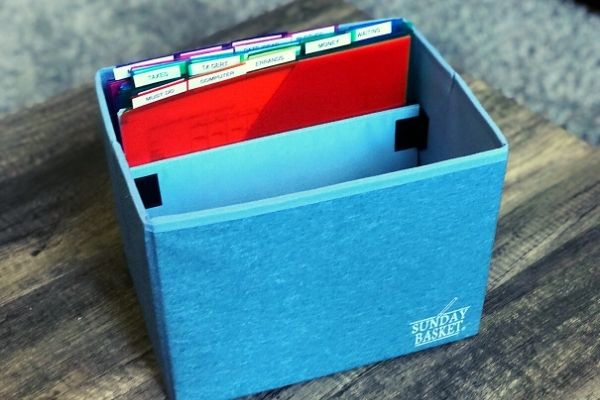 What Is a Sunday Basket?
The Sunday Basket is a physical product that serves as an inbox, a processing tool, and a way to organize your current projects.
When you buy a Sunday Basket, you get a Sunday basket box, slash pockets, a guide to help you set up your Sunday Basket, and access to Sunday Basket video trainings.
One unique feature of the Sunday Basket itself is that it has a divider inside of it that helps to hold up the slash pocket folders that come with the system.
This ensures that your papers are easy to access, and they don't slip down.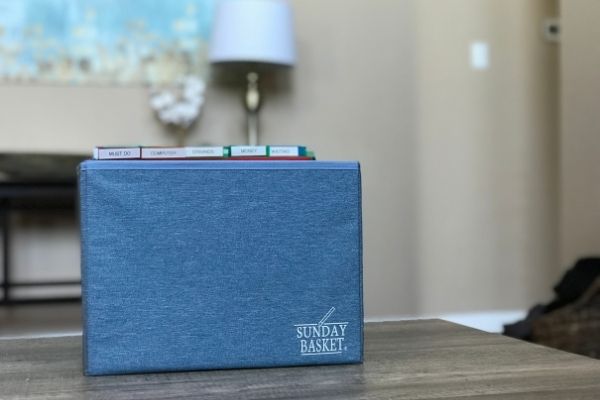 The Sunday Basket System
Although I love the physical Sunday Basket system, the biggest value to me in investing in the basket has been the learning and support that's included with each purchase.
When you get a Sunday Basket (even if you get it on Amazon!), you also get access to the online trainings that help you set it up and learn how to use it.
Lisa's videos walk you through the process of starting a new Sunday Basket, and she gives practical tips for helping you make the most of the system.
Each week, you can also attend a virtual Sunday Basket Club, where you work alongside people from all over the world who are also doing their weekly reviews at the same time.
During the Sunday Basket Club, the hosts give you specific tasks to work on, which guide you through the processing the papers in your inbox, and planning the week ahead. You can also type in questions. The hosts and other people in the Sunday Basket Club will answer questions and help you problem solve to make the most of your system.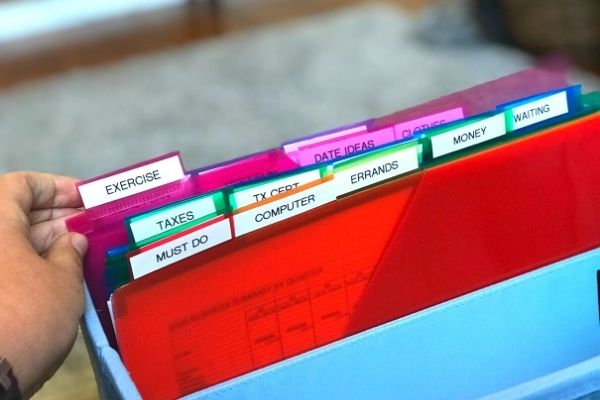 Sunday Basket Categories
Wondering what types of paper you can organize with a Sunday Basket?
When I was deciding whether or not to get my own basket, I found it helpful to see the Sunday Basket slash pocket categories.
When you first start out with the system, you focus on the 1.0 Slash Pockets – these are your priority items for the week.
You'll manage things like errands, finances, dates to add to your calendar, items you're waiting on, and things that must get done this week.
Once you've mastered your 1.0 Slash Pockets, you can create 2.0 Slash Pockets (also included with the system).
The 2.0 Slash Pockets help you manage the following categories:
Personal
Home
Family
Money and Finances
Each type of slash pocket is a certain color, which makes things easier to find.
You'll need to create a label for each slash pocket to keep things organized. You can use a label maker, or use what you have on hand.
Sunday Basket Printables
The system also includes printables that help you organize your to-dos, and plan your next week.
You can learn more about the Sunday Basket Printables here.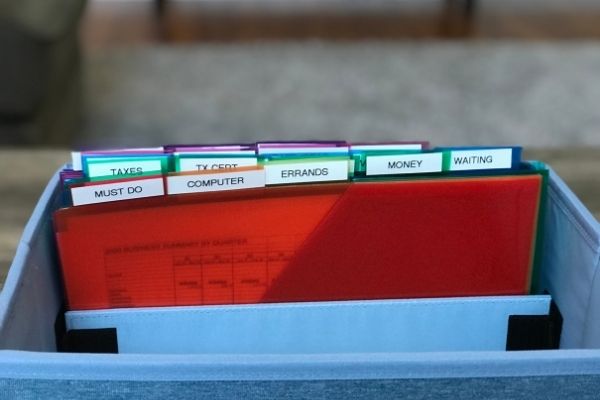 Sunday Basket Slash Pocket Ideas
One of the nice things about this system is that you can customize it. The more you use your Sunday Basket, the more you can make it your own. Just to give you some ideas, I thought I'd share some of the 2.0 Slash Pockets I'm using right now:
Personal
Exercise
Fun Ideas
Date Night Ideas
Clothes
Home
Meal Plan
Repairs/Decorating our house
Password Organization Project
Family
School
Baseball
Fun Things to Do in TX (we just moved to the state)
Vacation Ideas
Boys
Money and Finances
Taxes
Certification
New (to us) Car Research
Related: Free Printable Next Actions List Template for Better Planning
Sunday Basket Review: Why It's Better Than an Inbox
So, did the Sunday Basket help me be more consistent with weekly reviews?
Yes!
I've always relied on the inbox on my desk to help me keep all of my papers in one place, but I still had to figure out what to do with those papers on a consistent basis.
The Sunday Basket is better than just an inbox because it's a system that helps you capture, process, and organize paper.
By following the Sunday Basket system, I had a reliable procedure I could use week after week.
Here's why it worked for me:
The Sunday Basket Club – I try to go to the Sunday Basket Club live as much as possible. I put it on my calendar, and I find myself looking forward to it on Sunday afternoons. If you can't make the sessions live, you can watch a recording. I love the feeling of community in the Sunday Basket Club, and knowing that we're meeting at a certain time motivates me to show up and do the work.
It's an investment – The Sunday Basket was an investment that helped me commit to keep up with paper organization. For a long time I didn't buy a Sunday Basket because I thought it was too expensive. It's $97. But investing in the program made me more motivated to learn how to use it well, and stay consistent with the system. Now that I've been using the Sunday Basket for a while, I've definitely made back that $97 with increased productivity. I've been able to take advantage of opportunities to save money and make money for our family by using my basket for keeping track of taxes, bills, job opportunities, coupons, and more.
The system is colorful and flexible – I love that I can customize it based on my priorities, and I love the colorful slash pockets!
Lisa Woodruff (the creator of the Sunday Basket) – I've listened to Lisa's Organize 365 Podcast for years, and she's so relatable. I love hearing her stories and learning how she thinks about organization. Lisa is just a few years older than me, and I feel like I've learned a lot from her sharing her life experiences.
The Sunday Basket system works. After just a few weeks, I knew I could trust it, and I knew it would work for me. It's a huge relief to know that I have a reliable way to capture, sort, process, and organize all of the important to-dos in my life.
Related: Filing Baskets for Easy Paper Organization

Will the Sunday Basket Work for You?
If you're on the fence about whether or not to purchase a Sunday Basket, I suggest you do a couple of things first:
Listen to the Organize 365 Podcast. If you feel like you can relate to Lisa, the Sunday Basket it likely a great fit for you!
Read The Paper Solution. This will give you more insight into how the Sunday Basket System works.
As far as I know, Organize 365 doesn't run sales or discounts on the Sunday Basket. So, there's no need to rush and buy to get the best price. Take some time to learn more about it, and then make your decision.
Go here to learn more about the Sunday Basket.
More Paper Organization Ideas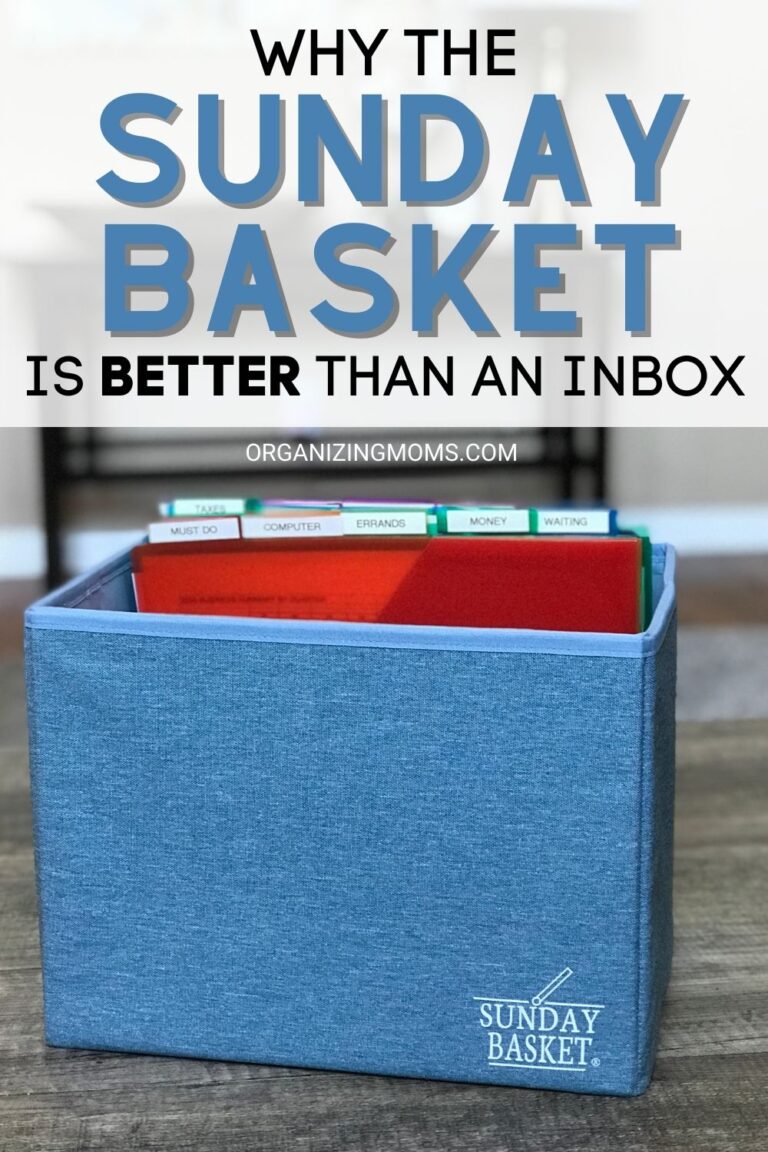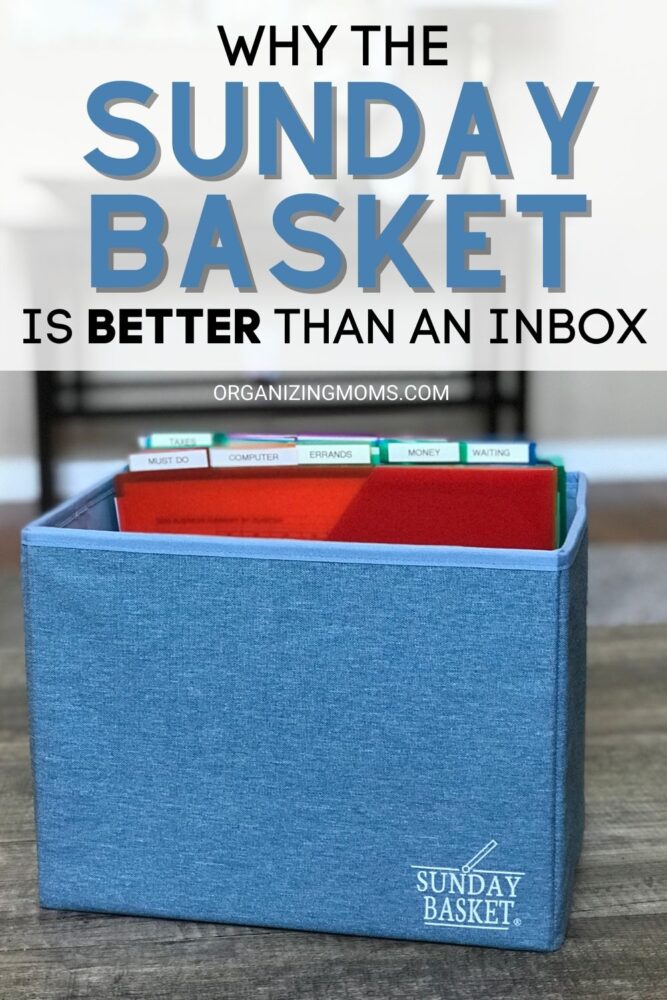 Join the FREE Paper Organization Challenge!
Want to FINALLY take control of the paper piles and get your important documents organized? Sign up for my newsletter, and you'll automatically be signed up for the FREE 7-day Paper Organization Challenge. Start today and make missing papers, disorganization, and worrying about important records a thing of the past!
New to this community? Start here, friend!