Do you wish you could get more done each day? At the end of each day, do you wonder where your time went? Time blocking might be the solution you've been looking for.
We are all bombarded with seemingly "urgent" tasks every day, and most of us spend our days bouncing from one urgent task to the next. We are busy, but we never get to experience a feeling of accomplishment and productivity at the end of the day.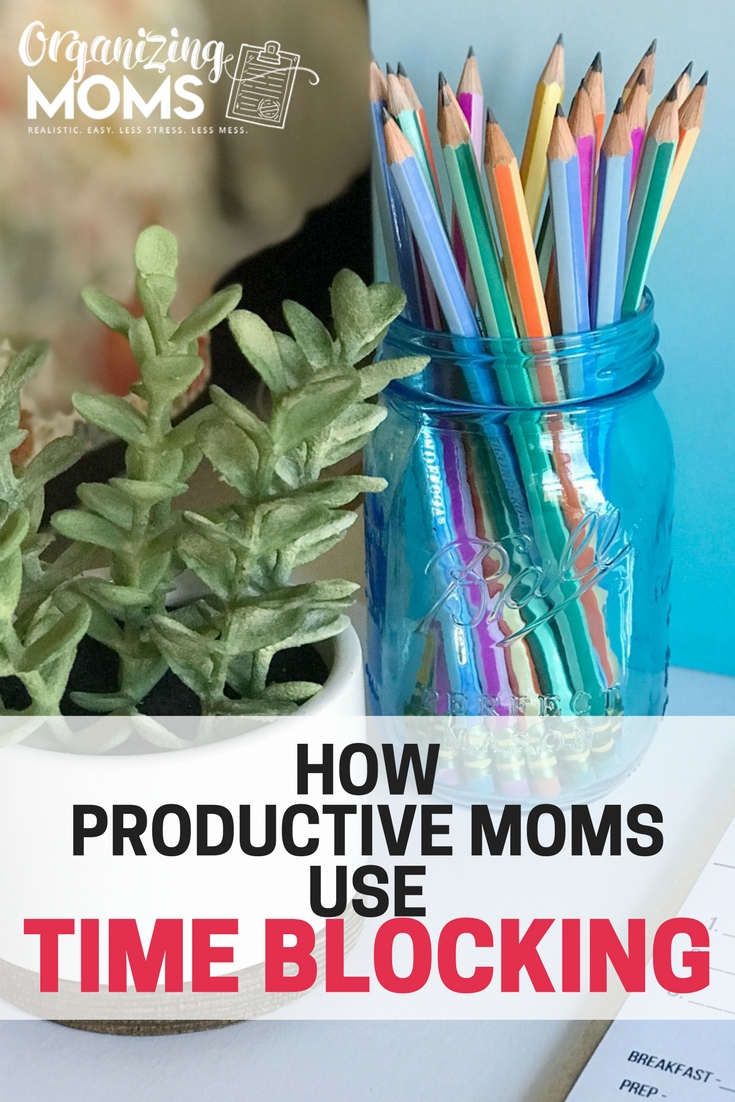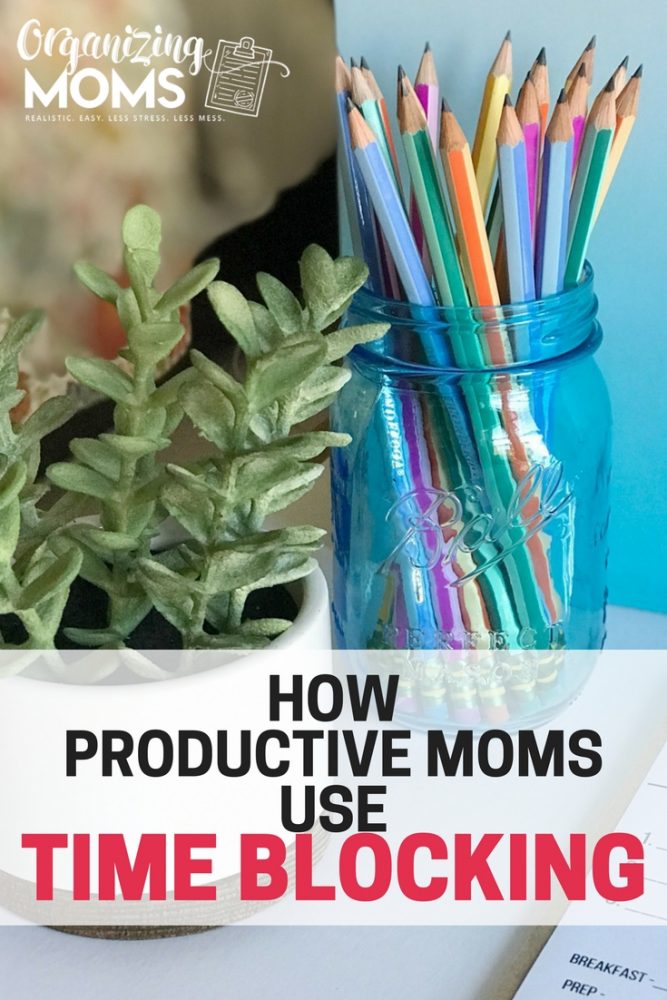 If you're tired of feeling like you're not productive, and you're not getting to the important things each day, this could be the solution you've been searching for.
One super-effective way you can take control of your time is to use a time blocking strategy.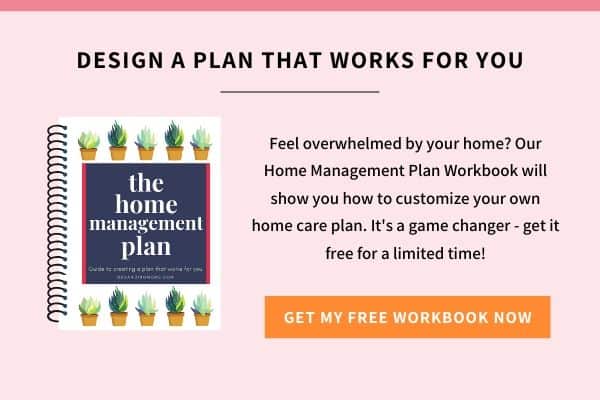 What Is Time Blocking?
Time blocking is setting aside a certain amount of time to focus on one particular task. For example, you could set aside 9-10am to focus on decluttering your kitchen drawers. Or you could reserve 3-4 pm for your after-school routine of picking up your kids from the bus and having a snack with them.
With time blocking, you schedule your to do list tasks into specific blocks of time during the day.
How is Time Blocking Better Than a To Do List?
Time blocking is more realistic.
Everyone has the same 24 hours each day, yet our to-do lists are often so ambitious that it would take 72 hours to complete everything.
With time blocking you're forced to consider other commitments you have during the day. You need to set aside time for things that are part of your routine that you hardly consider, like walking the dog, eating lunch, and driving to the grocery store.
Once you get good at time blocking, it can also relieve a lot of stress. You'll no longer wonder how you're going to get everything done because you've laid out a good plan to give yourself time to focus.
Is Time Blocking Really Realistic for Moms?
Yes, but only if you make a realistic plan AND allow for a lot of flexibility. As moms, our schedules can change at the last minute. We need to be flexible in our time blocking, because our plans often need to change.
Read: How to Be an Organized Mom: Simple Habits
How To Do Time Blocking
When you create your first time blocking schedule, make sure to add in lots of margin time so you don't have too much on your plate.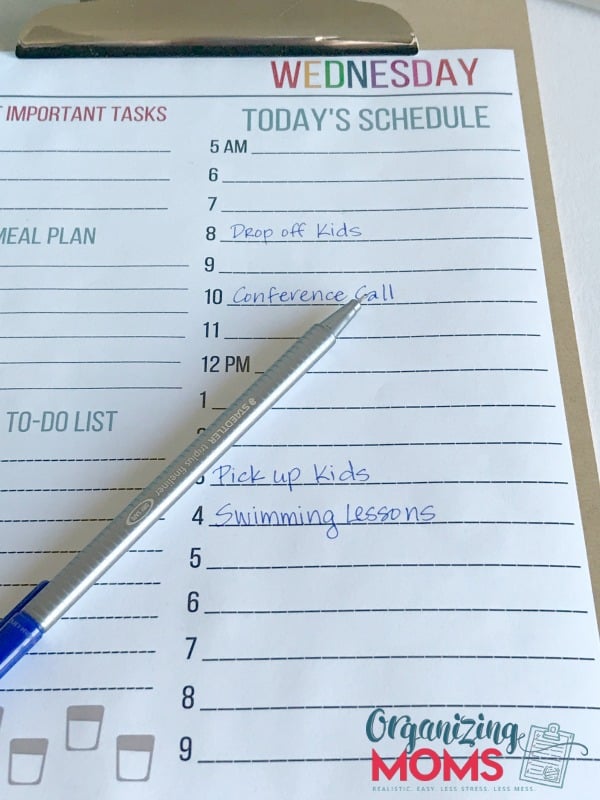 Start out by setting up time blocks for things you have scheduled for the day. This can be things like pickup/dropoff, commuting, working, volunteering, cooking, feeding babies, meal time, etc. Check your calendar for anything you may have overlooked.

Make a list of the three most important things you want to get done today. Ideally, one or two of these would be things that are moving your closer to achieving a specific goal. You can use a next steps list to help you identify what you need to do to move forward on specific projects. Here's more info on using a next steps list for everyday tasks.
Schedule in time blocks for your projects and next steps. It can be as little as 15-20 minutes if need be. The important things is that you're making progress, and you'll be able to see that you've made progress at the end of the day.
Don't forget to schedule in margin, or extra time. That will help you be able to move things around and be flexible as needed. And if you don't need that margin time, you can relax or do something fun!
What To Do When Your Time Blocking Schedule is Ruined
This is going to happen. It's okay.
Kids get the flu, friends need help, the baby is extra fussy, your car breaks down, your house loses power. Any number of things can de-rail your plans for the day.
Sometimes the best thing to do is scrap your plans for the day and start over the next morning morning.
I've been known to cross out the date on my planning sheet and pencil in the next day's date.
When I had the flu, I did this several days in a row!
When Is The Best Time To Plan Your Time Blocking Schedule?
Plan your time blocking schedule when you're tired.
Yes, you read that right!
When you're tired, you'll be more realistic about what you can get done in a day.
I make my best time blocking plans at the end of the day when I'm exhausted. I'm a morning person, and if I make my plans in the morning, I'm way too ambitious. I end up being disappointed when I run out of energy and can't finish everything.
If you're a night person, you might want to try making your daily plan in the morning when you're feeling tired.
Related: How to Plan Your Week for Amazing Success: Get More Accomplished This Week
Not Sure Where Your Time Is Going?
Do a time audit! This can be a real eye-opener – especially for moms.
Click here to find out how to do a time audit.
Want The Daily Planning Sheets Used In This Post?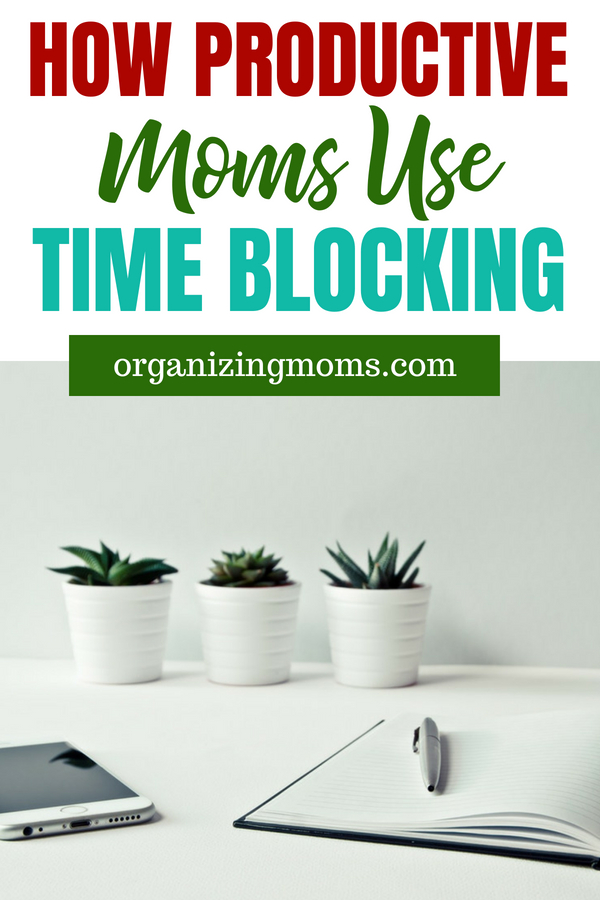 New to this community? Start here, friend!