Inside: How to make a realistic, simple home management plan that works for you. Step-by-step PDF workbook to help you create your own home management system.
Sooner or later, we all get to the point where we need a solid home management plan. Easy home management tips are helpful too, but when chaos ensues, we need a plan of attack to get our homes under control.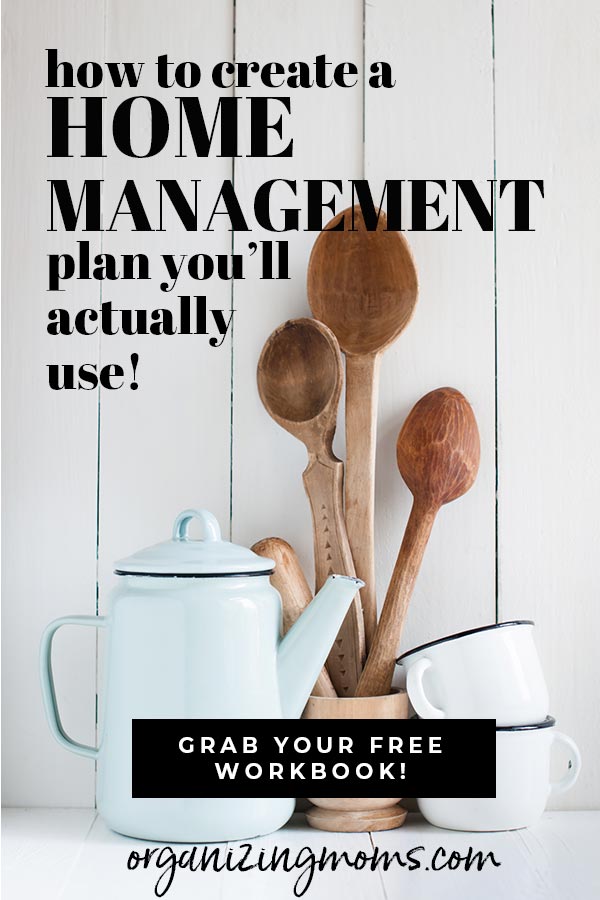 In this article, I'm going to show you how I came up with a strategy to keep things functioning at our house. You can use it, modify it, and or use it as a jumping-off point for creating your own home management plan.
Be sure to grab the Home Management Plan Workbook below. You can use it to help you brainstorm and create your own customized home management plan. It's free!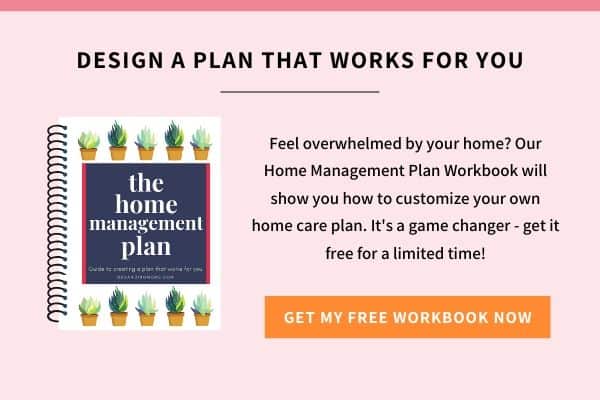 What is home management?
Would you believe that it's actually kind of difficult to find the exact definition of home management? There are a lot of variations out there, but here's the official definition from yourdictionary.com:
The definition of home management is the process of effectively running a household.

An example of home management is when you hire someone to oversee the maid, gardener and other staff and to pay bills and clean your home for you.
An example of home management is taking care of children, providing meals, making sure the house is clean and bills are paid and otherwise attending to the needs of the house.
Since most of us aren't here to find out how to hire someone to oversee the management of our houses, I'm thinking example #2 is more what we're trying to do.
To me, home management is an evolving plan that makes sure nothing falls through the cracks.
Everyone is safe, loved, cared for, and fed. And it's nice if everyone also has clean clothes to wear.
Home Management Plan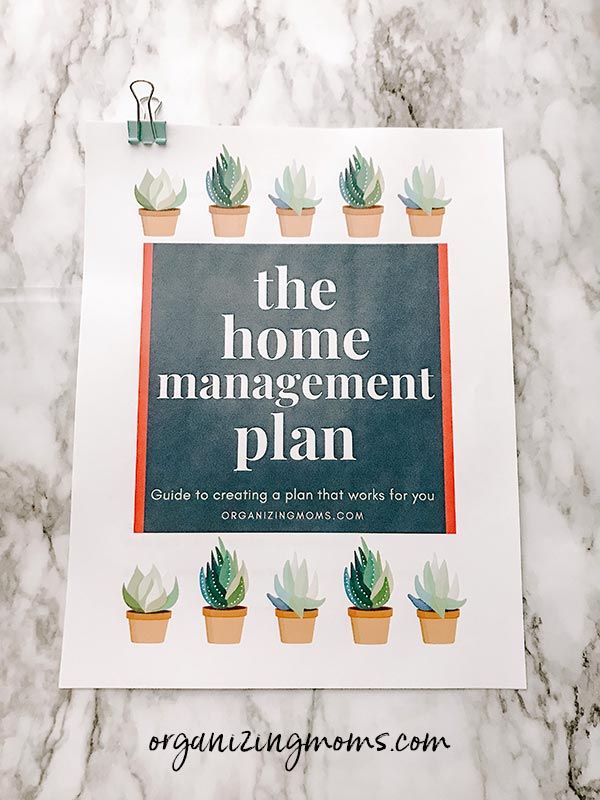 Before you create your own home management plan, brainstorm all of the things that need to be done to keep your household running. Forget about the things you want to do. Just stick to the basics.
I'm going to tell you what my aspirational home management plan looks like. But, please remember two important things:
This plan is aspirational. I don't usually do all of these things unless I'm just having a Cracker Jack week. I do the basics first, and then do extra tasks if I can. I'll talk more about why my plan is so aspirational later in this article.
Everyone's plan should be unique. You have to make your home management plan fit your life for it to work for you.
I've broken my home management plan down into daily tasks and weekly tasks. I have a list of things I want to do each day to keep things running, and then I also have weekly tasks that keep everything organized.
My plan is always changing because our situation is always changing. Yours should be too. Don't let an outdated plan hold you back – change things up to make it work for you.
Daily Home Management Tasks
These are the tasks I try to do daily. It's just the basics!
Morning
Make beds
Empty dishwasher
Start laundry
Run Roomba/sweep (there's lots of crumbs after breakfast!)
Afternoon
Finish laundry
Prep dinner
Check in on budget
Weekly task time (see below)
Evening
Quick pickup of house
Reset kitchen
Load dishwasher
Exercise (I like to walk after dinner, but in the winter it usually has to happen after school or at lunch time)
Weekly Home Management Tasks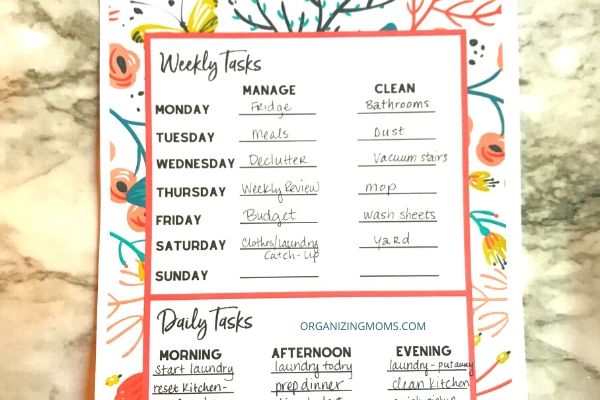 The home management tasks I do each week are things that I can't delegate. They pretty much need to be done by me.
Monday – Clean out fridge
Tuesday – Meal plan
Wednesday – Quick Declutter + Errands
Thursday – Weekly Review (I go through all of our household paperwork, etc.)
Friday – Budget
Saturday/Sunday – Laundry catch-up/Clothes for next week
Read: The Best Home Management Printables to Get You Organized
Cleaning Tasks
You'll notice that my home management tasks don't include much cleaning! I still do cleaning each week, but that's something that can definitely be delegated. It usually doesn't get delegated, but it could!
If you're looking for ideas for creating a cleaning routine, the FlyLady System is a great place to start.
Related: How to Get Motivated to Clean
You'll Get More Done with a Basic Plan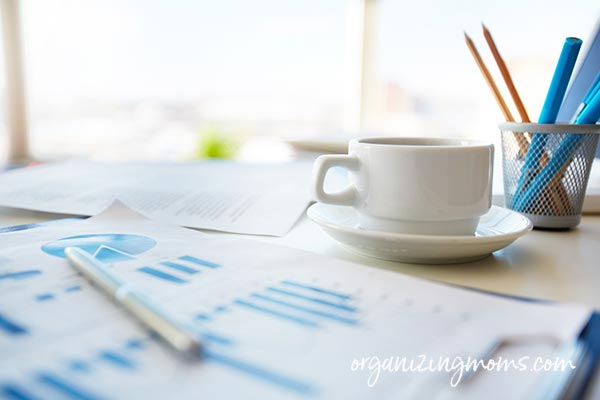 If you've brainstormed all of the household tasks you need to do to keep your home running, you might be feeling overwhelmed at this point.
Start with the basics.
Create a daily routine of 3-4 tasks and stick with it for a week or so. Then add to your routine. After a while, it will become a habit, and it won't seem so difficult.
"Shoot for the moon. Even if you miss, you'll land among the stars." – Norman Vincent Peale
Put together the first draft of your home management plan, and give it a go! There's no rule that says you can't change things up as you go. Tweak the plan again and again until it works for you.
And know that changing up your home management plan is completely normal. As our lives, locations, families, and responsibilities change, our home management needs will change too.
More Home Management Resources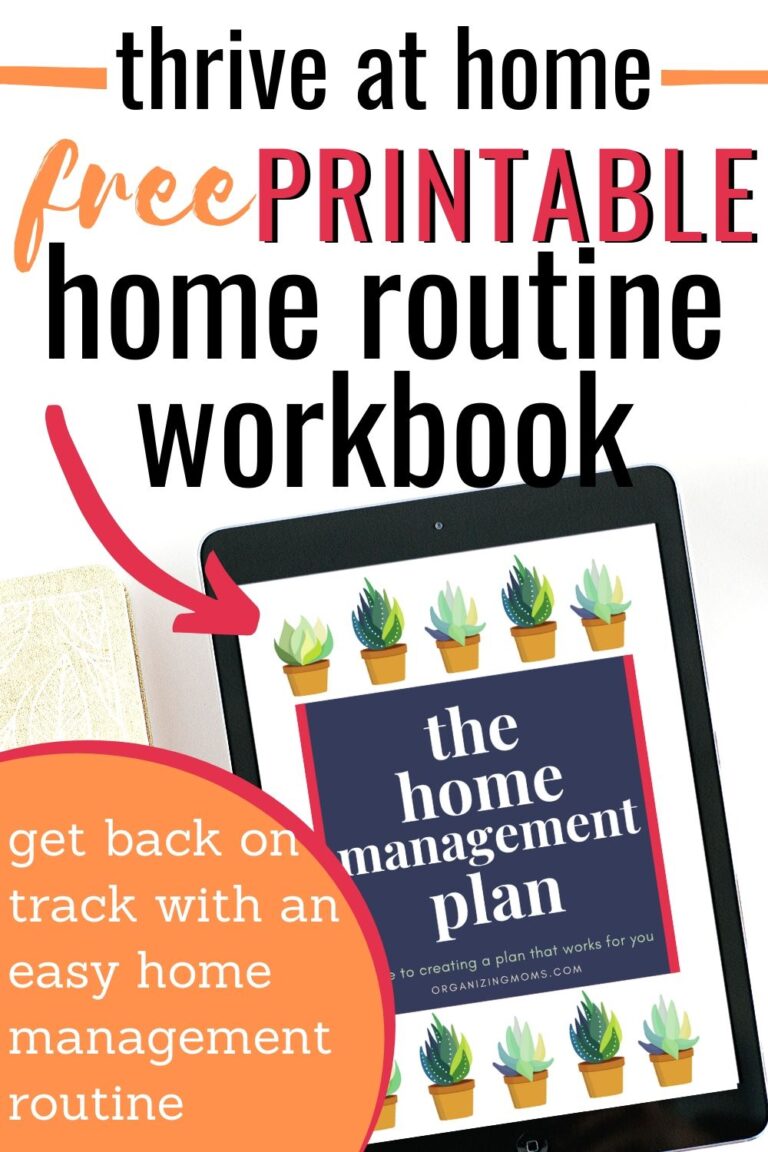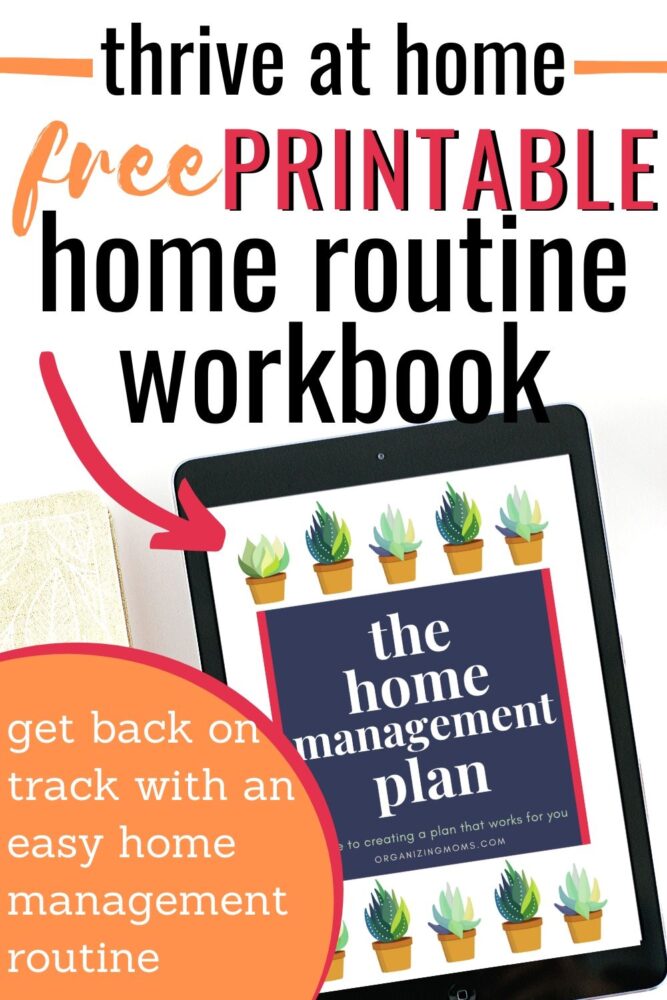 New to this community? Start here, friend!