Good meal prep organization can take the chaos and uncertainty out of getting dinner on the table each night. Meal prep can be convenient and healthy, but it can also be a time-consuming mess. Learn how to organize your routine in this article.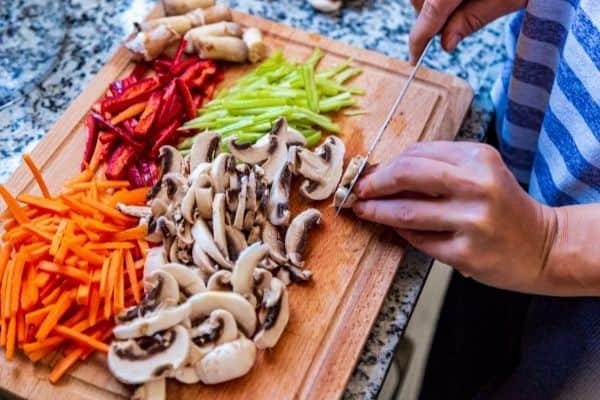 Meal Prep Organization
Cooking and eating at home is a great way to eat healthier meals and save money.
But prepping all of your meals can be a lot of work!
In this article, you'll learn a simple meal prep routine you can follow to more efficiently prepare food for your family at home.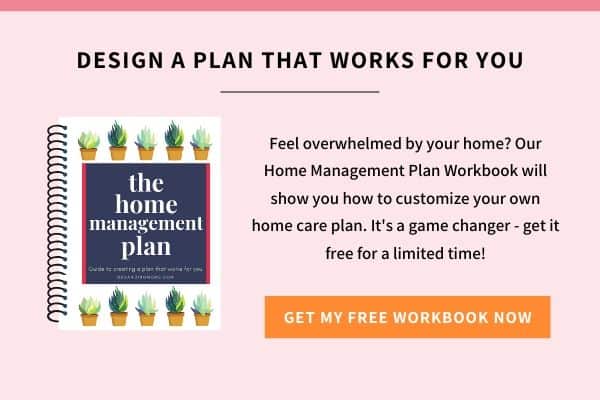 What Is the Ideal Way to Meal Prep?
The ideal way to meal prep is to prepare your food in batches.
For example, if you plan to prepare a lot of meals that include grilled chicken, you could grill the chicken you need for all of the meals together, and then separate them into different food storage containers to be used in different meals later on.
If you're concerned about food going bad before you're able to use it, freeze the food you've prepared, and take it out of the freezer when you're ready to include it in a meal.
Batch cooking isn't the only way to minimize the amount of food prep you need to do.
You can also batch things like cutting vegetables, baking, or making sauces and salad dressings.
I like to make sandwiches for lunches all at once and freeze them. It makes packing lunches in the mornings so much easier, because I can just grab a sandwich, and put it straight into our lunch bags.
If I pack frozen sandwiches in lunches, they're thawed out (but still cool) by lunchtime.
It's a huge time-saver.
When I don't make sandwiches ahead of time and put them in the freezer, I regret not doing it!
How Should I Organize My Meal Prep for the Week?
Organizing your meal prep starts off with putting together a good meal plan, and following a simple meal prep routine.
Read on to learn the simple process of planning, prepping, and enjoying meals at home.
Step 1: Check Your Schedule and Look at the Week Ahead
Step 2: Make a Meal Plan and a Grocery List
Step 3: Order Groceries Online
Step 4: Pick Up From the Grocery Store and Prep Ingredients
Step 5: Evaluate After Every Meal and Take Notes
The Best Ready-Made Meal Plans
Step 1: Check Your Schedule and Look at the Week Ahead
Before you begin to make a meal plan, look at the week ahead to see what's on your schedule.
If you know you won't be home for certain meals, plan to eat out on those days, or prepare food in advance that you can bring with you.
If you prep school lunches, see which days the kids will be in school, and plan accordingly.
Step 2: Make a Meal Plan and a Grocery List
Now that you know when you'll be eating at home, it's time to make a meal plan!
In our house, we almost always have pizza on Fridays, whether it's takeout or homemade. If you have any "regular" meals, add that to this week's meal plan.
Then, you can start to fill in the rest of the days with recipes you'd like to use.
Don't forget about leftovers! You may have one leftovers night each week to cut down on food waste, especially if you don't end up using leftovers as lunches the next day.
Can't think of anything that sounds good to make this week?
Need some inspiration?
Use Eat at Home Meal Plans to reduce your mental load!
They create ready-made meal plans with accompanying recipes and shopping lists you can download and use right away.
Once you have your meal plan set, take a look at all of your recipes and create a grocery list for the week.
If you use Eat at Home Meal Plans you can skip this, because your grocery list is already made for you.
Step 3: Order Groceries Online
Take a look at your shopping list, and cross off anything you already have at home.
I like to double-check my spices before placing an order to make sure I have enough for that week's recipes.
If possible, place an online order at your favorite grocery store, and make an appointment for pickup or delivery
Remember to include any storage containers or freezer baggies you may need to store your meals and ingredients.
Do I Have to Order Groceries Online?
Of course, you can always shop in the grocery store if you prefer.
But ordering groceries online and picking them up (or having them delivered) is a huge time saver.
People often worry that they'll get bad produce if they order online, but I've not found that to be the case.
If you do end up with yucky produce, you can always email the grocery store about it. I've only had a problem a couple of times, and when I did, I received a refund for the items that weren't good.
How to Simplify Your Life with Grocery Pickup
Step 4: Pick Up From the Grocery Store and Prep Ingredients
Schedule your grocery pickup for a time when you know you can go straight home and start prepping.
For me, this is early Saturday morning.
I like to schedule an early pickup, and I get a coffee while I'm out as a treat!
I turn on some music or a good audiobook and make the most of my time in the car.
Once you're home from the grocery store, put away anything you won't need for your meal prep, and keep the ingredients you will need out on your counters.
Clear some space in your fridge and freezer for the items you're going to meal prep.
How Should I Organize My Meal Prep?
This depends on what you're making for the week!
For example, this week, I'm following an Eat at Home Meal Plan for Slow Cooker/Freezer recipes. In the plan, there are instructions for prepping freezer meals, and I just follow that.
If you don't have a guide, take a look at the ingredients lists on your recipes.
Find items that need to be chopped or seasoned, and do those first.
Then, if it makes sense to "assemble" any meals, go ahead and do that.
I like to cut/season any proteins we have first, and then put them into the refrigerator.
If I need to cook any of the meats ahead of time, I do that all at once. This is especially nice if you have two or three proteins that need to be cooked in the oven or on the stove. Doing it all at once saves a lot of time and energy in the long run.
Then, I can clean the prep area, and start chopping fruits and vegetables.
As you chop your vegetables, you can divide them into the portions needed for each meal you're prepping.
Even if you have to stop prepping after you chop your veggies, you'll still be saving yourself a lot of time later in the week.
If the components of your meals are prepped and ready to go, throwing dinner together will be much easier.
Tip: If you're prepping a lot of meals at once, make sure you completely prep at least one meal to have for dinner that night. That way you can enjoy the fruits of your labor later that day!
Step 5: Evaluate After Every Meal and Take Notes
If you're using new recipes in your meal plan, take some time to decide if it's a recipe you'd like to make again.
Consider things like:
Who in your family liked/disliked the meal?
How easy was the meal prep?
Is there anything you could do next time to make meal prep for this recipe easier?
Are there any ingredients you substituted or would substitute next time?
Write all of your ideas directly on the recipe so you'll see them the next time you want to make that dish.
If the recipe was a real dud, get rid of that recipe! Throw it away or recycle it – whatever you need to do. But get it out of your collection of recipes so it's not creating clutter.
One huge advantage to the Eat at Home Meal Plans is that they've been tested for you. They're all good choices for families with kids.
Related: How to Make an Easy-to-Use Recipe Binder
Ways to Make Meal Prep Easier
If you've ever done a huge meal prep session, you know it's exhausting!
That's why I only prep for a week max.
Here are some other things you can do to make your meal prep easier:
Prep at a time of day when you have the most energy.
Have water and snacks ready for yourself so you can keep going!
Listen to music, audiobooks, or podcasts while you work.
Make sure your dishwasher is empty before you begin so you can put your dirty dishes directly into the dishwasher as you work.
Before you begin prepping, have all of your meal prep tools out so you don't have to search for them while you're working (knives, storage containers, glass containers, ingredients, bowls, baggies, etc.).
Prepare at least one meal for dinner the night of your meal prep. If you're prepping in the morning, a slow cooker meal for later in the day is great!
Invest in a vegetable chopper.
Consider buying pre-chopped ingredients to make meal prep faster.
Eat At Home Meal Plans


A system I like to use for meal planning is Eat at Home Meal Plans.
It's a super inexpensive meal planning subscription you can use to plan meals for your family each week.
The meal plans include enough meals for every day of the week, recipes, and a color-coded grocery list.
AND, each week you can choose a different type of meal plan.
Choose from Traditional, Slow Cooker/Instant Pot, No Flour/No Sugar, and Whole Food Plant-Based plan options. You get them all!
There are meal plans that work for any kind of lifestyle.
I like that these meals are full of flavor and kid-friendly. And I also like that I can change the type of meal plan we're using depending on what we have going on during the week.
Using these meal plans is a great way to "outsource" the mental load of figuring out what's for dinner.
Go here to learn more about Eat at Home Meal Plans.
More Meal Planning Ideas
Meal Prep Tips That Will Save You Hours This Week
10 Meal Planning Mistakes You Need to Avoid
How the Eat at Home Meal Plans Work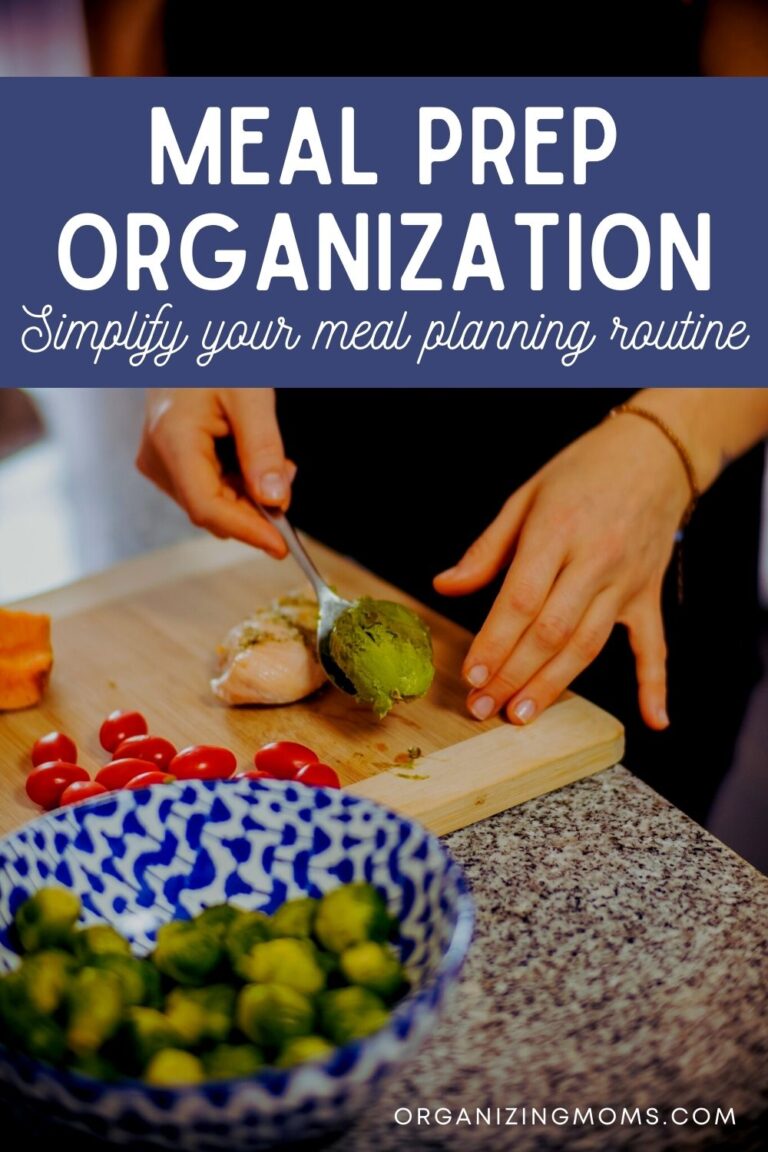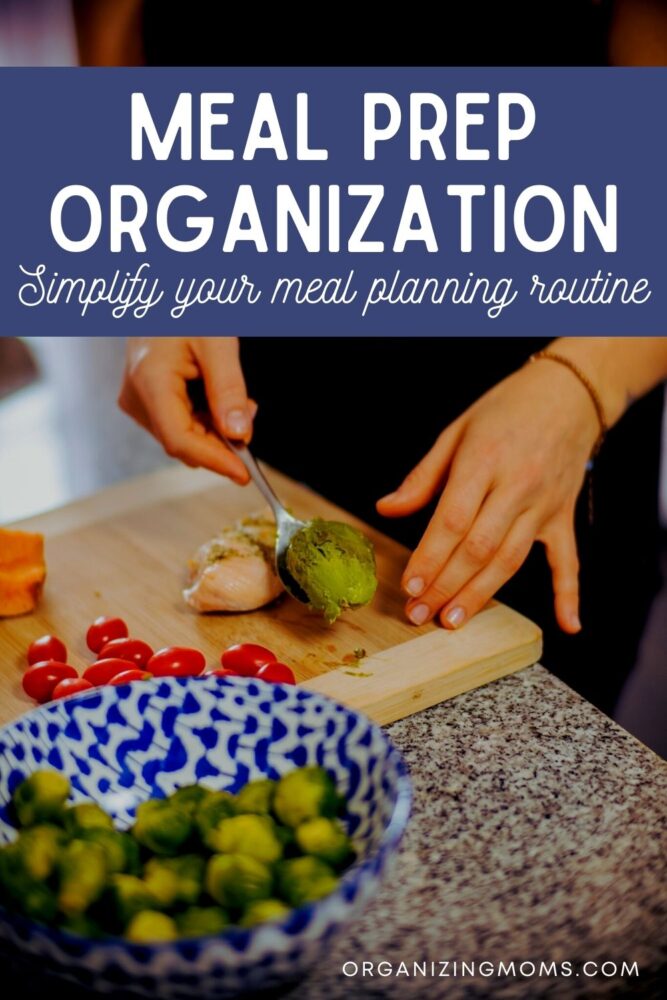 New to this community? Start here, friend!