Growing tired of eating the same things again and again? It's time to do a meal plan makeover and make a meal plan you'll love! By making a few tweaks to your weekly meal planning process, you can refresh your weekly meal plans to make them more do-able and delicious.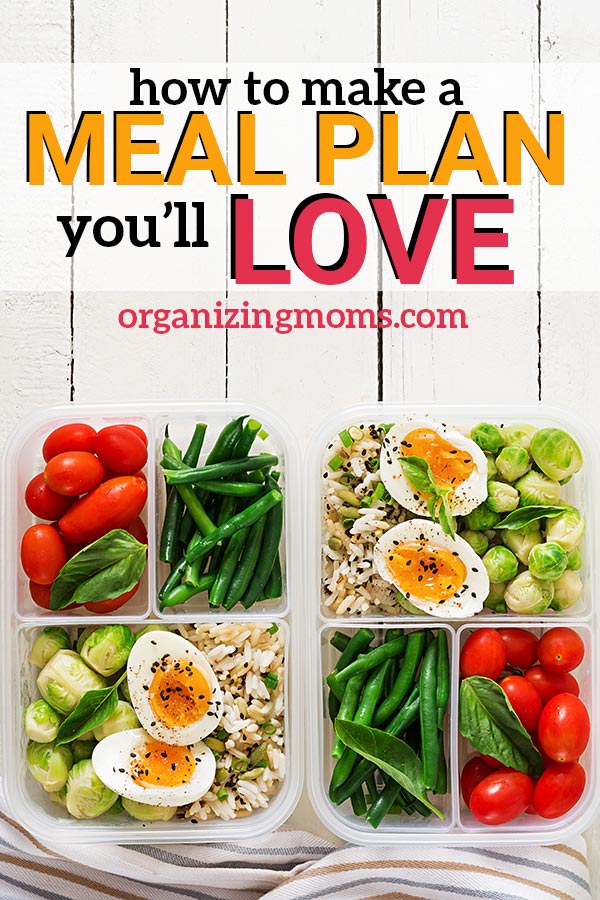 How to Make a Meal Plan
In this article, you'll learn a simple way to put together a meal plan that works for you. Here are the basic meal planning steps:
Take inventory of what you have on hand, organize your food, and assess what you like and dislike about your current meal plans
Create a basic meal plan framework
Consult your calendar
Plan meals for busy nights
Put together your meal plan for the week
Make a grocery list and shop
Meal prep ingredients when you get home from the store
Make your meal plan more efficient and effective
What Are The Benefits of Meal Planning?
Once you get used to meal planning each week, you'll start to see the benefits of planning out what you'll eat each week. Here are some of the biggest benefits of meal planning:
Saving money – By planning your meals and making a grocery list, you won't overbuy groceries as much as you used to. If you normally eat in restaurants, you'll see a huge savings when you plan to eat at home more.
Saving time – When you prepare simple meals at home, and do all of the planning up front, you'll save tons of time! You won't have to make as many trips to the grocery store (or trips to restaurants to pick up food), and you won't have to spend as much time trying to figure out what you're going to have for dinner. You can also meal prep in advance and use leftovers to make your daily meal prep even less time-consuming.
Wasting less food – Meal planning helps you take inventory of food you have on hand and use it up. Instead of throwing away food that goes bad, you'll be able to make the most of your grocery budget, and not throw away as much food.
Eating healthier – When you eat at home, your meals are almost always going to be healthier than what you'd eat in a restaurant. When you plan your meals, you can look for ways to incorporate healthier ingredients. This could translate to more energy, better sleep, and health benefits galore!
Before You Start Your Meal Plan Makeover
Before you start creating a new meal plan, do these things to help lay the groundwork for success: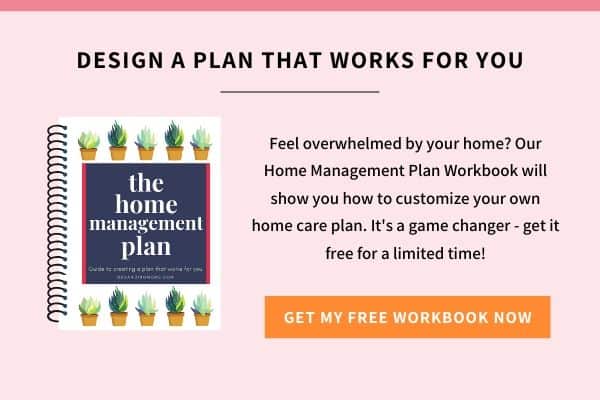 Assess what's working and what isn't. Is one particular meal a hit with your family? Do you end up going out to eat more than you'd like? Do some of your meal ideas take too long to prepare? I like to write out what's working and what's not on paper. Then I can refer back to it later when I start planning.
Clean out your fridge. Really declutter it and wipe things down. That will help you be able to find things more easily, and it will make cooking more pleasant. No one wants to have to dig through expired tartar sauce and rotten lettuce to get to the ingredients they need to prep for dinner.
Make a list of things you want to use up soon. Try to use them up in the next week so they aren't taking up space in your fridge.
Create a Basic Meal Plan Framework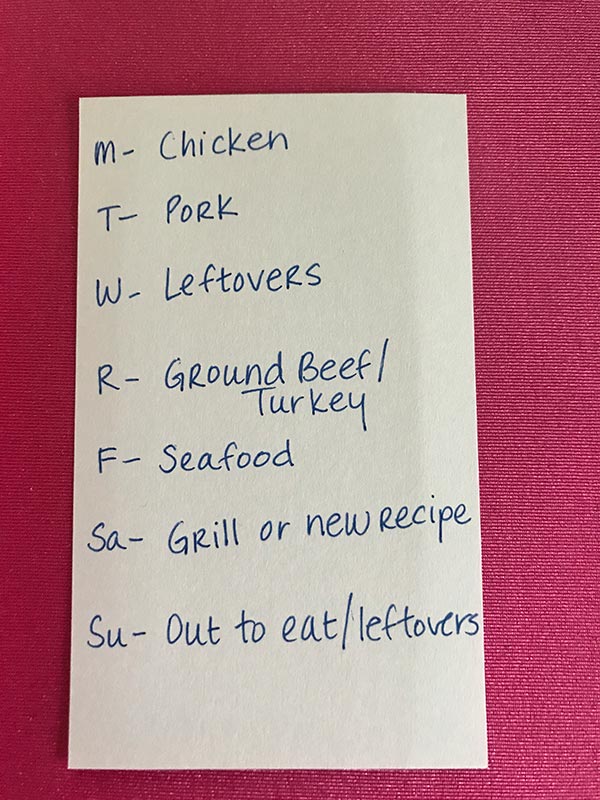 To make things easier on yourself, give each day of the week a theme. It could be something basic like "chicken" or something more specific like "spaghetti night." Refer back to your list of things that are working/not working as you create your framework so you can include things that are already working for you.
Want to see an example? Here's a basic meal plan framework I put together for our family while we're eating keto.
Need something super simple? Try a capsule meal plan.
Consult Your Calendar
Take a look at all of the activities you have going on during the week. Will you be out of the house for some meals? Are there some nights when everyone will be eating at different times? Take your schedule into account when planning what to eat during the week so you can make a realistic meal plan. Otherwise, you'll likely be going out to eat more than you planned.
Meal Ideas for Busy Nights
We are in a busy season right now, and a lot of the activities our kids do happen right around supper time. Here are some ideas for quick and easy meals for busy nights:
Sandwiches. I make sandwiches out of Hawaiian rolls and ham, and then freeze them in individual quart-sized freezer bags. If we have a long drive to get to activities, I'll pull some of these sandwiches out of the freezer in the morning and let them thaw in the fridge. By the time dinner rolls around, they're un-frozen, and the kids can eat them in the car along with an apple or chips.
Slow Cooker Meals. If everyone's going to be eating at different times, having something ready in the crockpot is perfect! When people get home, they can help themselves, and everyone gets a hot meal. I especially like making crockpot dump recipes for an easy, quick dinner I can put together in the morning.
Plan to Eat Out! Yes, you read that right! Sometimes eating out is just so much easier. If you plan for it and budget for it, it can be a really nice break for you. I always feel a little guilty when we go out to eat, but if we've planned for it, I can enjoy the meal guilt-free. 🙂
Put Together Your Meal Plan for the Week
Now that you've made a simple meal plan framework and accounted for busy nights, it's time to fill in the rest of your meal plan. I try to use up things from the fridge that will go bad soon, so I incorporate those ingredients at the beginning of the week.
If you are really burnt out on meal planning, I'd suggest going with super simple meals, even if you do have time to prepare something more elaborate. By making a realistic plan that might even be easy, you'll reap the benefits of meal planning and feel like you're winning!
Make A Grocery List & Shop
Your meals for the week are planned out, so now it's time to figure out which ingredients you have on hand, and what you need to pick up from the grocery store. I like to make my grocery list while I'm in my kitchen so I can quickly check the fridge, freezer, or pantry to see what we already have. By doing this, we use up what we already have and save money on groceries every week by not over-buying.
Related Post
20 Smart Ways to Save on Groceries
If you have a grocery store in your area that has grocery pickup or delivery, USE IT! It's a huge time saver. I try to schedule my pickups for times when I know I'll be out running errands or going to activities anyway.
Wal-Mart has a free grocery pickup service. Go here to use my referral link and get $10 off your first order.
Meal Prep Ingredients When You Get Home
After grocery shopping (or picking up your groceries), try to prep as many ingredients as you can. Chop veggies, make sandwiches, or do anything else you can to make your dinner-time meal prep easier for you later in the week.
Related Posts
Meal Prep Tips That Will Save You Hours This Week
Simplify Dinner With a Meal Prep Day
Make Your Meal Planning More Efficient and Effective
Now that you've created a meal plan or two, it's time to look at ways to be more effective and efficient in your planning. As you go through a week of meal prepping, take notes on ideas you have for making the whole process more efficient next time around. Maybe you could have a baking day when you make cookies and bread all at once. Or maybe you'll find that it would be well worth the money to buy pre-chopped veggies from the grocery store instead of spending the time to cut everything yourself.
Look for ways to make the whole process more efficient for you and your family.
Related: Make Ahead Meals – Brilliant Tips that Moms Love!
New to this community? Start here, friend!