Looking for an easy way to plan your meals while doing keto? This basic outline of our family's keto meal plan can help you simplify your meal prep, and have easy meals ready to go each week.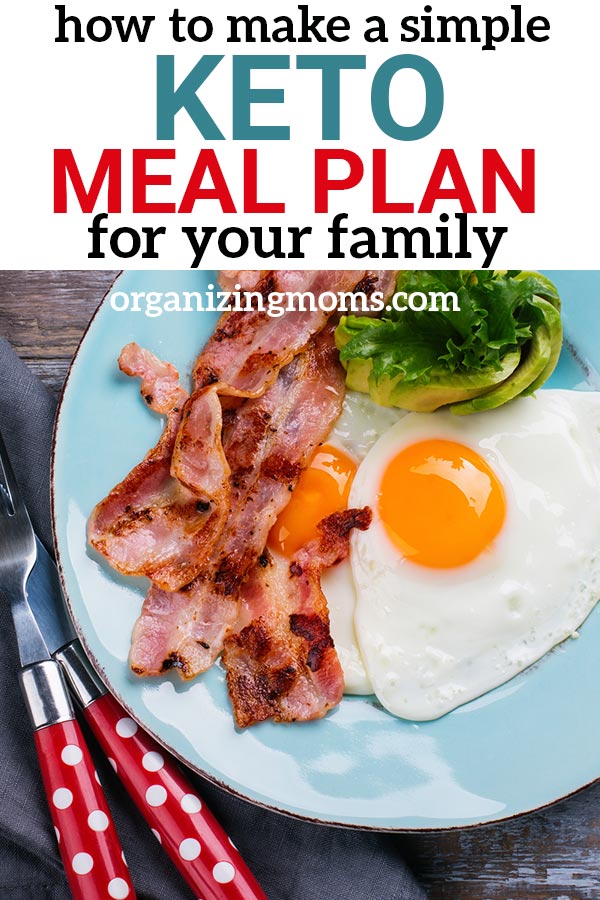 We are a family of four, and our children are not doing the keto diet. However, they still eat most of the keto foods we prepare for family dinners. Sometimes we add some bread, rice, or pasta to their dinners, but for the most part, they eat what we eat!
How to Make a Keto Meal Plan
To create your own ketogenic meal plan, start by planning your proteins for the week. Also, designate a few days for eating out or leftovers. We also have one day where we grill or try out a new recipe. Here's our basic outline for proteins for the week: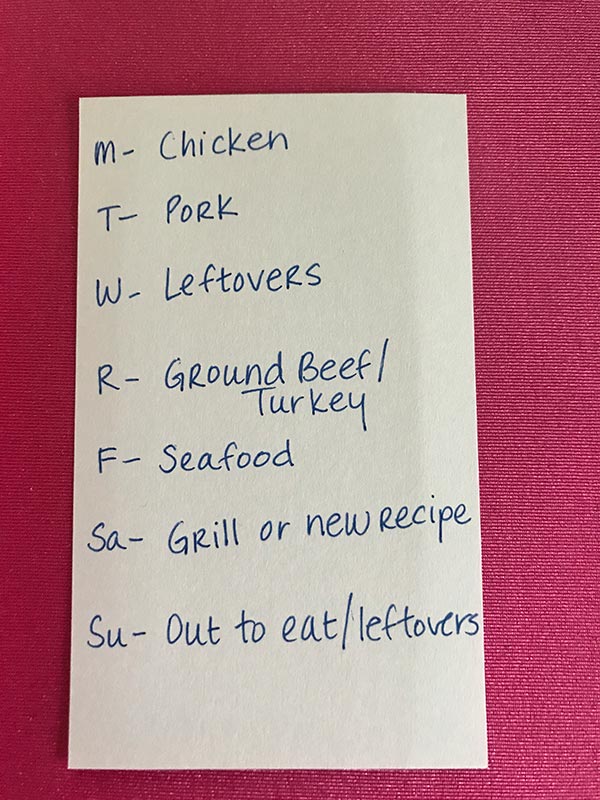 Mondays – Chicken
Tuesdays – Pork
Wednesdays – Leftovers
Thursdays – Ground Beef or Ground Turkey
Fridays – Seafood
Saturday – Grill or try a new recipe
Sunday – Out to eat/leftovers
Related article
How to Make a Meal Plan You'll Love
Meal Prep Tips That Will Save You Hours Next Week!
Decide on Keto Main Dishes for Dinner
I usually check our freezer or fridge to see what kinds of meats we have on hand and plan to use those up first. Then, I write out our main dishes for the week. Here's an example: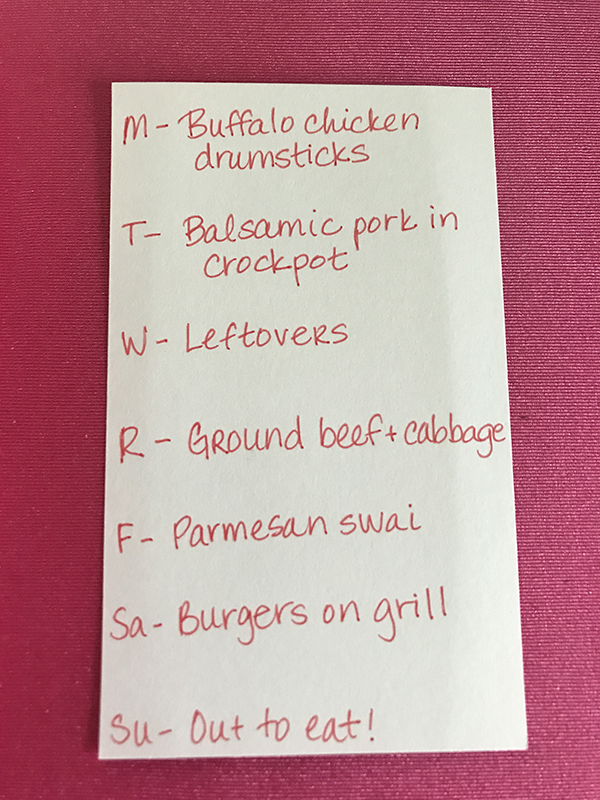 Monday – Buffalo chicken drumsticks
Tuesday – Balsamic pork in the crockpot
Wednesday – Leftovers
Thursday – Ground beef and cabbage
Friday – Parmesan swai
Saturday – Burgers on the grill
Sunday – Out to eat!
Note: We don't eat the same main dishes every single week. We just plan our main dishes around certain proteins or ways or preparing dinner to streamline things. For breakfasts and lunches, we do a lot of repeats – more on that below.
Add Keto-Friendly Vegetables to the Meal Plan
Then, I add in our vegetable sides for meals that don't already have some type of veggie incorporated. Because I get most of our groceries on Monday (via Wal-Mart grocery pickup!), I try to use the fresh veggies first, and save things that can be frozen or that will last longer for the end of the week. Here's what our meal plan looks like with the veggies added in: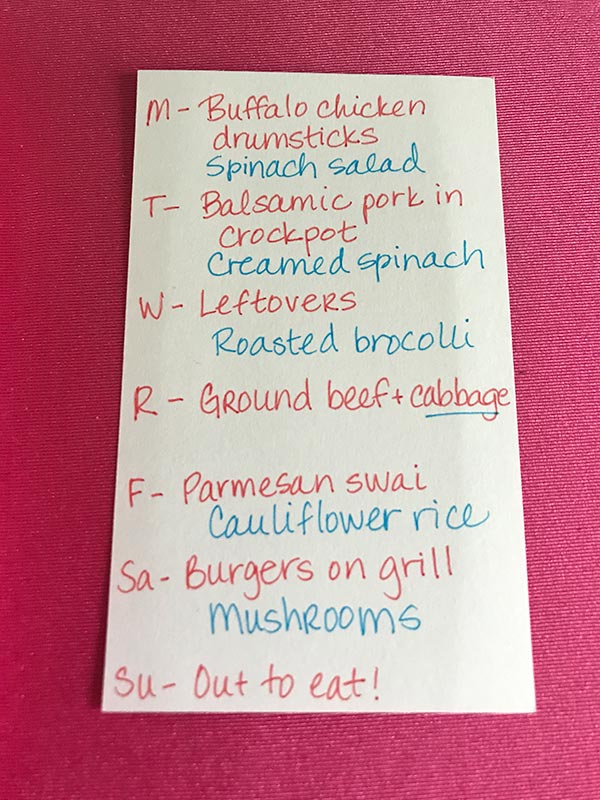 Monday – Buffalo chicken drumsticks + Spinach salad
Tuesday – Balsamic pork in the crockpot + Creamed spinach
Wednesday – Leftovers + Roasted brocolli
Thursday – Ground beef and cabbage
Friday – Parmesan swai + Cauliflower rice
Saturday – Burgers on the grill + Mushrooms, maybe some grilled onions too
Sunday – Out to eat!
Once we have a basic outline of keto dinners for the week, I rummage through our pantry, fridge and freezer to see which ingredients we already have. Then, I create a grocery list. Most weeks, we use Wal-Mart grocery pickup, so I order everything online and schedule a grocery pickup. Some weeks, we go to Costco or Trader Joe's instead for a change of pace or to stock up on meats we like to buy in bulk.
What about breakfast and lunch?
We just keep it simple. For breakfast, we usually have eggs. If we're feeling fancy, we might make omlettes or have bacon as a side.
For lunch, we eat leftovers. If we're really going through a lot of food, I might have a salad for lunch, or I might put together a plate of cut up veggies and proteins. Nothing complicated at all! I try to use up what we have in the fridge before it goes bad.
What's makes this keto meal planning system work?
This system works for us because it's simple. When we first started doing keto, I made a lot of complicated recipes, and sometimes they weren't very good. Our kids like the basic protein meals we make, and by aiming to have at least one veggie in each dinner, we end up getting a little variety.
All meals take under 30 minutes to prep. If I'm ambitious on the weekend, I might try a new recipe that takes longer, but I only do that every once in a while.
It's easy to modify for our kids. By adding a few different sauces or condiments, or swapping out side dishes, the kids can customize their proteins and sides by adding things they like.
We don't use complicated ingredients. By trying to eat real foods, grocery shopping and meal prep is much easier!
We use grocery pickup. Where we live, grocery pickup at Wal-Mart is free. But, if we didn't have free pickup, I'd pay for it! It saves us a lot of time, and keeps me from making impulse purchases in the store.
We keep a lot of keto-friendly snacks on hand. Keeping our fridge stocked with keto snacks like pickles, nuts, cheese sticks, meats, etc. helps with cravings, and they're also good to have around in case I need to throw together a quick meal for on-the-go.
Thawing meat the night before. I put a recurring reminder on my phone that tells me to take meat out of the freezer every night. Otherwise, I'd forget, and I'd spend a lot of time trying to get things to thaw quickly before making dinner.
What if you need to change your meal plan mid-week?
It's actually rare that we completely stick to our meal plan for the whole week, but it always works out. By trying to eat the fresh foods first, we make sure we're not wasting food. If our plans change, and we end up skipping one of our meals for the week, I just move one of or meals that has mostly frozen ingredients to our next week's meal plan.
Keep a few "emergency meals" in your freezer for nights when you have to throw something together quickly. If you have some pre-cooked meats and frozen veggies on hand, you can easily throw something together in a pinch if you can't stick to your keto meal plan for the day.
Decide to take a break from keto? This meal plan will still work because it's so simple. You can add un-keto sides to your meals if you'd like, and still eat what you had planned for the week.
Need more keto meal ideas?
Check out these resources full of recipes and ideas to help you put together your own ketogenic meal plan:
Yummy Instant Pot Keto Recipes You'll Love