Looking for clutter free gift ideas? Here's a list of resources and posts that will give you lots of great gift ideas.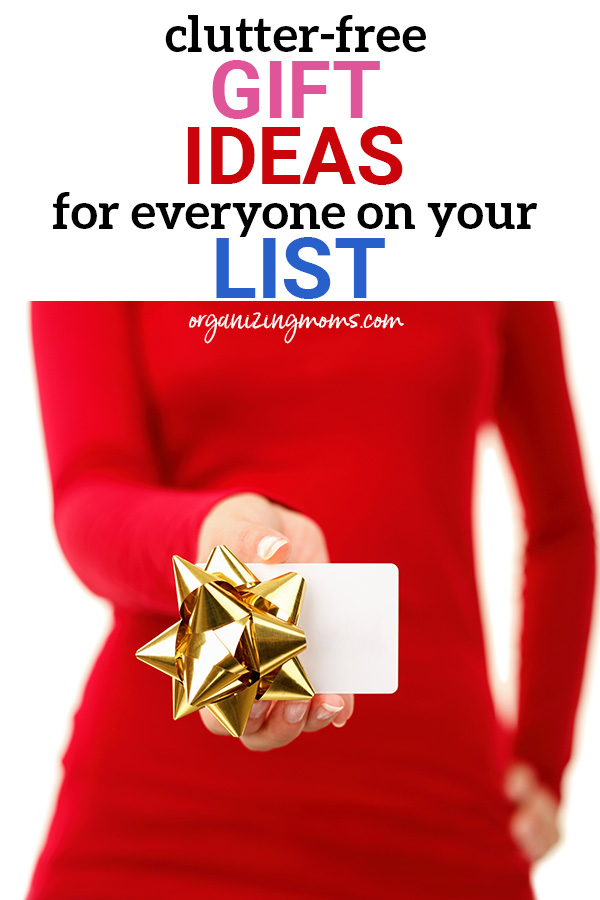 You may also like:
Gifts don't need to cost a lot to be special. As gift-givers, we want to give something that will make the recipient happy and show them how much they mean to us.
Some people are easy to buy for, and others are a puzzle.
If you know someone who seems to have everything, or never has a gift idea in mind, this list of clutter-free gift ideas will probably help you come up with some gift ideas you hadn't thought of before.
It's great for people who don't have a lot of "stuff," or for people who are downsizing and minimizing.
These gift ideas will work for anyone, and they might just stand out from the other gifts they receive because of their uniqueness.
If you're trying to declutter, minimize, or get organized, you know that well-intentioned gifts can easily become a source of clutter and frustration.
Most friends and family will be sympathetic if you tell them that you're trying to declutter your home.
Below are some resources to help you brainstorm some clutter-free gift ideas.
You might want to make note of some of them for yourself too.
That way, when someone asks you what you'd like as a birthday gift, you'll have a clutter-free gift idea in mind.
Clutter Free Gift Ideas
More Gift Ideas
FREE 10-Minute Tasks to Help You Declutter & Organize!

Get realistic, easy decluttering & organizing task checklists delivered to your inbox each week when you sign up for the Organizing Moms newsletter. Join over 8,000 moms who want less stress, less mess, and a more organized life!