Today, we're going to focus on getting our Christmas decorations organized!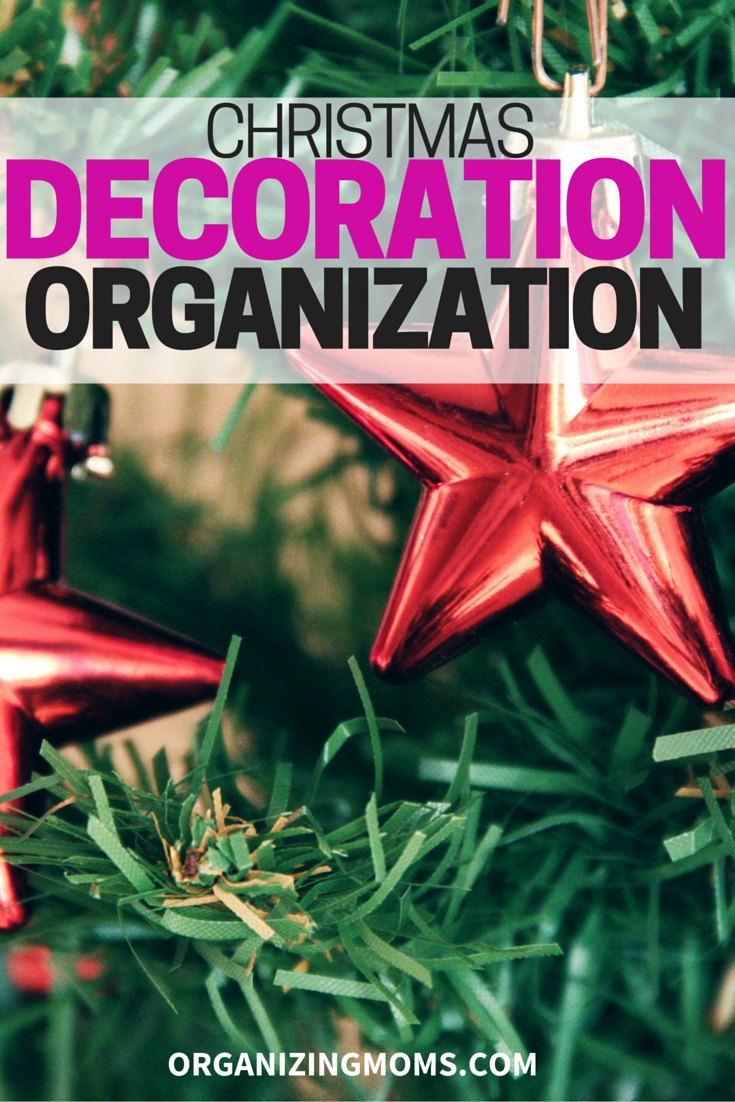 You may also like:
The Best Time to Organize Your Christmas Decorations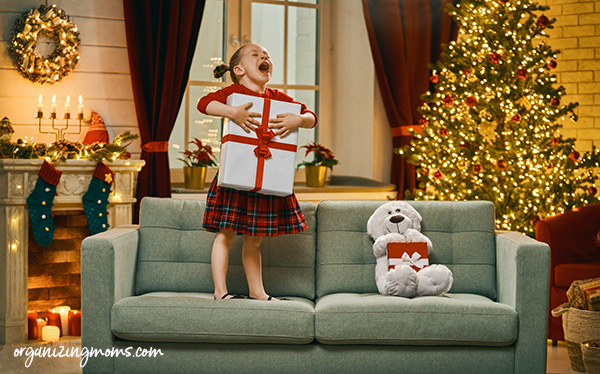 Even though it might seem best to put off organizing your decorations for summer when you have more time, it's really easiest to organize everything as you're putting things away right after Christmas (or sometime in January/February…we're not judging!)
Here's why: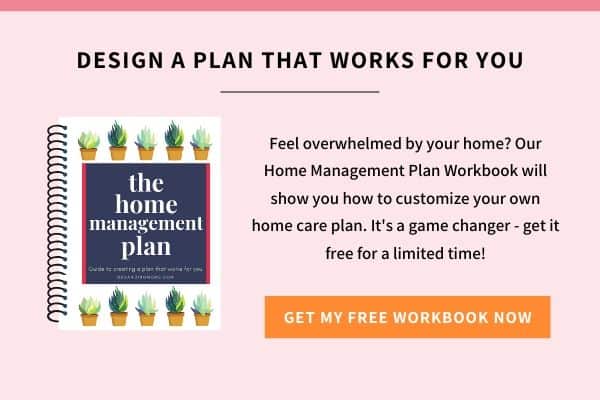 You have a clearer idea of what you actually like and use. After going through the holiday season, you've been through all of your decorations, and you know what worked and what didn't.
You have a lot of extra boxes laying around. Those could be put to good use as storage containers.
Most people feel like organizing right after Christmas! Capitalize on that energy and get this project done while you're in the mood to declutter and organize.
What If You Want to Organize Your Christmas Decorations At Another Time of Year?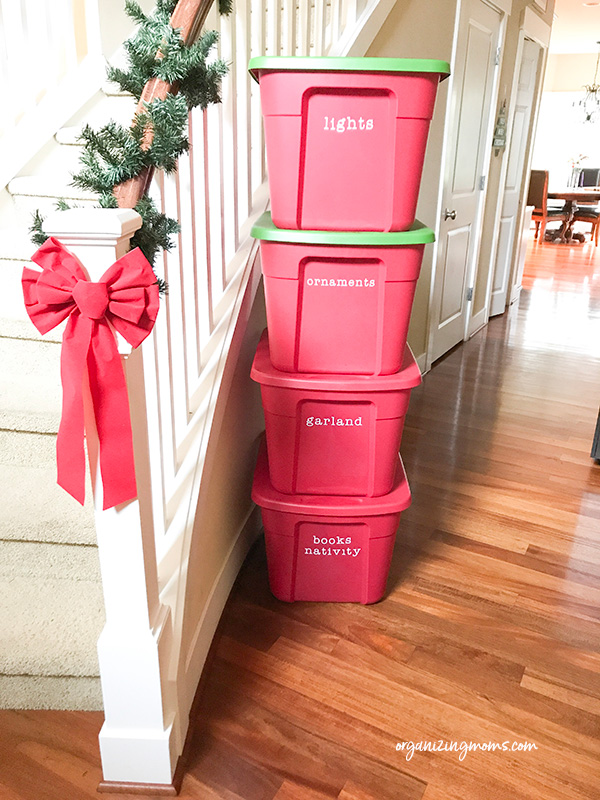 If you are reading this as you are about to start decorating for Christmas, go read this post about Decluttering Holiday Decorations the Easy Way, and follow the steps outlined in the post. It will help you to declutter and organize Christmas decorations.
If you're reading this way before the Christmas season, the best thing you can do right now is to start consolidating all of your Christmas stuff into one central location.
If you know you want to get rid of things, go ahead and start decluttering. If not, focus on putting all of your stuff in one place, and that will make organizing and decorating for Christmas a lot easier.
Related: How to Do a Reset Week After Christmas
Ideas for Organizing Your Christmas Decorations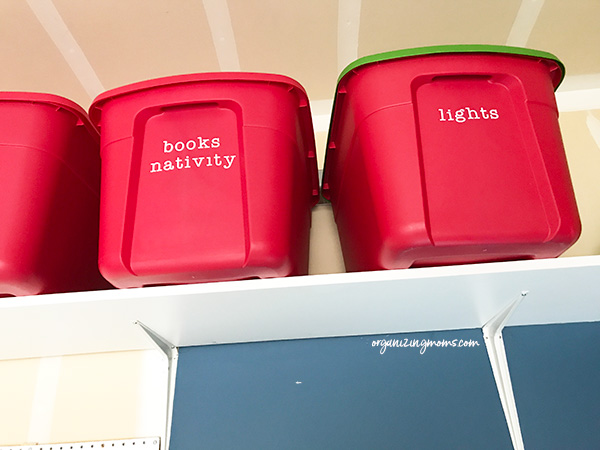 Use plastic tubs to store all of your decorations. This will help protect your items from the elements – especially if you're storing them in the garage or basement. And honestly, it just makes everything easier to carry, fill up, and handle.

Label your bins – generally and specifically. I made labels for the front of my bins using my Cricut machine, but I also put a more detailed inventory on the top of each box. This has saved me a lot of time searching for specific items, like our Elf or specific Christmas books we like to read each year. Related: Scannable Labels for Bins

If you have a wreath you want to store, invest in a storage container made for wreaths. I bought an inexpensive wreath bag years ago, and it's worked out great. I like that I can fold it down and put it inside our storage bins while we have our wreath up.
Plastic cups are perfect for storing breakable ornaments or smaller fragile decorations. I set them up in the bottom of our storage tubs and filled them with our fragile items as we took down our decorations.

Plastic apple containers and egg cartons are also great for storing breakables.
Save your tissue paper from gifts to wrap ornaments/decorations. We've been using the same tissue paper to wrap our ornaments for storage for years now, and it still does the job! You could also use napkins or paper towels if you don't have leftover tissue paper.
Store some of your ornaments in gift boxes. That way, you can put them under the tree next year. We always seem to have a lag between when we set up our Christmas tree, and when we actually get around to decorating it. I love the idea of being able to temporarily store ornaments in a pretty way while waiting for the chance to decorate the tree. Thanks to my friend Carmen for this great idea!

Consider investing in matching tubs for all of your Christmas decor. If you're working on this project right after Christmas, you should be able to find some nice deals on Christmas storage in your local stores. Having a matching set makes everything look more uniform, so it's less likely that one of the boxes will get moved to another storage location by accident.
More Organization Ideas for You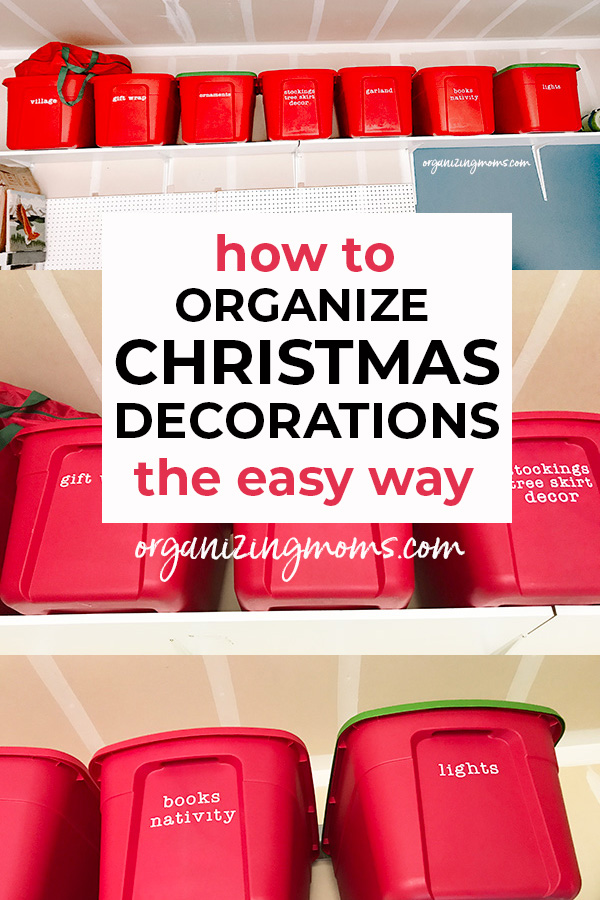 New to this community? Start here, friend!