This is a sponsored post written by me on behalf of The Duck Brand. All opinions are 100% mine.
If you're looking for a unique way to label your storage bins, Duck Pack & Track™ Labels are a simple, inexpensive solution to help you organize bins with ease.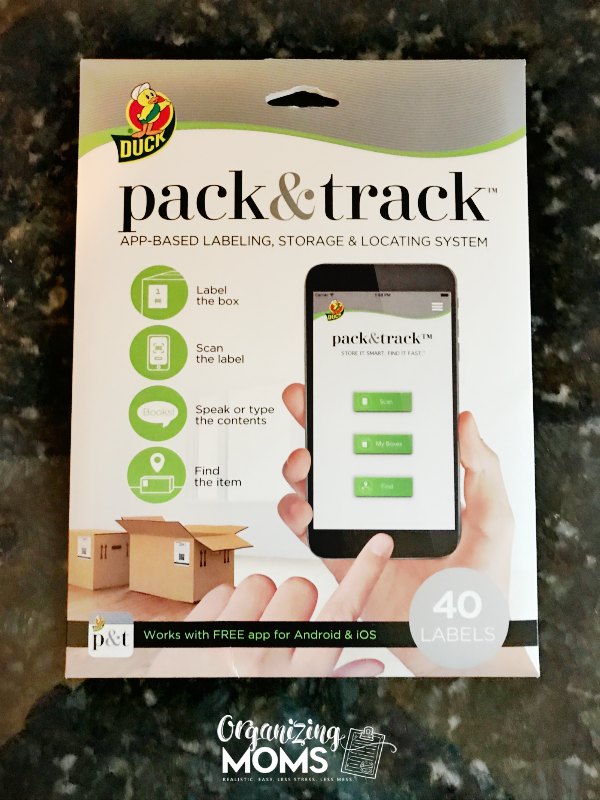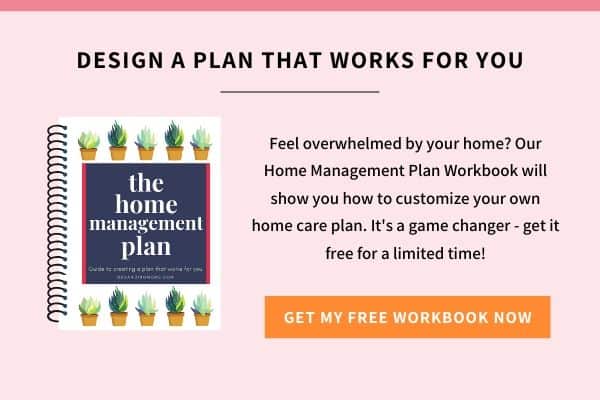 These labels come ready-made with QR codes. That means no printing or designing complicated labels on your own – you can just take these labels out of the package and start using them right away.
We decided to use the Pack & Track Labels when we worked on organizing my Mom and Dad's garage. They had a set of bins ready to go, and they wanted an easy solution for labeling them.
See how we organized their garage here –> How to Organize Your Garage the Easy Way.
Pack and Track Labels
My mom quickly downloaded the app to her phone, and we got started by dividing all of the garage items into separate categories.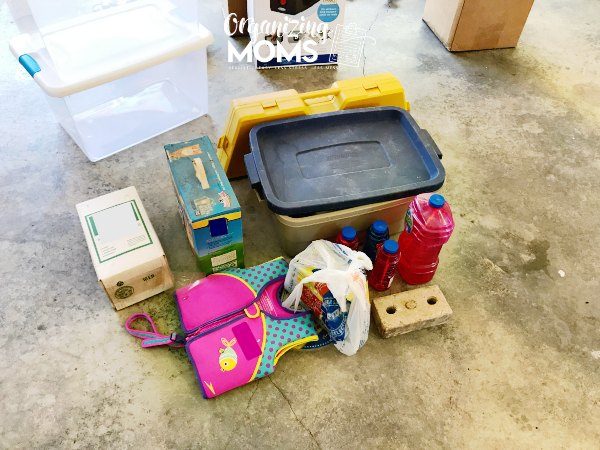 By putting all of the items into different categories, we could easily see what types of bins we needed to make. I'm glad we did this step first, because we were also able to declutter and get rid of duplicates in the process.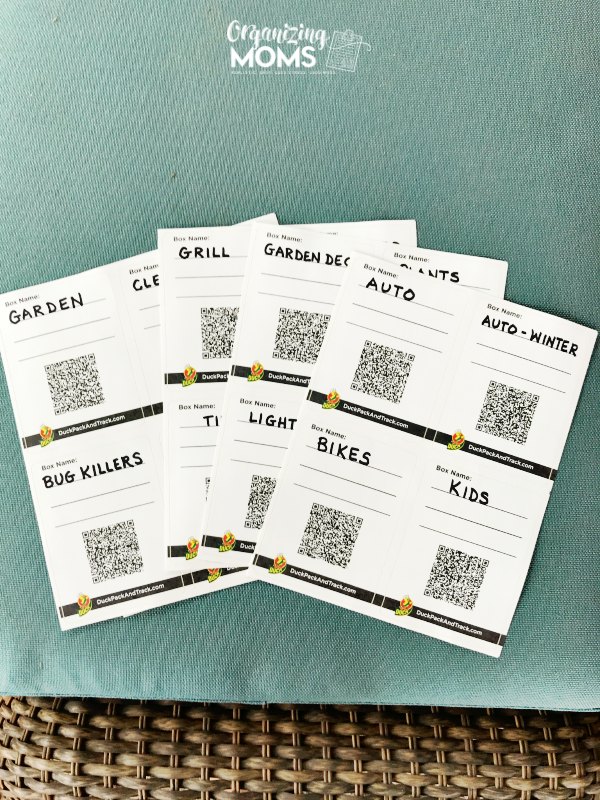 How to Label Storage Bins
Once we had our bin categories figured out, my mom labeled her Duck Pack & Track labels with a simple category name. While we were categorizing, we also made lists of everything we planned on putting in each bin, but we really didn't need to!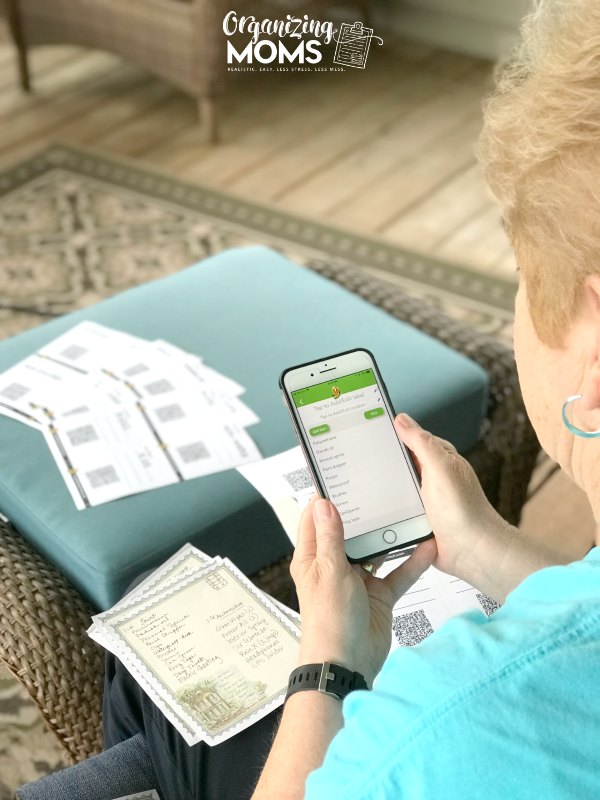 Next, my mom used the Duck Pack & Track app to make a digital list of all of the contents of each box. All she had to do was scan the QR code for each bin, give the bin a name, and then start telling the app what was inside the box. I couldn't believe how fast and easy it was! You can also go back and edit by typing in the names of your bin items too.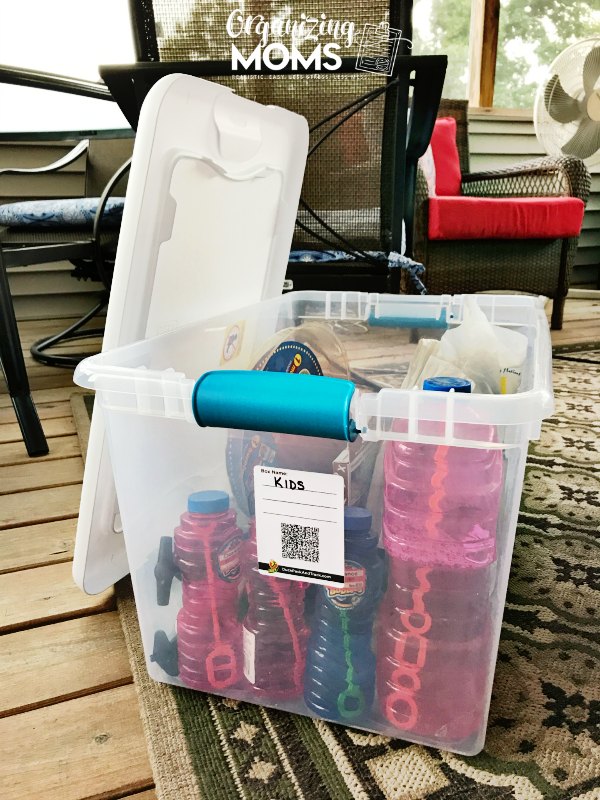 QR Code Stickers for Storage
Here you can see our "Kids" bin, filled with all sorts of fun things for the grandkids to use when they visit.
The labels for plastic bins with scannable QR code labels make everything easy to find. All you have to do is open up the Duck Pack & Track app in your phone and search for what you need.
Then, the app tells you which scannable storage label to look for on your shelves.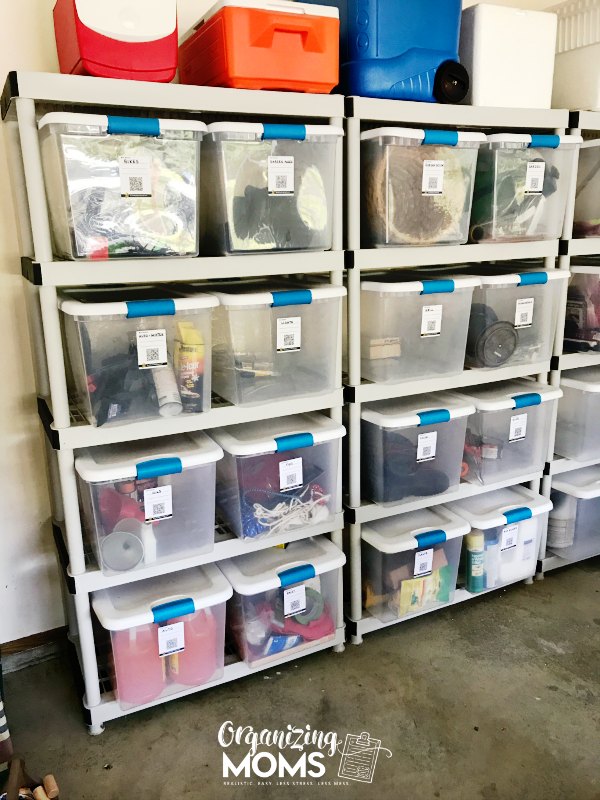 And here you can see our finished project! All of the bins are labeled, and whenever my parents need to find something in their garage, they can find it by searching in their app. This will be especially nice during the freezing winter months when they don't want to spend a lot of time searching for items in a cold garage.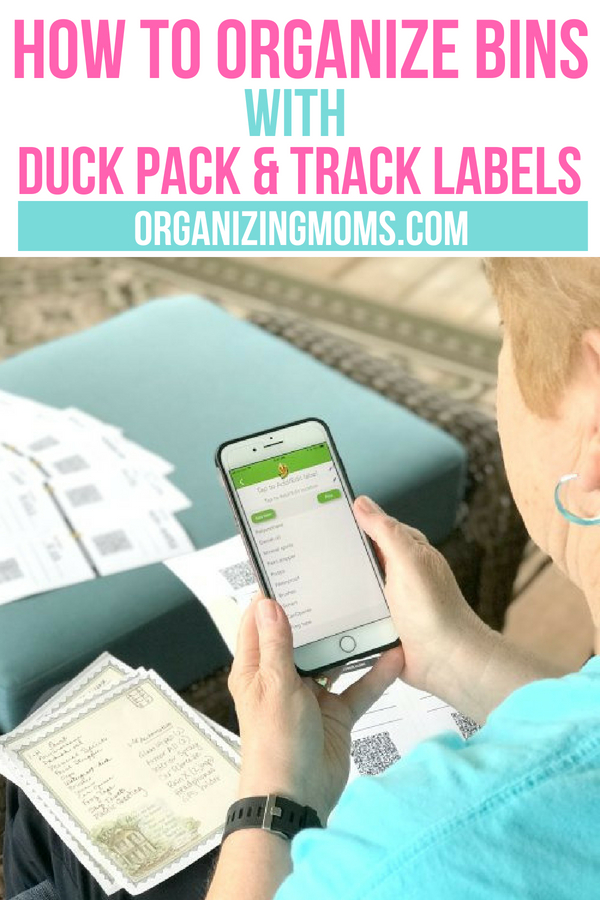 How to Keep Track of What is In Storage Bins
Here's an overview of how the Pack & Track Labels work:
Duck Pack & Track™is an innovative app system that works with labels and boxes to keep track for your belongings.
HOW IT WORKS:
1. Label the Box. Write a descriptive name on your Pack & Track™ label about the contents of the box. Make sure that each box name is only used once. Do you have more than one box that contains similar items? Use labels like "Kitchen 1, Kitchen 2 and Kitchen 3" for those situations.
2. Scan the Label. Access the Pack & Track™ app on your smartphone and use the "Scan" button. This will open your smartphone camera and you can now scan the barcode off of the label on your box. When prompted, speak or type the name of your box – make sure to use the same name for your box in the app that you used on the label.
3. Speak or Type the contents. Start adding items to your box by speaking or typing in the app. Use the word "and" to add more than 1 item at once. For example, "pots and cookie trays." Be as descriptive as you can with the items you list in your box and use phrases that are familiar to you. This will make it easier when you search in the app to find your items.
4. Find the Items. Scan the label on the outside of the box with your smartphone camera to pull up a full list of the contents. Or, use the "Find" function in the app to locate items. Simply speak or type the item you are looking for, and Pack & Track will tell you the box it is in.
Available nationwide at Walmart stores.
Want to learn more? Check out the Duck Pack & Track™ product page for more information.
New to this community? Start here, friend!