How to organize a garage and make everything easy to find and put away. Step-by-step guide to organizing your garage once and for all!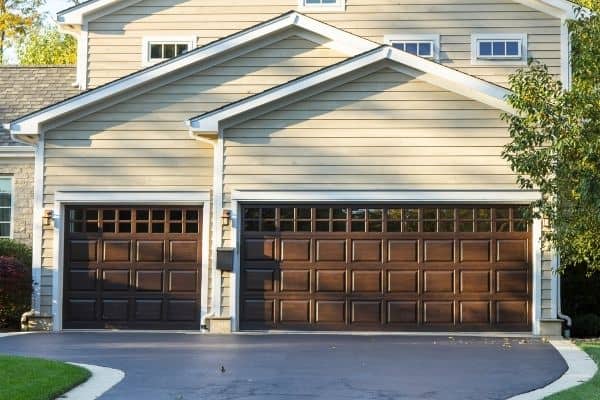 If you're getting ready to do a big garage organization project, it's helpful to think about how to organize a garage in the most efficient way possible before you begin.
By looking at other garage organization ideas, you can start to plan your own garage organizing project.
What Is the Best Way to Organize a Garage?
Because everyone's garage is different, and we all store different types of items in our garages, it's difficult to prescribe a one-size-fits-all approach to garage organization systems. However, there are some common steps we can all take to organize our garages that make the whole process much easier.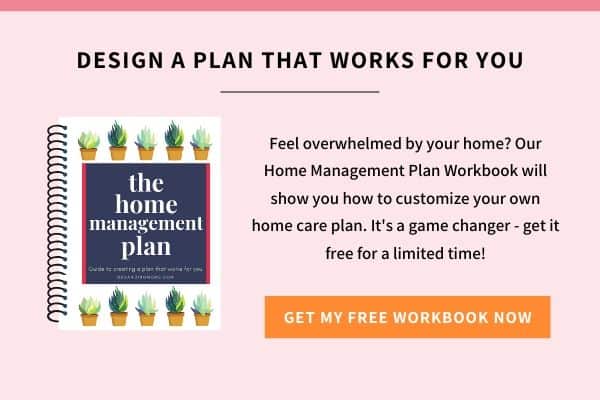 Garage Organization DIY
In this article, I'm going to show you how we organized my Mom and Dad's garage! They already had a lot of organizing systems in place like a tool box, and a rack for storing brooms, shovels, and garden tools. So, for this project, we focused on decluttering and organizing their garage storage shelves.
How to Organize a Garage
Sometimes it helps to see how other people approach organizing projects, so this step-by-step garage organization guide will help you figure out how to organize your garage so you can make a plan that works for you! Here's the steps we used: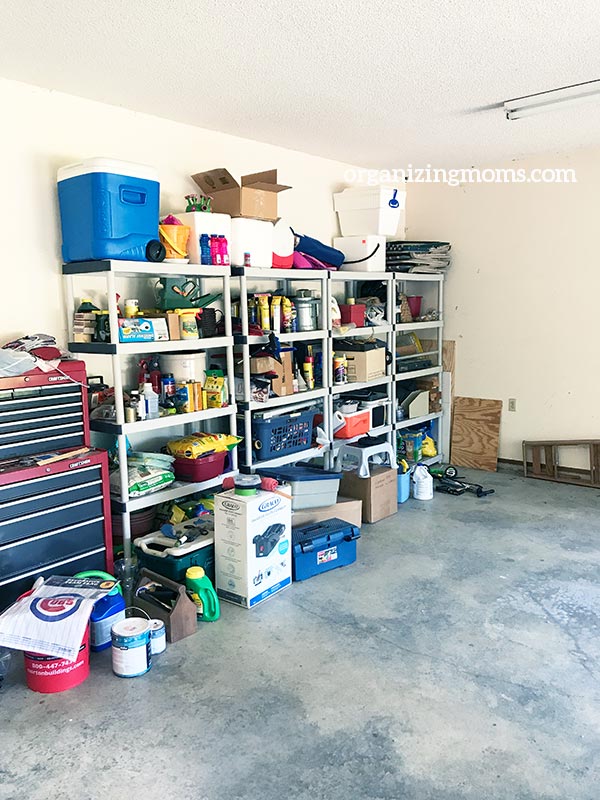 Determine what's working in your garage, and what isn't. My parents already had these great shelves from Home Depot, (you can also find them on Amazon) and they fit perfectly in the back of their garage. They knew they wanted to keep using them, but they needed to find a better way to store their stuff so they could more easily access it.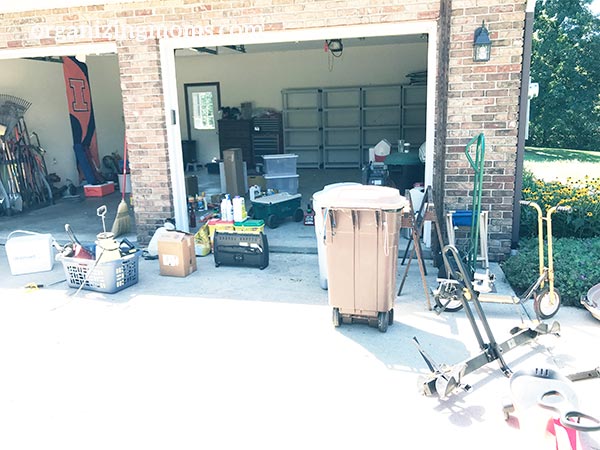 Declutter your garage. We took everything out from the area we were organizing, and we got rid of a TON of stuff. Make sure you have garbage bags ready for this step! We happened to do this project at the same time my parents were building a barn, so they had a big dumpster nearby that we used to get rid of a lot of trash from the garage.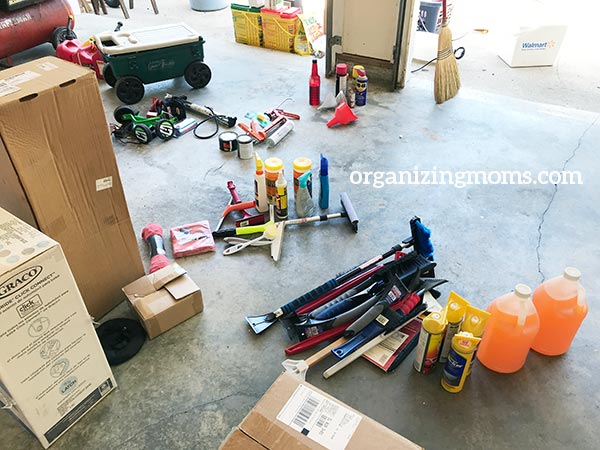 Categorize items you want to keep. As we decluttered, we tried to put similar items together. This made them easier to put away, and it made it easy to find duplicate items we could get rid of!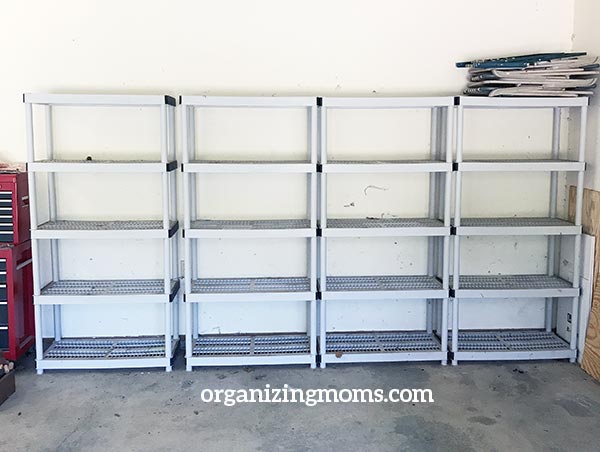 Make use of garage storage you already have. If your garage already has shelves, hooks, or anything else that you could make use of, work that into your plan. Then, take a look at all of the items you've decided to keep in your garage, and see what would be the best garage organizing system for stuff. My parents already had these Home Depot garage organization shelves that they liked, so we planned to use them in our project.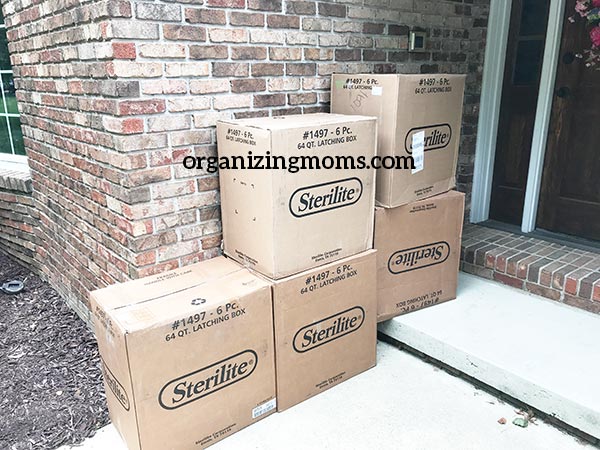 If necessary, invest in some garage organization and storage solutions. In our case, my parents decided to invest in some plastic bins from Amazon that just happened to fit perfectly onto the shelves they already had.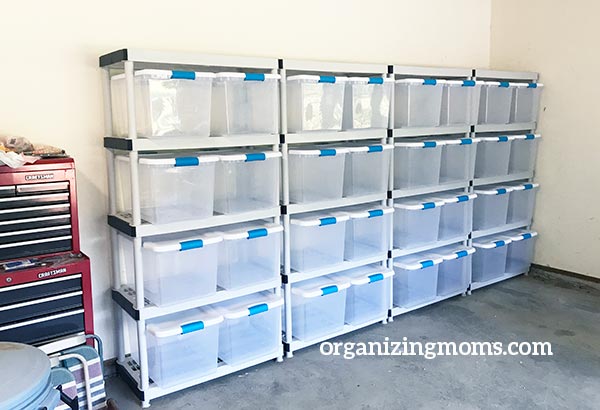 Make sure everything fits. We put the storage bins on the garage storage shelves first to see how everything would work together. At this point, the project became much more fun because we could start to see how the project was going to turn out!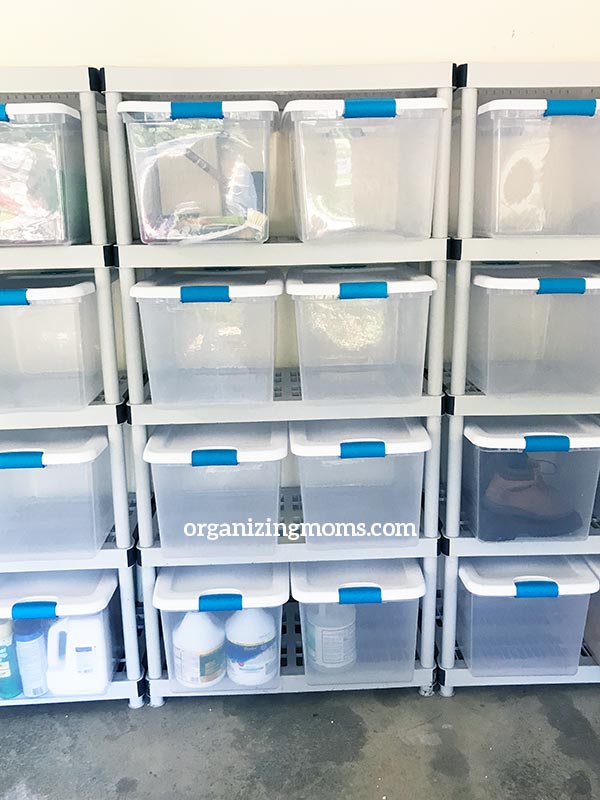 Store like items together. We started filling the bins one by one with similar items. As we worked, we kept track of the different category names so we could create bin labels after we finished the project.I recommend waiting until you put everything away before creating labels – we actually changed our mind about how we were going to label things several times while we were filling the bins.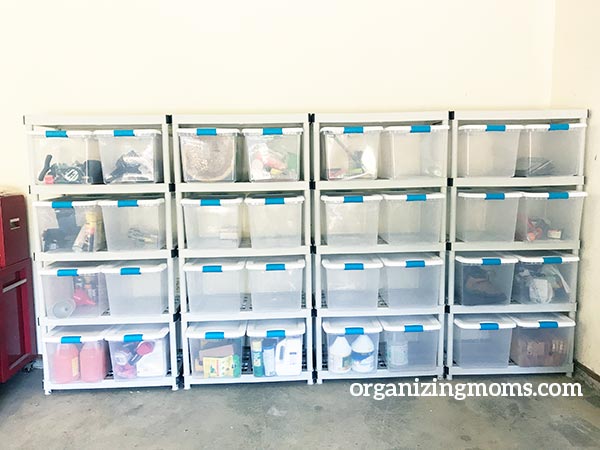 Make sure items are easy to access. We put heavier items on the lower bins, and lighter items on the upper shelves. This made it easier to pull out the heavier bins, and ensured that the shelves wouldn't be top-heavy.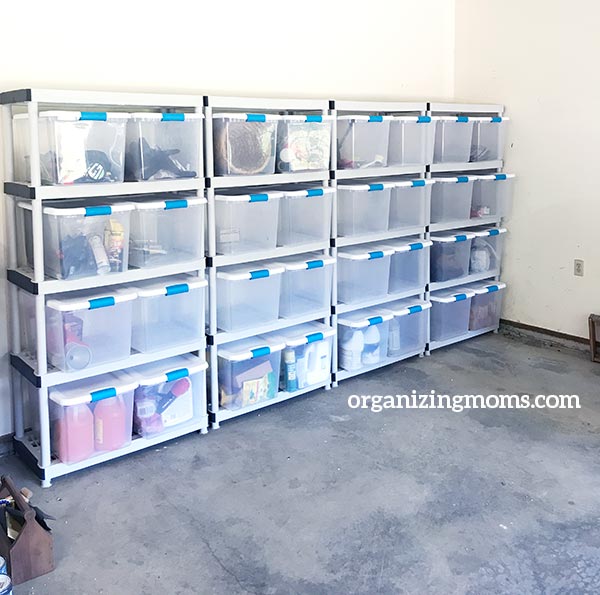 Clean floors and dust if needed. Once you have things put away in your garage, it's a good time to sweep the floor, do some dusting, and clean up.
Label your storage containers. Make things easy to find later by labeling any bins, baskets, or boxes you use. My parents used these scannable labels for the project, so if they don't want to pull out a bin, they can scan the label with their phone and immediately see a list of what's inside on their phones. You can read more about their garage bin labeling system here.
Related: QR Code Labels for Home Organization Projects
How Long Does It Take To Organize a Garage?
That depends on how much stuff you have in your garage! We took a couple of weeks to do this project, but we took our time. It was really hot outside, and we didn't want to overdo it! Plus, right in the middle of the project, my sweet nephew was born, so that too precedence over this project! 🙂 If you're ordering organizing supplies, you might need to build in a couple of days for your bins or shelves to be delivered.
Where Can I Find the Garage Organization Shelves and Bins You Used?
Here are the shelves on Amazon. My parents originally bought their shelves at Home Depot. Here are the bins on Amazon. They sell them in multi-packs if you need several.
How Do I Declutter My Garage?
If you have a lot of time and energy, the best way to clean out a cluttered garage is to take everything out, and only put back what you really need to keep. Most of us don't have a lot of time or energy! Setting aside an hour or two each weekend to declutter specific sections of your garage can also be effective. And, once you start working, you may feel more motivated to do more!
What Is the Best Garage Organization System?
The best garage organization system is a system that makes it easy to find things and put things away. I liked the system we used in this project because the shelves and bins are portable. If you need to move, they can easily be moved to a new home. As you're figuring out how you want to organize your garage, you'll also want to consider things like temperature variations for different seasons, and keeping certain items out of the reach of children.
What's the Cheapest Way to Organize a Garage?
Use what you have! Scavenge your house for extra bins, shelving, and cardboard boxes. Look at these garage organization tips for more ideas.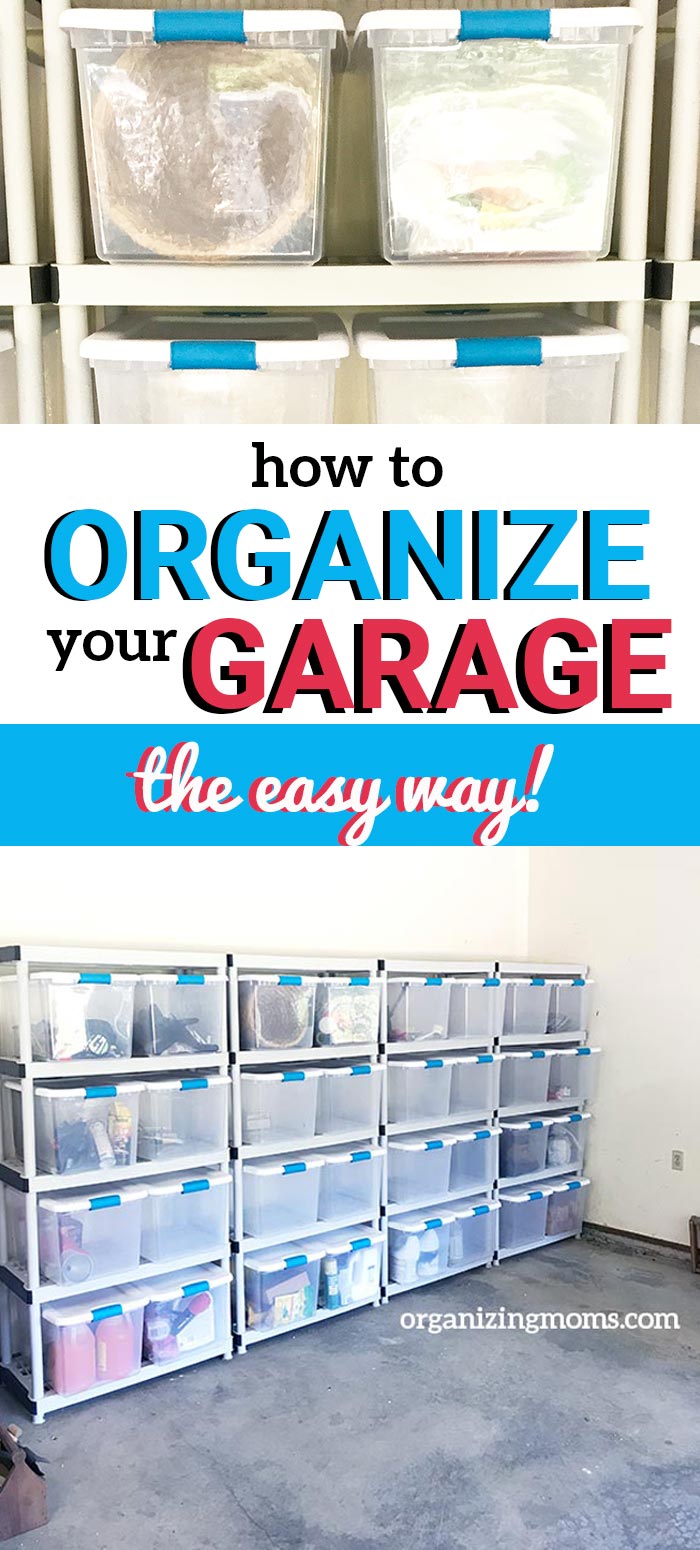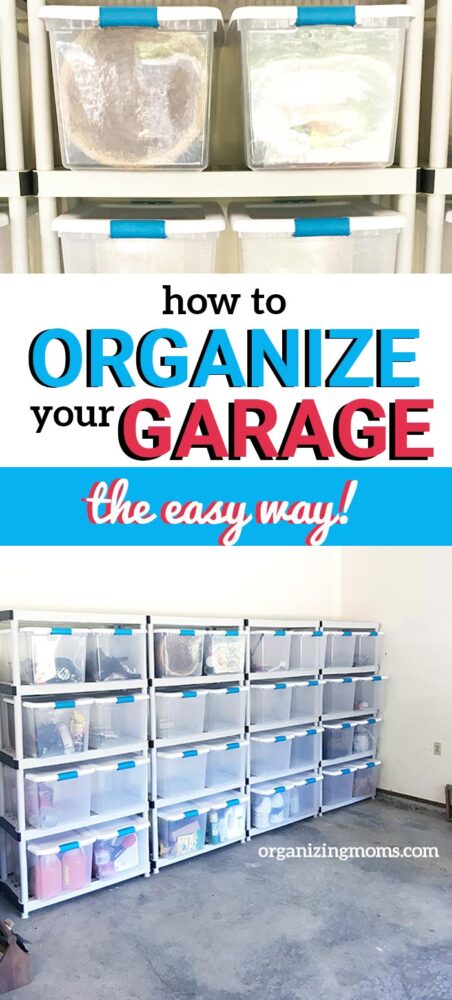 More Organization Ideas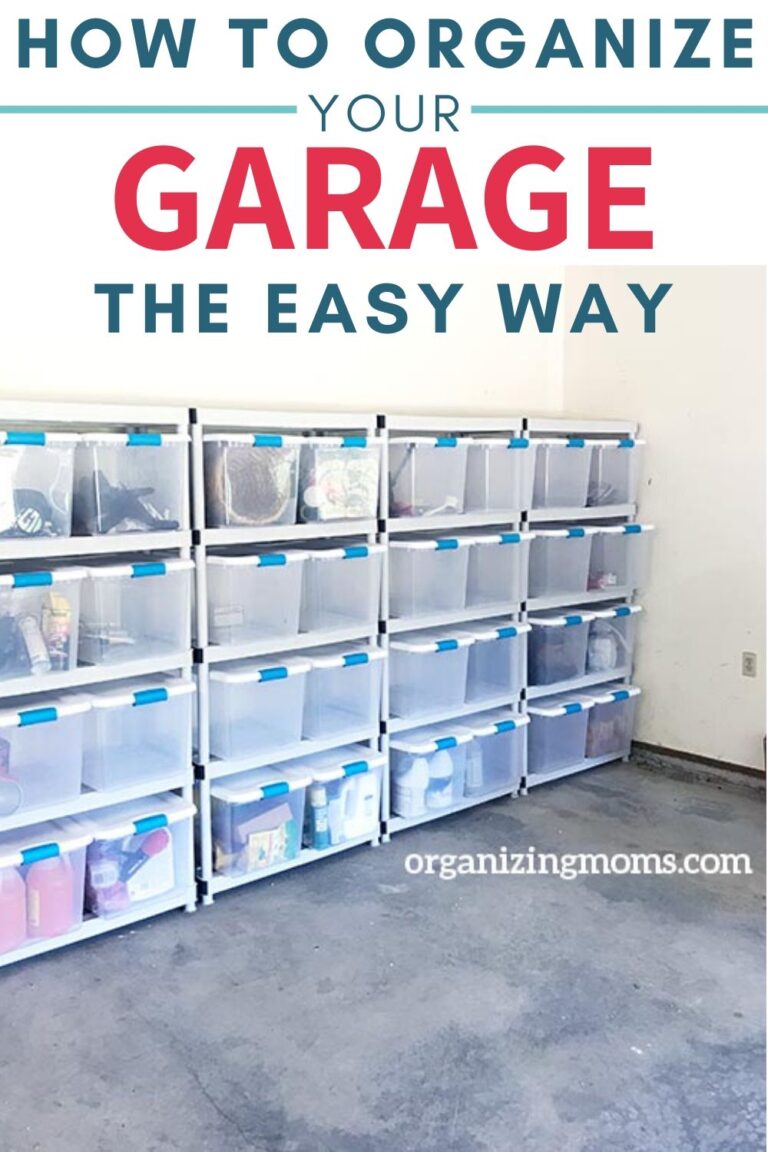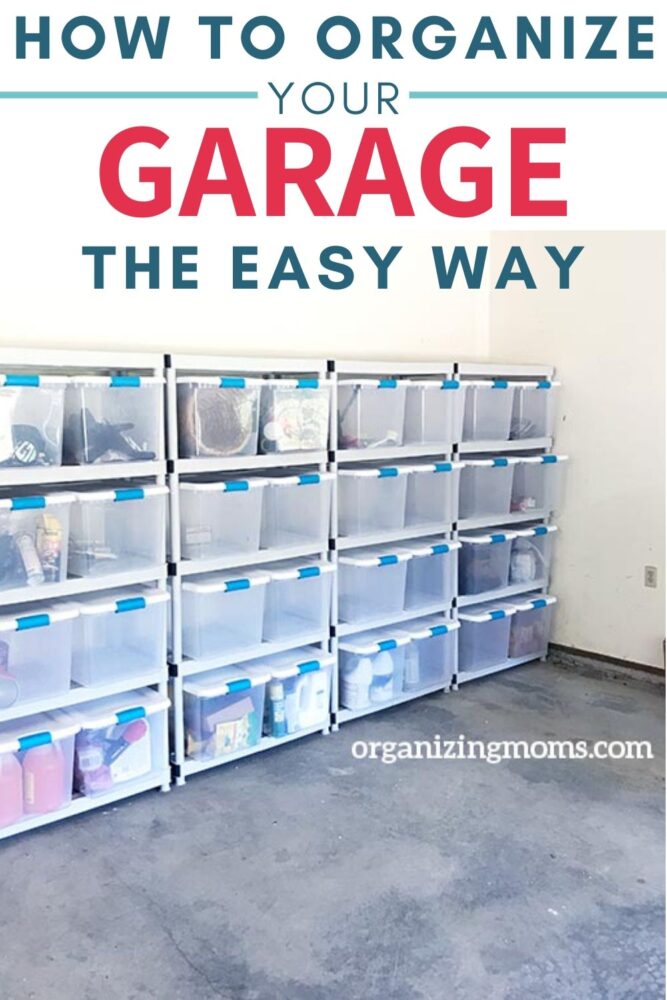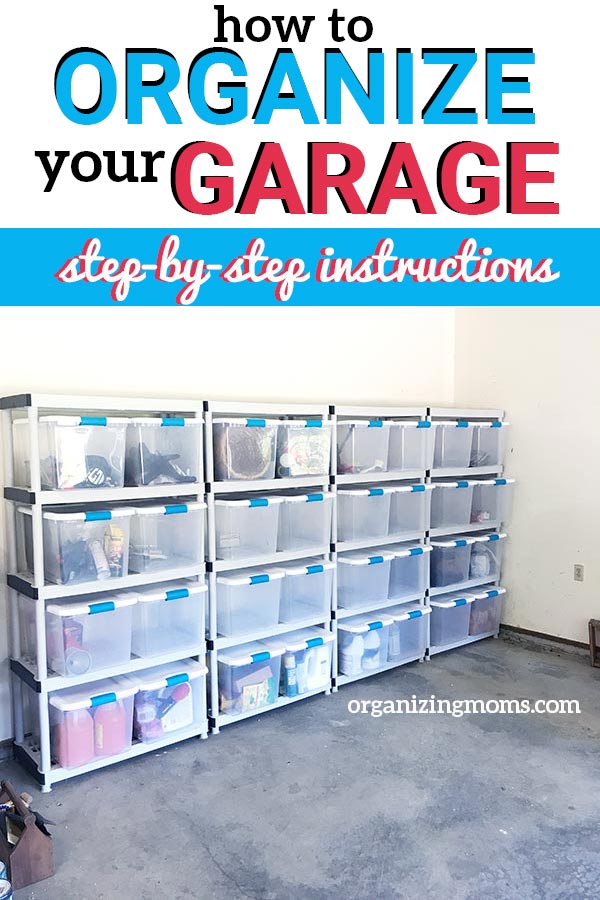 New to this community? Start here, friend!