How to cook frozen broccoli in your Instant Pot. This quick and easy Instant Pot frozen broccoli tutorial will help you prepare frozen broccoli fast!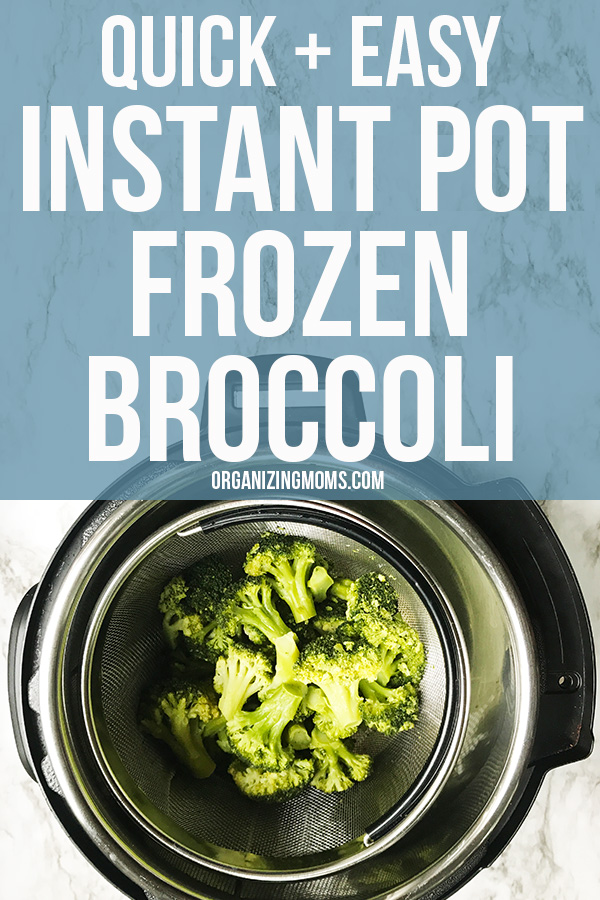 If you're in need of a quick, healthy side dish, cook up some frozen broccoli in your Instant Pot!
It's easy, fast, and hands-off.
So, if you're busy cooking something else, it's simple to set up your Instant Pot to steam your broccoli for you.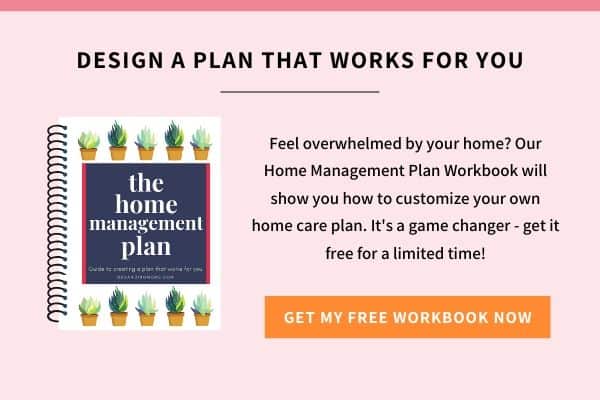 Can You Put Frozen Vegetables In the Instant Pot?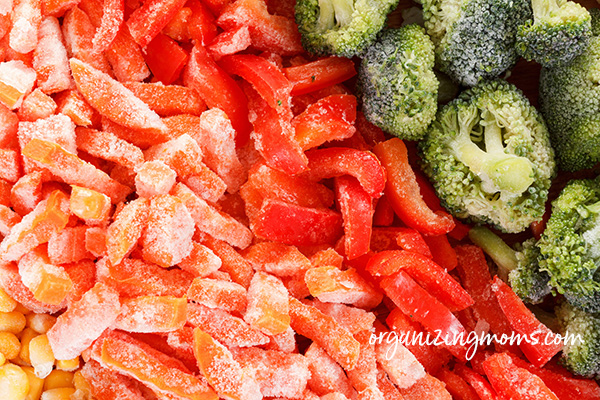 Absolutely, yes!
But you'll want to make sure you have a trivet or a steaming basket to put inside your Instant Pot.
That will keep your vegetables from touching the water and getting mushy.
Related: How to Easily Cook Frozen Vegetables in Your Instant Pot
What is the Best Steamer Basket for the Instant Pot?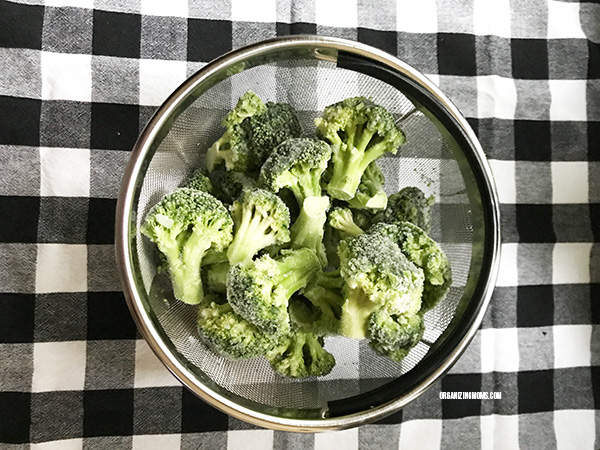 When looking for a steamer basket for your Instant Pot, make sure it has the following specifications:
The right size for your particular Instant Pot
Legs on the bottom that prop the basket up off the bottom of your Instant Pot (this keeps your food out of the water you put in the bottom of the pot).
Dishwasher-friendly
We found this Instant Pot steamer on Amazon, and it met all of the requirements above.
Why Use Frozen Broccoli Instead of Fresh Broccoli?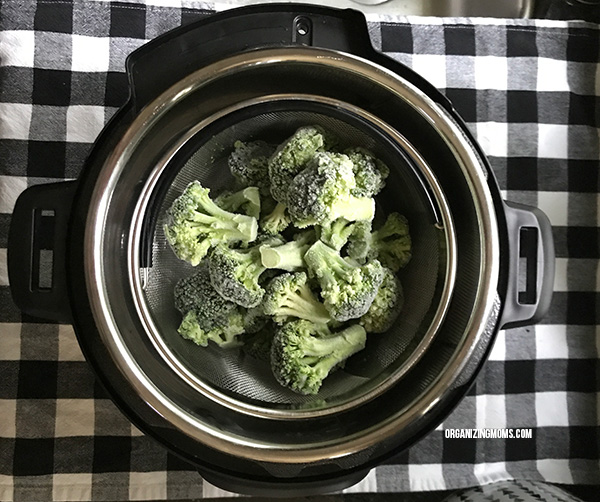 I like to use frozen broccoli purely for convenience.
We buy frozen broccoli from Costco and pull it out of the freezer for easy side dishes as needed.
Here are some other reasons why using frozen broccoli makes your meal prep easier:
You don't have to chop veggies!
You don't need to wash your veggies before preparing.
You don't have to worry about your broccoli going bad.
Better nutrition – broccoli is flash frozen right after being picked. That means it doesn't lose much of its nutritional value while being transported to your grocery store.
How Do You Cook Frozen Broccoli in the Instant Pot?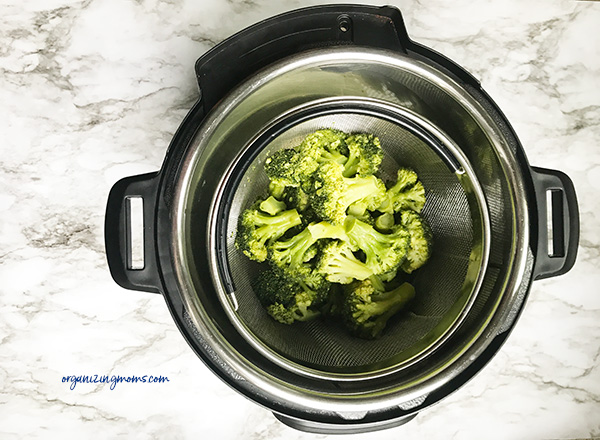 It's best to use a steamer basket when cooking frozen broccoli in your pressure cooker.
If you don't have a steamer basket, you can use the trivet that came with your Instant Pot, but you may end up with a few pieces of broccoli that get soggy.
Add one cup of water to your Instant Pot's inner pot.
Put your Instant Pot's trivet inside the inner pot.
Add your frozen broccoli to your steamer basket and put the basket inside the Instant Pot (on top of the trivet).
Close your pressure cooker's lid, and make set the valve to Sealing so that it will come to pressure.
Set the Instant Pot to Manual (high pressure) for 0 minutes.
Once the Instant Pot beeps, carefully turn the pressure cooker's valve to do a quick release. Be careful – the steam will be hot!
After the pressure cooker is done releasing the steam, carefully remove your steamer basket.
Add salt & pepper to taste
Serve your perfectly steamed broccoli!
You may also like:
Download your cheat sheet now!
Get instant access to this helpful Electric Pressure Cooker Cheat Sheet when you subscribe to the Organizing Moms newsletter.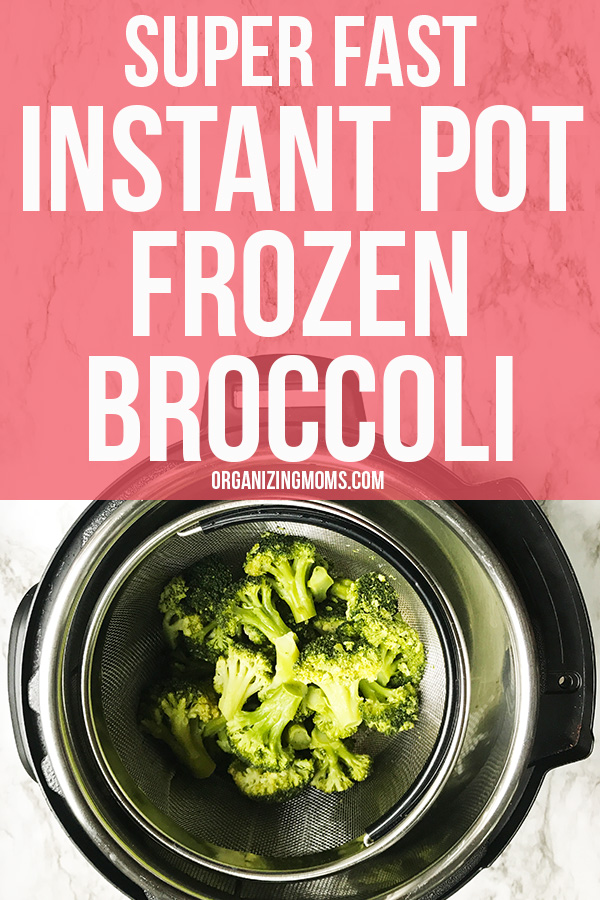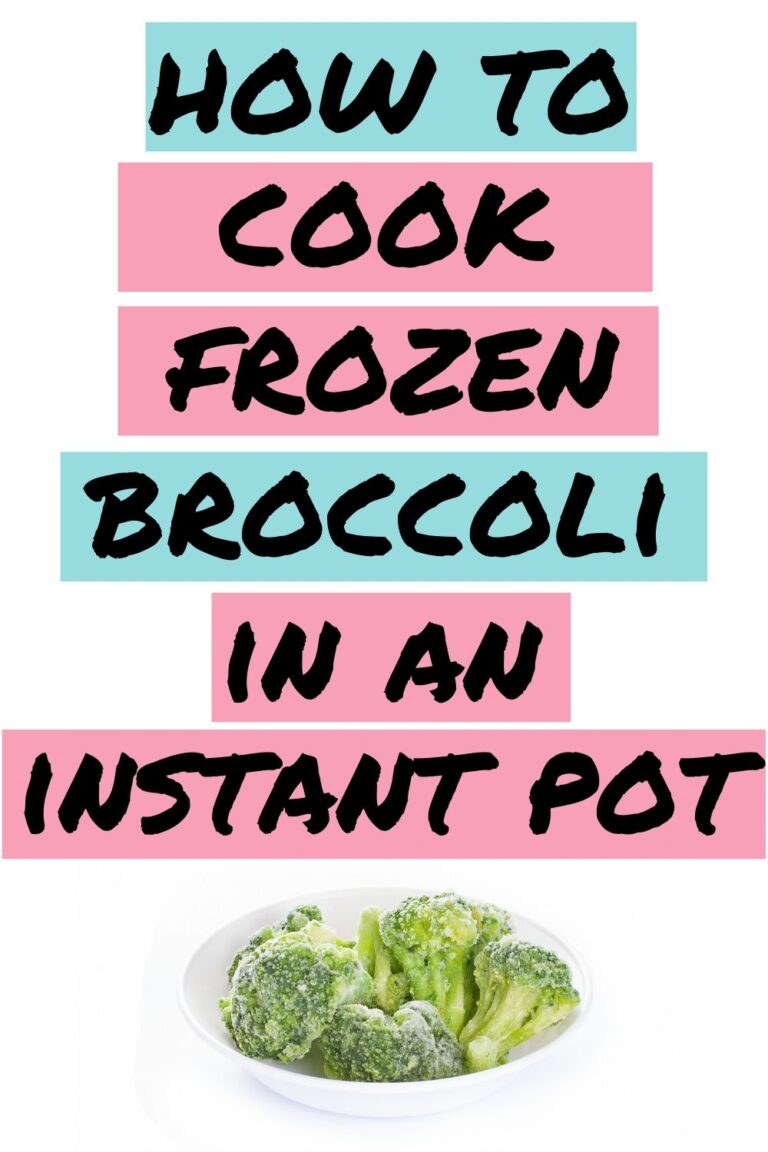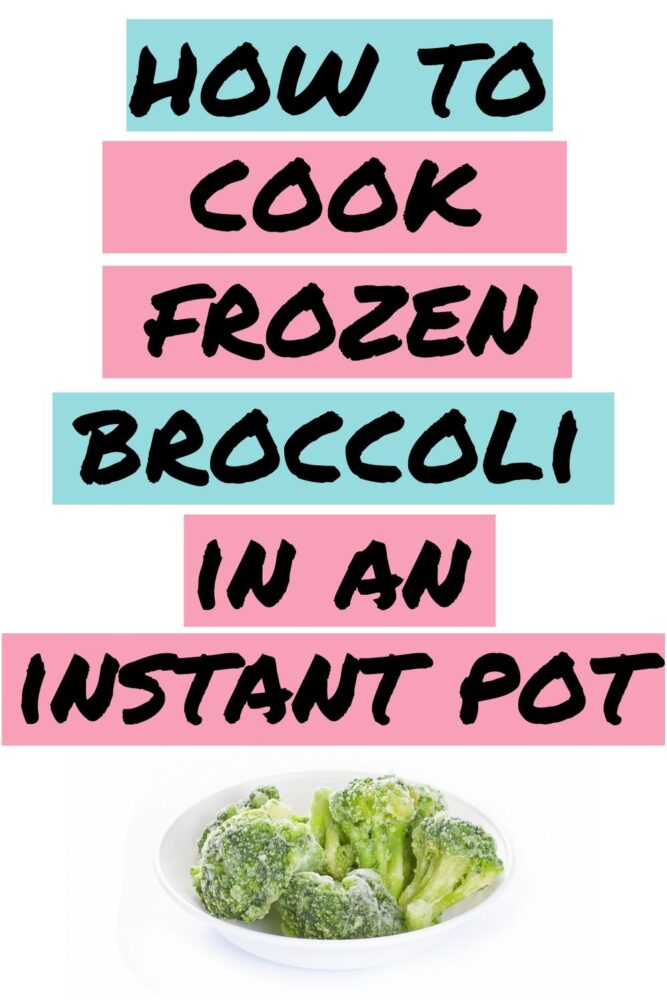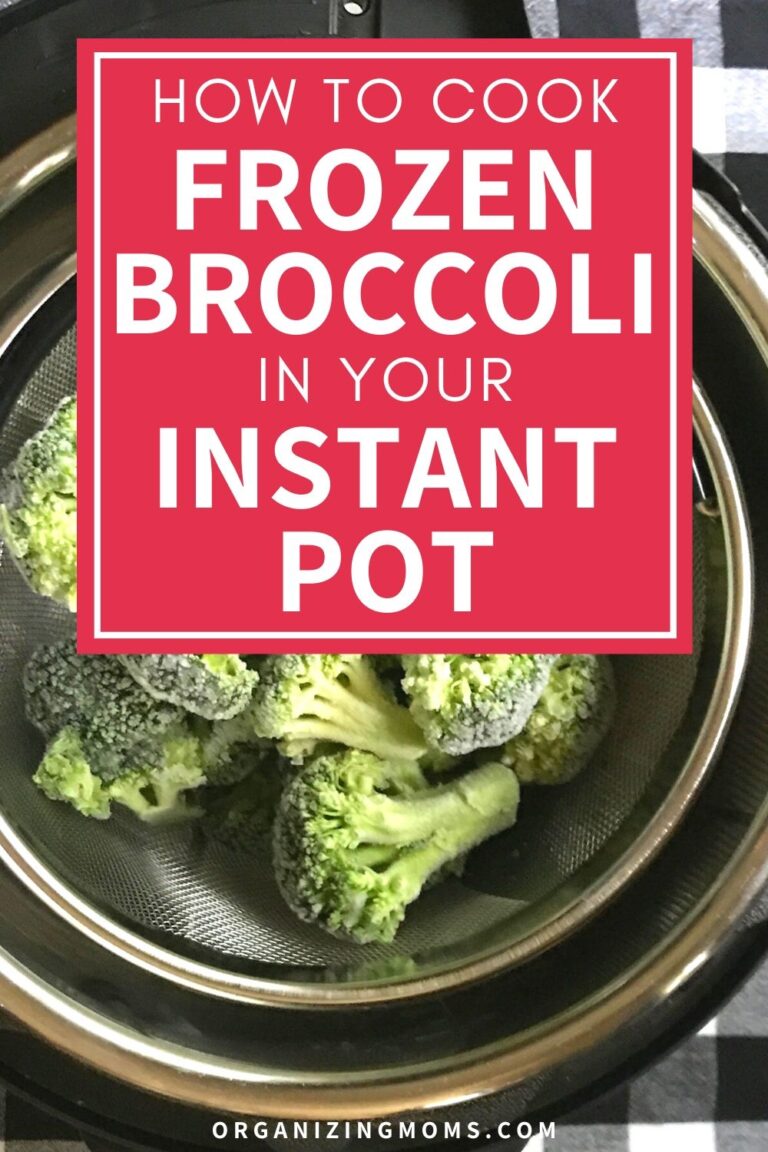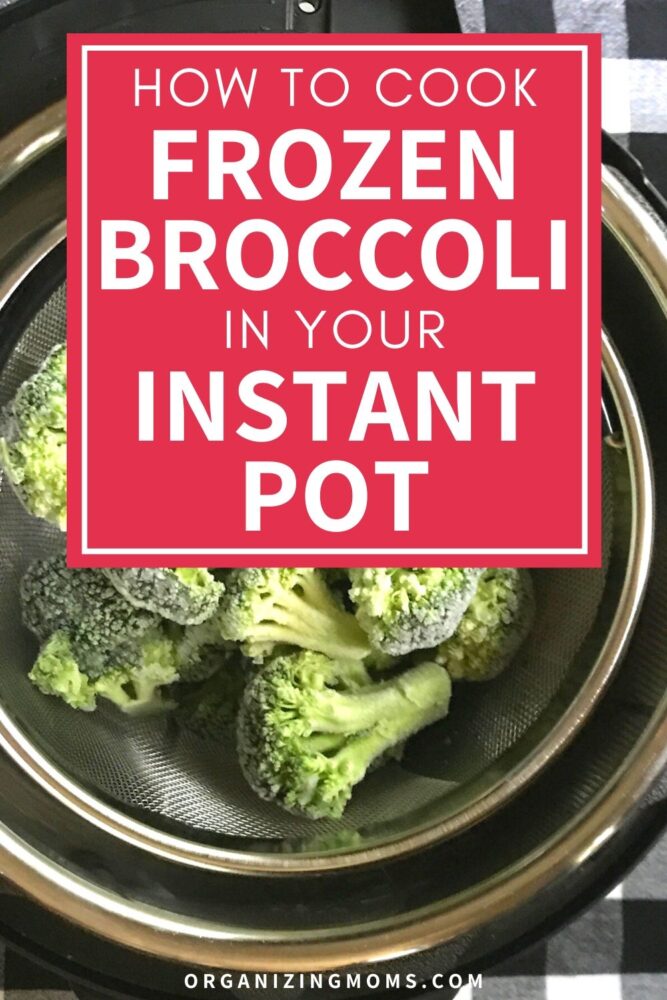 New to this community? Start here, friend!