Are you thinking about buying an Instant Pot and wondering if it's worth it? Do you already have an Instant Pot and want more ideas for using it? Looking for tips, tricks and hacks to help you maximize the potential of your electric pressure cooker?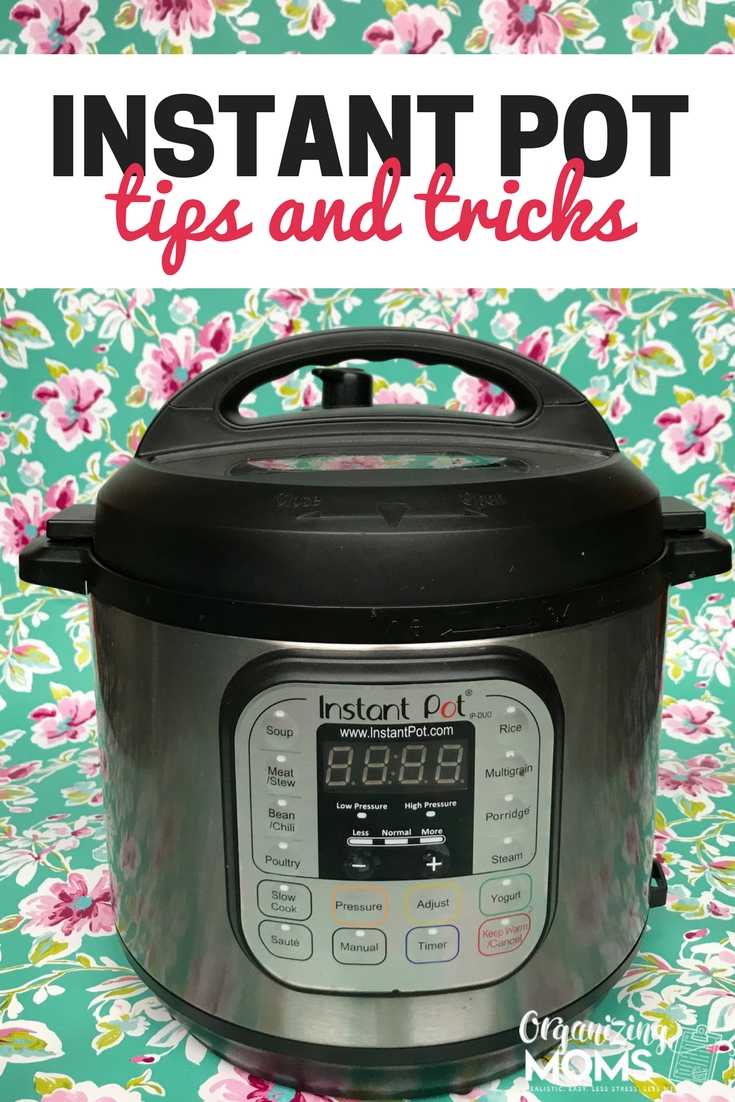 The Instant Pot is a countertop cooking tool that can take the place of many small appliances you already have in your kitchen. They can help you be more efficient, save money, and even save time on meal prep cleanup.
The more you use your Instant Pot, the more you'll realize just what a versatile tool it is!
See the video: Instant Pot Hacks You Won't Want to Miss
Instant Pot Cheat Sheet
Get the free download of my Instant Pot cheat sheet below. It includes basic recipes you can print out and use over and over again. I hung my pressure cooker cheat sheet inside my kitchen cabinet so I can use it all the time!

Sign up below to get a free Electric Pressure Cooker cheat sheet! It's a free printable you can use in your kitchen to help you remember Instant Pot staples recipes for things like cooking rice, dried beans, frozen chicken, and more!
Here are some articles, guides, and resources to help you make the most of your Instant Pot:
FREE Instant Pot Workshop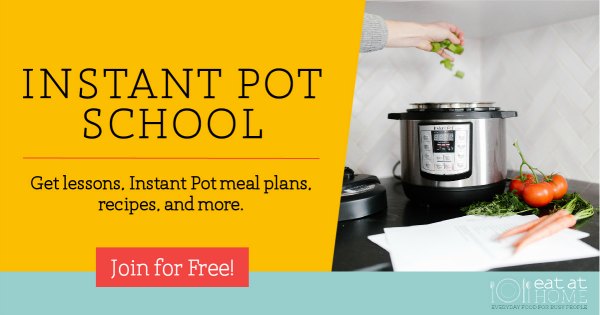 Do you have an Instant Pot hiding in your cabinet? Want to learn how to use it? Sign up for Instant Pot School with Eat at Home! Let's put that time-saver to work! Go here to sign up now.
Instant Pot Resources
10 Incredible Ways You Should Be Using Your Instant Pot
Is Your Instant Pot Still In The Box? Afraid It Might Blow Up Your Kitchen? Electric Pressure Cooker 101
Best Instant Pot Chicken Recipes
30 Amazing Instant Pot Recipes – Kids will love these!
Amazing Whole 30 Instant Pot Recipes To Try Right Now
Best Instant Pot Accessories
In this video, I show my favorite accessories for the Instant Pot. Now that I've had my electric pressure cooker for a while, I consider these to be must-haves!
Instant Pot DUO60 6 Qt 7-in-1 Multi-Use Programmable Pressure Cooker, Slow Cooker, Rice Cooker, Steamer, Sauté, Yogurt Maker and Warmer (Packaging May Vary)
Genuine Instant Pot Sealing Ring 2-Pack – 6 Quart Red/Blue
Genuine Instant Pot Tempered Glass lid, Clear – 9 in. (23 cm) – 6 Quart
Silicone Lid Cover for Inner Pot 6 Quart – Fits Instant Pot DUO60 LUX60 Ultra (Mint)
Genuine Instant Pot Stainless Steel Inner Cooking Pot – 6 Quart
Stack N' Cook – Stackable Stainless Steel Pressure Cooker Steamer Insert Pans with Sling – Instant Pot in Pot Accessories – Food Steamer for Cooking – Two Interchangeable Lids Included

FREE 10-Minute Tasks to Help You Declutter & Organize!

Get realistic, easy decluttering & organizing task checklists delivered to your inbox each week when you sign up for the Organizing Moms newsletter. Join over 8,000 moms who want less stress, less mess, and a more organized life!