How to make DIY pantry labels that won't break the bank! Includes free printables to help you make your own pantry labels, and lots of pantry organization ideas.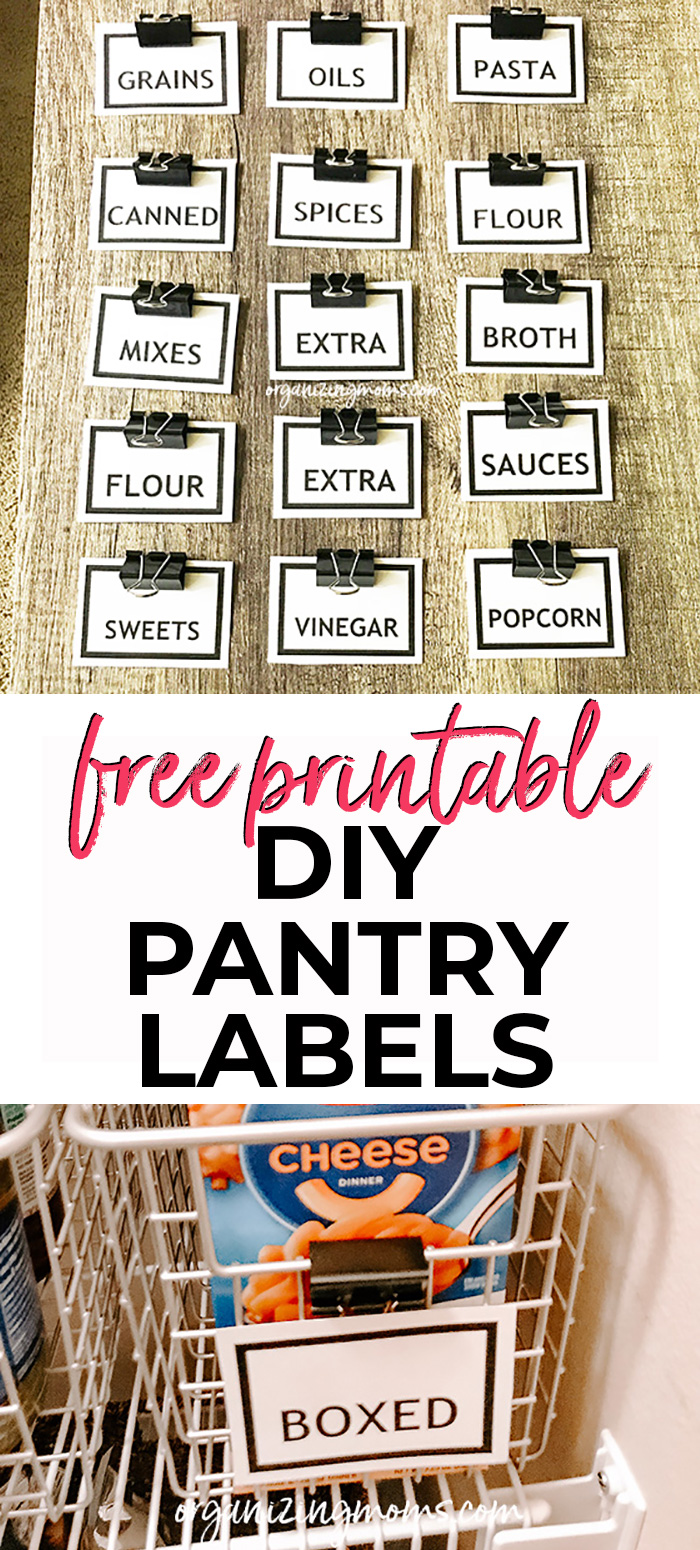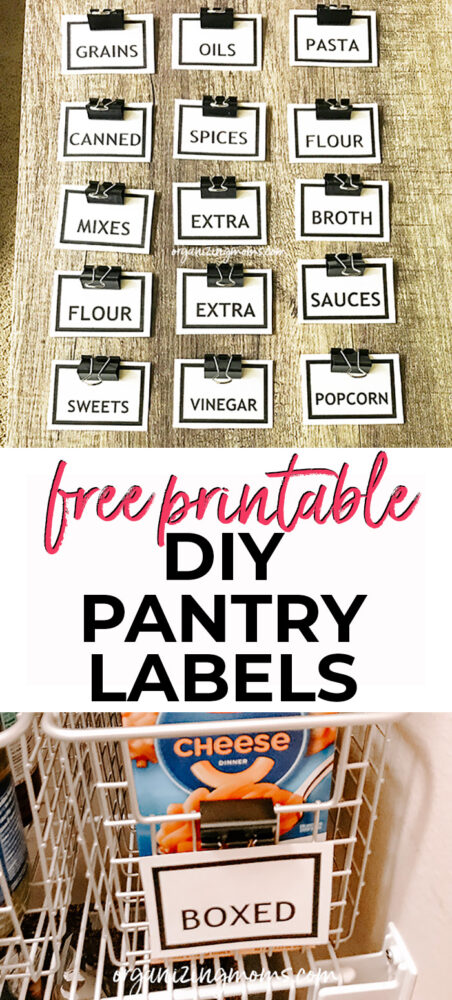 If you're planning a pantry organization project, you're probably looking for ways to label everything in your pantry.
There are a lot of pantry label options out there, but they can be expensive.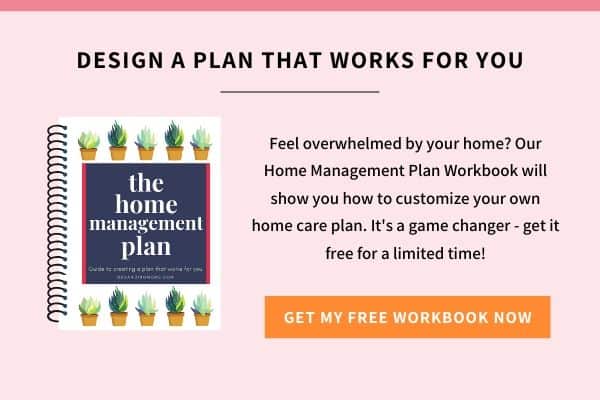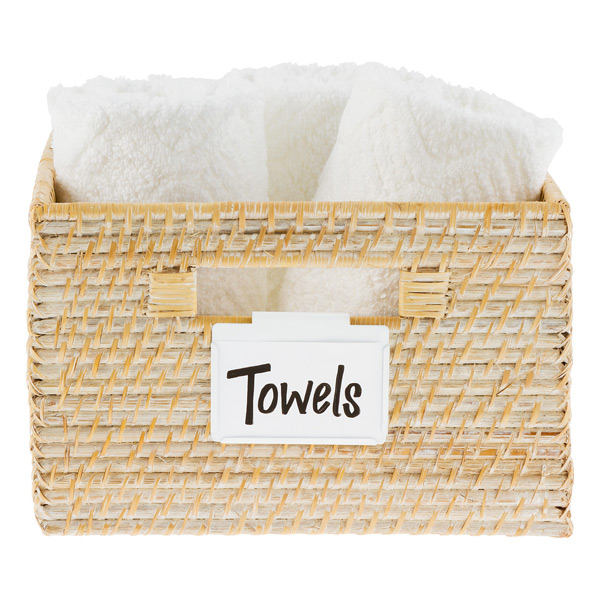 Even though they're investment, they're probably worth if they actually help you keep your pantry more organized.
But it's a gamble.
Have you ever tried an organizing product, and it ended up being a total flop?
You may wonder if investing in expensive labels or label frames is really worth it.
The only way to know for sure is to test out your new organizational system BEFORE investing in costly products.
You may also like:
DIY Pantry Labels
In this article, I'll show you how to DIY your own pantry labels on the cheap so you can set up your system and find out if it works for you.
Materials Needed to Make DIY Pantry Labels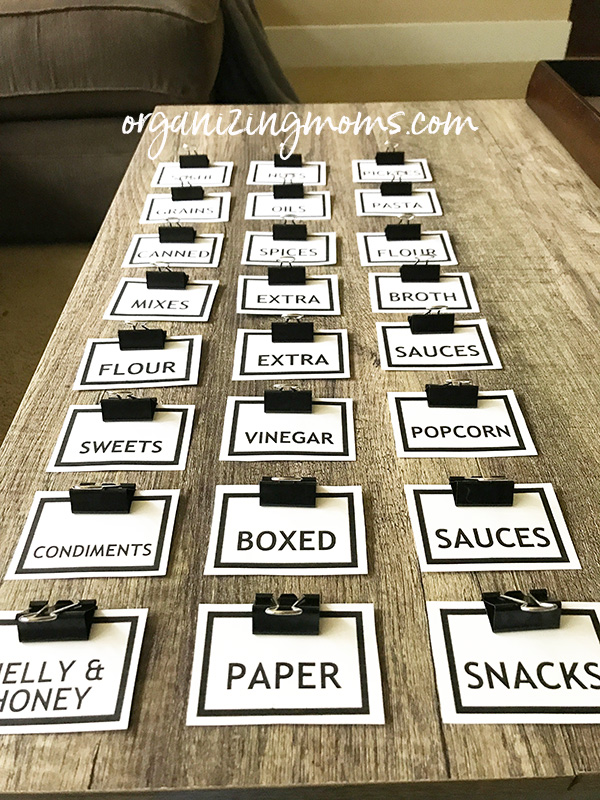 To make your DIY pantry labels, you'll need the following things:
Scissors
Tape – I used Scotch tape, but I'd recommend using something stronger if you have it!
Pantry label printables (grab them from the freebie signup form below)
If you don't have a printer, you could easily send your project to an office supply store. They can print it on card stock for you.
How to Make Your Own Pantry Labels
Download the pantry label printables to your computer.
Print the document in black and white on 8.5″ x 11″ cardstock.
Cut out the labels that you'll need in your pantry.

Set up your binder clips so they are folded back (the silver clips aren't touching each other).
Tape each label to a binder clip. The part of the label you'll actually see will be facing down (for now), and you'll tape your label to the silver clips. See photo above.
Attach labels to baskets or bins in your pantry.
Enjoy!
Read: Smart Ways to Organize Your Home Using Baskets
Benefits of Using Binder Clips to Attach Pantry Labels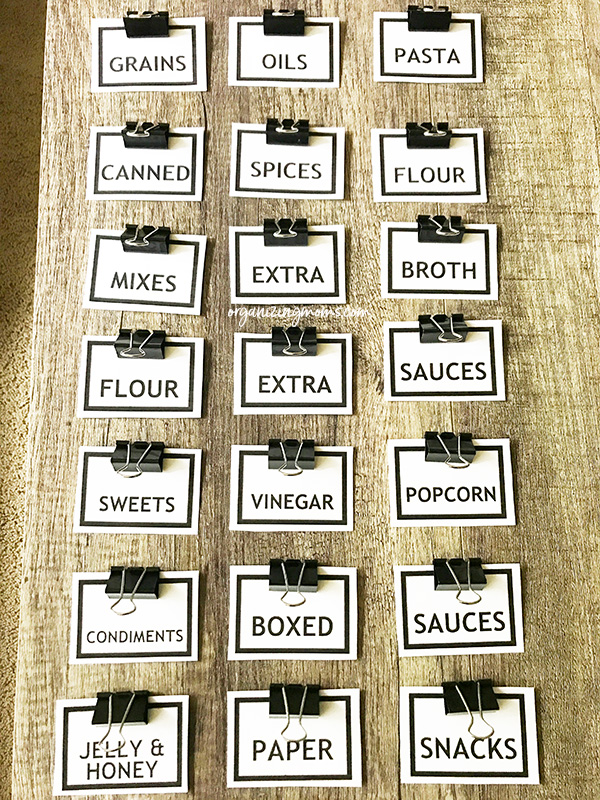 Using binder clips to set up your labeling system has several advantages:
They're inexpensive! In fact, you might be able to find the binder clips you need around your house or office.
They're strong. Binder clips are great for holding things into place. You won't need to worry about your labels falling off.
They're uniform. If you use binder clips that are all the same color, it will give your pantry a streamlined, uniform look.
They're versatile. You can easily switch out pantry labels if you need to.
They work with baskets and wire shelving. You can easily attach these to thicker baskets, or just attach them to your existing wire shelving if you want!
They're worth a try! If this system doesn't end up working for you, you can scrap it and try something else without feeling like you're being wasteful.
Related: How to Organize Your Garage the Easy Way
See What The DIY Pantry Labels Look Like in a Real Pantry
I have a basic pantry with wire shelving, and I organized it using the labels.
To see what the pantry labels look like in my pantry, check out the video below:
Now that I've used my pantry labels for a few months, I've decided to keep them!
I originally thought I'd switch over to something more permanent, but these labels are durable and perfect for what we need in our space.
I hope you enjoy them too!
Related: Scannable Storage Labels
More Pantry Organization Ideas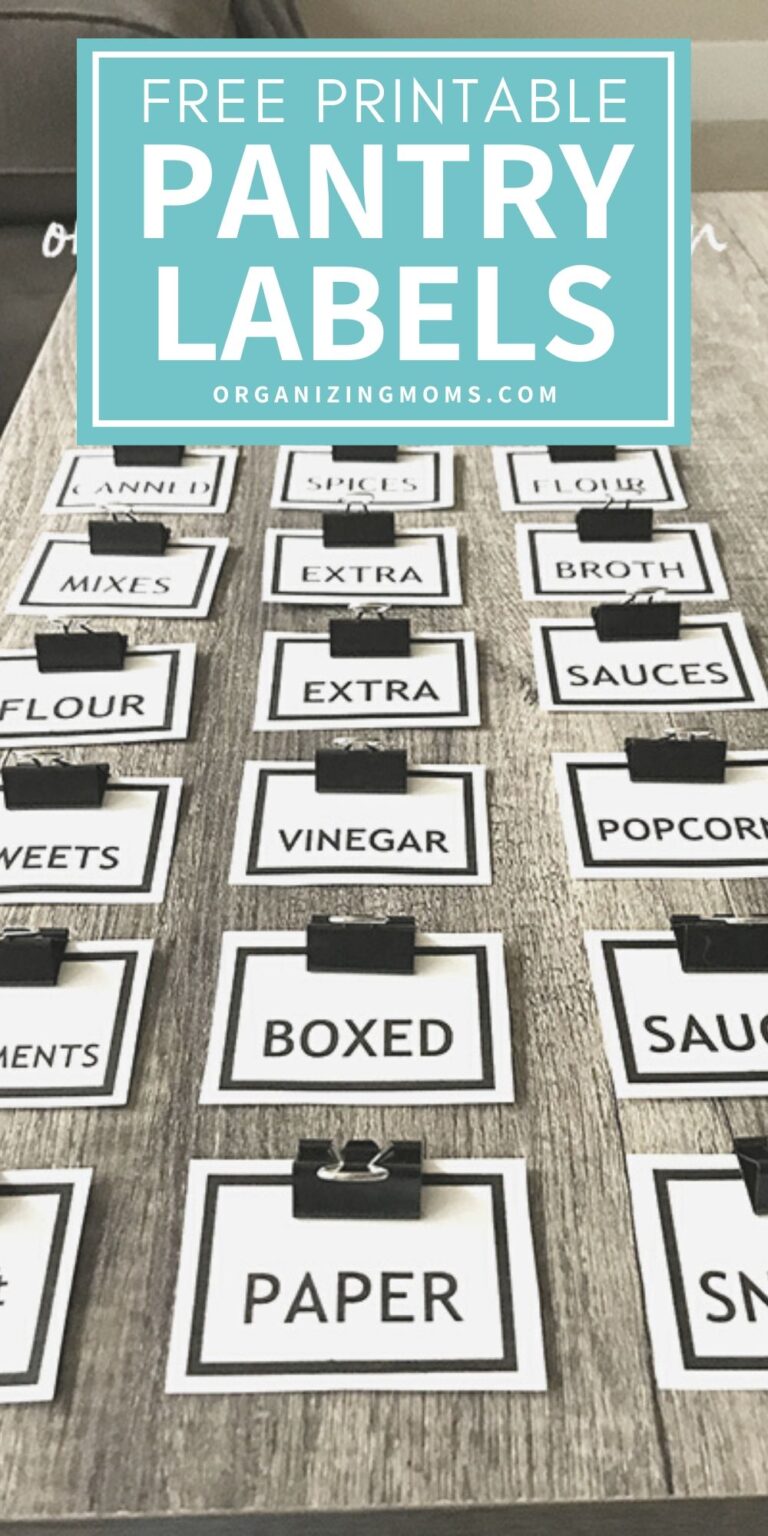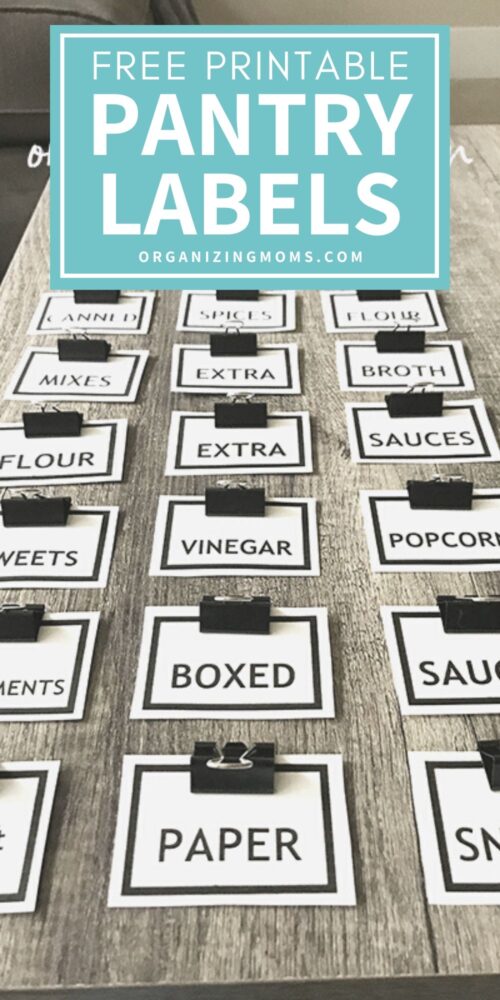 New to this community? Start here, friend!