Books About Organizing, Decluttering, and Time Management. Great resources to help you get all of your ducks in a row. Lots of inspiration, tips, & tricks.

If you're looking for organizing inspiration, one way to find the motivation to get going is to read a great organizing book.
I'll be honest here – I like reading about organizing much more than I like to actually organize.
But, I don't think that time spent learning about organizing is wasted time.
Even if you aren't actually making progress on organizing your space, you're changing your thought processes about organizing.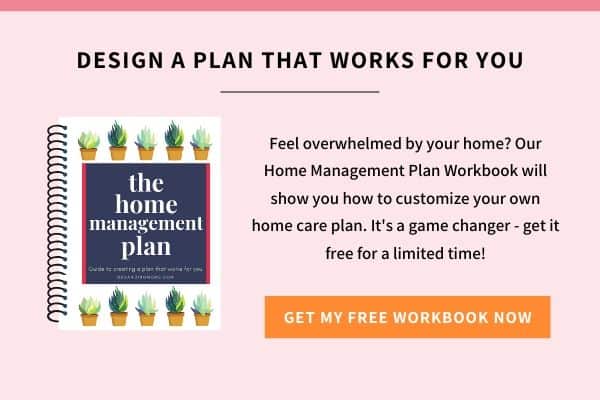 And that's a good thing!
How's that for a nice excuse to do some organizing reading?
If you're looking for ideas, here's a list of some of my favorite organizing books.
I've put links to the Amazon descriptions so you can read more about them.
Many of these books can be checked out from the library too.
You may also like:
Most Helpful Organizing and Decluttering Book
Sink Reflections – by Marla Cilley aka FlyLady.
If you are overwhelmed by your home, read this book first. It will truly help you get your home under control, and it's written by someone who understands what it's like to be trapped in a messy house.
Related: How to Get Started with FlyLady
Books About Organizing and Decluttering

The Life-Changing Magic of Tidying Up – by Marie Kondo.
This book is very popular right now, and although some of the advice in the book sounds a little woo-woo, it's actually quite good.
The author leads you through the KonMari method of decluttering and organizing your space.
It will shift your perspective on your stuff, even if you don't feel the same as the author.
Read: Realistic KonMari for Moms

It's All Too Much: An Easy Plan for Living a Richer Life With Less Stuff – by Peter Walsh.
Get prepared to get a talking to from Peter in this book.
Good no-nonsense advice that will motivate you to make some improvements in your home and your life.
Related: Declutter 101 – How to Start Decluttering Without Feeling Overwhelmed

Organizing from the Inside Out – by Julie Morgenstern. This is a classic, for those of us who like to spend our free time reading books about organizing. A must-read if you intend to permanently get organized.
Apartment Therapy: The 8-Step Home Cure – by Maxwell Ryan.
Takes you through an eight week process to get your home in order.
Includes ways to help you decorate your home to reflect your personal style.
Suggests that you schedule a PARTY in your home at the end of the cure to motivate you to keep up with the organizing.
That may or may not be a good thing…
Books about Time Management and Organizing Your Time

Time Management Mama – by Beth Anne Schwamberger and Sarah Kornhak.
A book that caters to moms who also run businesses.
Great advice for focusing on goals and making sure you spend enough time on the important things.

Getting Things Done – by David Allen.
This books is a little intense, but thousands of people swear by David Allen's methods.
Although I don't do everything that Allen recommends, there are a lot of good strategies and tips in this book.
I love this synopsis of the book on The Simple Dollar.
Related: How to Set Up Your Own Command Central for Processing Paper and To-Do's

The Power of Less: The Fine Art of Limiting Yourself to the Essential, in Business and in Life – by Leo Babuata. Read this if you need to pare down EVERYTHING.
Related: The Best Home Management Books That'll Help You Love Your House
More Organizing Resources
New to this community? Start here, friend!