A lot of popular decluttering and organizing gurus suggest getting rid of all unnecessary gadgets to make space in your kitchen. Normally, I think this is good advice – especially if you have duplicate kitchen gadgets! However, there are some kitchen gadgets I won't declutter, no matter what.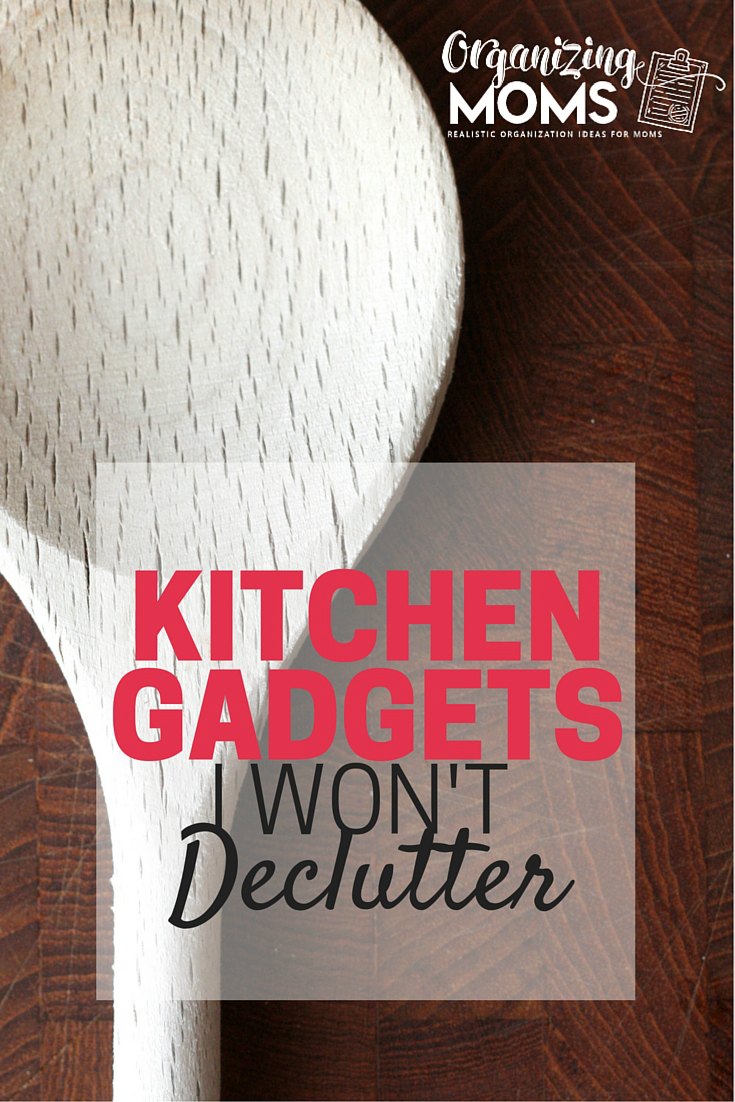 Kitchen Gadgets I Won't Declutter
We save a lot of money by cooking and eating at home. These gadgets save time, make it easier to prepare more inexpensive ingredients, and many of them don't take up a lot of space.
Apple Slicer – If you have kids, or if you love apples, this thing is the best! I can perfectly slice an apple in mere seconds for a quick, healthy snack. And, it's dishwasher-safe. Totally not getting rid of this thing…
Spiralizer – I bought a compact spiralizer, and it's been great for making "zoodles" and other vegetable-based noodle delights that my kiddos will actually eat. Also, it's dishwasher-safe (a huge priority for me, as you may have noticed!).
Ninja Mega Kitchen System – I received this as a birthday gift, after our old blender kicked the bucket. I love that it makes awesome smoothies, but even more, I love that it's also a food processor and mixer. I was able to get rid of our old food processor, which did clear our some space in our kitchen.
Rice Cooker – I am terrible at cooking rice unless I use this thing. I make a big batch of rice at the beginning of the week, and use it for different, inexpensive dishes as the week goes on. Our rice cooker also came with a little steam basket you can use for steaming veggies. Seriously, I don't know why anyone would recommend getting rid of one of these…
Bread Machine – Okay, I know a lot of people have these and never use them. We use them to make breadsticks and pizza dough. When we lived in Illinois, I made bread too. Since we moved to Washington, I haven't been able to get the bread recipe to work the same way (and I've tried all kinds of modifications to make it work!). But, even though I am not making actual bread and our bread machine is pretty huge, I'm keeping it for the pizza dough and breadsticks. We eat homemade pizza at least once a week, and these breadsticks are the best!
Crockpot – Throwing a bunch of stuff in the crockpot, pushing a button, and coming back hours later to find a homecooked meal? No way I'm giving that up! We use our crockpot at least twice a week, and it's a lifesaver.
Whirly Pop Stovetop Popcorn Popper – My husband showed me this popcorn popper years ago, and we use it all the time to make fresh popcorn with just the right amount of butter and seasonings. You use regular popcorn kernels to make the popcorn, so it makes an inexpensive snack. We've had this popcorn popper for ages, and it doesn't show any signs of breaking.
Lids for Mason Jars – These little lids have made it way easier to store leftovers in mason jars. I like to make a big batch of smoothies, and then store them in jars in the fridge with these lids on top. These little lids make the jars easier to use.
Mix 'n Scraper – We use this to make cookies and banana bread. Doubles as a spoon and a spatula. Great at getting out every last bit of batter from the bowl.
Le Crueset Dutch Oven – We received one of these as a wedding gift, and I will never get rid of it. It works for almost any type of cooking, and can also be used to keep foods cold. It's easy to clean, and supposedly, it will last a lifetime. I'm not going to declutter it, so I guess I'll find out if that's true. 😉
What kitchen gadgets do you refuse to declutter? Let us know in the comments!
FREE 10-Minute Tasks to Help You Declutter & Organize!

Get realistic, easy decluttering & organizing task checklists delivered to your inbox each week when you sign up for the Organizing Moms newsletter. Join over 8,000 moms who want less stress, less mess, and a more organized life!
New to this community? Start here, friend!