Almost everywhere you look these days, there are articles and how-to's that tout the importance of getting rid of toy clutter.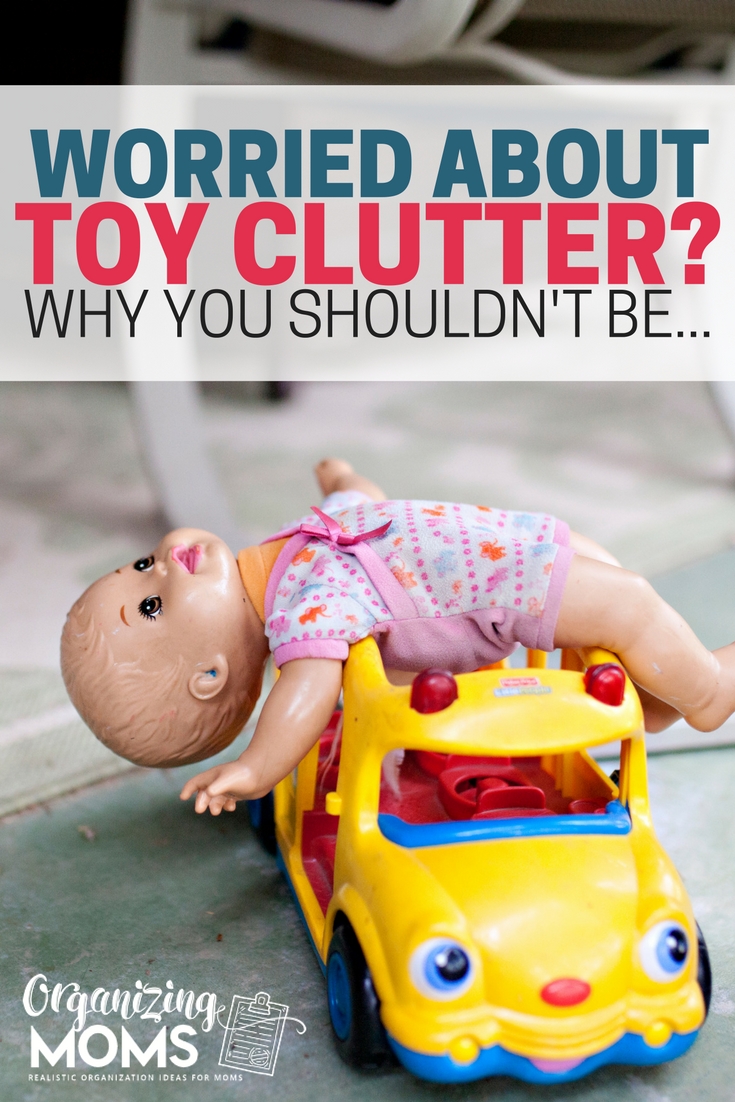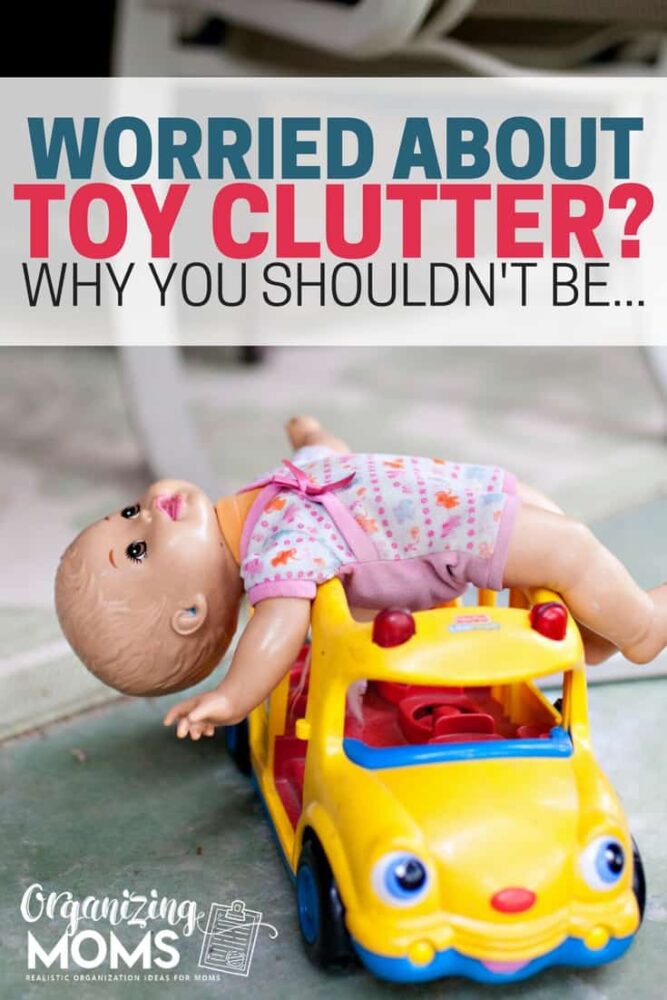 They explain the benefits of having less, and claim that your child will actually play more with fewer toys. It's almost as if rainbows and unicorns will appear if you can just get rid of the toys.
I think it's time to stop worrying about toy clutter.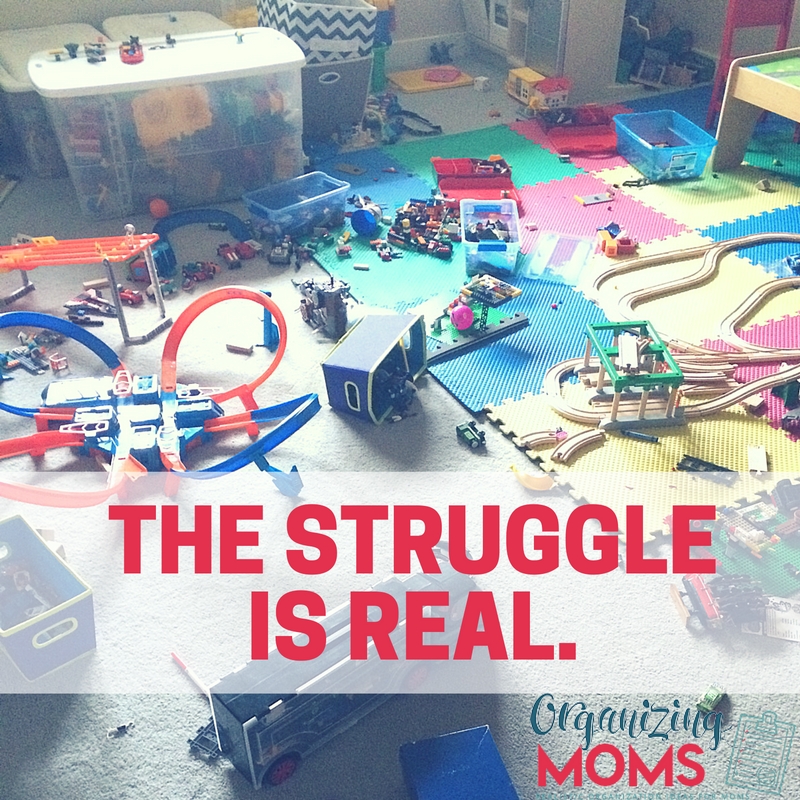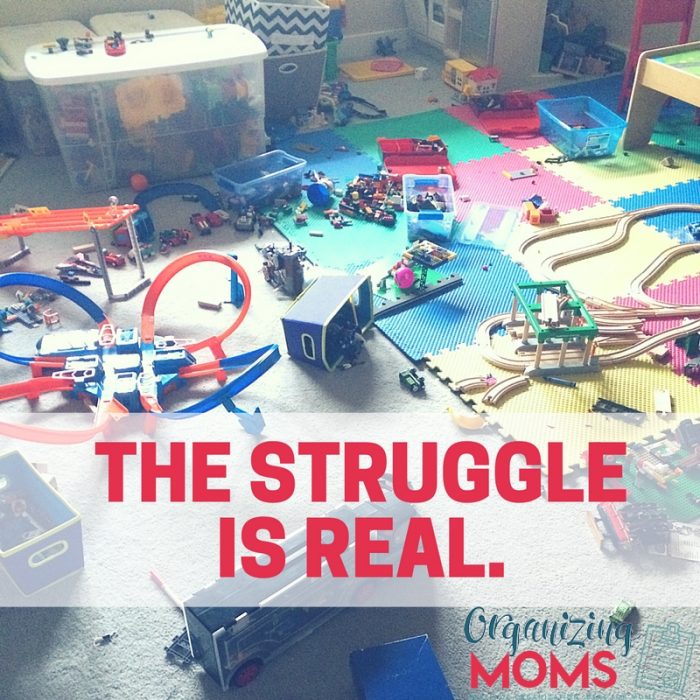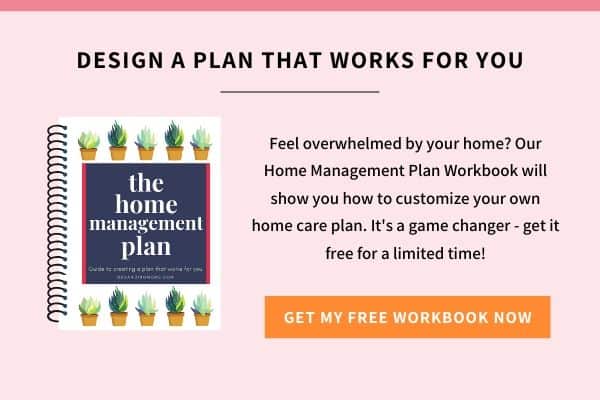 You may also like:
Lately I've gotten a lot of emails from frustrated parents who feel like they're losing a never-ending battle with clutter. They've read blogs about decluttering and minimalism, and they feel like they'll never be able to achieve the perfectly decluttered home they so long for.
While I'm all for decluttering and getting rid of things you're not using, the pressure we've put on ourselves to pare down toys in the home has gotten out of hand.
You do not have to have a minimalist toy collection to be a good parent.
Limiting your child to three favorite toys is not the answer to all of your problems (but it sure would be easier than picking up a bazillion matchbox cars!).
Having a lot of toys in your house doesn't mean you are a bad person. It just is what it is!
In the long run, if you go for a few years with a lot of toys in your house, what's the big deal?
Sure, it might not look beautiful. Of course, it's going to lead to some stress. Yes, it might even be wasteful. But extra toys is definitely not something worth beating yourself up over.
I'm sure we all have bigger fish to fry.
But if you're here, I'm guessing the toy clutter does bother you.
Just a little bit.
So here are some ideas for dealing with it without making yourself feel guilty or overwhelmed:
How to Stop Worrying About Toy Clutter
Accept that there will be neat days and there will be messy days. The pictures on Pinterest are not reality. The pictures of your kids happily playing trump the images of perfectly organized playrooms.
Know that the toys are a part of your season of life. The toys will not be in your home forever, and your children will eventually tire of them.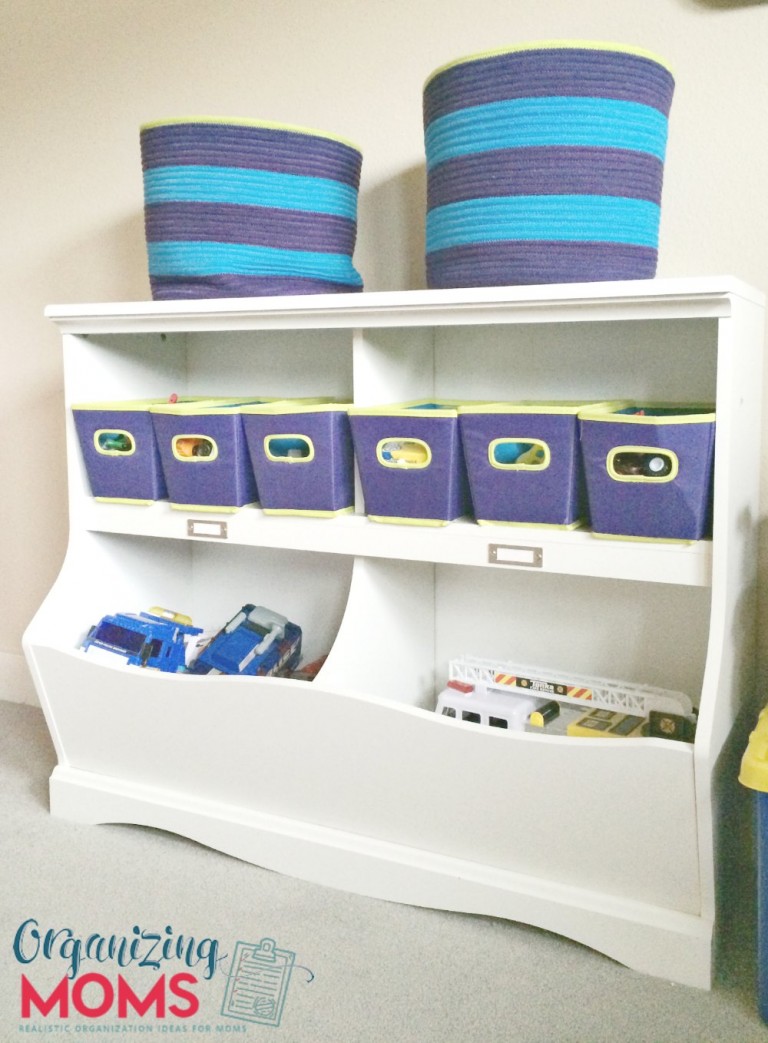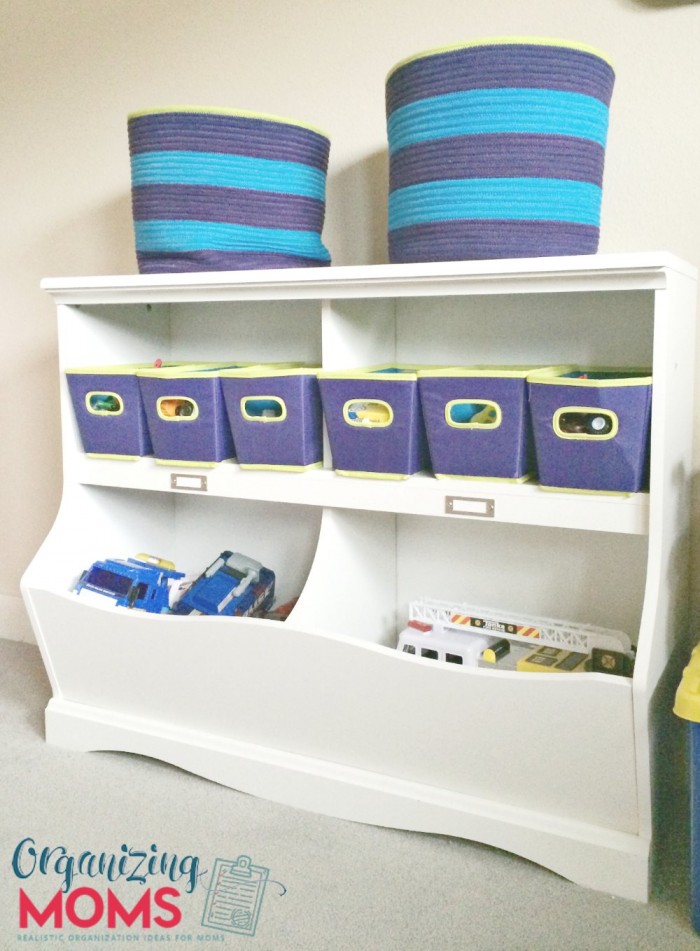 Having a good system for cleaning up makes a huge difference. Simple is always better, and it makes for a quicker pick-up. You can see our playroom at its very best (ever) in this post about realistic playroom organization if you're looking for ideas.
If you're tired of seeing toys everywhere, designate one spot in the home where you'll store them. It doesn't mean the toys won't venture out despite your best efforts, but when things are put away, they'll be consolidated into one area. This is easier to do with older children who have smaller toys. If you're in the baby/toddler stage, don't trouble yourself with this idea!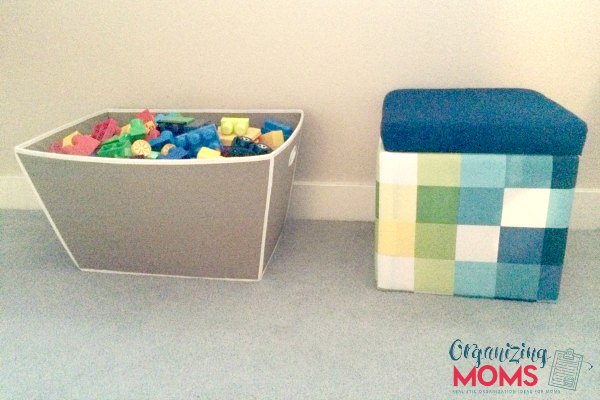 Baskets and bins are a beautiful thing. Use them to quickly pickup and conceal toy clutter.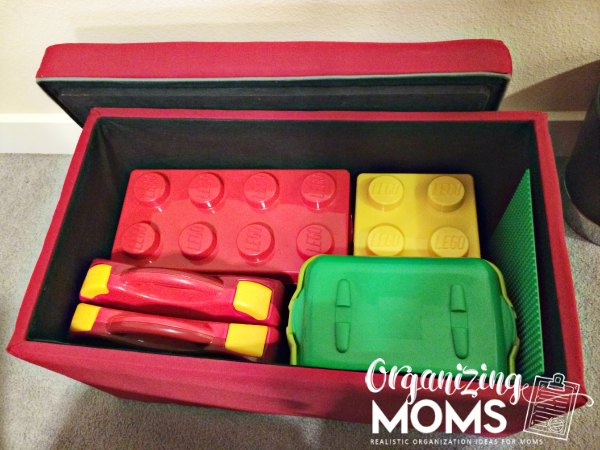 Try toy rotation. Box up a good portion of the toys in your home, and leave some of the favorites out. If it seems like your kids are tiring of their toys, pack them up, and get out a "new" box of old toys for them to play with. This worked for us when our kids were younger, but we don't do it now that our kids are a little bit older.
Get your kids to help you get rid of old toys. Some kids respond really well when they know that their toys will be handed down to a cousin or a friend. Others will want to donate their toys to kids in need. Most will hold on to all of the toys they've ever had in their lives with all their might. For those kids, agreeing to purchase a new (smaller) toy in exchange for a huge garbage bag full of unused toys that can be given away might be worth it.
Stop (or slow) the inflow of new toys. When birthdays or holidays are coming up, put together a super-specific gift idea list full of things your child will actually use. Know that some people will completely ignore this list, and be okay with it. Some of the best gifts my kids have received have been memberships to museums and zoos. We use them all the time, and I always remind my kids of the gift giver each time we go.
Don't let the internet make you feel bad about the toy situation in your house. There are tons of great ideas and inspiration on Pinterest, blogs, and organizing websites. Know that the photos you see are NOT what happens in 99 percent of real homes. Take the toy storage idea inspiration, but don't let all of the beautiful pictures make you feel inadequate.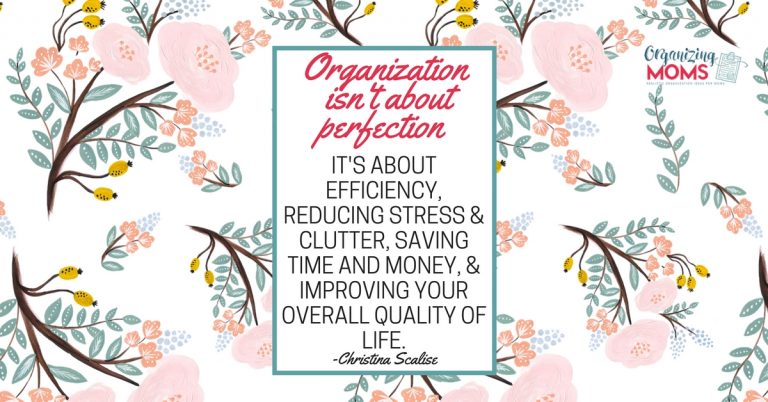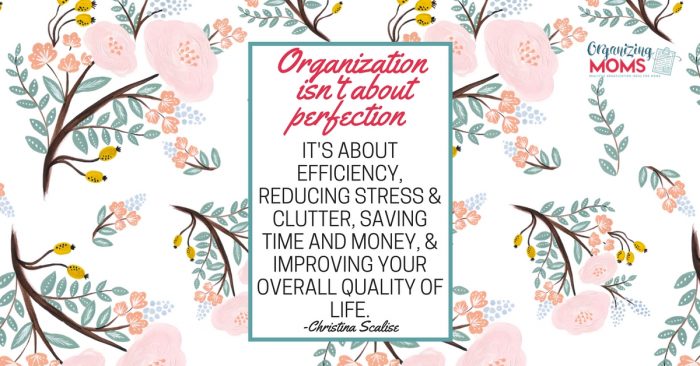 Don't let yourself worry about toy clutter too much. Take a few steps to get rid of the clutter, do your best to minimize the inflow of new toys, and then let it go. The toy phase will be over before you know it.
More Decluttering Resources
New to this community? Start here, friend!