Are you starting to plan a family trip? Do you have frequent flier miles with a bunch of different airlines? Have you been accumulating points with different hotel chains? It's hard to keep track of all of the little "bonuses" and rewards you earn from different businesses. Often, we miss out on the opportunity to redeem our rewards because we forget about them, and they expire. Until now, I haven't been able to find a good solution for organizing rewards program information.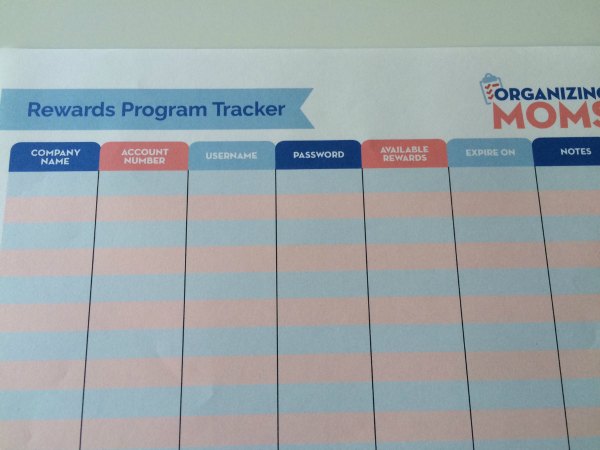 I made a Rewards Tracker to help you keep track of all of your points, miles, and rewards. It's a free printable PDF file, and it's available to anyone who subscribes to the Organizing Moms Newsletter.
It has room for you to record your usernames, passwords, available rewards, expiration dates, and more. It's great to see all of the points you've accumulated in one spot.
Some things you'll want to include on your Rewards Tracker are:
I hope the Rewards Tracker helps you redeem your points and save money this year!
Thank you for reading Organizing Moms.
Love to Travel? Here are some articles you might like:
The Ultimate Carry-On Bag for Preschoolers
Organizing Stuff for Your Trip to the Beach With Kids
Simple Trick for Organizing Travel Documents
WANT TO FEEL MORE ORGANIZED & IN-CONTROL?
Join over 4,900 moms who found a way to run peaceful, well-organized homes by busting clutter, creating good routines, and focusing on what their families need - and get this printable guide free! It will help you jump-start your home organization, and give you some relief!
New to this community? Start here, friend!