Are you getting ready to fly with your children? Have you been wondering how you'll get everyone and everything happily to your destination? Organizing a kid-friendly carry-on bag can make the flight much more pleasant for kids and parents.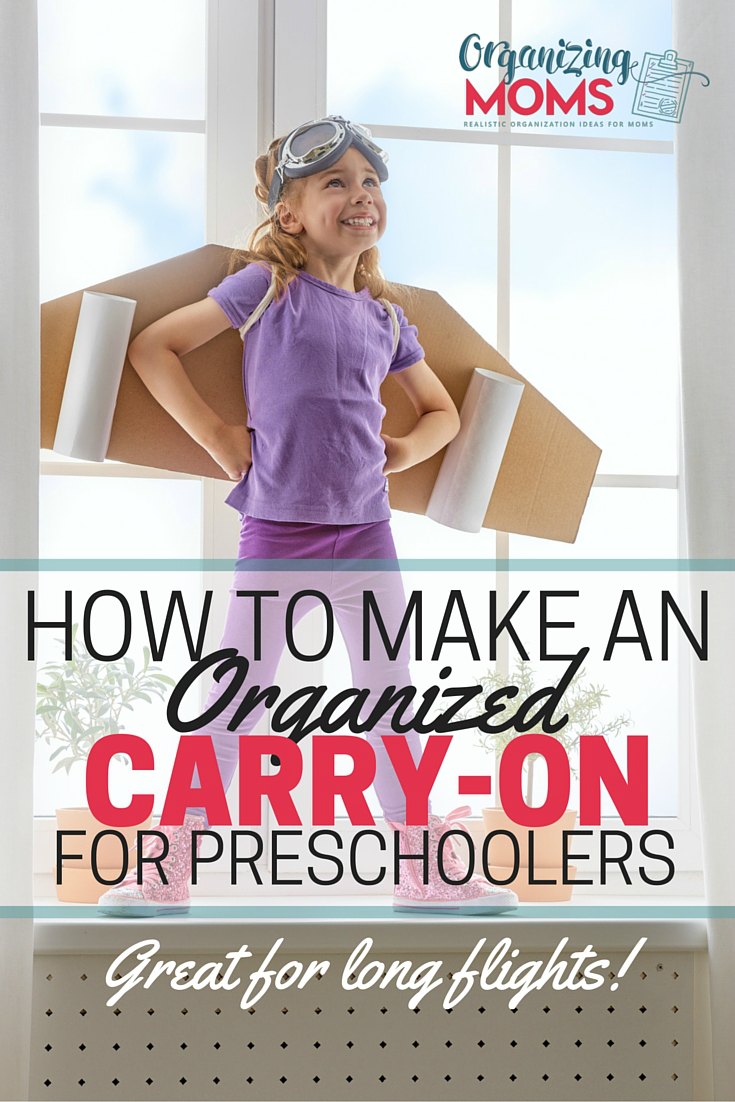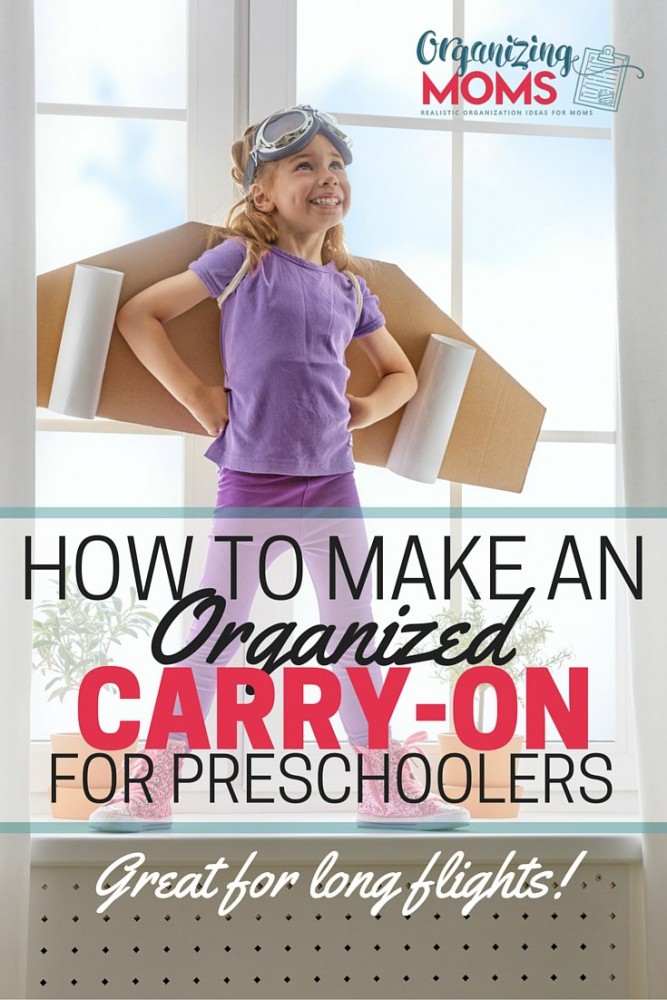 The first time we flew with our twin boys they were two years old, and full of energy. I was beyond nervous about how the flight would go, so I asked my Facebook friends for advice on how to keep our boys entertained and occupied during the trip.
I was so thankful for the wonderful ideas they shared. Most of the suggestions they gave came down to being over-prepared. You never know what could happen on a flight, and it's always good to be ready with extra tricks up your sleeve in case of a flight delay.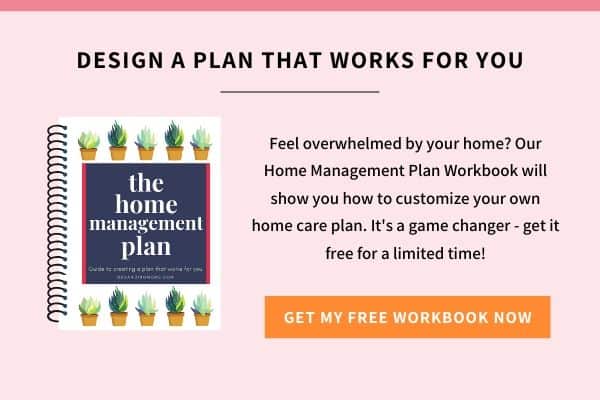 Now that we've traveled a few times, I've put together a list of things that we bring on our flights every single time. It's stood the test of two trips to Disney World, a separate trip to Florida, and a trip to Hawaii. For all of our trips, we were on a plane for over six hours.
How to Organize a Carry-On for Preschoolers
Pack each child's carry-on items in a backpack that s/he can carry. I pack our sons' stuff in their school backpacks. We bring a stroller with us, and when the kids are sitting in the stroller, I attach their backpacks to the stroller using a Mommy Hook.
Pack ann empty sippy cup or water bottle. It's hard for the little ones to drink out of plastic cups on the plane without spilling.
Include suckers or ring pops for takeoff and landing. This helps with the ear popping that comes with cabin pressure changes.
Remember a change of clothes and an extra pull-up or diaper. Just in case, because accidents happen! When our kids were younger, I had them wear a pull-up for the whole flight in case they needed to use the potty during takeoff and landing.
Pack a bag of snacks. We bring sandwiches, goldfish, cookies, granola bars, gummy fruits, bananas, roll-ups, and anything else our kids might like to eat. Keeping everyone well-fed (including the adults) makes for a happier flight. Pack their favorites!

Consider a Kindle Fire. Or an iPad. I load our Kindle Fire up with movies and games before the trip. Our kids don't get to use the Kindle Fire at home, so this is a very special treat for them. It always keeps them entertained. We bought a protective case for our Kindle because we knew our kids were going to be traveling with it. Don't forget to bring the charger too.
Bring headphones made for kids. We tried using regular headphones, but they kept falling off. These kiddie headphones are great for smaller kids. The only downfall to these headphones is that, when we have the protective case on our Kindle, it's almost impossible to get the headphones to plug in. We worked around this problem by getting a multi-headphone splitter that easily plugs in to the Kindle, and allows our boys to share the same device if needed.
Just in case, bring a "Bag of Fun." I bought some small toys, coloring books, and crayons from the Dollar Spot at Target and wrapped them up in newspaper. In case of emergency, I can pull them out and offer them up as a special, entertaining treat. I haven't had to use them that much, but it's always a comfort to have them on hand.


Now that we've flown with our kids a few times, I've started to keep a box of items that we use for our trips. It's nice to have everything all in one place that we can easily pull out for our next trip: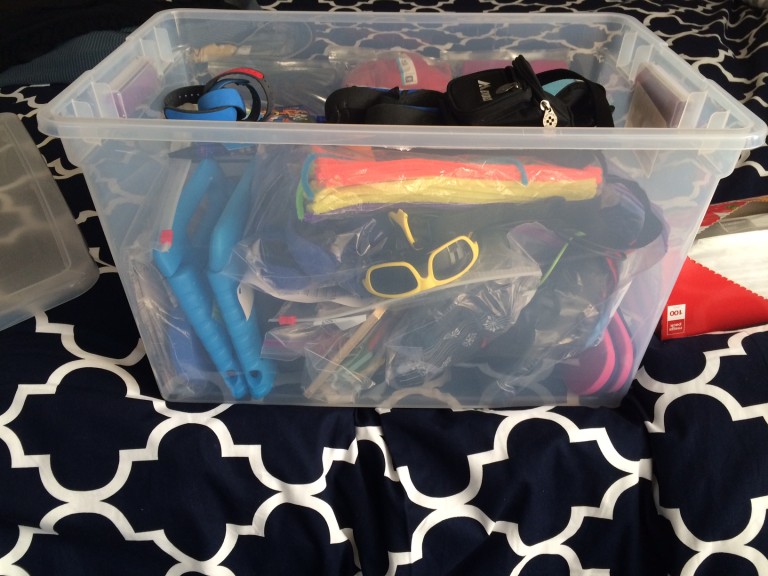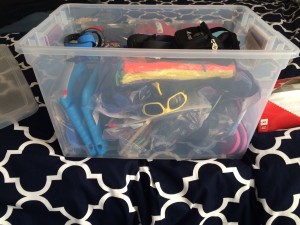 Looking for more travel organization tips? Check out these articles:
Preparing for Travel with Kids
Organizing Stuff for Your Trip to the Beach With Kids
New to this community? Start here, friend!