Are you looking for ways to better organize and clean your home using the FlyLady system? FlyLady zones are perfect for anyone who's looking to take their cleaning and decluttering to the next level.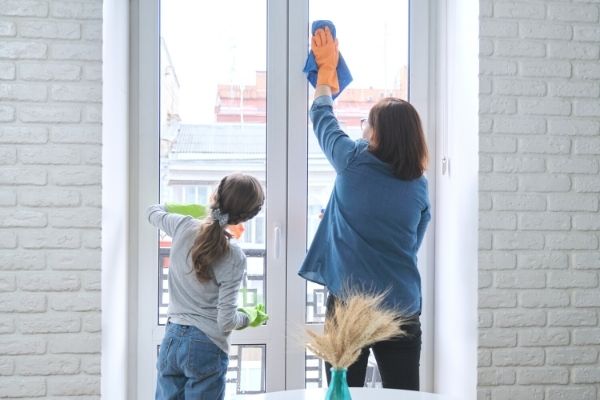 Before You Start with FlyLady Zones
Before starting with zone cleaning, it's important to get the basics of FlyLady down first. Otherwise, you'll end up feeling super overwhelmed, and you will probably want to give up.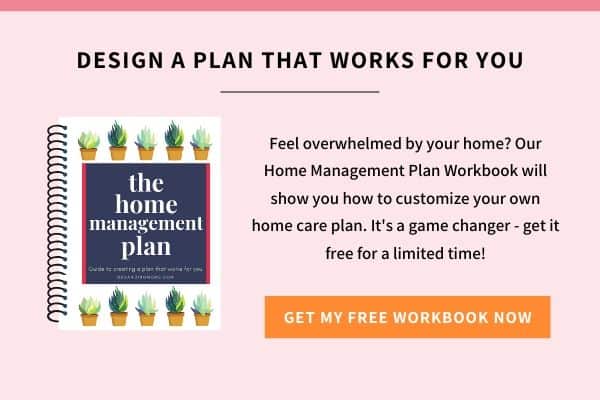 The absolute best resource for getting started with FlyLady is her book called Sink Reflections. It will walk you through her entire system, encourage you, and it will serve as a guide as you build your cleaning and decluttering skills.
When I started FlyLady, I found her via her website. But after a while, I got tired of always having to go online and look up everything. I always ended up getting distracted by going down an Internet rabbit hole.
So, I bought the book Sink Reflections so I'd have a ready reference, and I'm so glad I did! Now whenever I have questions about the FlyLady system, I can just reference the book. No searching online, and no getting distracted!
If you're looking for a way to stop feeling so overwhelmed by cleaning, organizing and decluttering, get the book Sink Reflections!
Just starting out with FlyLady?
Here's some resources to help you get started while you wait to get your hands on a copy of Sink Reflections:
What is Fly Lady Zone Cleaning?
FlyLady zone cleaning focuses on the main areas of the home. The goal is to declutter and focus on deep cleaning in the most used places in your home.
You only work on one thing in the designated zone for 15 minutes each day.
How to Begin with Zone Cleaning
Don't worry about starting at the "right" time or in the right spot. FlyLady recommends just jumping in where you are.
This zone cleaning method can help you feel less overwhelmed, and reduce the anxiety you might feel about cleaning your house. You're not trying to conquer everything at once, but you're making slow and steady progress.
You won't have to spring clean any more because you've made a routine out of doing deep cleaning. Your house is being maintained on a monthly basis.
Planning Out Your Own Zone Cleaning
You can follow FlyLady's detailed cleaning list at first, and then make your own that's customized on your own house.
Your house may have different rooms that aren't included in FlyLady's cleaning list. You can get to those rooms when you're in Zone 3.
Each month usually have 5 weeks. Some weeks are full weeks, and some are shorter.
Related: FlyLady Morning Routine: How to Start Your Day Strong
How to Plan Your Zone Cleaning Using a Calendar
Use a basic monthly calendar, and label each week according to zone. Go in order by week. Some weeks, you might only be in zone for a day or two. That's okay! In future months you'll be able to spend more time in that zone.
Take a look at the detailed cleaning list on the FlyLady website and pick out a task for each day that corresponds with the zone you're working in.
Just do one detailed cleaning item for each day.
Zone Cleaning Ideas
Good news! FlyLady just wrote a book called the C.H.A.O.S. Cure – Clean Your House and Calm Your Soul in 15 Minutes. It's filled with great ideas you could use for zone cleaning, and the ideas will help you make your home company-ready too!
Here are some zone cleaning ideas I use for our house. You'll want to make your own list, but this may spark some ideas for you:
Flylady Weekly Zones
Zone 1 – Entrance, Front Porch, Dining Room
You'll work on Zone 1 during the first week of the month. Here's FlyLady's Zone 1 Detailed Cleaning List.
Ideas for Detailed Cleaning in Zone 1
Sweep entry door area (we have a lot of pine needles that make their way into our house)
Clear cobwebs on front porch
Dust table in entryway
Declutter dining room table
Declutter and dust keyboard
Zone 2 – Kitchen
You'll work on Zone 2 during the second week of the month. Go here to see FlyLady's detailed cleaning list for Zone 2. The second week of the month is always a full seven-day week, which is great – because kitchens get a lot of use and they require more maintenance.
Ideas for Kitchen Zone Cleaning
Wipe down outside of appliances
Wipe down cabinets
Wipe inside of microwave
Wipe inside of appliances
Deep clean kitchen floor
Quickly tidy pantry
Zone 3 – Bathroom (main bathroom of the house) + One Extra Room
You'll work on Zone 3 during the third week of the month. Here's FlyLady's Detailed Cleaning List for Zone 3.
Our main bathroom is actually a half-bath. It gets a lot of use and it gets messy, but it doesn't require quite as much time to deep clean. So, I like to spend a couple of days on our main bathroom, and then move on to our upstairs bathroom that the kids use after that.
Wash area rugs
Scrub the floor
Straighten doors and cabinets
Declutter away empty/unused bottles
Deep clean shower/bathtub
Extra Room Ideas for Zone 3
This is a good week to get to some of these additional rooms in the house that aren't included in some of the other zones. Here are some rooms you might want to work on:
Kids' rooms
Office
Garage
Storage Area
Zone 4 – Master Bedroom, Master Bathroom & Closet
During the fourth week of the month you'll focus on the master bedroom area of your home. Here's the detailed cleaning suggestions from FlyLady for Zone 4.
Ideas for Cleaning in Zone 4
Clean out a drawer
Organize your nightstand area
Dust lampshades and ceiling fans
Replace burnt out lightbulbs
Wash curtains if they need it
Dust blinds
Zone 5 – Family Room (where everyone gathers)
During the last week (week 5) of the month, you'll work on your family room. Here's FlyLady's Zone 5 Detailed Cleaning ideas.
Some people call this area the den or the living room. It's pretty much just the area where your family tends to spend time watching TV, relaxing, and talking.
Ideas for Family Room Cleaning
Disinfect remote controls
Dust behind TV or your DVD player
Clean windows
Dust ceiling fan
Replace burnt out lightbulbs
Wash throw blankets and pillows as needed
Free App for FlyLady Zone Cleaning and More!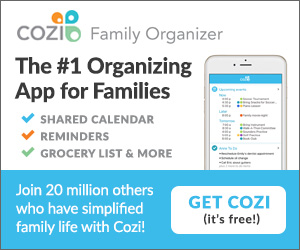 If you have a smartphone, you can use the free Cozi app that you can use to organize all of your FlyLady tasks.
Cozi is a great tool for families – you can use it to keep all of your schedules, to do lists and more in one place.
Go here to sign up for a free Cozi account and learn more about it.
One you set up your Cozi account, follow the directions on this page to add FlyLady's zones, missions and daily reminders to Cozi.
Zone Cleaning – Every Day or Once a Week?
Some people like to set aside 15 minutes each day to work on their zone for the day. That's what FlyLady originally recommended in her program, and it's great for anyone who doesn't want to spend a ton of time cleaning. It's also helpful if you tend to get tired, or lose steam and interest during longer cleaning sessions.
If you prefer, you can also just do all of the zones in one day. Pick out 4-6 different zone tasks you want to work on, and set a time for 15 minutes for each zone.
How do I plan my zone cleaning if I'm doing it all in one day?
Again, take a look at the detailed cleaning list, and pick as many items to work on as there are days in the week. If you have a shorter week, and you want to do extra as part of your zone cleaning marathon session, that's okay. But, I think it's nice to give yourself a little break and use the extra time to do something else that's important to you!
What if I'm done with my zone cleaning before the 15 minutes is up?
You can work on another task, or just finish early! It's up to you. In the kitchen, you might want to do a zone task, and then clean the front of one cupboard if you have extra time.
What if I notice something that needs to be done during zone cleaning that's not on my list?
That's okay! You can add it to your running detailed cleaning list. You'll want to work on refining your personal detailed cleaning list as you continue to work through this system.
Getting Help with Zone Cleaning
You don't have to be the only one who does zone cleaning! Here are some ideas for getting help with some of the zone cleaning tasks:
Assign zone tasks to your kids. Praise them for their hard work!
Ask your partner to do some of the zone tasks.
Assign everyone in the family a zone task, and everyone in the family can work on their area for 15 minutes.
If you have a cleaning lady come to your home, ask her to do some of the zone cleaning tasks for you!
How to Get Started with Your Own Zone Cleaning
Still feeling a bit overwhelmed by zone cleaning? Check out this video below from Diane in Denmark. She does an awesome job of explaining how FlyLady's zone cleaning works: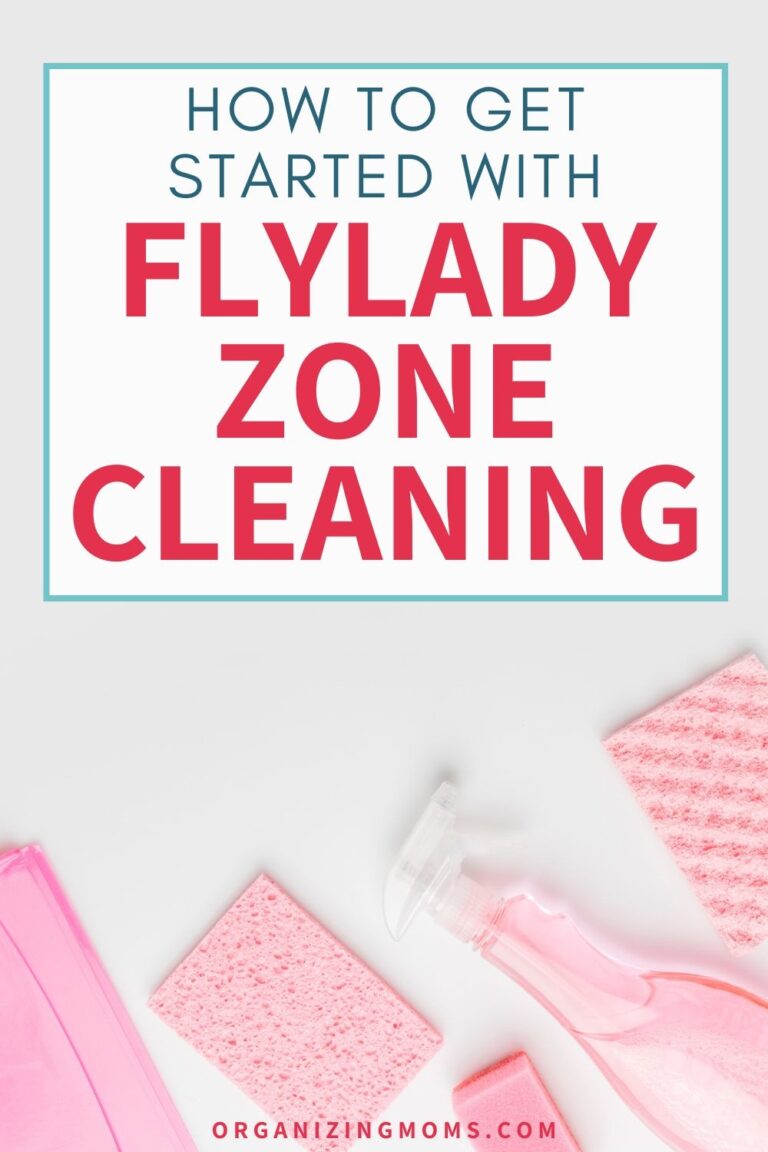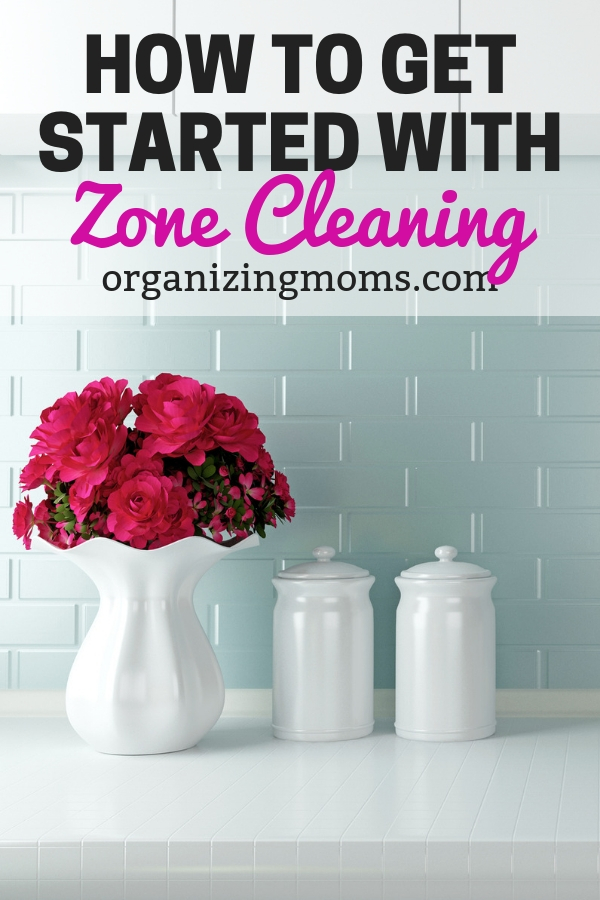 New to this community? Start here, friend!