Inside: Create a customized decluttering list for maximum decluttering success. How to finally stick to your decluttering plans and avoid feeling overwhelmed.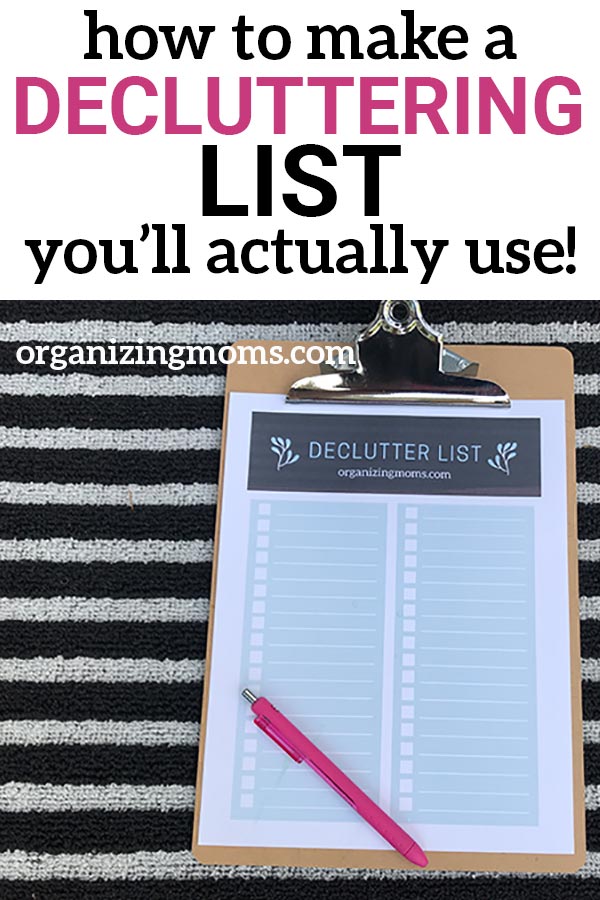 When you realize it's time to declutter, it's easy to get overwhelmed and wonder how to get started.
Once you start looking at all of the stuff cluttering your space, the idea making decisions about every single item feels daunting and un-doable.
Often, people turn to blogs or books about decluttering for advice.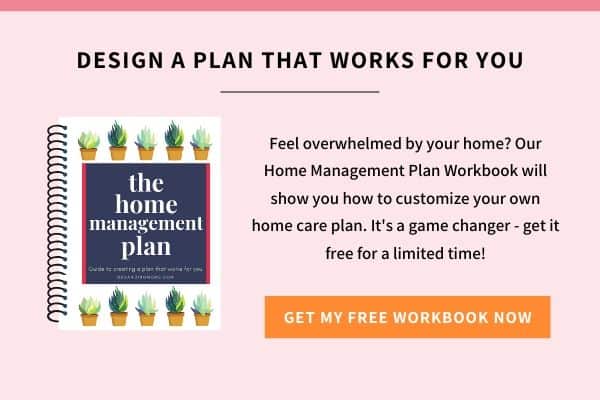 While these can be helpful and inspiring, they can also cause you to get sidetracked.
Decluttering List – Helpful or Not?
If your goal is to declutter your space, going into full-on research mode is going to keep you from making progress.
What you really need to do is customize the decluttering process for yourself.
More than anyone, you know what needs to be decluttered. You see the stuff every single day.
After a while, it's like all of the things you need to get rid of are nagging at you.
How do you customize the decluttering process for yourself?
Declutter List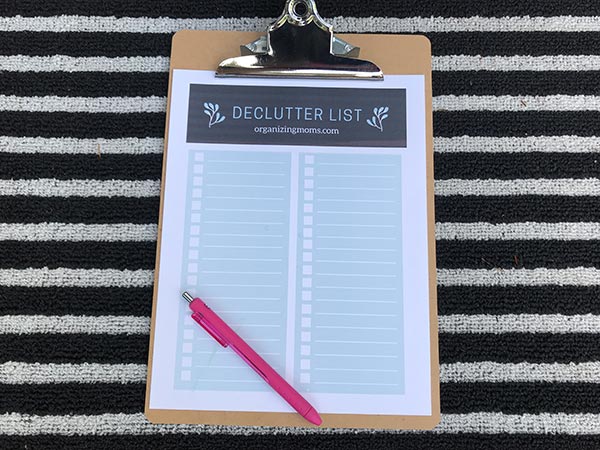 There's no shortage of "items to declutter" checklists online.
But you need a checklist that specifically works for you, your stuff, and your space.
To make a personalized decluttering list, grab the free printable below, print it out, and start walking around your space.
Build your declutter list by taking notes on what you see.
Write down anything you see that needs to be decluttered.
How can I declutter without feeling overwhelmed?
If you're really overwhelmed by the idea of decluttering your whole house, start with a small space.
It could be a single room, a small closet, or even a drawer.
Write down everything in that space you want to declutter.
Related: How to Start Decluttering When Overwhelmed
Okay, I have my "to decluttering list" – Now what?
Decide right now that you're going to declutter 3 things from your list.
Declutter those things, and check them off your list.
Over time, you'll make more progress on your decluttering list, and you'll see progress in your space.
How often should I declutter?
This depends on how much time and energy you have.
If you're exhausted or barely have time to do anything, just declutter 3 things from your list each day.
If you're raring to go, set a timer for 10 or 15 minutes, and see how many things you can check off your list during that time period.
You set the parameters based on what you feel like you can do.
Nothing motivates like success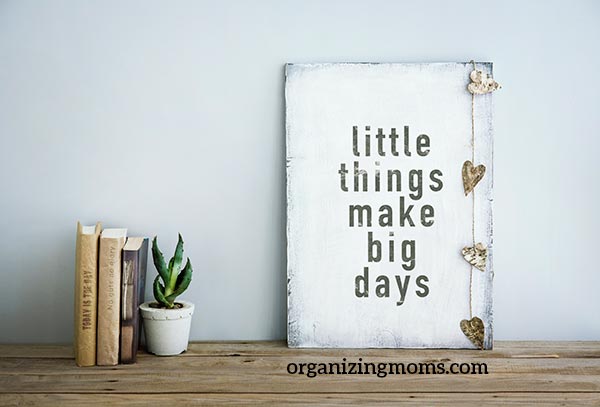 By checking items off your decluttering list, you're doing two things:
You're seeing your own progress. A task that once seemed daunting now looks do-able because it's broken down into smaller steps.
You're keeping a promise to yourself. Keeping little promises to yourself will do wonders for your self-esteem and motivation. Make promises you can keep and stick to them. Even if that means just decluttering three things a day.
Things you can do to further motivate yourself to declutter
Decluttering can be boring and lonely. Make the time go quicker by doing one of the following while you're working:
Call a friend and chat
Listen to your favorite music
Listen to an audiobook – Go here to get a free trial for Audible and get two free audiobooks.
Put a favorite show on in the background.
Things you shouldn't do while decluttering
Don't spend a lot of time trying to make decisions about what to keep. Stick to your decluttering list – it's full of pre-made decisions you can take action on right now.
Don't get sidetracked by stuff on the internet. A quick search or social media check-in can lead to an hour of time lost to the interwebs. Resist until you've met your decluttering goal for the day!
Don't get bogged down by negative thoughts. You are making slow, yet sustainable progress! The past is the past, and you are making space for yourself. You can do this!
Easy places to start decluttering
If you're completely at a loss as to where to start decluttering, I recommend starting with an area or category you have more control over. Here are some ideas:
The laundry room
Your car
Your purse
Start decluttering the easy things first
When you look at your decluttering list for the first time, work on the easier tasks first. This will help you build momentum and confidence.
The easiest item to declutter first? Trash!
I write "trash" on every single one of my decluttering checklists. Because it's almost always easy to find it!
Grab your own decluttering list printable, and get started today.
New to this community? Start here, friend!