The best fireproof safes for home use. Protect your important paperwork with a safe that can withstand the elements.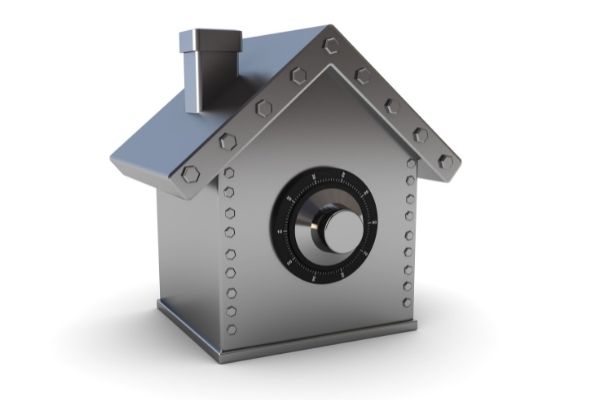 Have you thought about what would happen if there was a fire in your home?
What if important documents like birth certificates and social security cards were destroyed?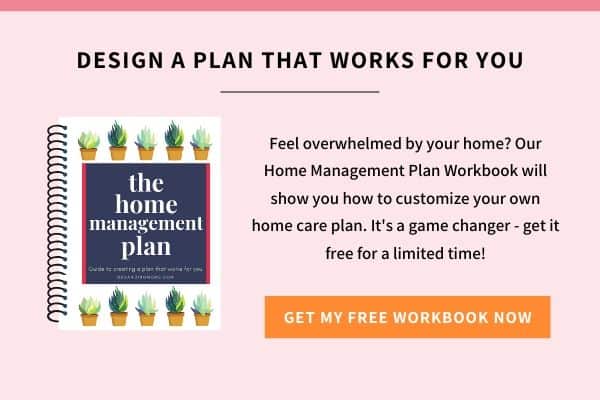 It's a difficult thing to think about, but planning and preparation can help you to mitigate the damage in the event of a fire or flood.
There are a number of fireproof safes available for home use to protect your documents and valuables from disaster.
Plus, keeping your documents in a safe is a good way to organize them in a safe location.
Keep reading for my top recommendations on fireproof safes for home use to meet your needs and keep your documents and items protected.
Is a fireproof safe really fireproof?
We all want to protect our important documents and valuable items from theft, fire, and flooding.
How can we be sure a fireproof safe will protect those things that are precious to us if our house is on fire? Is it really fireproof?
Most fireproof safes for home use are fire-resistant.
Many fireproof safes will protect documents and papers by keeping the internal temperature below 350 degrees.
However, they're not a great place to store disks or disc drives that can be really sensitive to heat.
The best fireproof safes for home use are a great way to keep sensitive documents like passports, social security cards, and birth certificates safe during a fire.
However, if you want to keep media including hard drives and photographs safe, you'll want a data and media safe.
Is 30 minutes of fireproof protection enough?
Many fireproof safes are rated for up to 30 minutes of fireproof protection and the experts say that's enough for home use.
There are safes that offer more a longer period of protection, but it comes with a steep price tag.
Consider carefully your needs and budget before choosing the right fireproof safe for your home.
Want help choosing the right one?
Keep reading to discover my best fireproof safe recommendations for home use available on Amazon.
With one of these safes, you'll be able to protect your important documents from disaster and stay on budget too.
Related: How I Set Up My Paper Organization System
What are the best fireproof safes for home use?
Before you choose which safe is best for your family, think about your budget.
Then consider the safe's capacity, the fire rating, and the locking mechanism.
Here are our top picks for the very best fireproof safes for home use:

This safe is fireproof and waterproof, so it's a great option for organizing and storing important documents safely. It's fire resistant for up to one hour and designed to protect documents, valuables, and media like DVDs with 1.23 cubic feet of storage.
In the event of a flood, this fireproof safe can withstand water for 24 hours. This fireproof safe from SentrySafe has multiple locking options. It comes with a key and a dial combination lock with 4 live-locking bolts and a pry-resistant hinge bar to protect your valuables.
If your SentrySafe is ever involved in a fire or flood, the company will replace it with a new fireproof safe for free. It's a great little fireproof safe for your peace of mind.
This small safe offers an excellent budget friendly option from a brand well known for years of protecting homes. At just over $50 this small safe is an easy way to organize and protect your important documents.
My favorite things about this fireproof safe, besides its low price tag, include that it's relatively light compared to other fireproof safes and it has a handle to make moving this safe a lot easier. Plus, it has 30 minutes of fire resistance and 100 hours of waterproof protection for documents and media like disc drives and photographs.
If this is your first time purchasing a safe, this budget friendly trustworthy option is a great choice for your home's first fireproof safe.
With live locking bolts, a steel door, and pry-resistant hinges, this small safe is a great option for storing important documents and valuables like jewelry and passports. This AEGIS safe comes with a keypad that ensures no one with the code can get into the safe. It's a great option if you're worried about keeping up with a safe key.
This fireproof safe comes in three sizes: 0.69 cubic feet, 1.04 cubic feet, and 1.74 cubic feet. All three sizes have a removable shelf you can use to help organize documents or remove for extra storage. Plus, it comes with pre-drilled holes so you can mount your safe to the wall or floor for extra security.
Related: Organizing with Binders: A Smart Way to Store Important Paperwork
Whether you're looking for a small safe with a keypad like the AEGIS fireproof safe, a budget friendly mobile option like the Honeywell safe, or a large fireproof safe with up to one hour of protection like the SentrySafe, there's a fireproof safe option to fit your home. I hope this list has helped you choose the best fireproof safe for your home.
More Ways to Organize Paper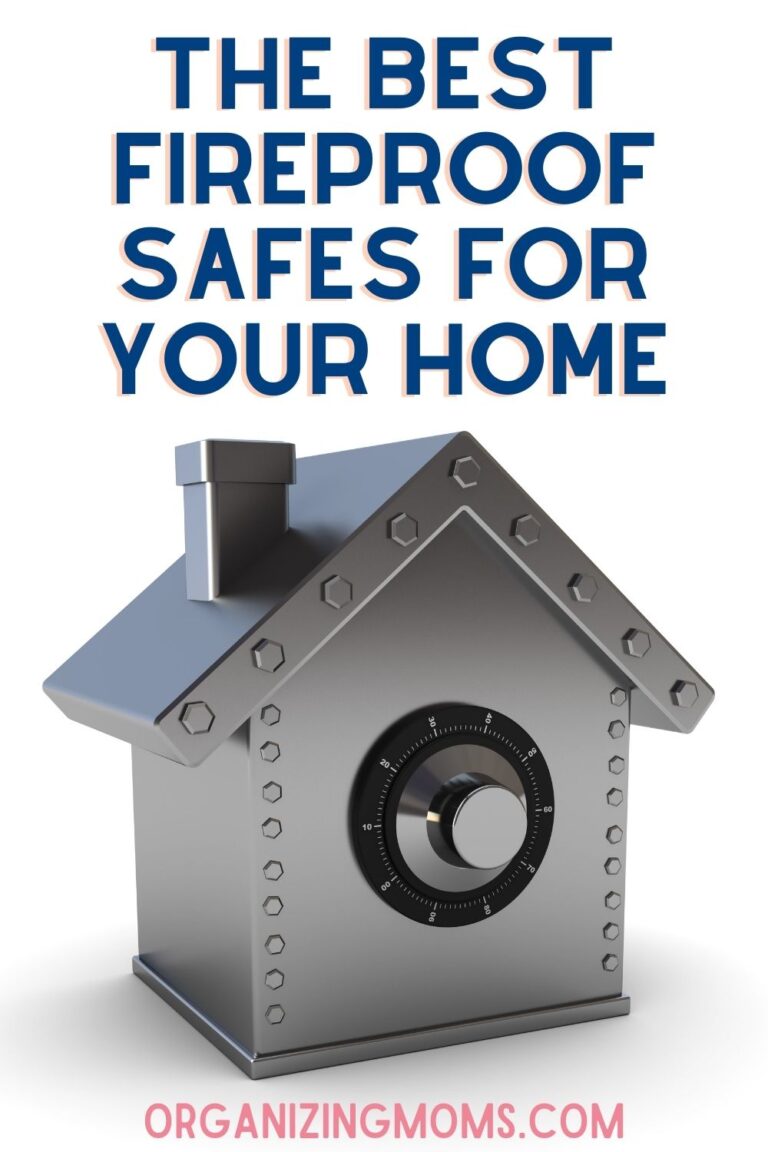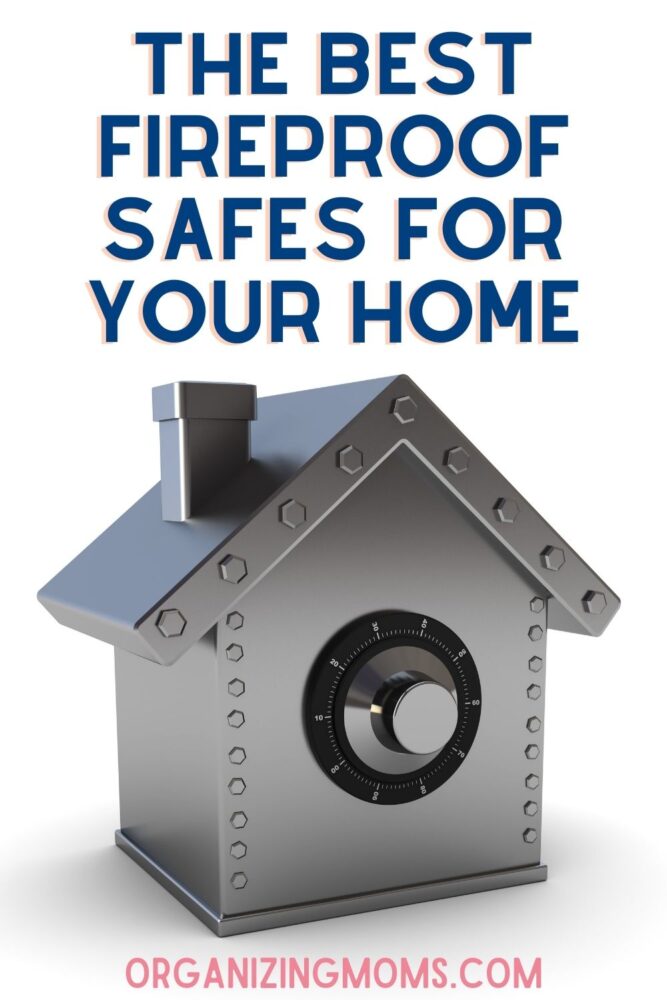 Join the FREE Paper Organization Challenge!
Want to FINALLY take control of the paper piles and get your important documents organized? Sign up for my newsletter, and you'll automatically be signed up for the FREE 7-day Paper Organization Challenge. Start today and make missing papers, disorganization, and worrying about important records a thing of the past!
New to this community? Start here, friend!