Last minute meals for busy nights. Everything you need to make easy, quick meals that your family will like. Skip delivery and be prepared with these ideas!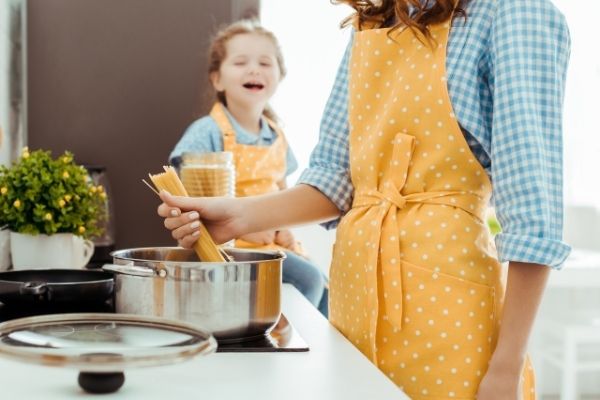 We've all been there – it's time for dinner, and there's no plan for what to fix.
So we end up ordering a pizza or heading to the drive-thru.
Going out to eat is fun, and it's a real lifesaver sometimes. But if it happens too much, it can start to strain your budget.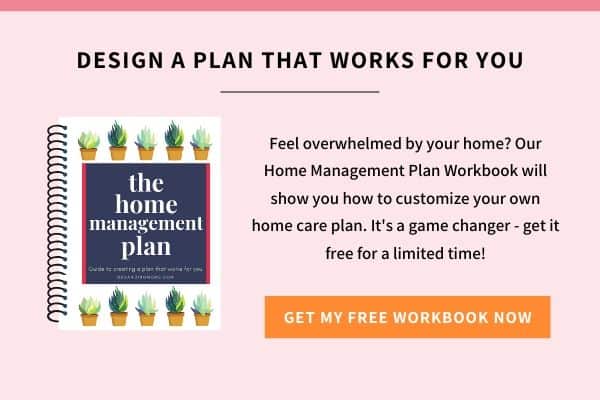 If you're in a season where you're doing a lot of eating out, it's helpful to have a few super simple, easy last-minute meals on hand so you can whip something up in a snap.
These meal ideas are NOT the healthiest, but they do the trick of getting everyone fed for less than what you'd pay at the restaurant.
You may also like:
Last Minute Meals for Busy Nights
Spaghetti – It doesn't get much easier than this! Here's what you'll need:

Your favorite type of pasta noodle
Your favorite jar(s) of spaghetti sauce
Optional: Buy some ground meat to freeze. Quickly defrost it and add it to your spaghetti sauce for a little extra protein.
Optional: Frozen garlic bread

Fish and Chips – Here's what you'll need:

Frozen fish sticks
Frozen french fries
Optional: Frozen peas
Optional: tartar sauce or malt vinegar if your family likes them

Chinese "takeout"– Here's what you'll need:

Frozen orange chicken (or whatever entree looks good to you)
Frozen prepared fried rice
Optional: Frozen potstickers or egg rolls

Grilled Cheese and Tomato Soup – Here's what you'll need:

Your favorite bread
Your favorite cheese (we use American cheese slices for grilled cheese sandwiches)
Canned tomato soup

Chicken Tenders + Tater Tots – Here's what you'll need:

Frozen chicken tenders
Frozen tater tots

Sausages + Rice + Beans – Here's what you'll need:

Your favorite sausages (chicken sausage, italian sausage, etc.)
Prepackaged rice and beans that just needs to be heated up on the stove

Hamburgers and Fries – Here's what you'll need:

Pre-cooked, frozen hamburger patties
Hamburger buns
Frozen french fries

Frozen Pizzas!
Related article
Is an Air Fryer Right for You?
Easy Side Dishes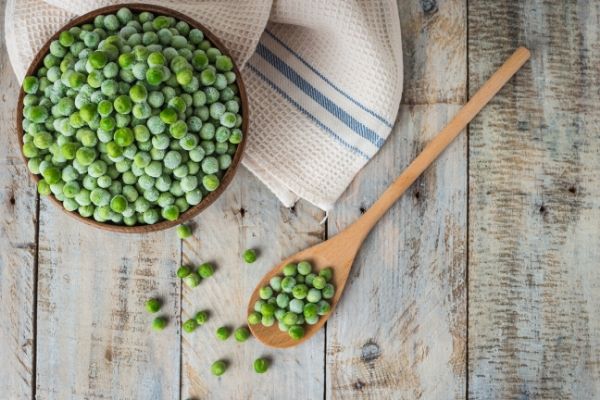 You can also keep a few easy side dishes on hand to serve with your last-minute meals. Here are some ideas:
Apple sauce
Frozen Peas
Canned peaches or pears
Baked Beans
If you'd prefer something fresh for a side dish, here are some more ideas:
Spinach "salad" – Toss baby spinach with olive oil and balsamic vinegar for a simple fresh salad.
Cucumber slices
Apple slices
Orange segments
Related: How to Cook Frozen Broccoli in Your Instant Pot
Why Invest in Last-Minute Meal Ingredients?
We are all busy, and we never know what kind of unexpected events might come up. These last-minute meals are great for when…
You're sick and you need to put something together quickly and easily,
You're going to get home late and you need something simple that a babysitter or teen could cook up in your absence,
Your whole family gets home late, and you need to feed the kids quickly before they go to bed,
You're craving take-out, but you don't want to have to pay the huge restaurant bill,
You've had an emotional day and you just. can't. even. do dinner.
Whatever your reasons, if you're prepared with the ingredients you need for your last-minute meals, they'll be ready when you need them.
As you can see, these meal ideas aren't exactly going to win us any kind of Martha Stewart awards, but they get the job done.
By planning ahead and keeping some of these basics in your pantry and freezer, you'll be prepared the next time you're faced with the dilemma of what to eat for dinner.
Want this post as a printable? Sign up below and I'll send you a PDF version of this post that you can print off and take to the grocery store.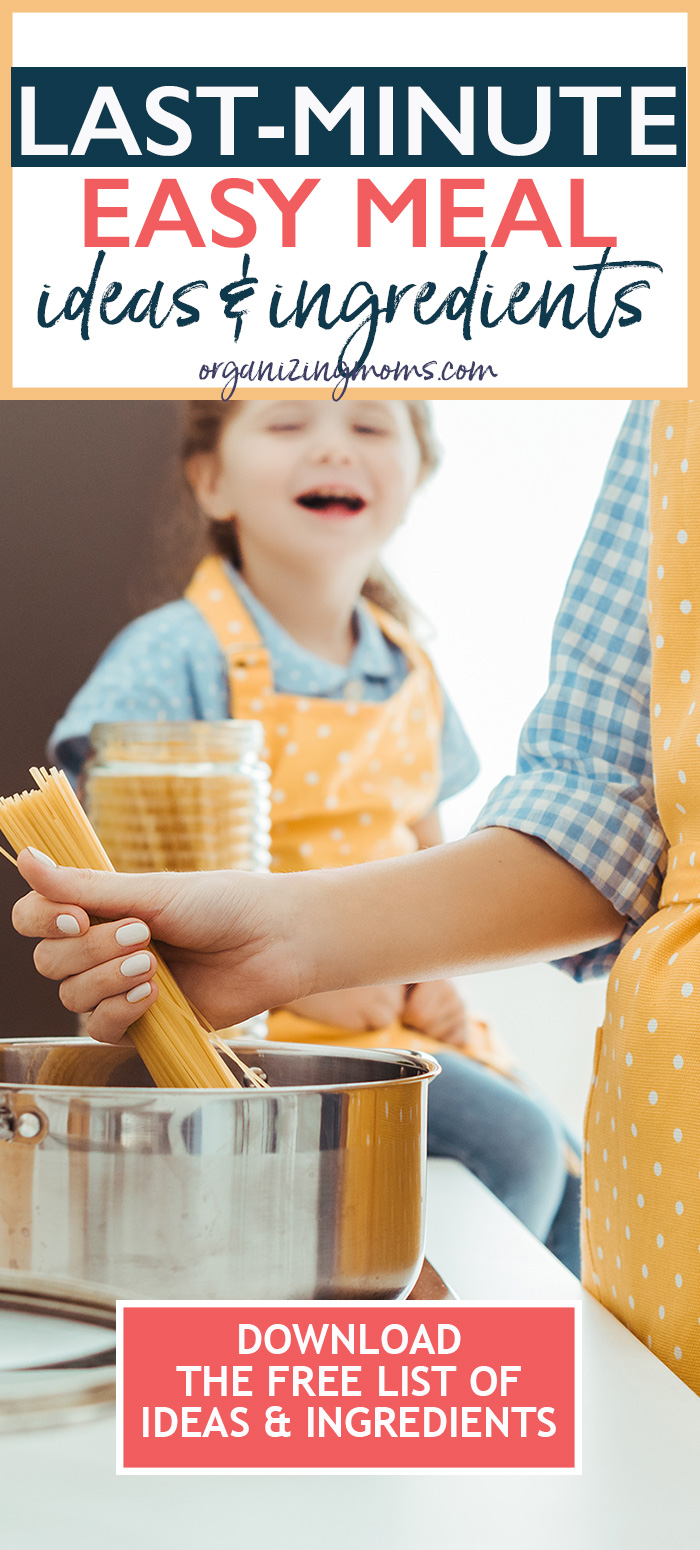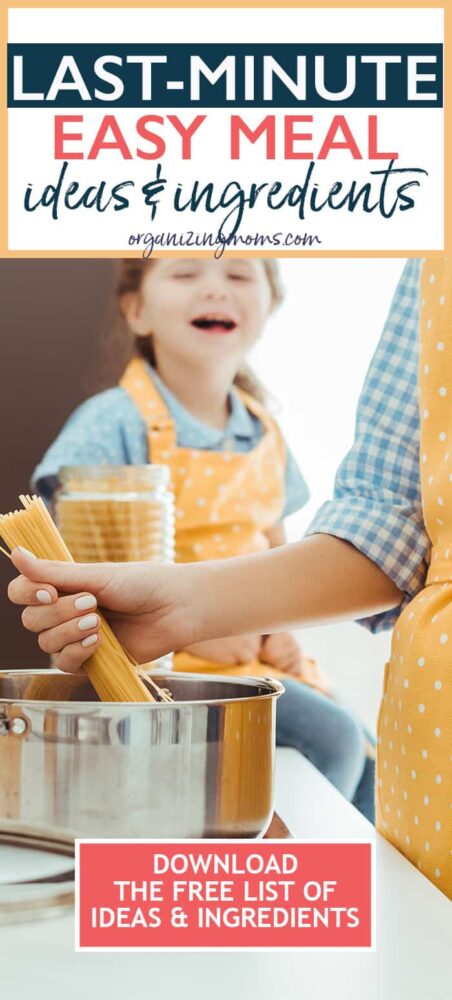 New to this community? Start here, friend!