Need ideas for how to organize your food storage containers? Getting your kitchen organized is key to figuring out how to organize your home. This post will tell you how to organize this important part of your kitchen.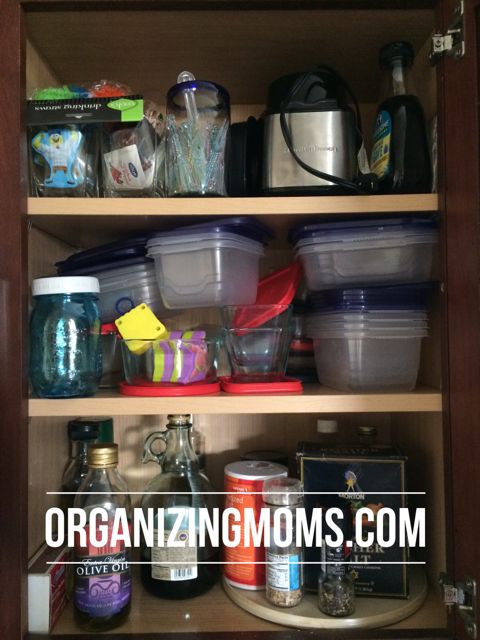 How to Organize Food Storage Containers
Find all of your food storage containers, and put them together in one place.
Get rid of the containers that are nasty, don't have lids, or are just annoying. If you don't use it, get rid of it. If you are struggling with this, read How Many Food Storage Containers Does a Woman Actually Need?
Put like items together. That way you'll be able to see just how many lids you have, and how many containers you have.
Stack the containers. Stack all of your rectangular containers together. Stack the circular ones together. Stack similar lids together.
Decide on a good area to keep your food storage containers. We use ours a lot for leftovers, so we keep them in a cabinet right next to the sink. That makes it easier to pull them out when we're cleaning dishes.
Clean out the area where you plan to put your storage containers. If you need to, wipe it down and get rid of crumbs or other craziness that might be lurking there.
Put your storage containers away first. Then do the lids. Consider storing the lids vertically to save some space. You could put them in a bin or even an old cereal box with the top cut off to save space. Just use whatever you have on hand.
Celebrate! Your food storage containers are organized and easily-accessible!
Use your new organization system. Is it working for you? As you go through the process of using your food storage containers, you might think of ways to improve your organization system. Make tweaks and modifications as needed.

Share a picture of your food storage container organization! That way other people can get ideas as to how to organize their own leftover containers. The picture above shows what our food storage container cabinet looked like after going through this process.
Want to share a picture of one of your organization victories? Join the Organizing Moms Facebook group and connect with moms who are getting organized.
FREE 10-Minute Tasks to Help You Declutter & Organize!

Get realistic, easy decluttering & organizing task checklists delivered to your inbox each week when you sign up for the Organizing Moms newsletter. Join over 8,000 moms who want less stress, less mess, and a more organized life!
New to this community? Start here, friend!