Sometimes you need a storage container that fits in a specific space, and it's hard to find what you need in the stores. Today, I'm going to show you how we made some cheap, custom-made easy DIY storage bins to fit under our make-shift mudroom bench.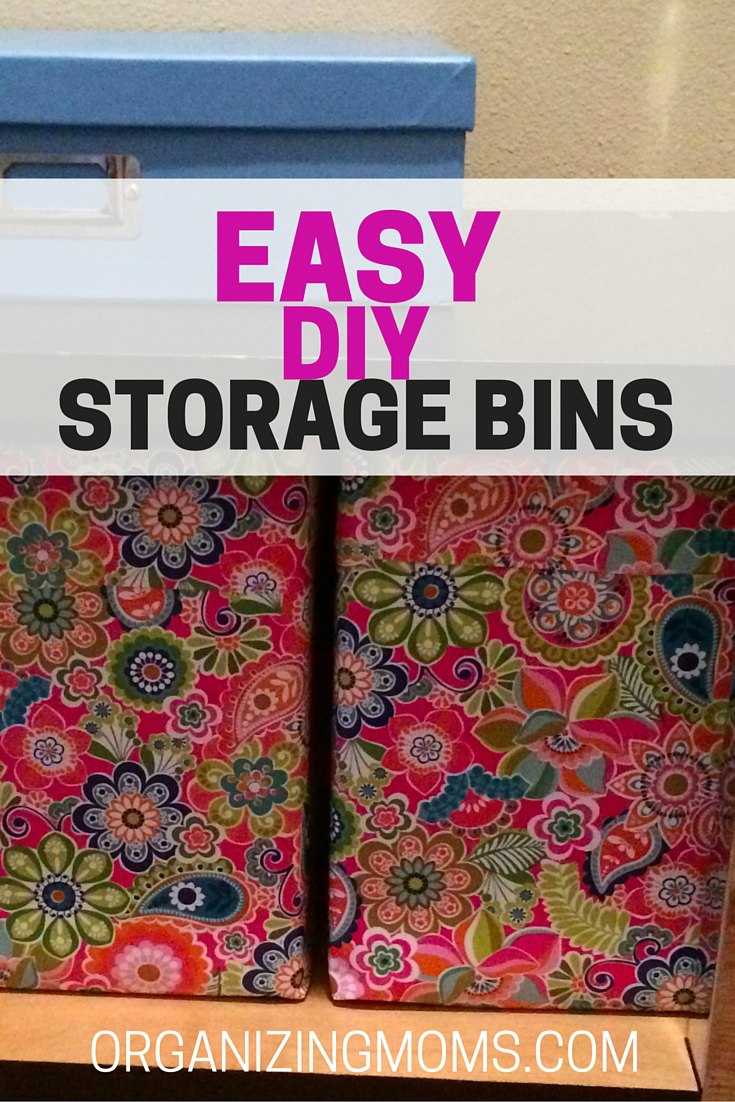 These storage containers are far from perfect, and they certainly won't last forever, but for now, they do the trick. And, they fit!
Storage Needs – The Ongoing Saga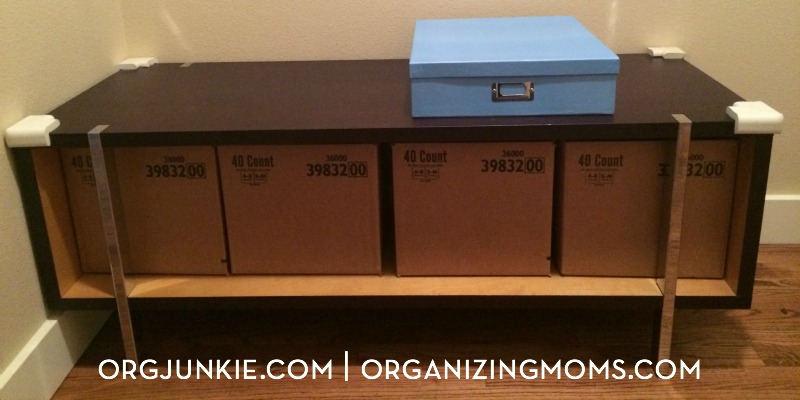 We had a super-sturdy TV stand that my parents gave us a few years ago. When we moved, we got rid of the gigantic TV that was sitting on the stand, but we kept the bench. Because it's strong, awesome, and indestructible.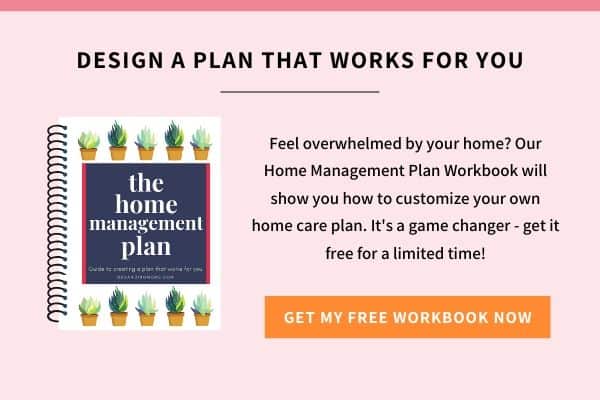 We decided to move it into our mudroom to use as a bench for putting on boots and shoes. The problem was, we couldn't find storage that fit under the bench. Everything I found in the stores was just a little bit too tall, or way too short. We wanted to find storage cubes that we could use to hide things like extra socks, mittens, umbrellas, and garden shoes.
I'd kind of given up on the idea of having cute storage cubes under the shelf, when the solution landed right on our doorstep. For real.
We typically order diapers and pull-ups from Amazon, and we recently had to switch brands because Amazon stopped carrying the type of pull-up we used to use. When the new brand of pull-up arrived on our doorstep, I could see that the box they came in was just the right size for storing stuff under our bench.
After testing out the box, I hopped onto Amazon, and made sure our next month's Subscribe and Save delivery would include several boxes of pull-ups. I wanted to have enough boxes to fill the storage area under the bench.
The next month, our delivery arrived, and we had enough boxes to completely fill our bench storage area.
The problem was that they didn't look that nice. They were pull-up boxes. I decided to do some kind of a DIY organization project to make them look cute. Someday.
A Tale of Procrastination
I had great plans for our little pull-up boxes, but I couldn't figure out how to make them look nice. I couldn't decide what to do with the boxes. I thought about covering them in fabric (but I don't know anything about sewing), drawing on them (that probably wouldn't look very nice), putting scrapbook paper on them, or even covering them in wrapping paper (I couldn't find any wrapping paper that I thought would look right in the mudroom).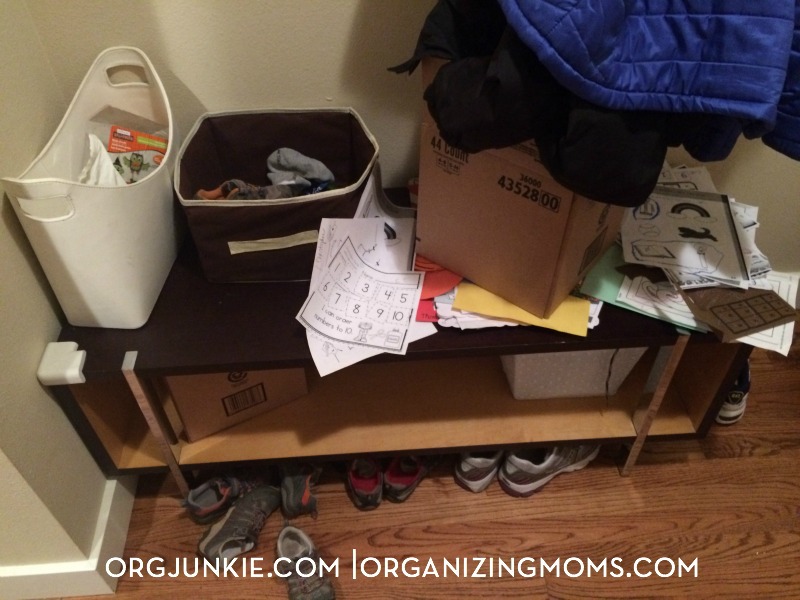 I didn't know what to do, so I didn't do anything. Our mudroom was out-of-control disorganized, and the diaper boxes didn't help the situation.
I knew I needed to make myself accountable, so I wrote a post about using organizing fails to create helpful systems. I wrote about our mudroom. It was a true organizing fail.
In a similar post, I also vowed to do something about those pull-up boxes! Maybe some public accountability would get me going?
Using What You Have – Easy DIY Storage Bins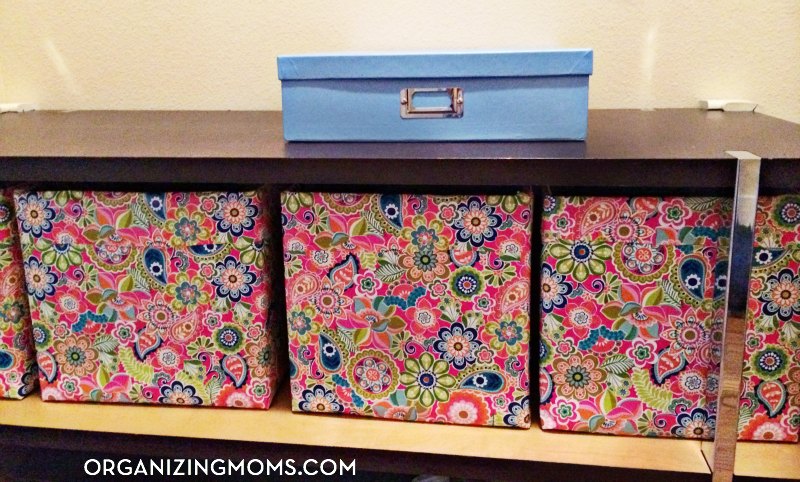 Although I was stuck on my mudroom beautification project, I was motivated to do a realistic linen closet organization project. I wanted to add color to our linen closet, so I lined our linen closet walls with colorful, floral wrapping paper.
After completing the linen closet project, I had a lot of leftover wrapping paper. I live in a house of boys, so I didn't anticipate wrapping a lot of presents using this pink, floral paper.
Even though I hadn't originally planned to include a pink floral pattern in our mudroom, I decided to try wrapping our boxes in the wrapping paper. I had it – I might as well put it to good use.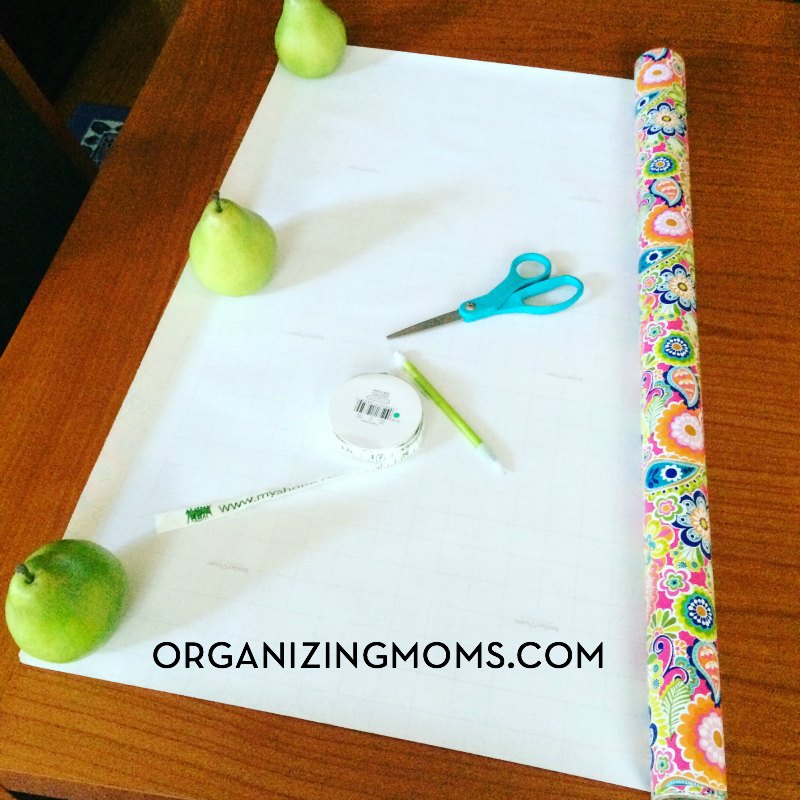 It took me twenty minutes to wrap all four boxes. 20 minutes!
The design isn't what I had envisioned for the mudroom, but I really like the way it looks. The nice thing is, if I find a different type of paper that we like more, I can easily change it.
The paper probably won't last forever, but right now, it's working out great. I still have some leftover wrapping paper if I need to make any repairs to the boxes.
My favorite part of the project: we used stuff we already had on hand instead of spending a lot on storage solutions that didn't really work for that space anyway.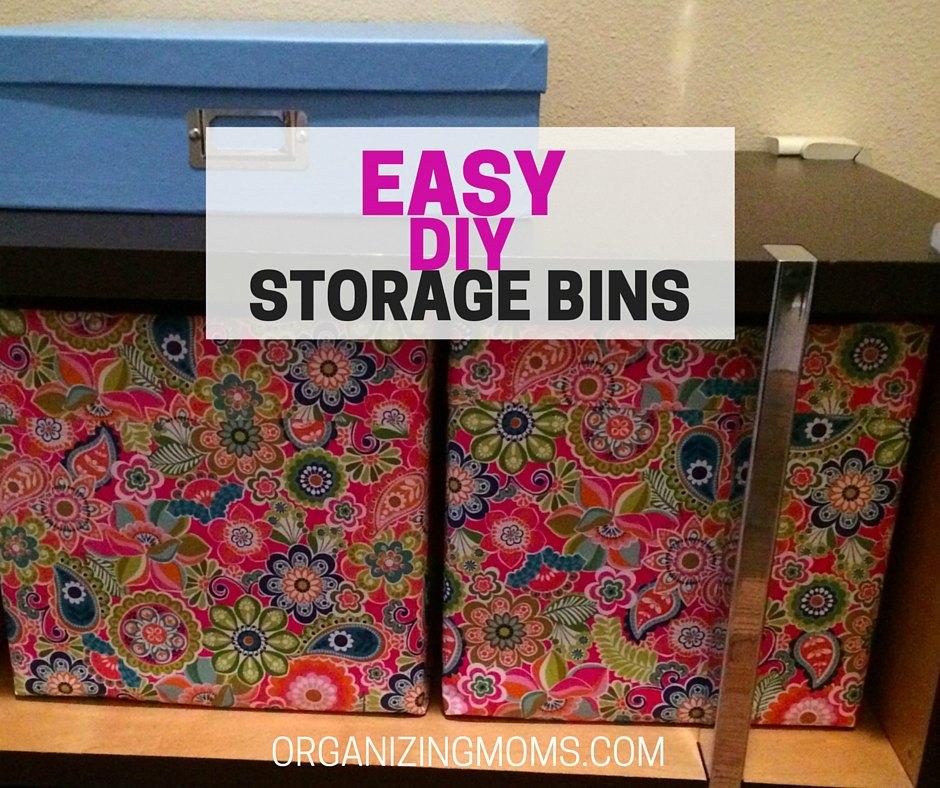 Materials used for project:
Cardboard boxes
Wrapping paper
Scissors
Tape
Need more DIY Ideas? Check out these projects!
DIY Room Divider on a Budget – inexpensive solution for when you want a room divider.
DIY Baskets for Storage – amazing customized organizing solutions you can make yourself.
New to this community? Start here, friend!