I have been trying to keep my home organized forever, and I've always had a lot of organizing "fails." The good thing is, you can use your organizing fails to help you come up with good systems that work for you.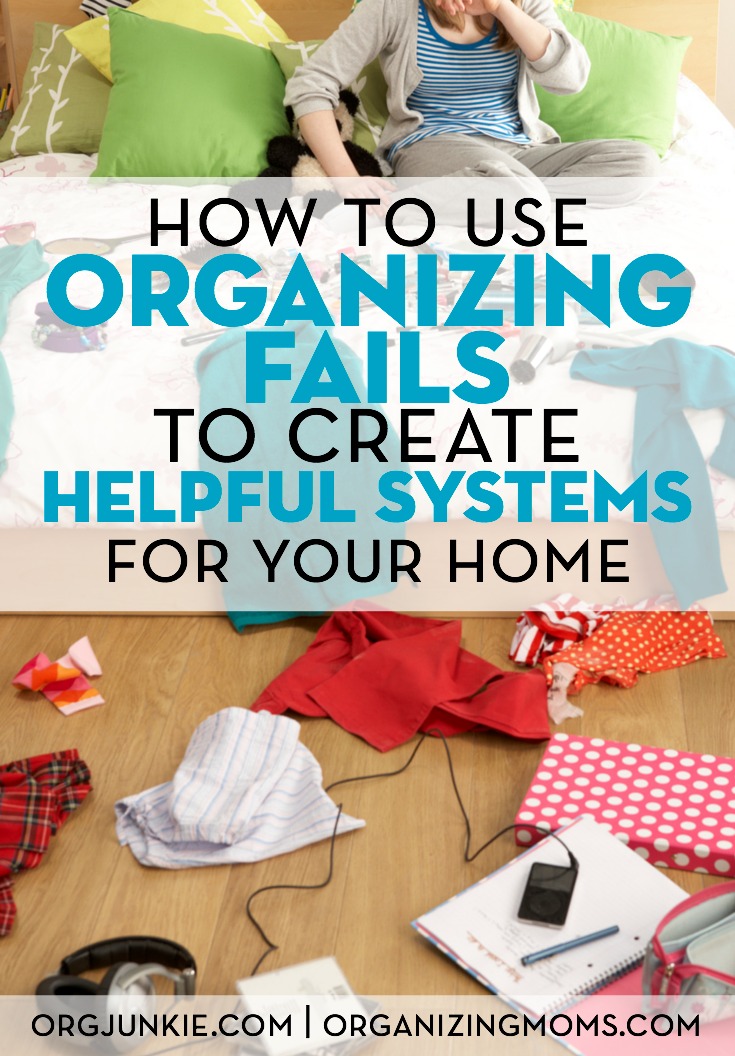 I've tried other people's systems for organizing our laundry, organizing our school supplies, organizing our paper, and almost everything else. Sometimes the systems work, and sometimes they don't. When they don't work, there's usually something about the system that I'm using that doesn't quite sync with our family.
By looking at our organizing "fails" with an investigator's eye, we can get to the root of the problem, and come up with a plan to get things back in order.
There's a lot of advice out there about organizing, but it's up to us to figure out what's realistic, and what will work for our families.
You are unique, your life is unlike anyone else's, and you know how your household works better than anyone else. It's great to look to Pinterest or organizing websites for inspiration, but ultimately, you get to decide how you'll organize your home.
I have a post up on I'm an Organizing Junkie about How to Use Organizing Fails to Create Helpful Systems for Your Home. In the article, I show how I created a new system for keeping our mudroom organized. It was a huge mess!
What have you learned from your organizing "fails"? 
Want to get more organizing tips, tricks, ideas, and inspiration in your inbox? Sign up for the Organizing Moms Newsletter!
FREE 10-Minute Tasks to Help You Declutter & Organize!

Get realistic, easy decluttering & organizing task checklists delivered to your inbox each week when you sign up for the Organizing Moms newsletter. Join over 8,000 moms who want less stress, less mess, and a more organized life!
New to this community? Start here, friend!