Are you tired of never finding what you want in the kitchen without going to great lengths searching for it? Use these DIY kitchen organization ideas to end the madness and organize your kitchen once and for all!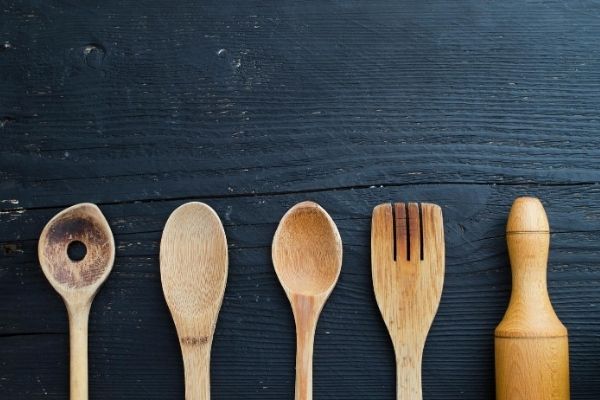 DIY Kitchen Organization
The kitchen is the heart of the home, and as such, we tend to spend a lot of time there.
Without great kitchen organization systems in place, over time your kitchen can feel more like a cluttered dumping ground than a humming machine.
It's time to get organized!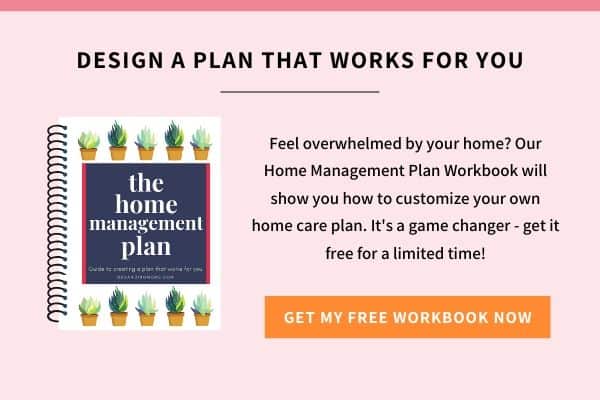 Buying organization systems and supplies can be very expensive (and unnecessary), so I've searched high and low to find some excellent wallet-friendly ways to organize your kitchen.
Today I'm showing you 15 clever and effective ways to get your kitchen organized and keep it that way.
These DIY kitchen organization ideas will help you get the heart of your home running efficiently again and keep it that way!
Clever DIY Kitchen Organization Ideas and Hacks
When it comes to taming your kitchen clutter and disorganization, it's all about having systems in place that work for you.
Your work is in setting them up.
After that, they should work like a well-oiled machine.
If your kitchen is cluttered and you can't find anything, check out these DIY organization hacks that will get you back to humming along in no time.
DIY Spice Rack | Confessions of a Serial DIYer
The spice cabinet…it's so difficult to keep it organized!
That's why I love this idea of building your own spice cabinet that gets attached to the outside of your cabinet.
It's shallow enough to fit on the side of the cabinet yet hold lots of spices without losing ANY of them!
And you can't beat the price tag – even if you have to purchase all the supplies, it's still only $20.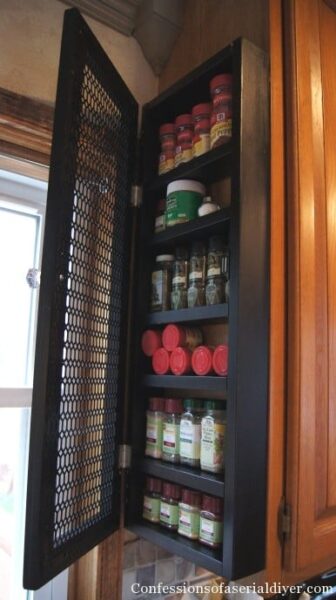 Doesn't it look amazing? And you can find everything so easily!
Related: Step-by-Step Spice Drawer Organization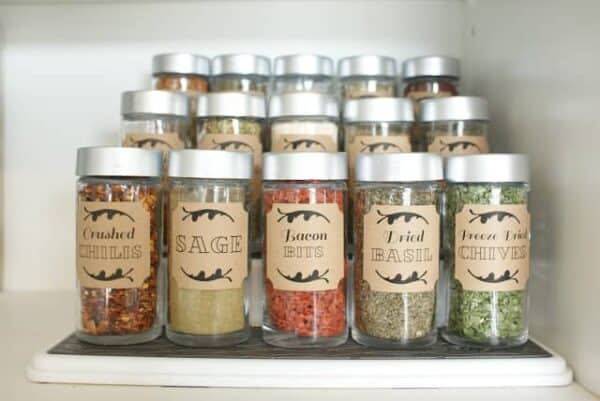 Sometimes what you need more than anything is storage space to help you get organized.
If you're short of space, build your own storage!
I know, you're thinking that this project requires the talents of a skilled cabinetmaker – or a carpenter at the very least.
I'm happy to report that this project is a piece of cake for anyone who is just a little bit handy.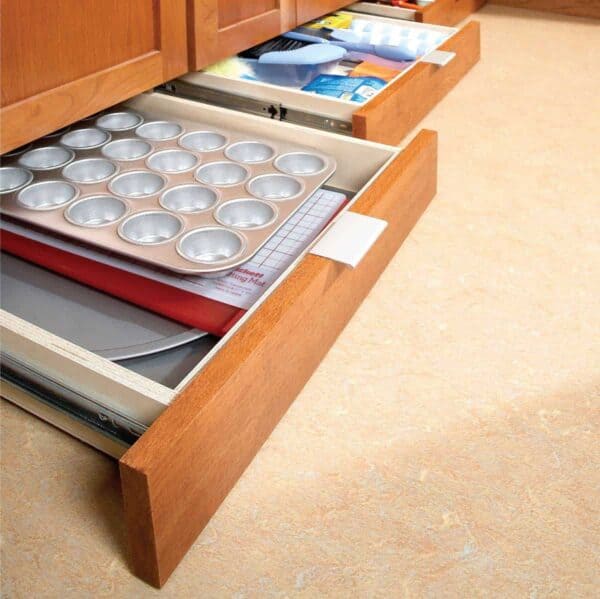 Slide-out drawers are amazing for saving your back and helping you to find the items that you may lose in the back of those bottom cabinets.
However, having someone install slide-out drawers for you is really expensive.
Fortunately, you can affordably make your own.
Follow this step by step tutorial to get professional-looking slide-out drawers for a fraction of the cost!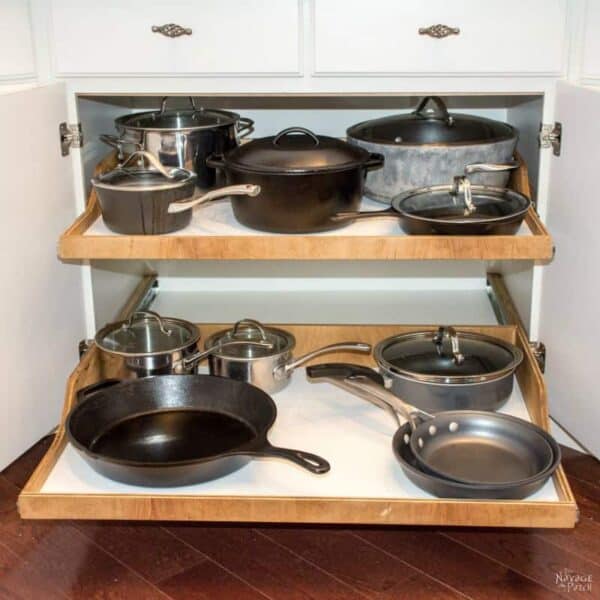 One of the best ways you can create storage that helps you get (and easily stay) organized is to use the inside of doors and cabinets.
This DIY pot lid storage idea is a perfect example.
It's easy to make and keeps those awkward lids easily accessible without taking up valuable space.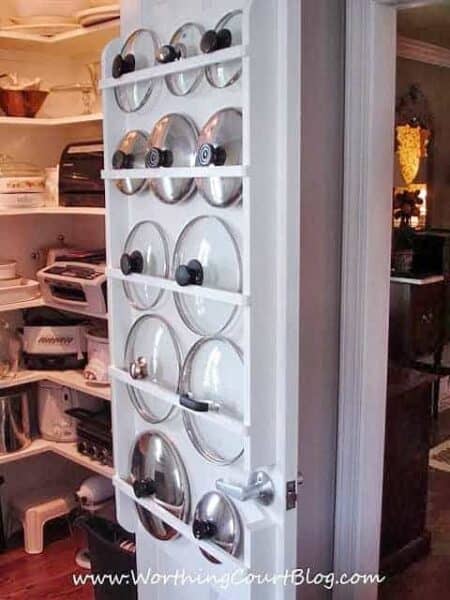 Sheet pans, muffin pans, pizza trays…these things are extremely difficult to store neatly so that you can quickly find what you want without digging to the very bottom of the pile every time.
Here's a game-changer!
Add simple, inexpensive organizers (such as a paper sorter) to your cabinet or shelf and voila – an instant bakeware organizing solution!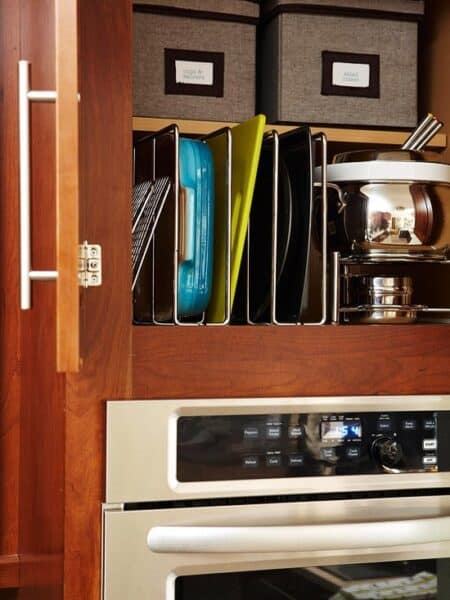 Pans are another tricky item to organize because they take up so much space.
That's why I think a shelf like this one that utilizes wall space instead of cabinet space is so effective.
Make your own easily with these step-by-step instructions.
Plus, it can double as a display for decor pieces or as storage for cookbooks.
Canned foods. I am not kidding when I say storing them is awful when you get it wrong, but it's terrific when you get it right.
And by "getting it right" I mean that it's 100% essential to store cans in a way that:
Doesn't take up valuable cabinet space
Makes it easy to see exactly what you have – and what you don't have – without pulling out every single can in the cabinet to see what's in the back.
Create a DIY rolling canned food organizer. All you need is about 6 inches of open space.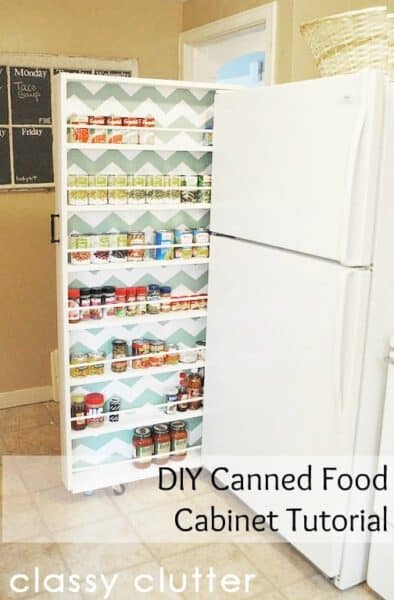 Ok, maybe you don't actually have 6 inches of free space where you can place a rolling storage cart (I don't either). If you have a pantry or even a shelf or two, make your own DIY canned food holders.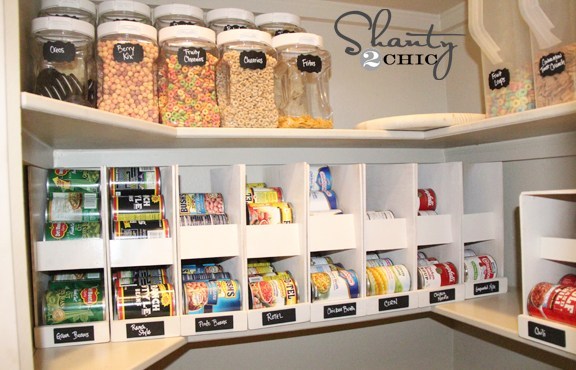 Do you know where your ¼ tsp measuring spoon is or is it lost in your kitchen drawer? Small items like measuring spoons and larger items like measuring cups can be challenging to organize and find when you need them.
I love this DIY measuring cup and spoons organizer, and it even has a measurement conversion chart! I totally need this.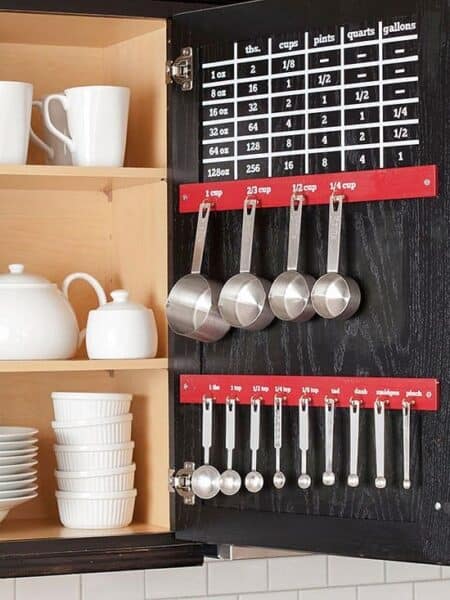 Pantry Organization | Taryn Whiteaker/Design, Dining & Diapers
The pantry…honestly it's one of my favorite spaces and one of my most challenging areas all wrapped into one. Tackle your own beast of a pantry by using baskets to group like items. Don't forget your labels!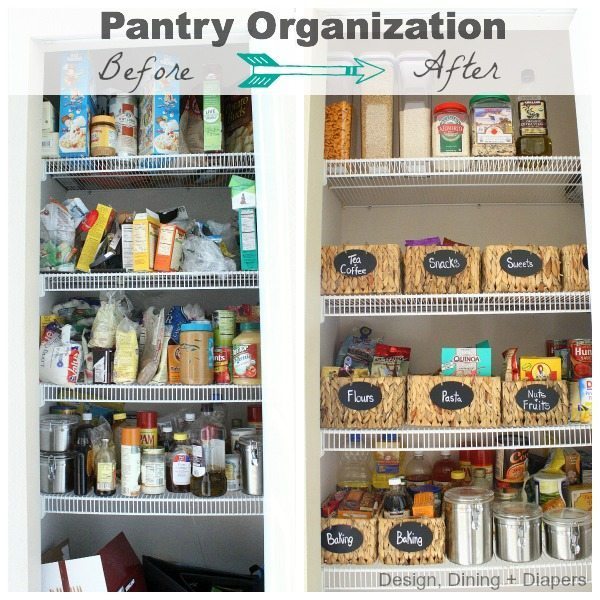 In my mind, this pantry is completely dreamy. It's clean, uncluttered, and highly organized. Oh, the labels! 'Nough said.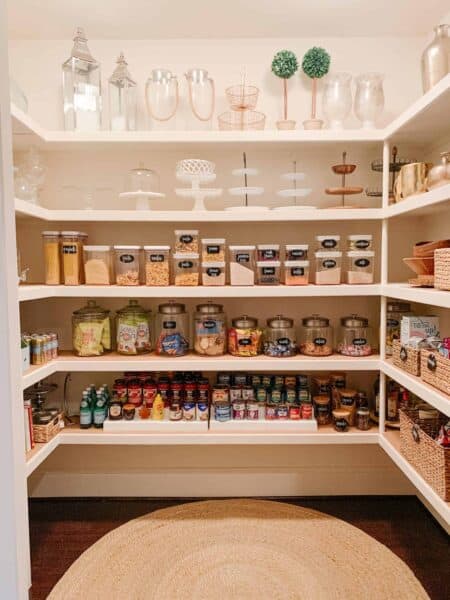 Clear out the old leftovers and expired bottles of mystery food.
Wipe everything down and then organize by food type or category.
Use bins, if you want to to help keep things organized over time.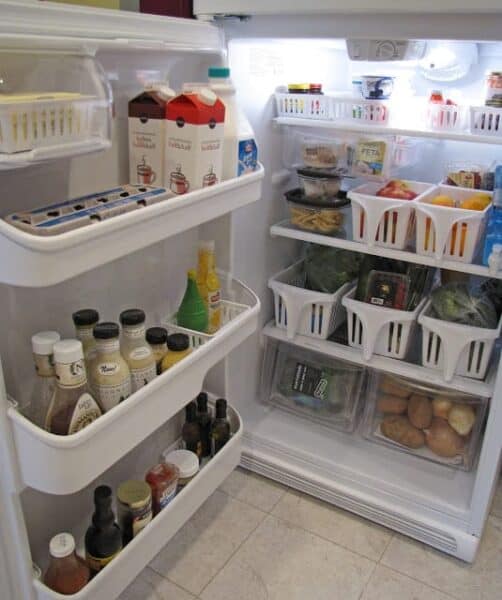 Such a cute idea! Anyone else get tired of answering "What's for supper?"
Take an old cookie sheet and create an adorable and useful food command center.
Include the week's menu, your running grocery list, coupons, and more.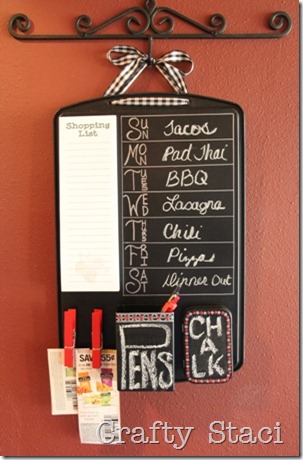 Papers, papers, papers everywhere.
From bills that need to be paid to mail and everything in between, get those papers off the counters, and into your own (easy DIY) command center.
Now you can stay organized and tidy.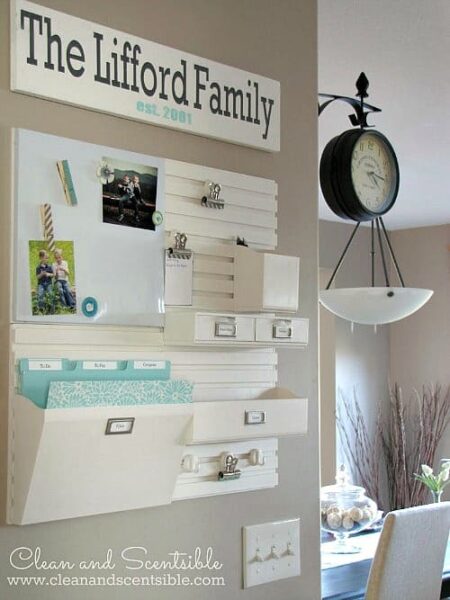 I hope these 15 clever DIY kitchen organization ideas help you take back control of the heart of your home!
More Kitchen Organization Ideas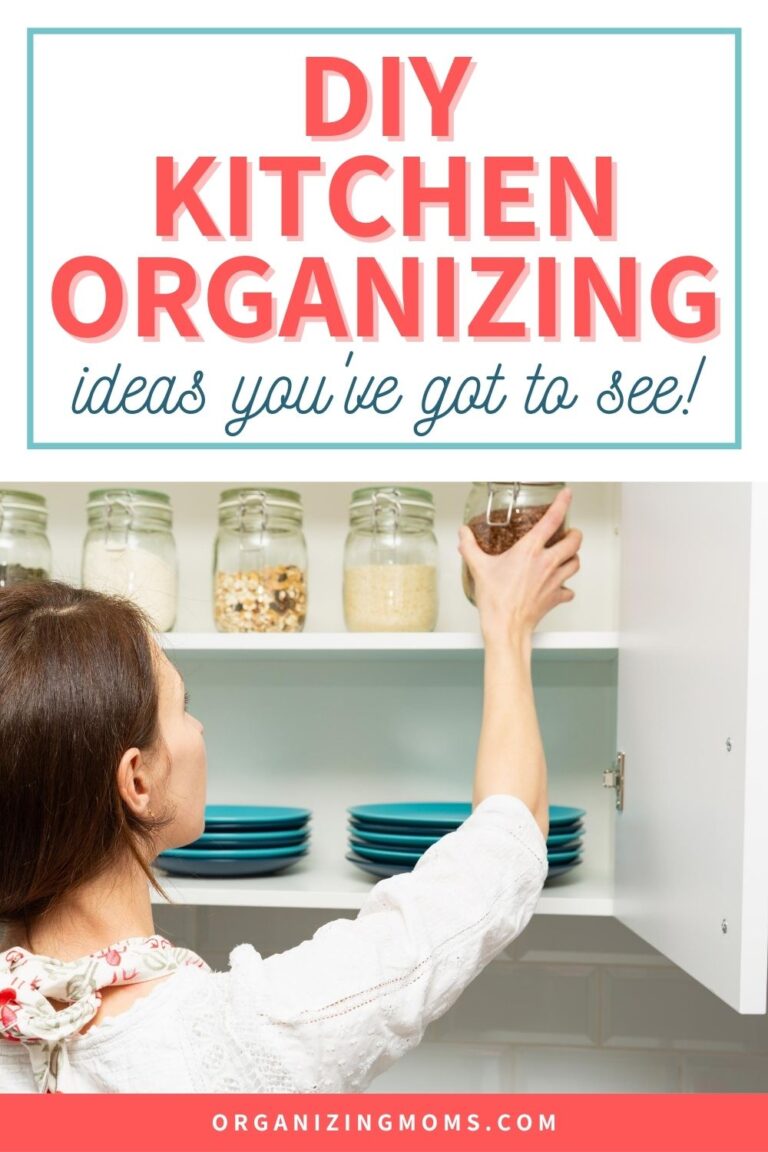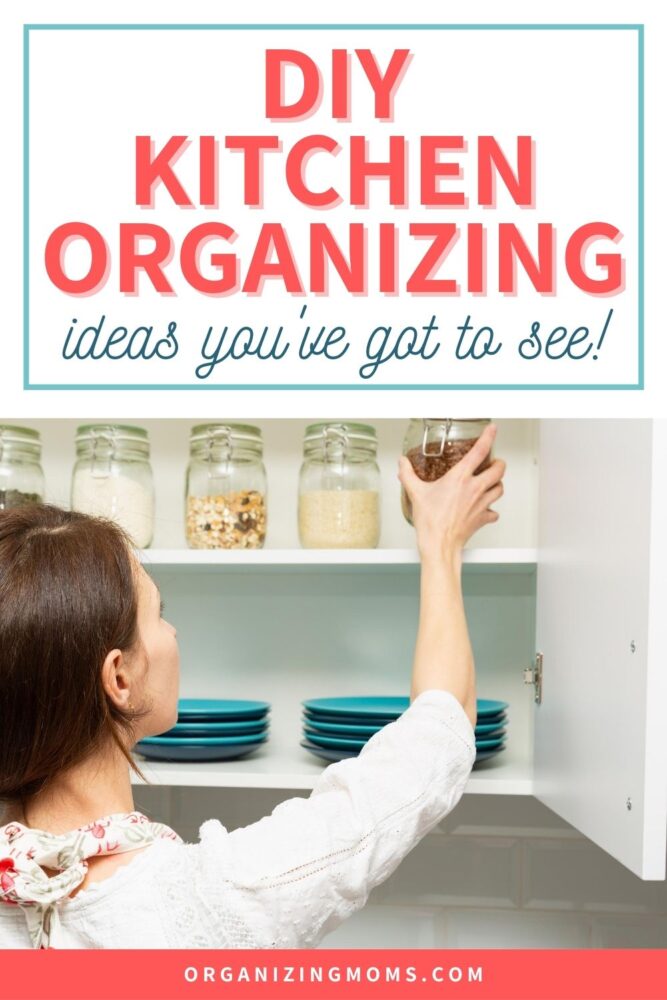 New to this community? Start here, friend!