Are you ready to do some serious decluttering? Join us for the 40 Bags in 40 Days Challenge!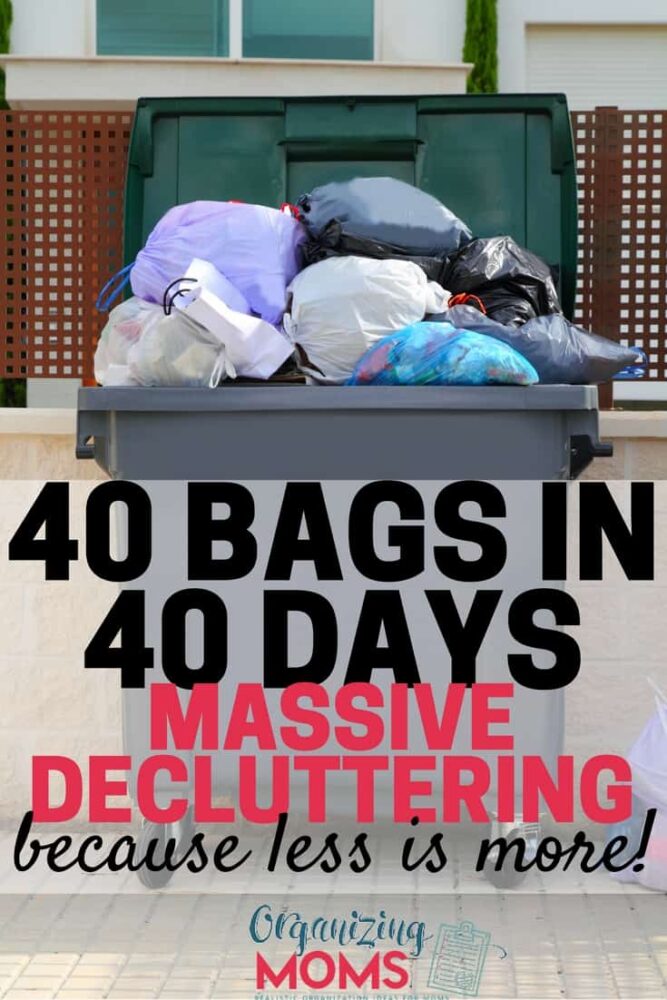 The 40 Bags in 40 Days challenge typically happens during Lent, but you could do it any time of year. For 40 days, you commit to decluttering one bagful of stuff from your home each day. After 40 days, you will have decluttered a ton of stuff!

MY LATEST VIDEOS
This year Lent begins on February 14, so that's when we'll begin the 40 Bags in 40 Days Challenge. If you're finding this challenge after it begins, feel free to join in where you are!
Sound like a good plan to you? Here's what you can do to plan ahead for the challenge:
How to Plan Ahead for the 40 Bags in 40 Days Challenge
Brainstorm different areas in your house that you'd like to declutter. Make a written or typed list so you can refer to it during the challenge.
Figure out what you'll do with your decluttered items. Will you drop off your bags daily? Will you wait until the end of the challenge? Make a plan for what you'll do with the stuff you declutter so that it doesn't stay in your home and eventually make its way back into your living space.
Join the Decluttering & Organizing Moms Facebook group. We'll be doing daily check-ins there, and you'll be able to chat with others who are doing the same challenge.
If you plan to donate a lot of the items you declutter, print out a donation tracker. Here's a good one from White House Black Shutters.
Frequently Asked Questions
Do I have to use a certain sized bag? Is it okay if I use boxes instead? Any size or shape of container is okay. It's totally up to you! Use stuff you already have – no need to buy anything new.
Does it all have to be donated? Definitely not! You'll want to separate your items for donation, but all clutter that you get rid of counts for this challenge. Even trash!
This seems like too much for me right now. Is there a lighter version? Yes! Check out this similar challenge – 40 items in 40 days.
I'm afraid I'll lose steam as the challenge progresses. How can I stay motivated? Join the Decluttering & Organizing Moms Facebook group. We'll be doing daily check-ins and working through the challenge together!
Can I take a day off? Yes! If you want to work ahead or have makeup days, that's totally fine. Just aim to have 40 bags out of your house by the end of the 40-day period.
Do I have to observe Lent to participate? No. In fact, you could do this any time of the year you want.
Join Us!
Are you up for the challenge? Come on over to the closed Facebook group and request to join. As soon as you're in the group, introduce yourself and meet other folks who are doing the challenge too! We're going to do some serious decluttering and have fun at the same time!
Track Your Progress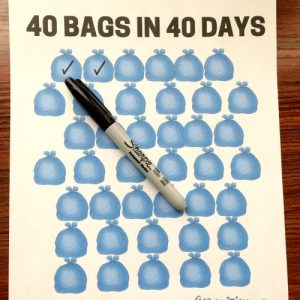 Want to track your progress in the 40 Bags in 40 Days Challenge? Pick up a free printable tracking sheet, and check off each bag you declutter. Click here to get your own printable progress tracker.
Want more Decluttering Information?
Here are some resources and articles to help get you motivated for the challenge!
FREE 10-Minute Tasks to Help You Declutter & Organize!

Get realistic, easy decluttering & organizing task checklists delivered to your inbox each week when you sign up for the Organizing Moms newsletter. Join over 7,000 moms who want less stress, less mess, and a more organized life!
New to this community? Start here, friend!