Do you need a space in your home to get work done? Are you tired of moving from space to space in your home trying to find a quiet spot to work? If you've been thinking of organizing your office space to increase your productivity, this post is for you!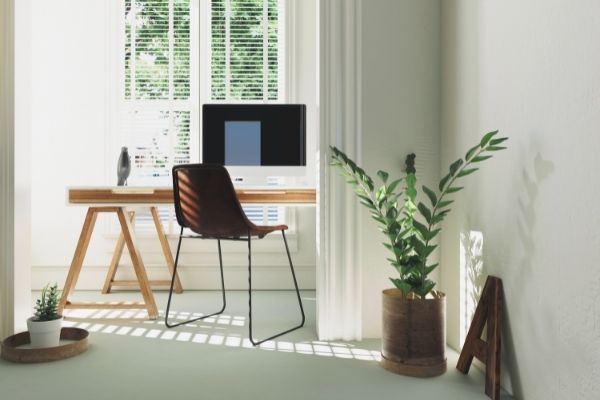 You may also like:
After years of trying to find a quiet place to work, I finally decided to put together my own makeshift office. Even though our kitchen has a little "office" area, I almost never used it because I could never concentrate with all of the hustle and bustle of munchkins.
I wanted to set up a separate area just for doing work-related things, and I wanted to make it pretty so I'd be more motivated to work!
We live in a rental home, and we don't have a lot of storage, extra room, or leeway when it comes to making changes.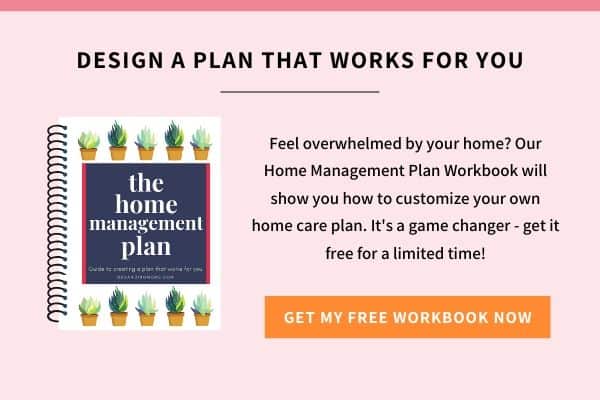 We have a lot of areas with un-usable space, so I decided to try to put together an office in a space we weren't already using – our master bedroom "sitting area."
We never actually sat in the "sitting area."
We did throw dirty clothes there, so I'm hoping that my new "office" will motivate us to take the few extra steps to put things away in the laundry hamper.
Organizing Your Office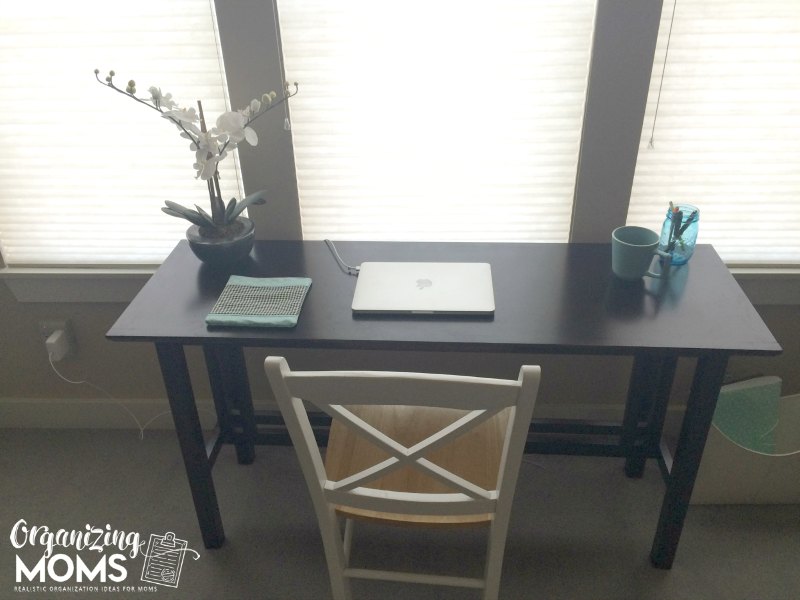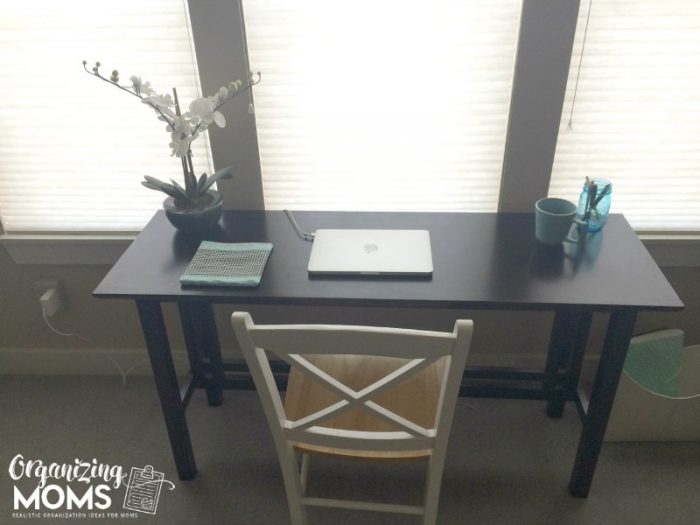 I originally wanted to buy a new desk to use in the office space, but after looking around our house, I decided to re-locate a console table we'd been using behind our sofa.
It's big enough to hold a laptop and a notebook, but not so big that I'd be using it to temporarily store clutter.
We'll see how that works out…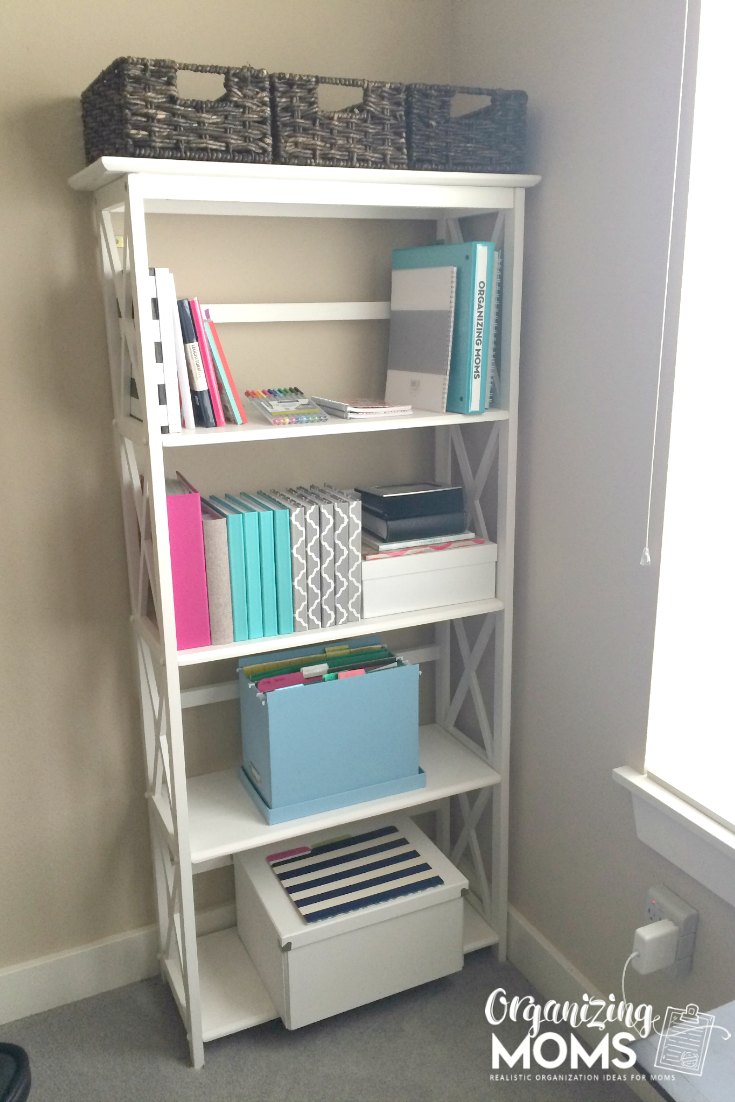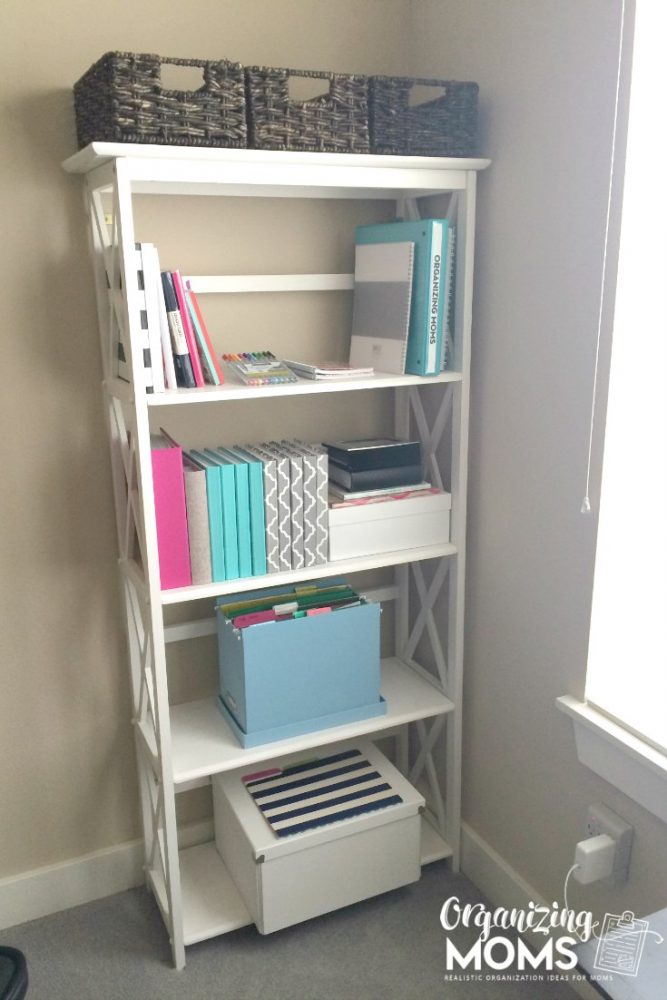 I moved my work-related files, boxes, and notebooks to our bookshelf, and arranged everything so it's easily accessible.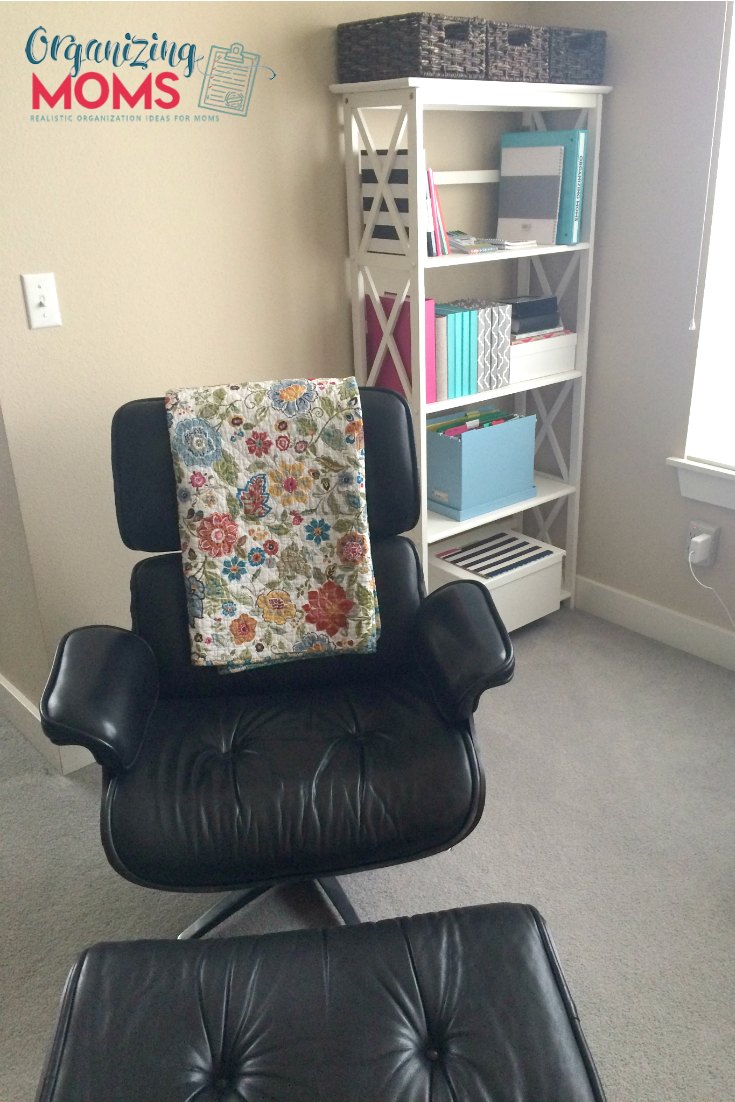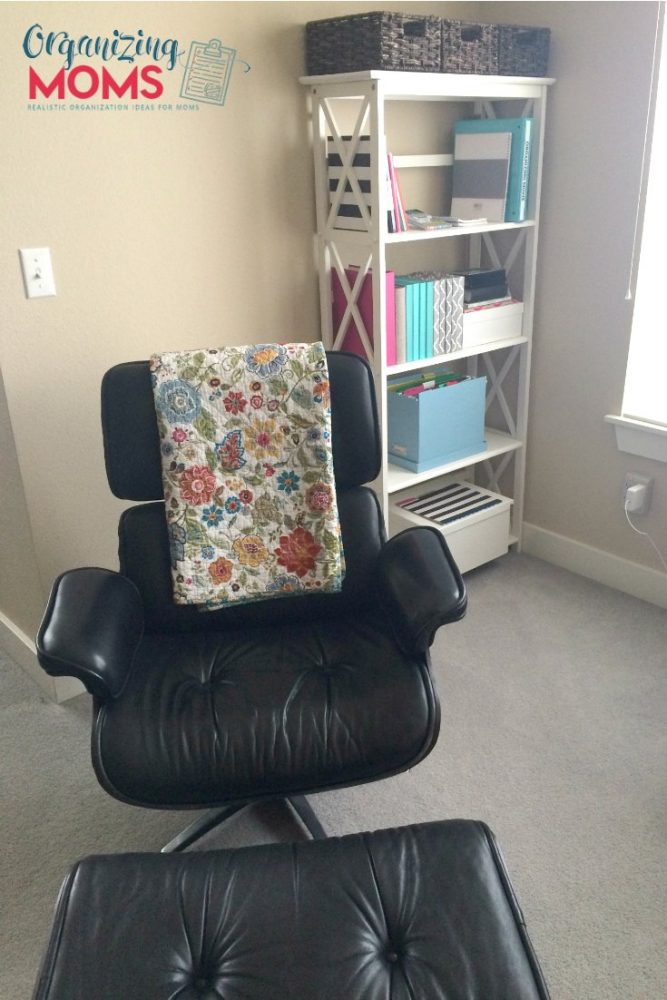 Finally, I moved our chair near the shelf so we'd have a relaxing place to sit and read if we ever actually wanted to have a "sitting area" in our room.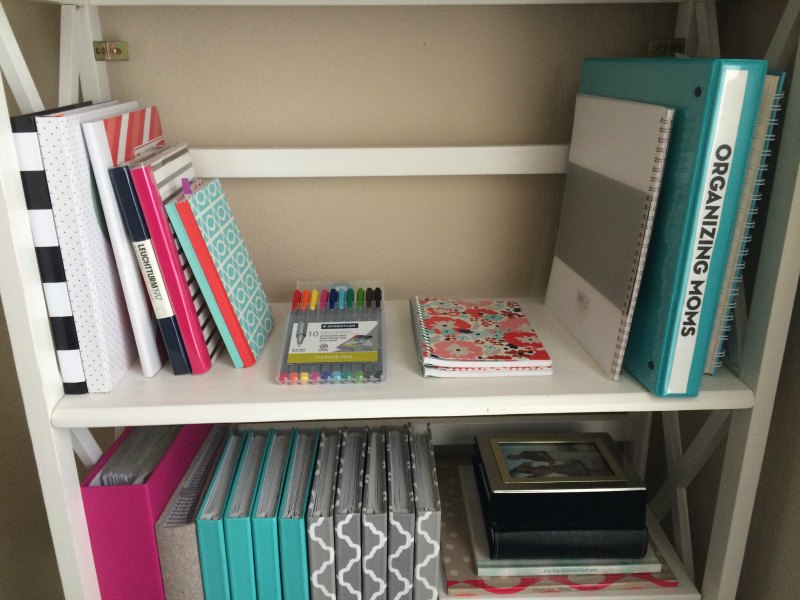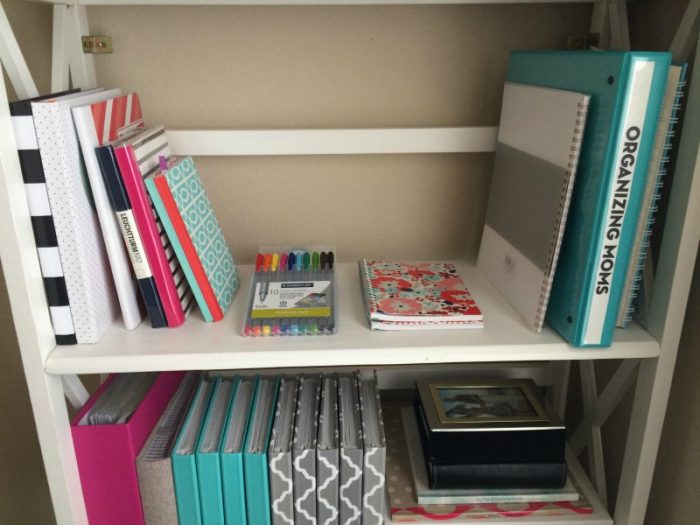 My goal is to try to keep things as streamlined and clutter-free as possible. So far, I've only been using this new office space for about a week.
It's been really motivating to work in such a pretty spot, and I've had fewer distractions. One added bonus is that we have an air conditioning unit in our room, so it's way more comfortable than working on the sofa in our family room in the summer!
Where to Find Items Used in My Office Organization Project
I didn't buy any new things for this project, because I really wanted to see if I would actually use my new makeshift office space. If I end up using the space a lot, I might invest in something more ergonomically friendly.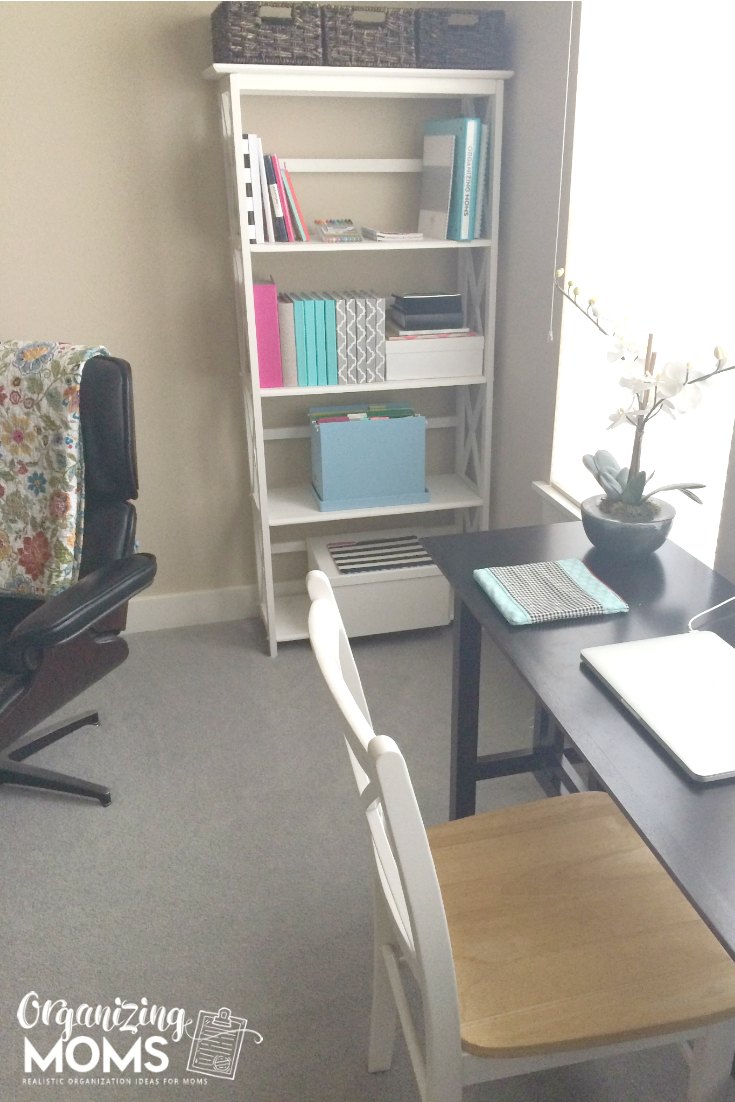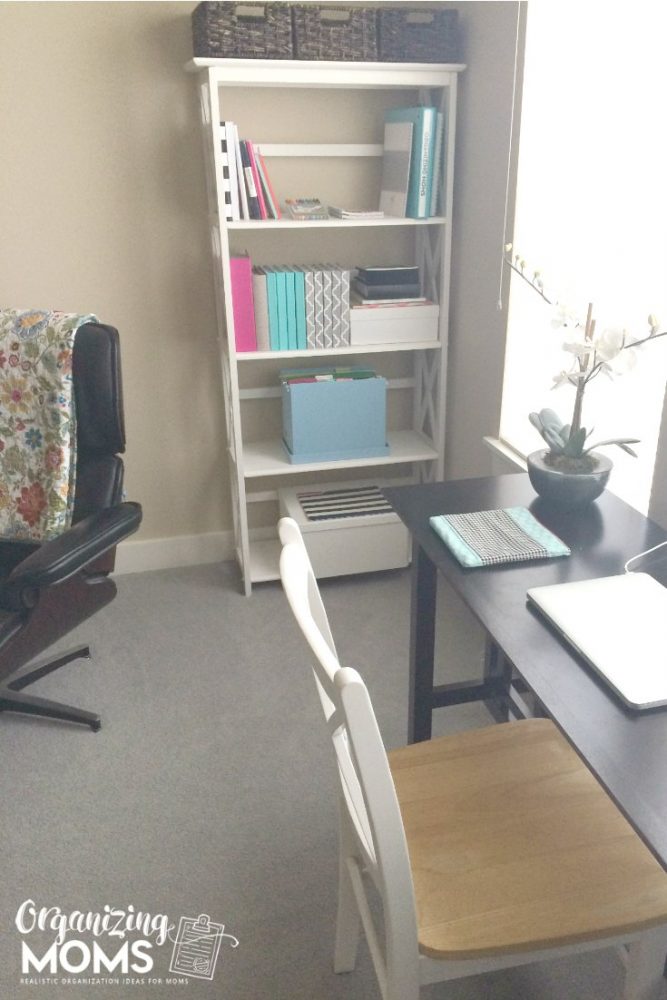 My initial impulse was to go out and buy new (cute!) office furniture, but I'm glad I waited and shopped around my home before buying a bunch of new stuff. For now, here are the things I'm using (that I already had in my house):
Console table "desk" – bought at Dania on clearance several years ago! – similar
White Chair – snatched from our kitchen table set.
Photo Albums (blue, gray, tan, pink) – from Wal-Mart a couple of years ago
Blue Ball Jar (for storing pens and pencils)
Staedtler TriPlus Fineliner Pens – Set of 10
Organizing Your Office Resources
I'm always organizing and re-organizing office-related stuff. Here are some of my past desk/office organizing projects:
10 Home Office Tips To Keep You Organized and Productive
The Best Adjustable Standing Desk for Your Home Office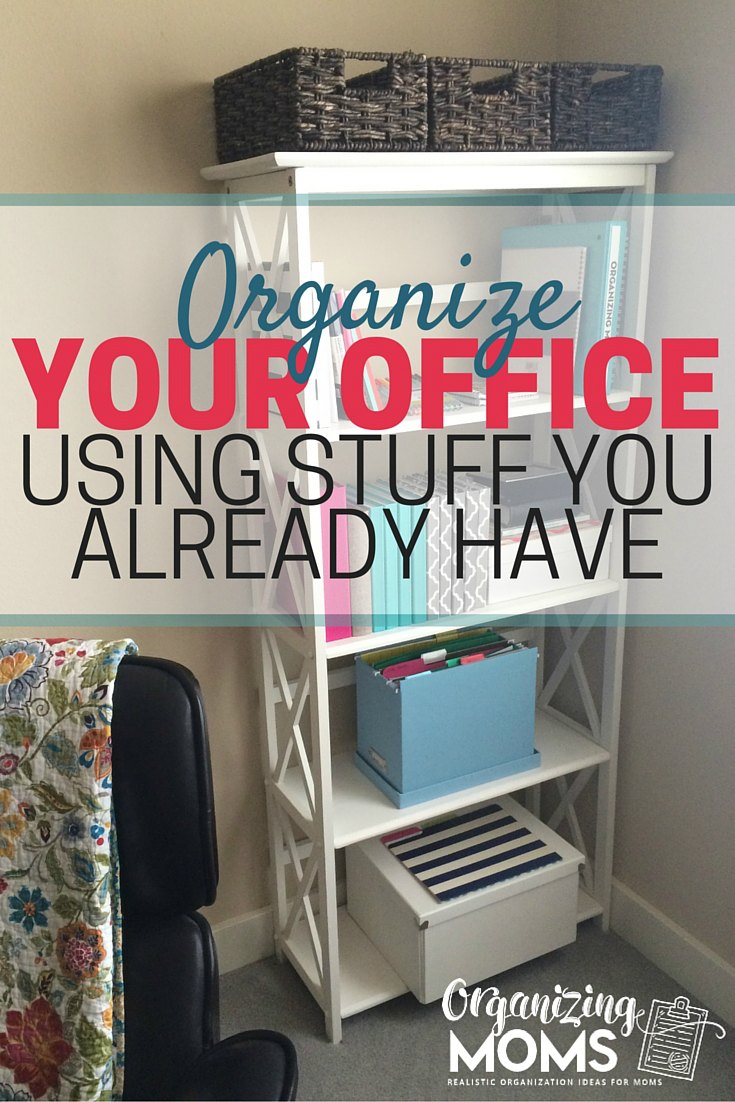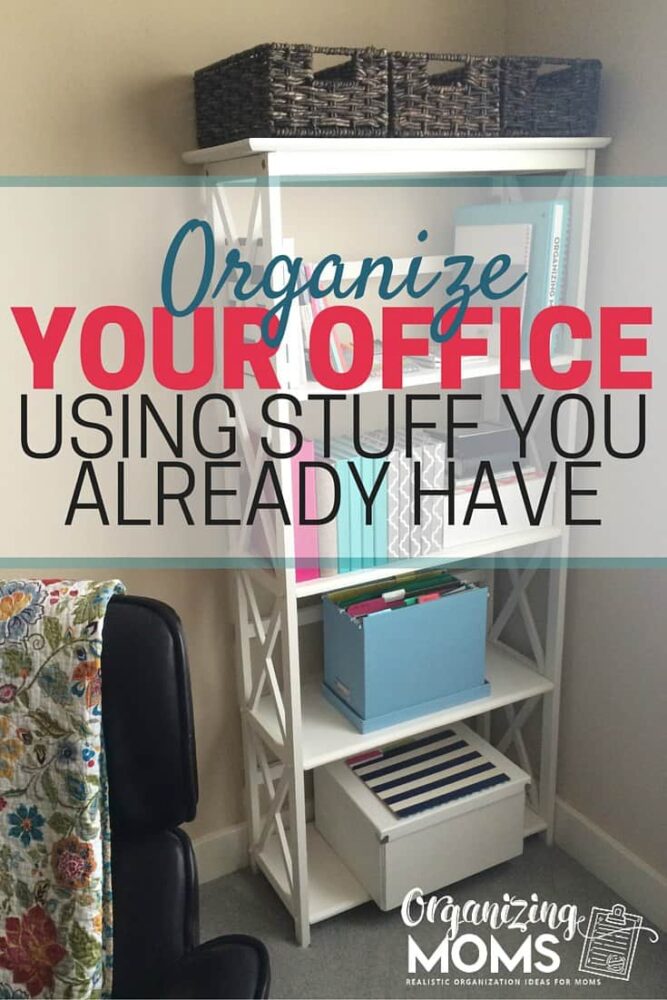 New to this community? Start here, friend!