Make the most of your KitchenAid mixer with these smart ideas. Ways to use your stand mixer to do the hard work for you and make meal prep easier.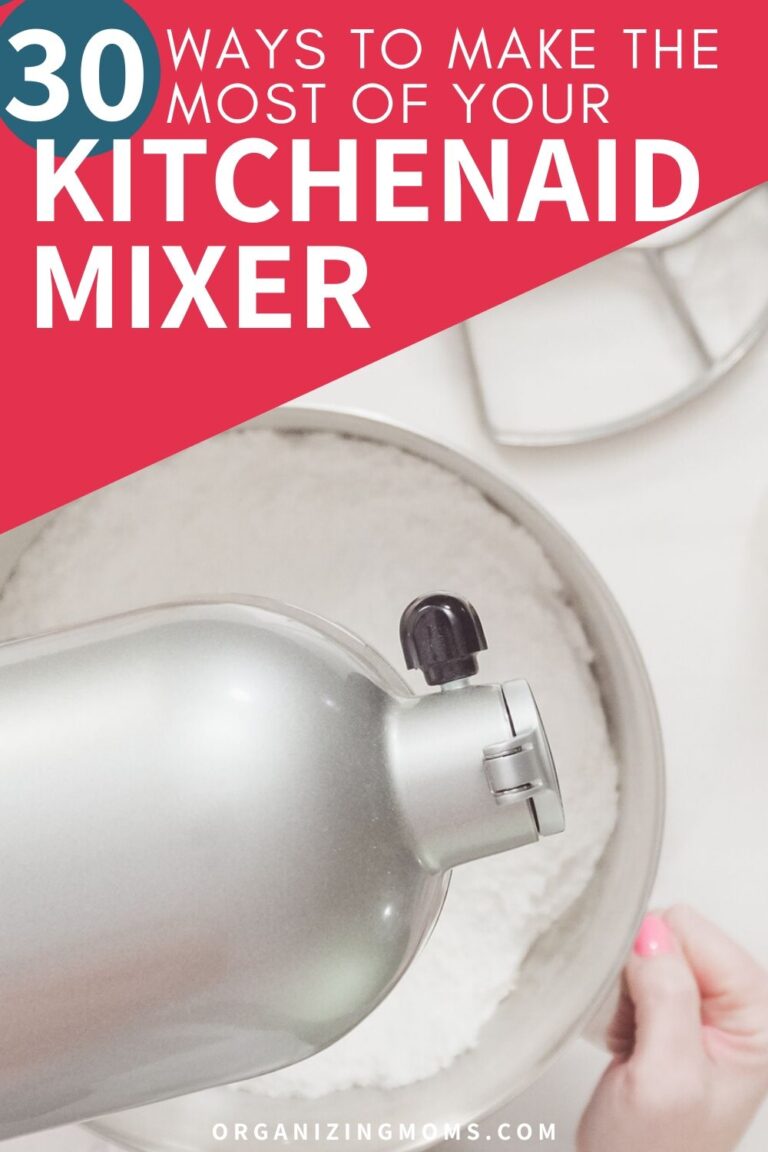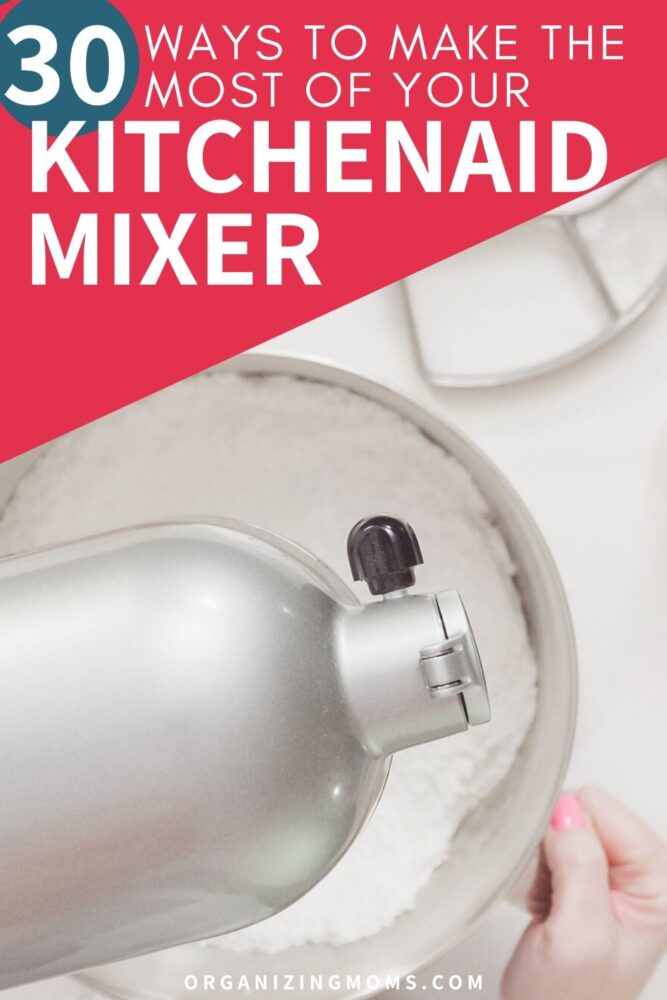 Looking for ways to use your KitchenAid mixer?
Or wondering if buying a KitchenAid mixer would be worth the investment?
In this article, you'll learn about several ways you can use your new KitchenAid mixer today.
Ways to Use Your KitchenAid Mixer
If you research online, you'll find hundreds ways you can use your KitchenAid Mixer using special attachments.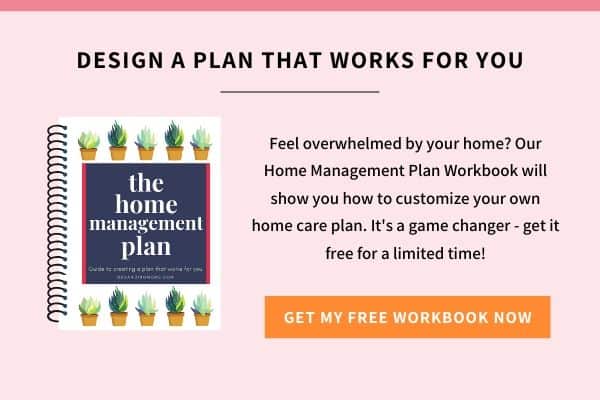 And while those attachments are great, you probably don't have them on hand right now.
Because most mixers come with a paddle attachment, a dough hook, and a whisk, this article will focus on things you can make with those specific attachments.
In other words, these ideas are perfect for using your KitchenAid mixer right out of the box!
Why Use a KitchenAid Mixer
KitchenAid Mixers can help you work smarter, not harder.
And the KitchenAid brand is known for producing some of the toughest, long-lasting stand mixers on the market.
Many of the ideas below are designed to make the mixer do the hard work for you.
Where to Get a KitchenAid Mixer
These stand mixers are always a popular choice for wedding registries, and a lot of people get them as wedding gifts.
I found our mixer on Amazon several years ago, and it's still going strong.
It's an Artisan series mixer with a stainless steel bowl, and I love how versatile it is!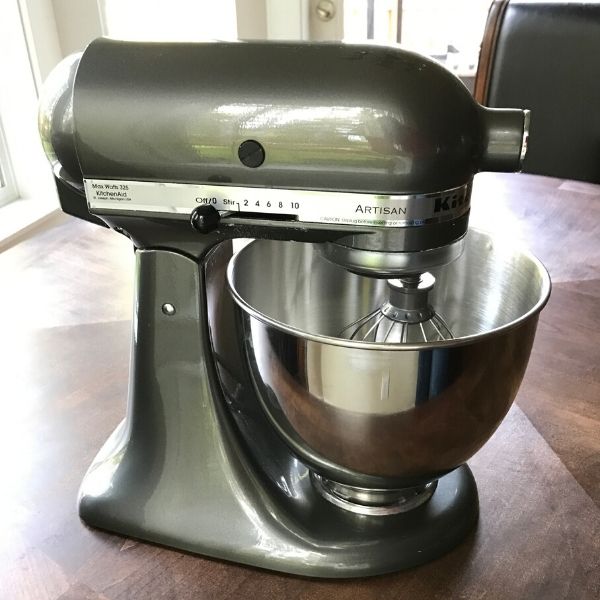 ✅ The KitchenAid Artisan Series Stand Mixer – Add to Cart Now! It saves me tons of time and energy every week. A quality stand mixer that will last!
Ways to Use KitchenAid Mixer with Paddle Attachment
Quick Breads, Muffins, Cakes, Cookies – All of the baked goods you'd normally need to stir or mix. 🙂 See the video above where we use our mixer to make quick work of mashing up bananas for banana bread!
Shred meat – You can shred cooked chicken, pork, or beef using the paddle attachment for your mixer. This is great for making taco meat, shredded chicken, and more! You can freeze the shredded meat and use it to throw together a quick meal later.
Guacamole – No more smashing avocados for a big batch of guacamole. Use your paddle attachment to mix together the ingredients from your favorite guacamole recipe and enjoy!
Mashed potatoes – Skip using your potato masher and let your paddle attachment do the work for you. Simply add your boiled potatoes and other ingredients from your best mashed potato recipe to your mixer and let it do the work for you.
Meatballs, meatloaf, burgers – Use your paddle attachment to mix together any kind of ground beef recipe you're working with. If you're someone who doesn't love handling raw meat, this is a game changer!
Make brown sugar – Mix together a cup of sugar with 2-3 tsp of molasses, and you've got yourself some brown sugar!
Doughnuts – Make your own delicious doughnuts, and rest assured that you know all of the ingredients that went into your creation. This doughnut recipe looks amazing!
Coffee cake – Perfect for a weekend treat or even a baby shower. Try this recipe for Sour Cream Coffee Cake.
Biscotti – The KitchenAid mixer is perfect for making biscotti because it's powerful enough to mix up the ingredients without incorporating a lot of air. Put your local coffee shop to shame with this amazing biscotti recipe.
Granola – Effortlessly mix together your favorite recipe with your mixer. You can also use your mixer for granola bar recipes!
Related: 10+ Incredible Ways You Should Be Using Your Instant Pot
Ways to Use KitchenAid Mixer with Whisk Attachment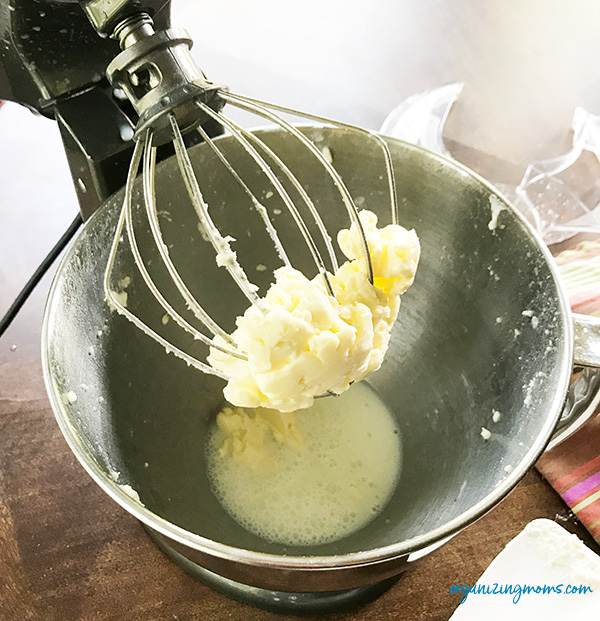 Make Butter – Yes, you can actually do this! And it ends up tasting delicious. Add heavy whipping cream to your mixer, and start whisking. After 10-15 minutes, you'll have your own delicious, spreadable butter.
Egg Salad – Slice your hard-boiled eggs in half and throw them in the mixer along with your other ingredients to whip up a scrumptious egg salad in no time. The whisk attachment will chop the eggs for you while it mixes everything together.
Meringues – Any type of meringue recipe will work great in a stand mixer with a whisk attachment.
Chocolate mousse – Mix up a decadent dessert that looks like you spent hours preparing it. Try this recipe.
Buttercream frosting – Use your favorite recipe and let your KitchenAid mixer do the work.
Ways to Use Kitchen Aid Mixer with Dough Hook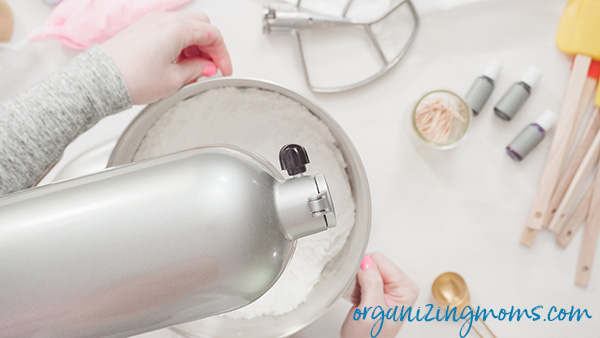 Mix Natural Peanut Butter – Dump a jar of natural peanut butter in your mixer and let the mixer and dough hook mix it for you. Once it's all mixed, pour it back into its original container. So much easier than trying to mix the peanut butter in the jar!
The perfect sandwich bread – I've been making this recipe a couple of times a month for over three years. It's that good!
Pretzels – Make dough for delicious pretzels you can bake in the oven.
Pizza dough – Pizza night's even more delicious with an easy pizza dough recipe you can make in your mixer.
Related: 10 Ways to Use Your New Air Fryer
Recipes to Make with a KitchenAid Mixer
Looking for more ways to make the most of your stand mixer? Check out the smart ideas below: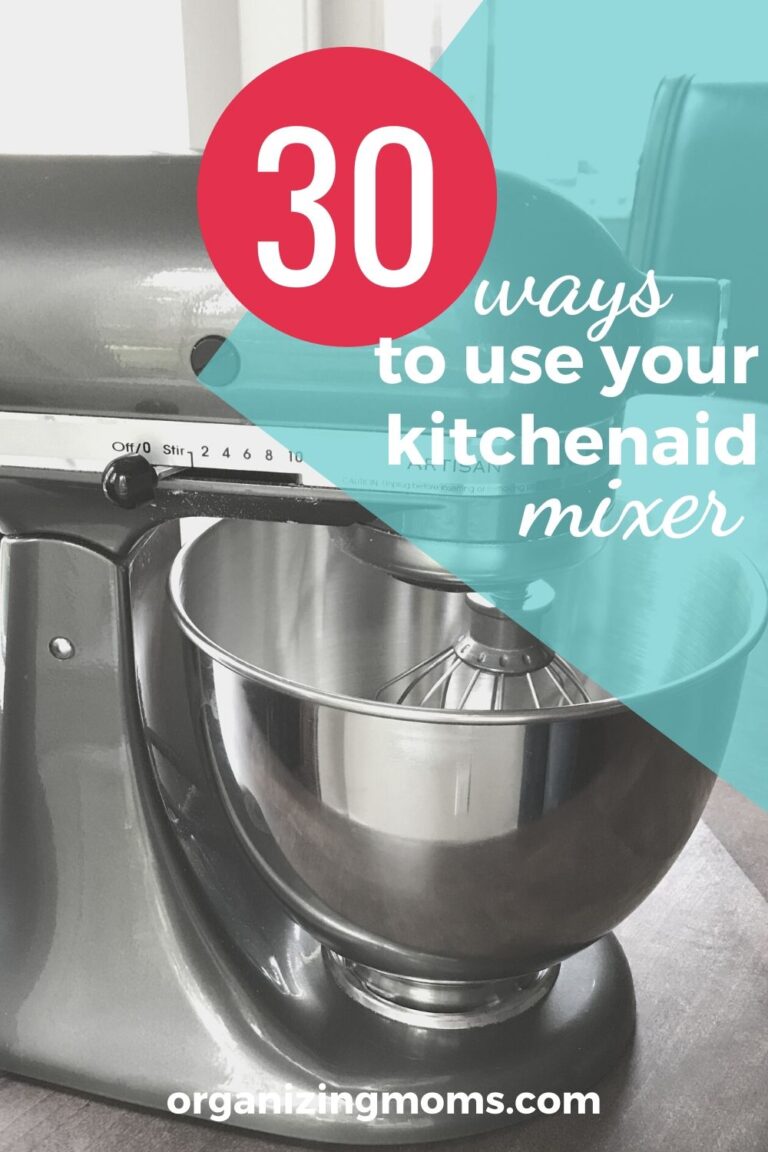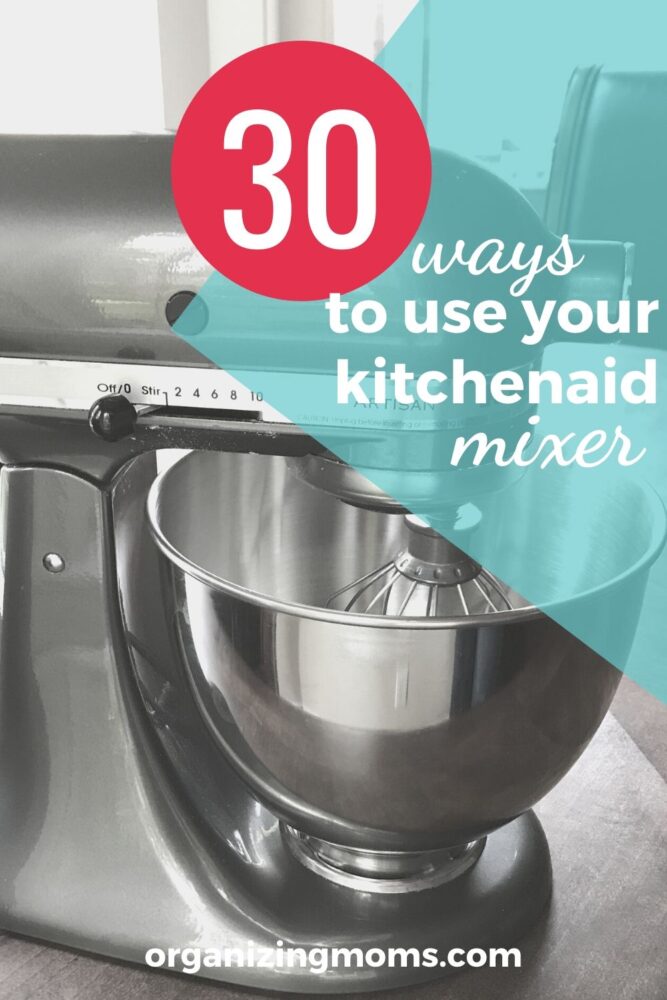 GET ACCESS TO MY FREE PRINTABLES LIBRARY!
Subscribe (free!) and I'll send you the password to access my library filled with printables, checklists, guides, and more to help you declutter and get organized!
You will also be subscribed to the Organizing Moms newsletter.
The weekly meal planner above is included in the freebie library. 🙂
New to this community? Start here, friend!