Today's post is from Stephanie at Managing a Home. She has a great solution for organizing email subscriptions, and she's sharing it with us today:
Hello Organizing Moms readers! I loved Katie's post last week about keeping your email organized I was inspired to organize mine!
Katie asked me to share with you today my method for organizing my email subscriptions. Anytime I mention how I do this, people say "what a great idea!" So today, I am sharing my trick with you.
Here's my quick, easy, magical tip: I created a separate Google mail account just for email subscriptions. The perfect combo I used is: your last name + family + coupons @ gmail.com. So if your last name is Jones, it would read jonesfamilycoupons @ gmail.com.
Once I created the account, I forwarded all of the subscriptions, that I didn't unsubscribe from, to the coupon email address.
Within this coupon email address, I have created filtered folders for each company. Here is an example of the category for my baby:
How it helps:
Now, I can choose a specific store to look for coupons, no more searching or scrolling through my personal email address.
Even when I am at the store, I can log into my coupon account from my smart phone and see if there are any coupons I can use.
Easy to delete. Once a month, I go in to each folder, select all and delete.
This is my simple solution to organizing my email subscriptions. I hope it helps you out too!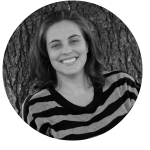 Stephanie is the mom behind the blog, Managing a Home, a blog that helps the modern day mom manage their home. Stephanie offers easy, healthy recipes, cleaning and organizing tips, and a broad range of topics on being a mom and wife.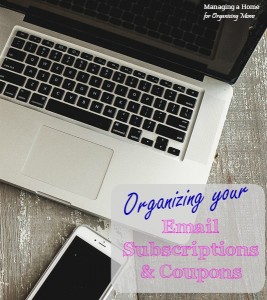 FREE 10-Minute Tasks to Help You Declutter & Organize!

Get realistic, easy decluttering & organizing task checklists delivered to your inbox each week when you sign up for the Organizing Moms newsletter. Join over 8,000 moms who want less stress, less mess, and a more organized life!
New to this community? Start here, friend!