Do you love going out to eat? Do you find yourself going to drive-thrus or ordering take-out much more than you'd like to? Restaurant spending can get super-expensive if it's not left un-checked. Fortunately, there are a lot of ways you can cut back on restaurant spending.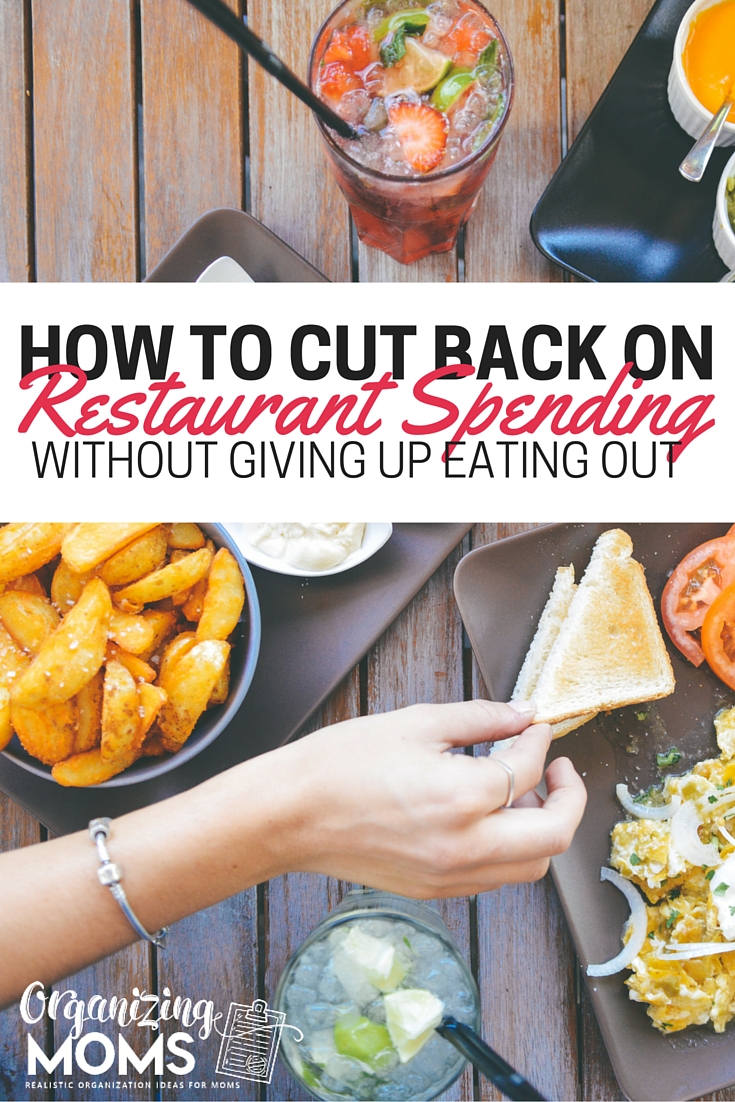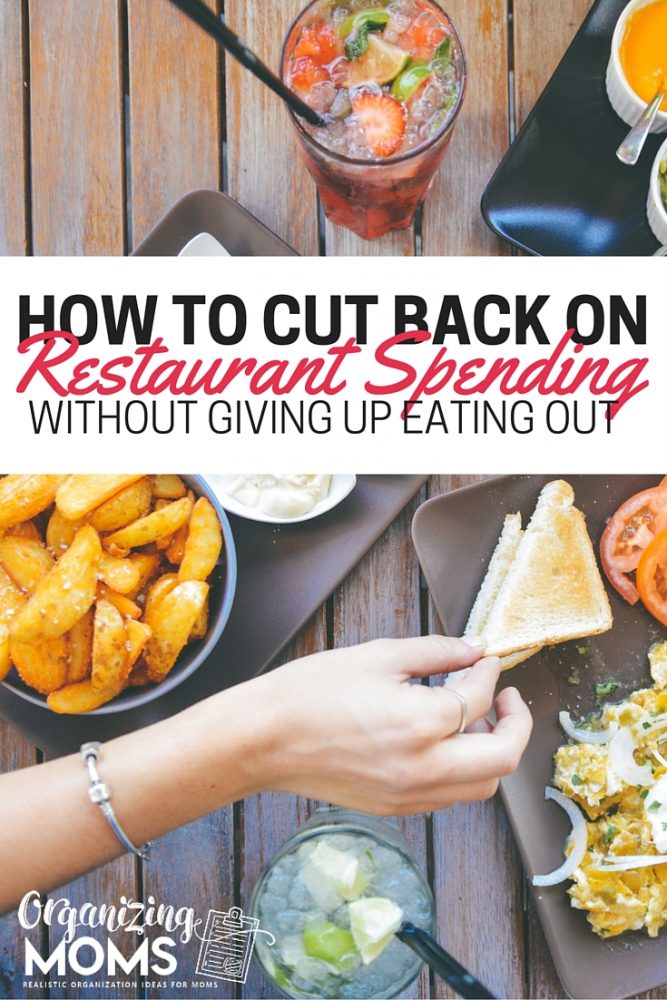 Restaurants are my budget weakness. If I could, I'd go out to eat for every single meal. Plus, at the end of the day, I'm exhausted and going out to eat sounds like such a great alternative to trying to spend an hour in the kitchen cooking while everyone in our family is tired and grouchy after a long day.
If you are seriously trying to eliminate your restaurant spending, here are some ideas to help:
Strategies for Eliminating Restaurant Spending
Meal Plan like crazy. Be organized and prepared. Plan for simple recipes you know you'll like and can put together easily. This will increase your chances of sticking to your plan.
Search Pinterest for copycat recipes. Missing your favorite sandwich from Panera? Longing for Chipotle? Someone has probably figured out a recipe that's pretty close to what they serve in restaurants. You could make your own at-home version for much less!
"Splurge" on day-old bread. Your favorite sandwich restaurant may sell day-old bread at a deep discount. Call around and see if there are any day-old bread opportunities in your area. I buy day-old bread from one of my favorite sandwich places, and then build a similar sandwich at home using my own (cheaper) ingredients.
Build "treats" into your menu planning. Always plan for a nice meal you'll look forward to. For me, that's usually something that I loved eating when I was a kid – grilled cheese sandwiches!
Have a few backups on-hand for when you just can't take it any more. There's no harm in having a few frozen pizzas in the fridge for when you need a quick meal and you don't want to cook. Watch for coupons for frozen pizzas!
If you just want to cut back on restaurant spending, but not eliminate it all together, here are some ways you can save: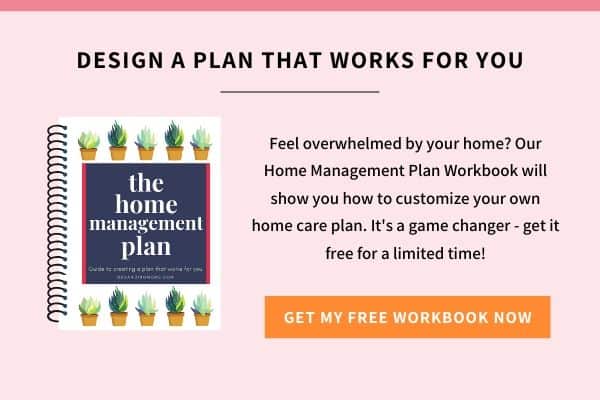 Ways to Cut Back on Restaurant Spending
Don't pay for drinks in restaurants. Order water, and have a drink when you get back home. Sodas can be astronomically expensive in restaurants, even if they do include free refills. Alcohol is also a huge expense. Make a deal with yourself to have dessert at home with your favorite beverage AFTER eating in the restaurant.
Get to know your favorite restaurant's specials. We have two favorite restaurants that offer a great deal on kids meals on certain days of the week. By going out to eat on days when there are good specials, we save a lot, and still get to enjoy our favorite restaurants.
Watch for coupons and deals, but be cautious. Make sure that the coupon or deal is actually going to make your meal affordable before going to the restaurant. Check the restaurant's menu online to see the entree prices. A 50-percent-off coupon is great, but if each meal costs $60, you're still spending $30 per person. To me, that doesn't sound like such a great deal.
Dine out during lunch instead of dinner. Prices are often lower at lunchtime.
Order take-out instead of dining in or getting delivery. It will help lower the amount you spend on fees and/or tips.
Track your restaurant spending. Especially if restaurants are your weakness, tracking restaurant spending can be eye-opening. Each time you eat out, write down how much you spent on the meal, tips, and fees. If you do anything to save on your meal, record that too. Over time, you'll be able to see  which strategies are working for you, and where you're spending too much.
Looking for more ways to organize your finances? Check out these articles:
Organized Finances: Buying and Selling Used Clothing
Filing System Declutter – Get Your Financial Documents in Order
Build Your Own Online Shopping Strategy
New to this community? Start here, friend!