Inside: Last day of school printables to help you get cute photos to remember the end of the school year. Printables for the last day of preschool – 12th grade.
Can you believe that we're almost at the end of the school year, and it's time to find last day of school printables?
I've always been good about making nice first day of school signs for our boys, but when it comes to the end of school year signs, I'm DONE. I usually end up grabbing a piece of printer paper and a marker, making a sign that says "Last Day of Kindergarten," and calling it a day!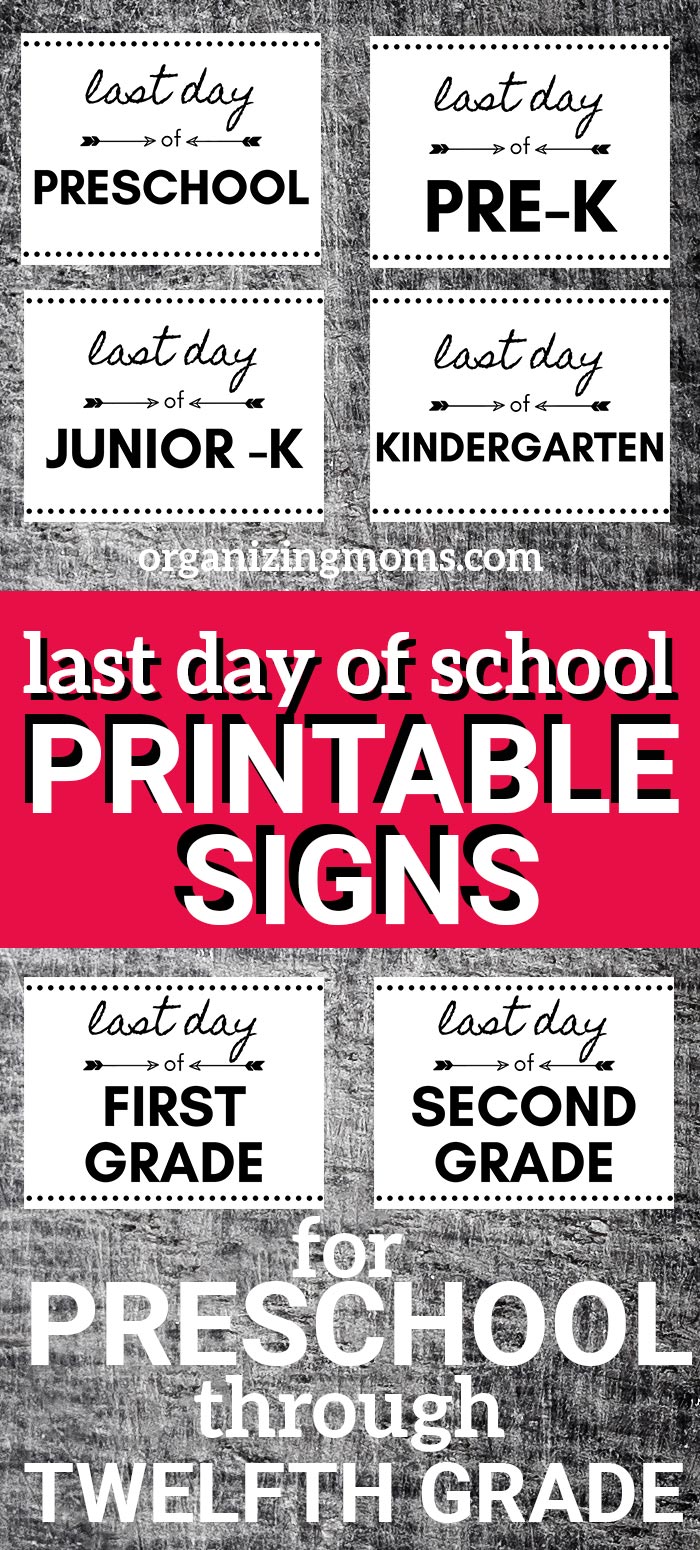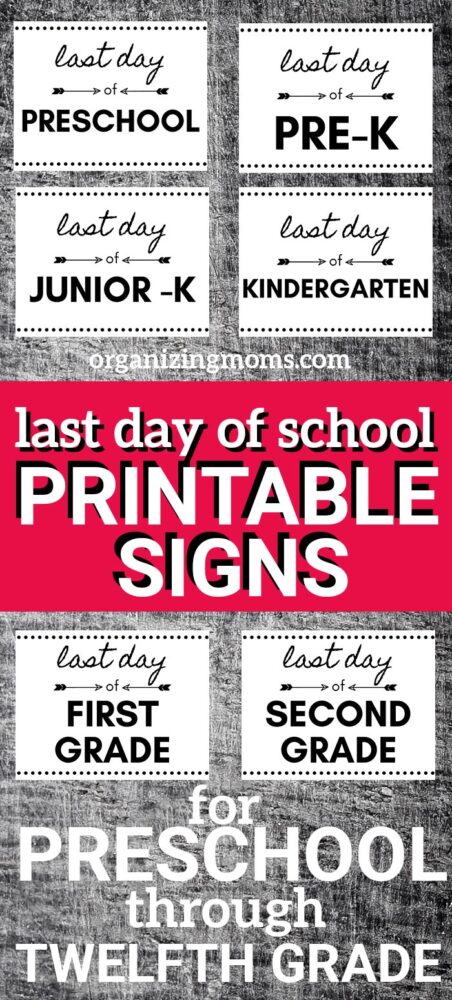 Last Day of School Printables
This year, I thought I'd try making my own last day of school signs for our boys, and also share it with you! I have printables starting with last day of preschool signs up through 12th grade.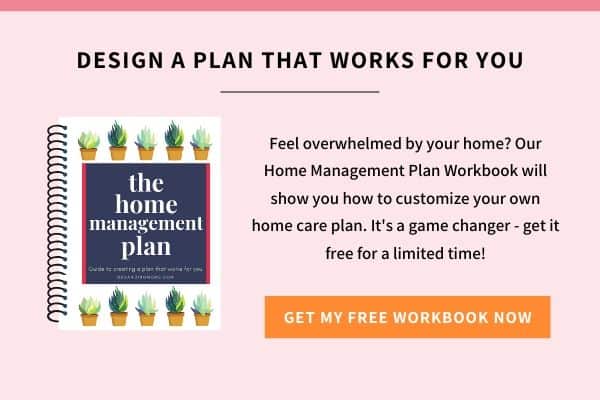 I like this last day of school free printables design because it prints out in black and white, and it's easy to read the lettering. If you're in a pinch, just print it out on regular printer paper. But, if you have it on hand, printing these up on cardstock makes the sign a little more durable and easier for little hands to hold.
Want something a little more colorful? Print out your last day of school signs on colored printer paper or cardstock!
How to Use Your End of School Year Signs for the Best Pictures
Taking pictures on the last day of school is so much easier than taking first day of school pictures. Everyone is more relaxed, and for the most part, pretty much everyone is excited about getting to the end of the school year.
To make things easier on yourself, take pictures of your kids in the same place every year. We used to take our pictures in front of our garage door and/or our front porch at our house. Now that we've moved, our front porch and front door are the best options. Even if it's raining, those areas are covered and there's still some natural sunlight.
I like to take pictures at home, and then again at school. When my kiddos were in preschool, they were more agreeable about the multiple pictures. Now that they're older, they're not so thrilled about my acting like a mommy paparazzi. But now that our kids are older, I love being able to look back at the photos with their old schools in the background!
Here are some more tips for taking great pictures of children.
Last Day of Preschool Printable – Last Day of Twelfth Grade Printables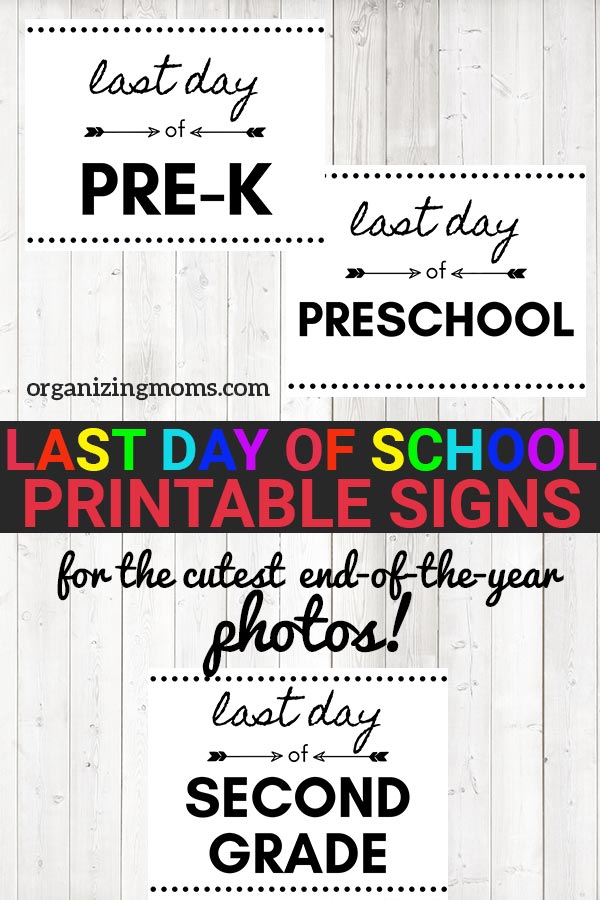 Grab your last day of school printables here. Once you download them, you adjust your printer to print just the grade(s) you need, or print the whole set at once and use them for years to come!
Another fun idea is to take first and last day of school pictures for each grade, and then compare them side by side. You can order prints of the pictures you take and send them to relatives – it makes a great gift or surprise for family members – especially those who might not see your pictures on social media!
Get your end of school year printables by signing up below:
End of School Year Stress for Parents
As the end of the school year quickly approaches, many parents may be feeling overwhelmed by all of the last-minute preparations and activities.
Between last-minute teacher gifts, last-minute school field trips, and last-minute summer camps, it can be easy to feel exhausted and overextended.
One key strategy is to make a plan well in advance and stick to it as much as possible.
This means setting realistic deadlines for yourself in terms of gift-giving, activity scheduling, and meal planning, so you don't get left behind at the last minute.
It also means being willing to say no when necessary or delegate tasks if needed.
Additionally, it is crucial to take time for yourself during this busy time in order to recharge your energy levels and avoid becoming overwhelmed.
Whether it's taking a few minutes for a short nap or getting out for an evening walk with your partner, prioritizing self-care will help ensure that you stay calm and centered throughout the madness of the last days of school.
In the end, surviving end of school year stress comes down to putting your own well-being first amidst the chaos.

After the Last Day of School: Planning for Summer
Once school is out for the summer, the pace of our lives starts to slow down.
It's great to have a break, but after a few days of being home, kids and parents start to crave structure.
How to Plan Ahead for a Great Summer – be sure to pick up the summer-at-a-glance printable in this article!
6 Summer Sanity Strategies for Parents – from Positive Parenting Solutions
Easy and Fun Summer Activities for Kids
Summer Chores
As the last day of school approaches and summer vacation begins, parents may be wondering how to keep their children busy.
One solution is to assign chores. chores can teach children responsibility and give them a sense of accomplishment.
Plus, it frees up some time for parents!
When assigning chores, it is important to consider each child's age and ability.
For younger children, simple tasks such as setting the table or feeding the dog are ideal.
Older children can take on more responsibility, such as mowing the lawn or taking out the trash.
Once chores have been assigned, it is helpful to create a chore chart to help keep track of who is doing what.
By giving children summer chores, parents can help them learn new skills and grow into responsible adults.
Related: Age-Appropriate Chores for Kids That Build Confidence

Summer Travel with Kids
Whether you're taking a road trip, or flying across the world, traveling with kids takes extra planning and preparation.
Go here for travel organization tips to make packing for your journey easier.
More Free Printable Signs
Free Printable First Day of School Signs
Free Organizing Printables Library
Summer Parenting Tips
Too Much Television? How to Curb Your Kids' Screen Time
New to this community? Start here, friend!