See inside the new Erin Condren Life Planner Binder with Colorful Layers design. Photos of page layouts, accessories, and all the planner details you love!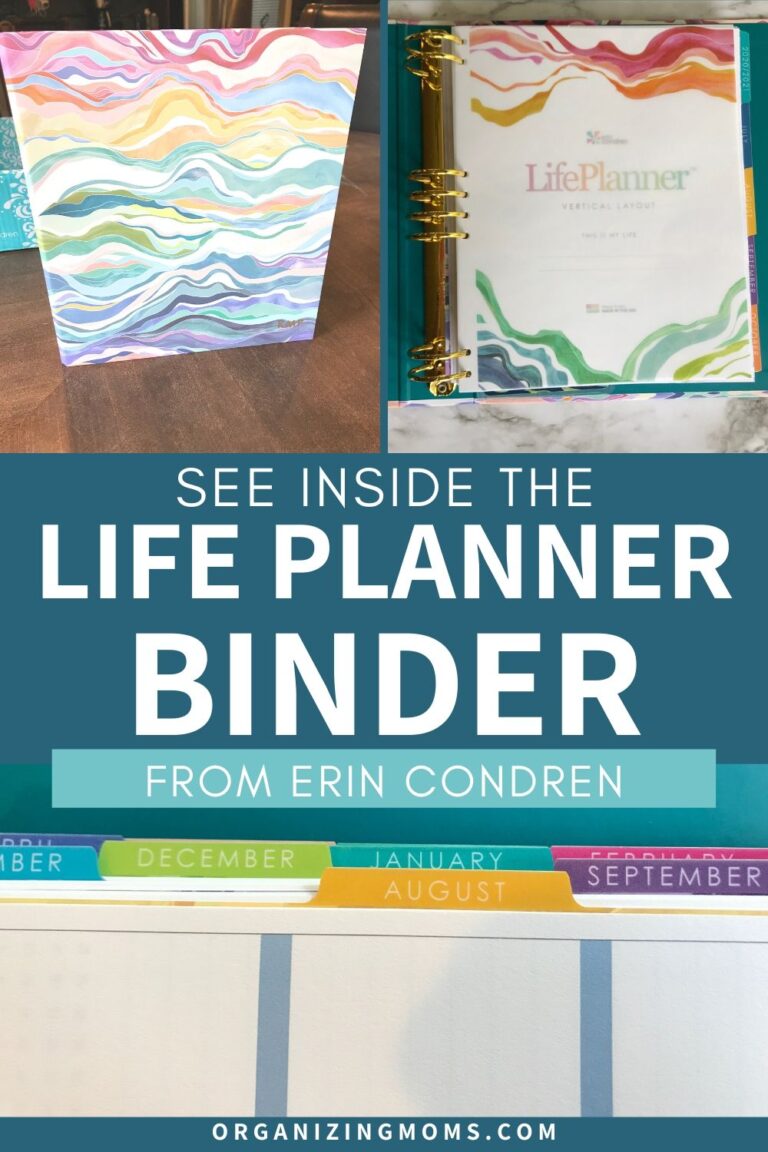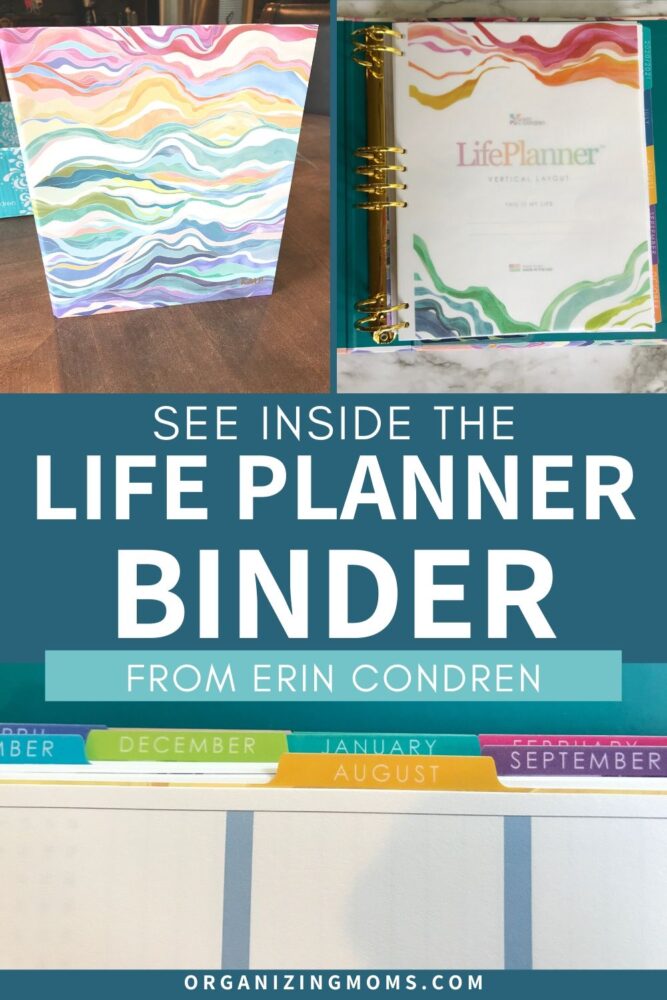 I've been a huge fan of Erin Condren planners AND using binders to organize paperwork for a long time.
So I was thrilled when the nice people at Erin Condren offered to send me a Life Planner Binder to try out!
In this article, I'll walk you through my 2020 Erin Condren Life Planner Binder so you can see what it's like.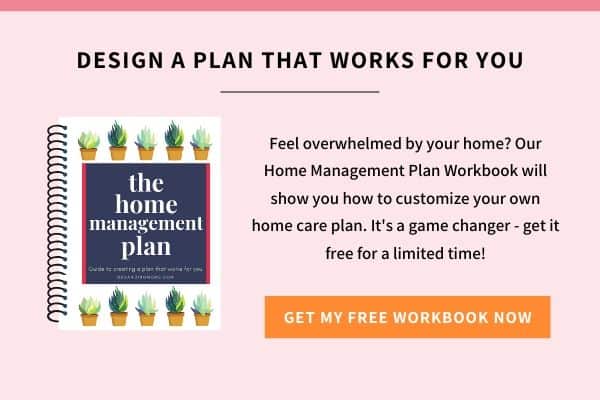 Erin Condren Life Planner Binder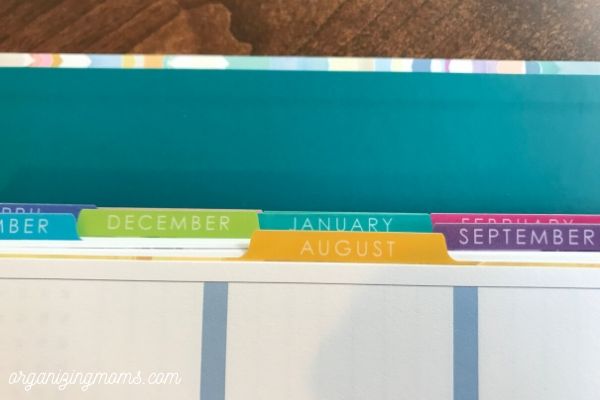 Quick Links to Info in the Erin Condren Life Planner Binder Review
I've been using an Erin Condren Life Planner for over a year now, and it's been perfect for helping me stay organized and on track.
But, I LOVE using binders to organize paperwork.
When I found out you could get a Life Planner in binder form, I jumped on the chance to test it out.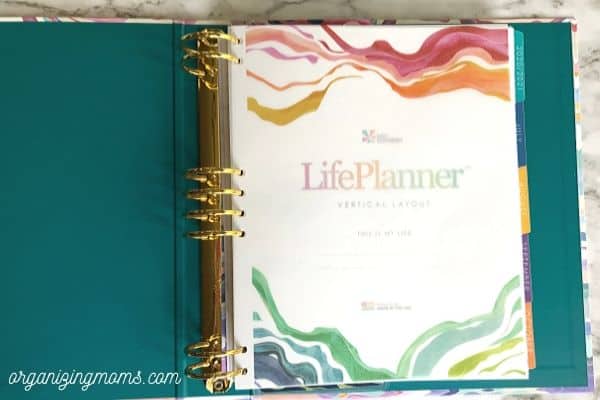 Off the bat, here are some things I like about using a Life Planner Binder:
You can re-use the binder – after I'm done with this year's planning pages, I could potentially repurpose the binder or buy daily pages next year.
It feels sturdy and high-quality
You can easily rearrange pages to make the planner suit your needs
Dashboards and planner accessories for coiled planners work in the binders too!
Erin Condren Life Planner Binder Unboxing
Getting a new Erin Condren planner is always a treat, so I made a video for you to see what it's like when you receive your Life Planner Binder in the mail.
Check it out and see what the new planner look like out of the box:
Life Planner Binder Customizations
When you order your planner, you'll have a lot of options to choose from.
Binder style – There are a lot of options – Colorful and Neutral Layers, Solid Colors, and more.
Interior Design – This year the options are Layers Colorful (that's what I chose), Layers Neutral, and Flower Power
Weekly Pages Layout – Choose from vertical layout, horizontal layout, or hourly layout
You can also choose to personalize your binder cover with your initials (or other text) for an extra fee.
Go here to customize your own Erin Condren Life Planner Binder.
Erin Condren Binder Review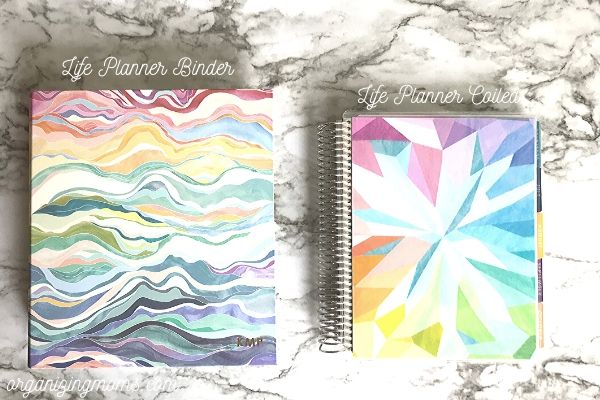 Here are some things to think about if you're considering the Erin Condren Life Planner Binder:
Binder LifePlanner Cons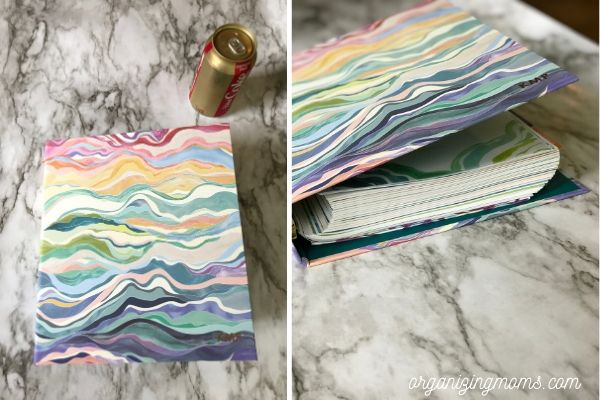 It takes up more space on your desk. I like how I can fold my coiled planner over, and just have one page showing at a time. With the binder system, this won't work.
It takes up more space in your bag. The binder is similar in size to the coiled planners, but it's much thicker, and just a little bit longer and wider.
Not as easy to turn the pages. Turning pages in the coiled planners is so effortless. It takes a little more work with the binder system. Not a huge deal – but it might bother you if you're used to a coiled planner.
Not a traditional 8.5 x 11″ size. I was surprised to see that the binder was smaller – for some reason I thought it was going to be the size of a traditional binder. For you this may be a pro or a con!
Binder LifePlanner Pros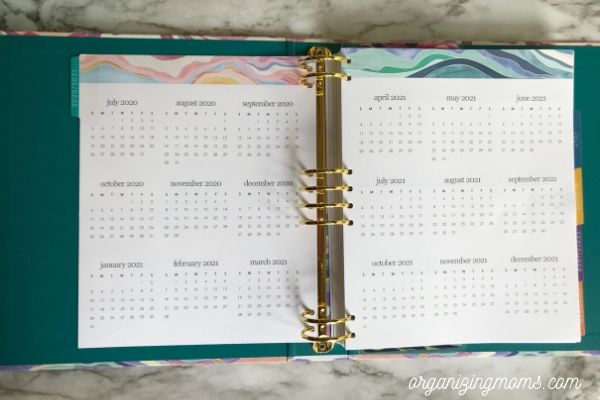 Higher quality feel. I never liked that the Erin Condren coiled planners had plastic covered covers. While I understand that the plastic keeps them from getting damaged, it doesn't look as nice. The LifePlanner binder doesn't have the plastic shiny cover, and it looks more high-end.
More customizable. You can arrange your pages however you like, add in extra pages, remove unneccesary pages, and more. I see a lot of people trying to uncoil their traditional coiled planners to rearrange the pages. With a binder planner, moving things around is much easier.
Reusable. After you've finished with this planner, you can take the pages out and use the binder for something else.
Erin Condren Life Planner Vertical Layout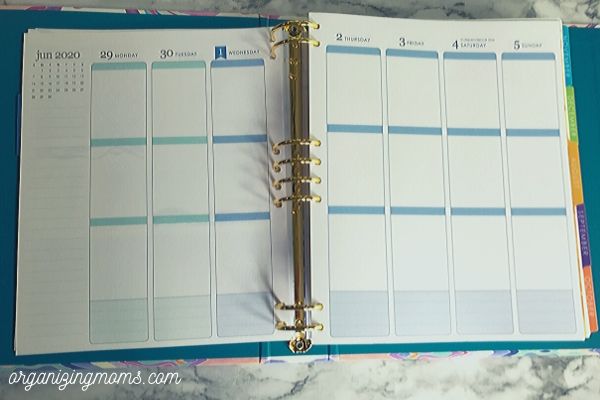 When you customize your planner, you can choose between the horizontal layout, the vertical layout, or the hourly layout.
Last year, I used a LifePlanner with an hourly layout because I was doing a lot of time blocking, and I had more time-specific appointments I needed to remember.
Go here to see the hourly layout pages in my Life Planner.
After a while, though, I noticed I wasn't really using the hourly feature.
I was just making a big to-do list every day, without regard to the specific time.
So, this year, I chose to use the vertical layout.
I like how it breaks things down into morning, afternoon, and evening spaces.
Since we're staying at home and homeschooling right now, having more flexibility is key.
Using the vertical layout is just more realistic for me in this season of life!
18 Month Erin Condren Life Planner Binder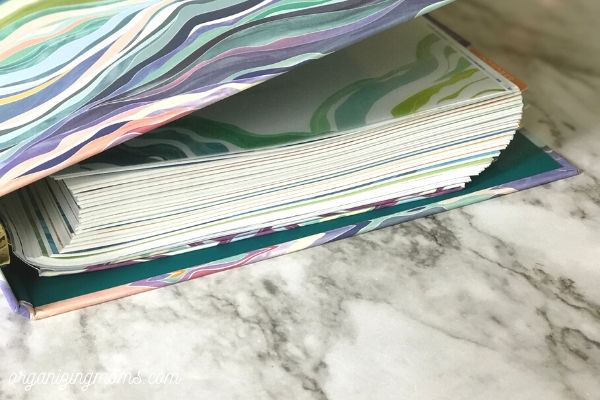 When you order your LifePlanner Binder, you'll get 18 months worth of weekly and monthly planning pages.
I love that this planner lasts for longer than a year.
And since this planner is a binder, you don't have to keep all 18 months worth of planning pages in the binder at once.
When I first put my binder together, it felt too thick, and I had some trouble turning the pages because it was so full.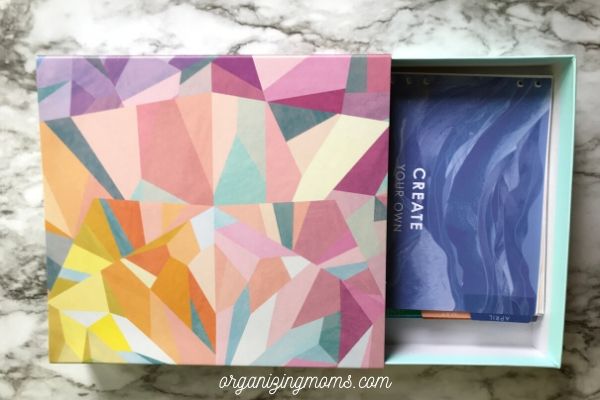 When I start using the planner in July, I'll take out at least half of the pages and set them aside in one of my planner storage boxes.
Related: See Inside the 2021-22 Erin Condren Life Planner – my 18-month coiled planner
Erin Condren Daily Planner Binder
If you want to use your LifePlanner Binder for daily planning, you can purchase daily planning pages separately.
As of right now, daily pages are sold in quarterly packs for $15.
Does the Erin Condren Binder Have a Hole Punch?
Yes, this year you can get hole punch that's made to work with the Erin Condren 8-ring binder system.
This will make customizing your binder even easier!
Go here to get the Erin Condren Binder Hole Punch.
Erin Condren Coupons
Final Thoughts on the Erin Condren Binder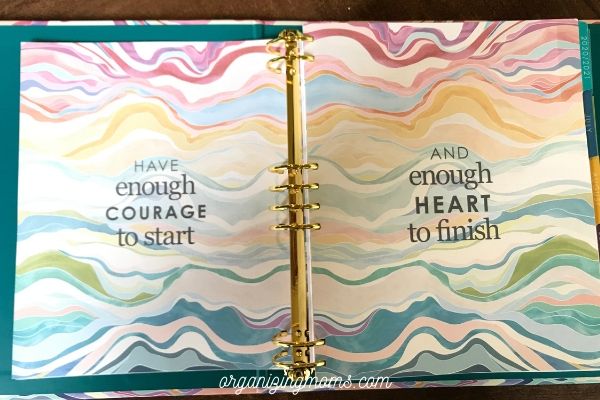 If you are used to using a binder as your planner, you'll love the Erin Condren Life Planner Binder.
But if you're used to a traditional coiled LifePlanner, the transition to a binder planner might be tough.
Price-wise, the binder planner and the coiled planner are very similar.
So, if you're looking for more customization possibilities and don't mind a planner that takes up more space, go with the Life Planner Binder.
But if you've always used a coiled planner, take some time to think about where and how you use your planner before making the leap to this new format.
More Erin Condren Planner Reviews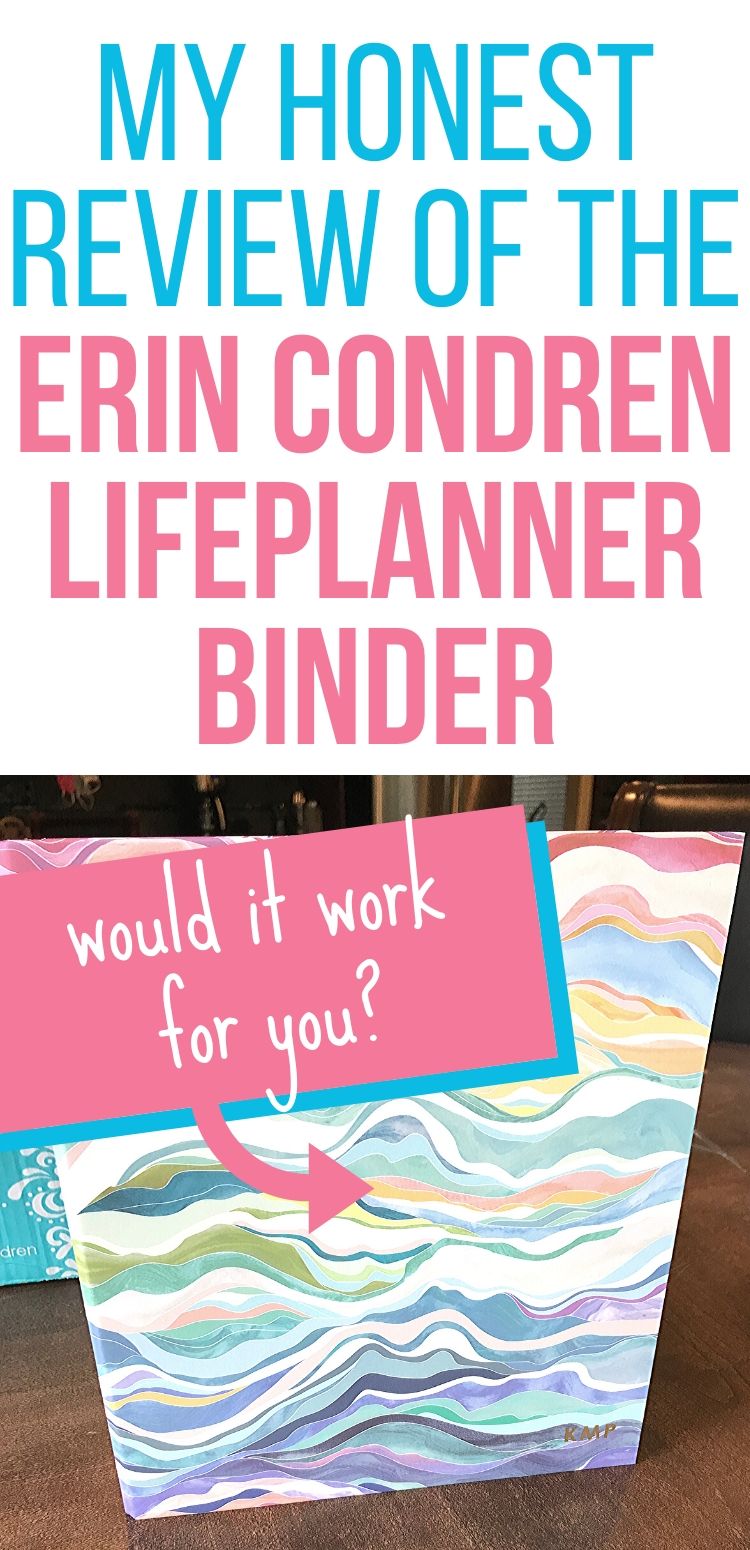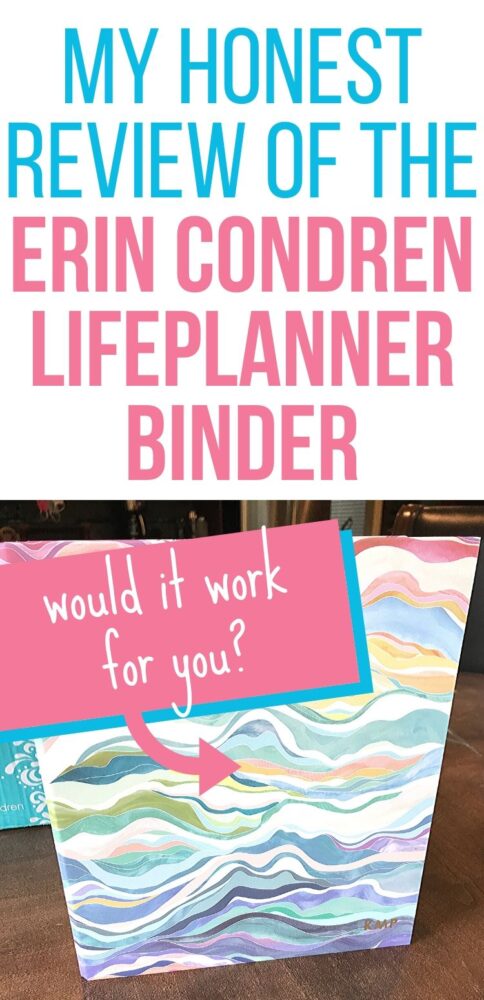 New to this community? Start here, friend!