This easy cashless envelope method will help you budget and track spending. Free download cashless envelope tracker printables to help you get started.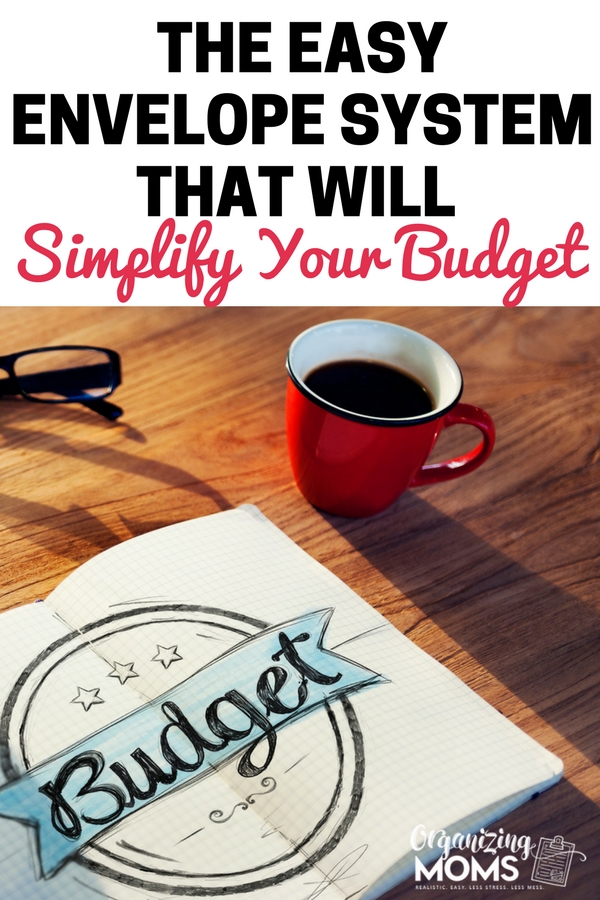 Easy Budget Envelope Trick
Do you know how much you spend each week for groceries?
How about for online purchases?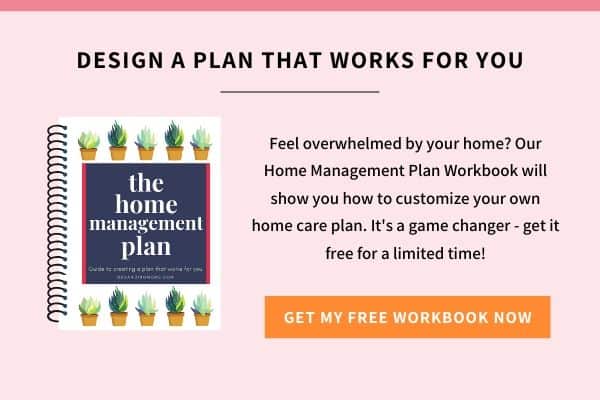 Coffees, drinks, snacks, fast food? Restaurants?
If you're thinking "Lady, I have no idea, and you are stressing me out," I'm totally with you.
I always thought I had a ballpark idea about how much I was spending each month, but I was never really sure.
We didn't have a budget.
You may also like:
Getting Honest About Spending
I was curious, and scared, to find out how much I spent each month on things like food, and random expenses that come up here and there. These kind of expenses aren't always easy to plan for, so I always just kind of tried to be frugal and hope for the best.
So, I went through my bank and credit card statements for the past few months and tried to figure it all out. I don't use cash nearly as much as I used to, so I have a pretty good record of the things I spend money on in my statements.
After adding everything up and averaging it out per month, I was SHOCKED.
Our grocery spending was surprisingly okay. It could have been lower, but it wasn't out of control.
But the spending on everything else was completely out of control.
Where Did The Money Go?
After looking through my statements, I realized that I had become numb to little expenses.
I didn't even factor them into my mental tally of how much I was spending each month.
And when I made the little purchases, in my mind, they were always rare occurrences.
Except they weren't rare occurrences.
I was spending money on random little things like snacks, stuff on Amazon, fast food meals, etc. 4-5 times a week.
And those little expenses were adding up.
The Solution: Not Your Momma's Budget Envelope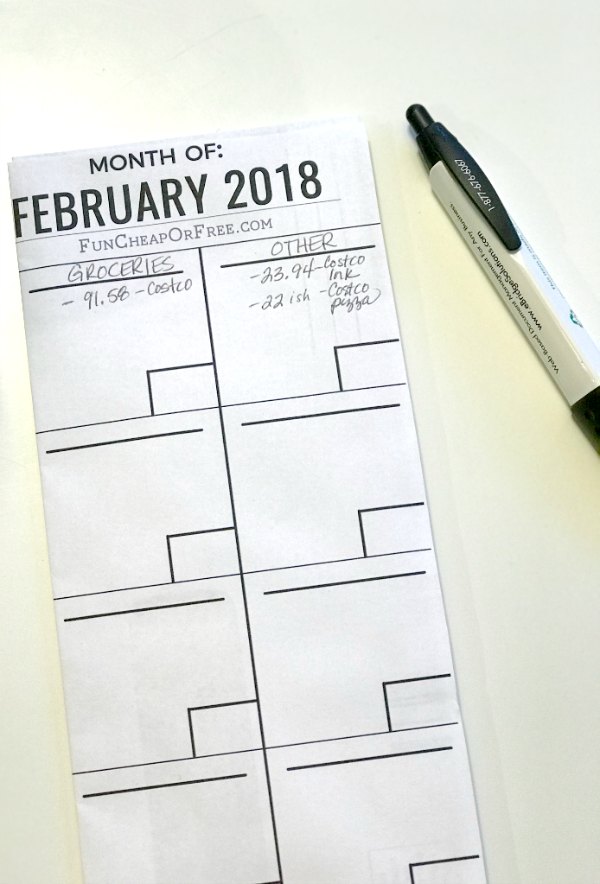 Don't roll your eyes when you read budget envelope! I promise this is different!
This idea came from Jordan Page at Fun Cheap or Free.
She uses an envelope each week to track her expenses and save her receipts.
Each week, she sets a budget for herself for groceries and a budget for other expenses.
She uses an envelope (any kind of envelope you have works), and draws a column for her grocery spending and a column for other spending.
As she makes purchases, she subtracts the amount for her budget for the week.
If she has a receipt, she puts that in the envelope.
Here's a video of Jordan explaining the budget envelope system:
How Much Should I Budget Each Week?
Jordan recommends budgeting $100 per person per month on groceries.
So, for our family of four, that would be $400 per month.
To me, that seemed like a stretch, so we budget $500/month for our groceries.
Your budget will vary depending on where you live (because the cost of food varies), how many people you have in your family, and how much food it takes to feed them.
Right now our family is two adults and two elementary school-aged kids.
If you have teenagers or more adults, you're obviously going to need to buy more food to keep everyone fed.
For the "Other" category, I also budgeted $100. This is the area I need to work on most!

Cashless Envelope Tracker Printable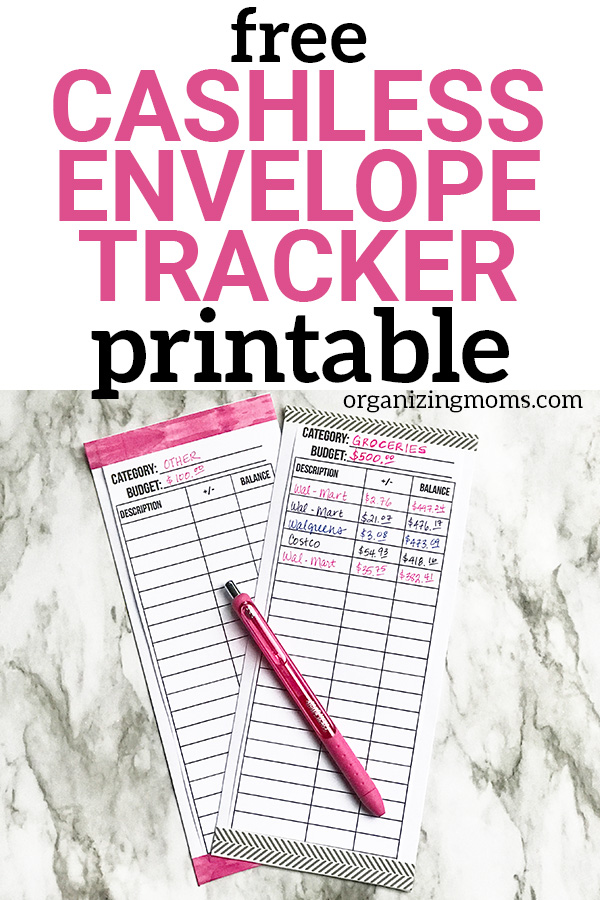 After a while, I decided I wanted to use something more visually appealing to help me track spending.
I also wanted to track things monthly instead of weekly.
So, I made my own cashless envelope tracker printable.
I just use pretty washi tape to attach them to extra envelopes we get in the mail.
The printables are pretty basic, and I make them pretty with different types of washi tape.
Why I Love This Method of Organizing Your Budget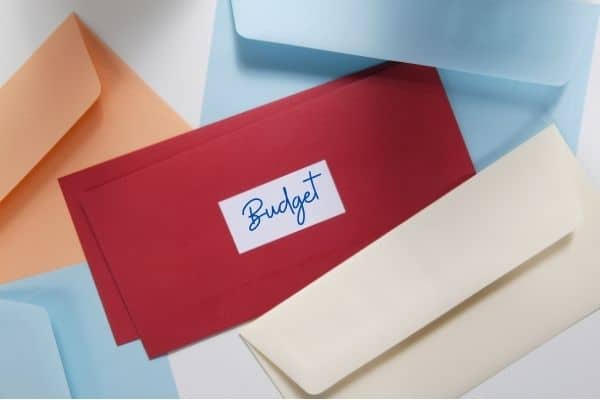 You don't have to use cash. After having my backpack stolen and losing $250 cash, I'm no longer a fan! You can use this method with credit/debit cards, checks, or cash. Whatever you prefer!
It makes you question those little expenses. I am less likely to buy a coffee in the mornings when I know I'm going to have to take it from my "Other" expenses budget.
It makes you realize how the "necessary" expenses add up. Things like piano books for the kids, a new package of socks, buying Girl Scout cookies from your neighbor – those aren't all completely necessary, but I want to make room in our budget for them.
It's flexible. If you try to spend $100 on groceries, and for three weeks in a row, you can't make it, you can change your budget amount. Going through the process of using the budgeting envelope will help you have a better idea of how much you really need for groceries each month.
It helps you organize your receipts! If you need to return something, you have all of your recent receipts in one envelope. When I finish using an envelope, I just put it in my Freedom Filer folder for the month so I always know where to find it.
Related Posts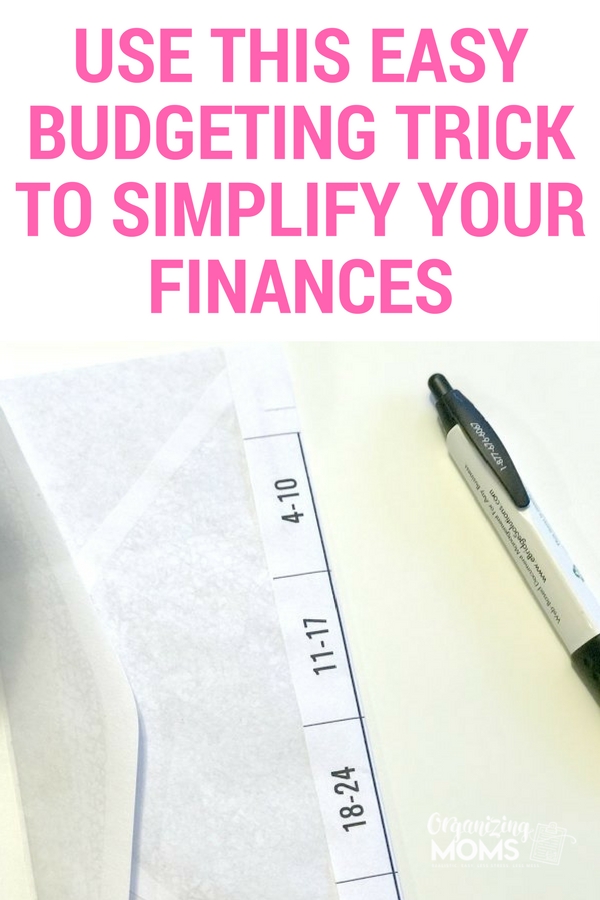 New to this community? Start here, friend!