20 of the best ideas, tips, and tricks to help you organize a successful garage sale, make money, and maybe even have fun! Getting organized before the yard sale will make your sale more profitable and less stressful.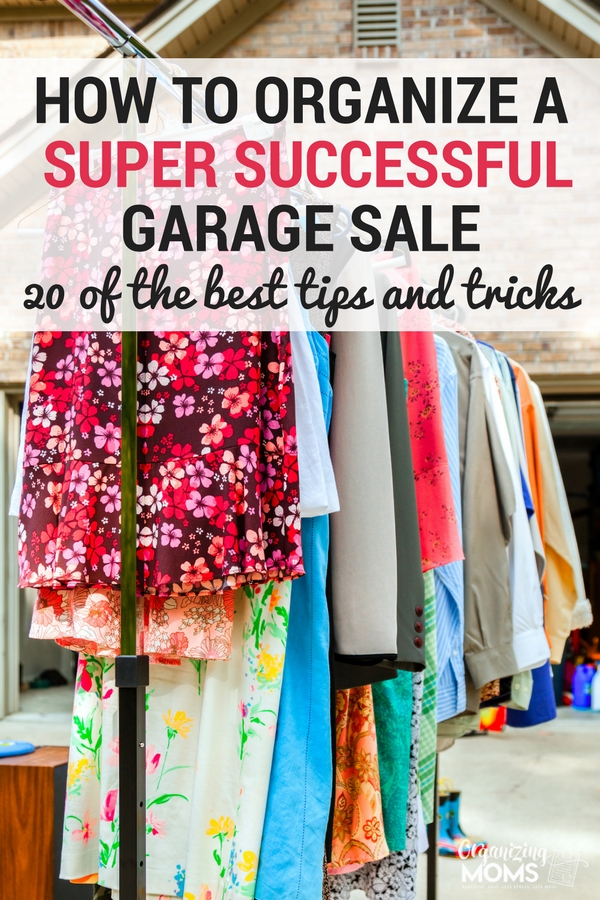 Are you thinking of selling some of your stuff in a garage sale? Although it's a lot of work, garage sales can be a big motivator for families that want to declutter or downsize. Here are some of the best tips and tricks for making your next yard sale successful:
How to Organize a Successful Garage Sale
There are a lot of things you can do to get organized before your yard sale to make it go more smoothly. Here are 20 of the best ideas, tips, and tricks to help you organize your garage sale, make money, and maybe even have fun!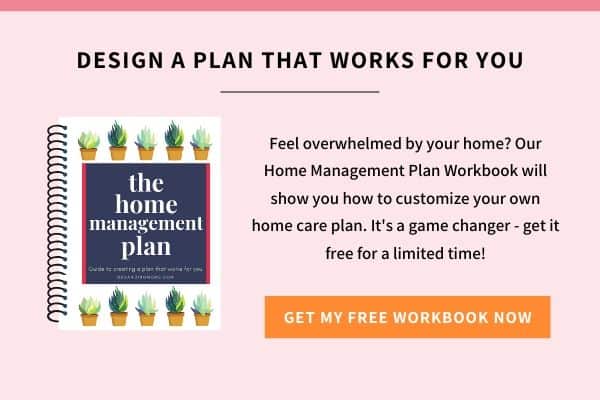 Time it right. If your neighborhood or community has a yard sale day, have your sale then! Shoppers love to come to neighborhoods where there are a lot of sales going on at once, and you won't have to do as much to promote your own sale.
Aim for the beginning of the month. A lot of people get paid at the first of the month, so if you can time your sale close to that, it might help your sales. Avoid having a garage sale on a holiday weekend, because a lot of people will be busy or out of town.
As you get rid of stuff in your house, set it aside in a garage sale box. I keep a set of price stickers by my garage sale boxes, and I price things as I put them into the box. That cuts down on a lot of work when it's time to set up for the sale.
Hang up clothes you're selling. People are more likely to buy them if they're easy to see and look like they're in good repair. Be prepared for people to ask for the hanger too. It's okay to use old wire and plastic hangers that you got for free.
Price everything. Sometimes people feel awkward about asking for a price, and they'll pass an item up instead of asking about it. Make sure it's clear how much everything costs.
Price stuff low. If your aim is to get rid of stuff, make sure you're pricing it to sell. If you price things too high, you'll end up with a lot of stuff to haul off to the donation center.
Clean stuff up. Make things look as clean as possible.
Cover things that you aren't selling. Otherwise, people will want to buy them. I know, this is totally contradictory to #5, but it's true.
Put like items together. It makes it easier for shoppers to find what they're looking for
Display things on tables if you can. It just makes it easier for shoppers to see. Put the toys on a blanket so kids will be able to see them.
Have a lot of change and small bills. You'll need to make a lot of change.
Instead of putting money in a cashbox, use a fanny pack. That way, no one can walk off with your money without you knowing about it.
Have bags and boxes ready for customers. Make it easy for people to walk away with all of their purchases!
Don't let anyone in your home. Put up a sign that says "No Public Restrooms."
Make large signs for big ticket items. I like to put big ticket items out on the driveway so when people drive by, they can see them, and see the price. I've sold a few items to people while they're sitting in their cars!
Price items in 25 cent increments. This makes making change a lot easier, and you don't have to have a lot of different coins on hand.
Have an extension cord set up. This way, people can test out electronic items.
Put up signs, and make them easy to read. You'll get a few extra customers that were just driving around and saw your signs.
Be prepared for early birds. People will try to knock on your door before your sale starts if they know you have an item they're interested in buying. If you don't want early birds, put a sign on your door or garage door that says "No Early Birds."
Schedule a donation pickup for after the sale. That way you won't have to put away all of the stuff you didn't sell.
Ready to set up your garage sale? Sign up below to get these free category signs you can use to organize all of the things you want to sell!
Related articles
10 Reasons to NOT Have a Garage Sale
Organized Finances: Buying and Selling Used Clothing
How Getting Organized Will Save You Money
See our favorite organizing tools on Amazon!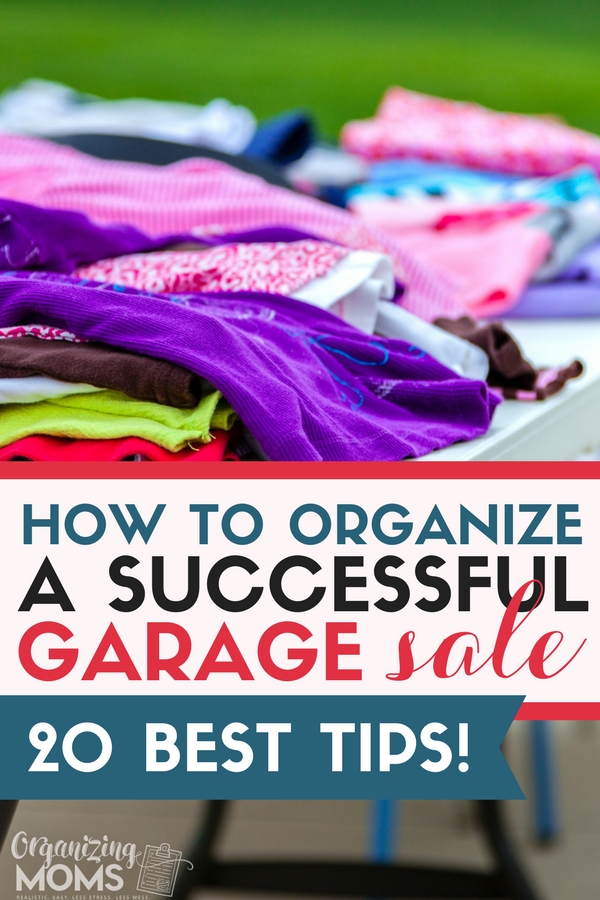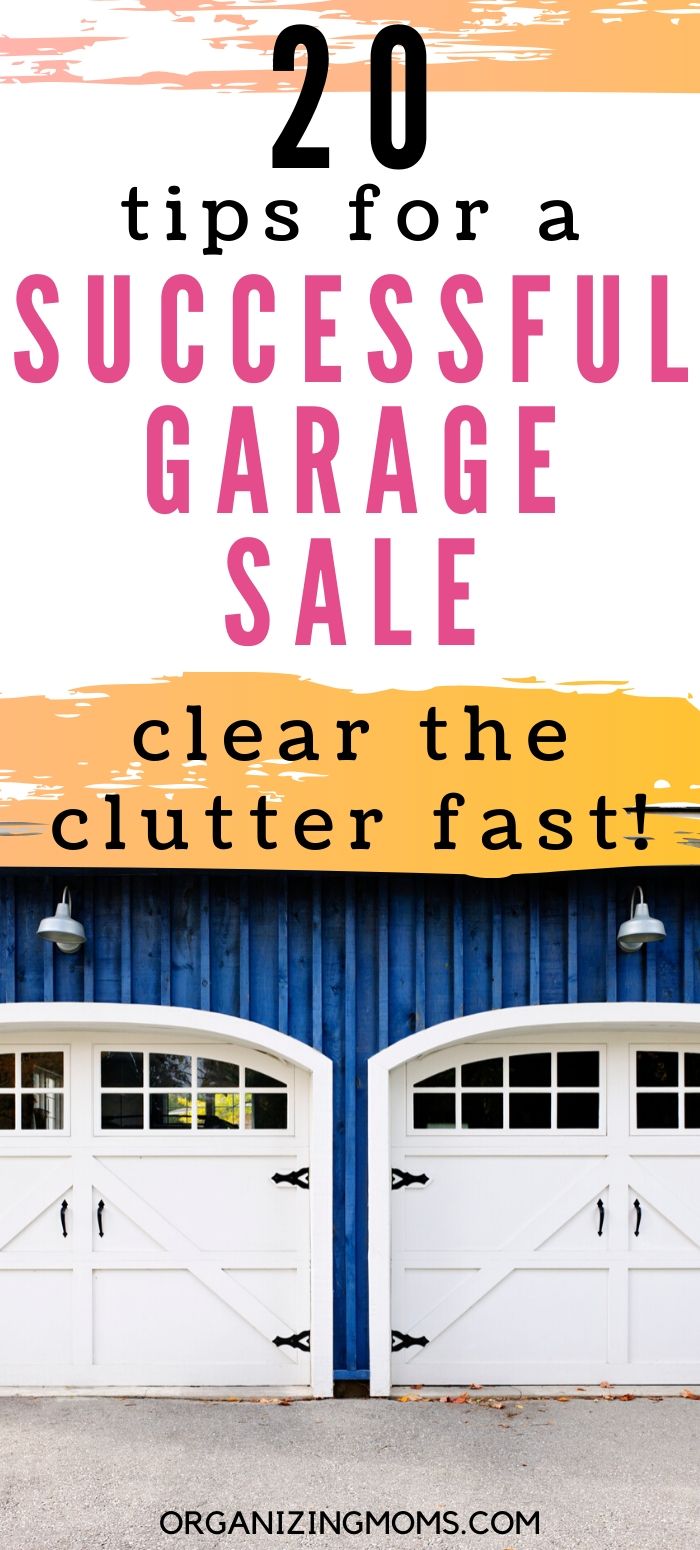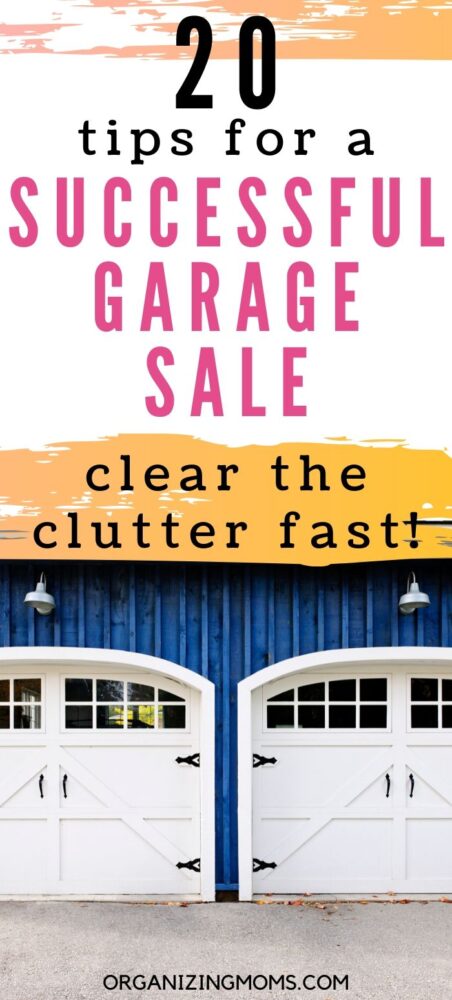 SUBSCRIBE & GET ACCESS TO THE FREE PRINTABLES LIBRARY!
Subscribe to my helpful newsletter (free!) and I'll send you the password to access my library filled with printables, checklists, guides, and more to help you declutter and get organized! The Garage Sale Category signs are included in the freebie library. 🙂
New to this community? Start here, friend!