If you have a chest-style deep freeze, you probably know how difficult it is to keep everything accessible. Deep freezer organization is not easy. Deep freezers are great for helping families save money and cook prepare freezer meals ahead of time, but they're really difficult to keep organized.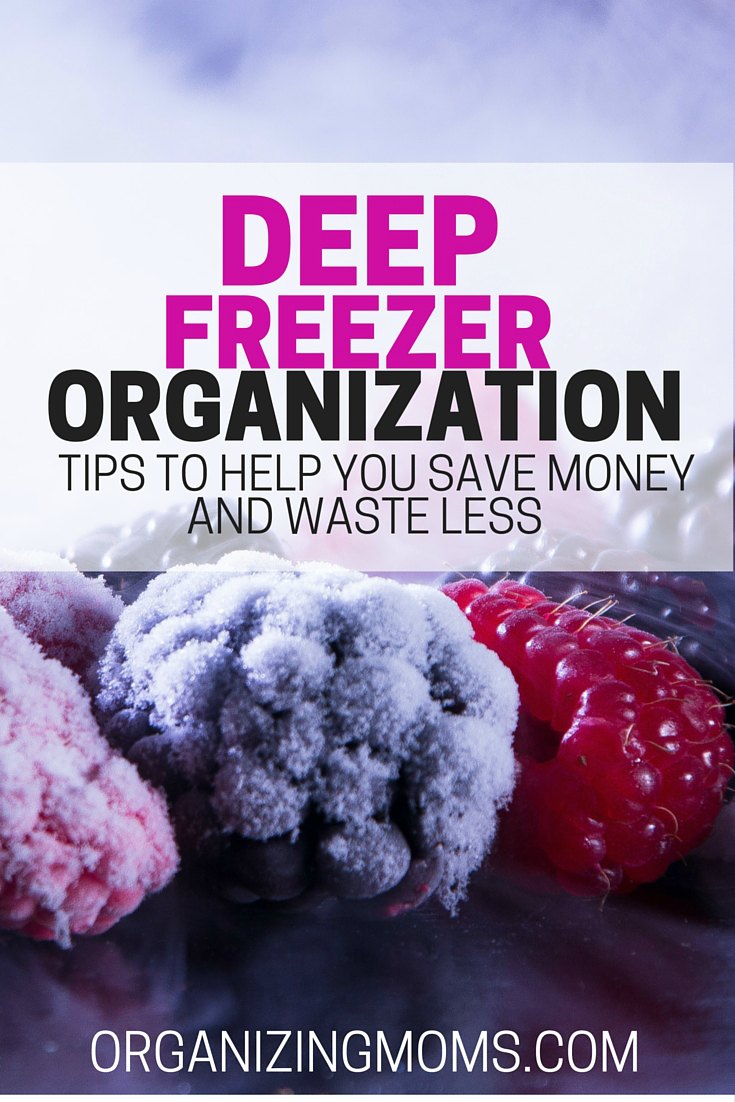 I've tried using milk crates and boxes to keep things organized, but it didn't work for me. I found it difficult to pull all of the different boxes out of the freezer, find what I needed, and then put everything back again.
Then, I saw Laura of I'm an Organizing Junkie's method for organizing her deep freeze with reusable bags. We always seem to accumulate freebie reusable shopping bags, so this was my chance to put them to good use! Here's how it worked:
Deep Freezer Organization with Reusable Bags – Step-by-Step Instructions
Materials Needed
Time! It took me a while to go through the whole freezer. Depending on how much food you have, you might want to set aside an hour or two.
Gloves. I used oven mitts, but you might be better off using your winter gloves to keep your hands warm.
Reusable shopping bags. If you don't have any, ask your friends, or put up a request for some on Freecycle. A lot of people have a surplus of freebie reusable bags.
Trash bags for yucky food.
A crate or box for the bottom of the deep freeze (optional).
Labels or tags for reusable bags. I used gift tags I had on hand.
The Step-by-Step Instructions
Gather your materials.
Clear some space to put frozen foods as you're emptying out your freezer.
Take items out of your freezer one-by-one. Inspect them to make sure you still want to keep them.
Throw out items that no longer look edible.
Arrange all food you're keeping into categories. Your categories are going to depend on your family and what you eat. Here are some categories I used…

Chicken
Frozen Vegetables
Frozen Fruit
Ground Turkey/Sausage
Bread
Cheese
Pork
Ground Beef/Steaks

Decide if you want to do an inventory of your deep freeze. I did an inventory when I first organized our deep freezer, but I didn't keep up with it. It is kind of nice to know how much food you have in your freezer for menu planning purposes.
Put each food category into a separate reusable bag. For example, I have all of my frozen vegetables in one bag, all of our chicken in another bag, etc.
Label each reusable bag. I used some gift tags I had on hand, and tied them to the handles of the reusable bags.
If you want to, put a crate or box at the bottom of your deep freeze. You can store less-frequently used items in the bottom of the deep freeze, and the container will keep it all in one spot so you don't have to dig for it later.
Put your reusable bags back into the freezer. If you can, arrange them so you can see your labels easily.
Take out the trash!
Celebrate your freshly organized deep freezer!
I'm loving this way of organizing our deep freeze. While I still have to pull out several bags to get to what I need sometimes, it's much easier because everything has a handle.
Even though I haven't been good at keeping up with my freezer inventory, I have a better idea of what's available in our freezer. Each time I get into one of the bags, I can tell how much of a certain item we have left. If I notice that we're starting to be low on frozen vegetables, for example, I can add that to our grocery shopping list.
Having our deep freezer organized has saved me money and time because I'm no longer buying stuff I thought we had run out of because it was buried in the depths of our freezer. And, I love that I could complete this project without spending any money!
Do you have any tips for deep freezer organization? Please share with us in the comments!
New to this community? Start here, friend!