Need to declutter your kitchen? This guide will show you the areas of your kitchen you should declutter first so you can seriously organize your kitchen.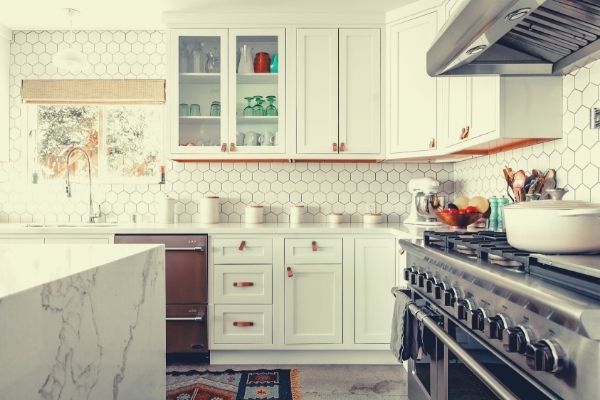 How to Declutter Your Kitchen
For most of us, the kitchen is the heart of the home.
It sets the tone for our whole home.
It's usually a high-traffic area filled with possibilities, warmth, and love.
A calm, organized kitchen also has the potential to save you a ton of time!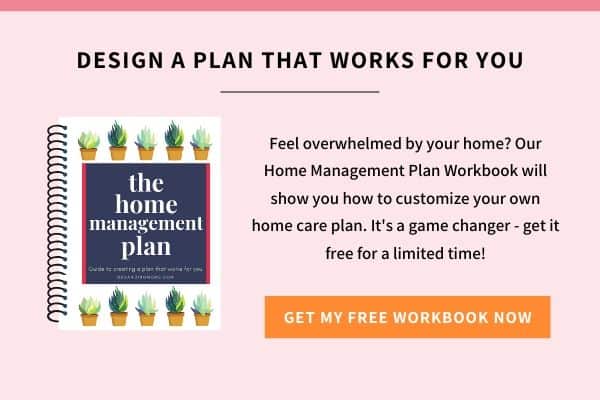 In spite of all that, the kitchen is one of the most challenging places to keep clutter-free for lots of reasons.
The kitchen, by definition, requires messes to be made.
Its location also tends to make it a collection area for paper clutter like mail.
Whatever is creating clutter in your kitchen, if you're like most of us, there's a lot you can part with.
If your kitchen is anything like most people's, you can get rid of a lot there.
Keep reading to discover how to declutter your kitchen one and for all.
20 Areas to Declutter in Your Kitchen
Use the links below to jump to the part of the kitchen you want to declutter. Or, keep scrolling to see all of the ideas!
Designate Your Kitchen Zones
Whether your kitchen is big or small, you'll want to think about how you use the space before beginning the process of decluttering and organizing.
One way to make the most of a small kitchen is to carefully designate zones.
One zone can be dedicated to food storage, including both pantry items and non-perishables.
Another zone can be for preparing meals, with counter space for chopping and cooking as well as room for small appliances like a toaster oven or coffee maker.
The third zone can be for garbage and recycling, with a small trash can and either a separate recycle bin or an area designated for sorting recyclables.
Finally, the fourth zone can be for dishes and cleaning supplies, with the sink, dishwasher, and any cleaning products stored in this area.
By dividing the kitchen into distinct zones, it will be easier to keep the space organized and efficient.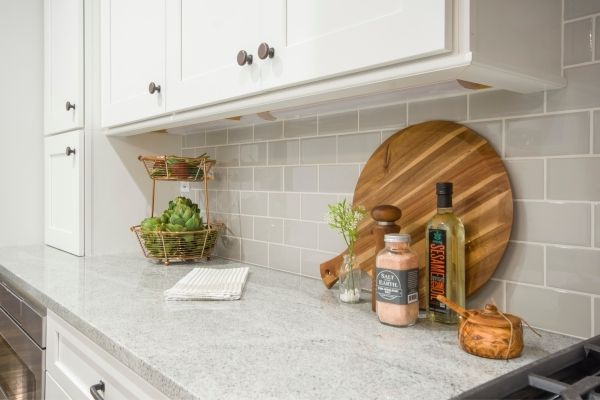 Declutter Kitchen Countertops
If your kitchen counters are cluttered, it might be because you've decided to leave all your daily use items out for easy access.
This generally includes toasters, coffee pots, knife blocks, utensils, cutting boards, and can openers.
Sure, it saves time to have them readily available at the moment of use, but what about all the time they're spending unused on the countertop?
Is saving those few minutes really worth the stress caused by cluttered counters?
Instead of leaving them out, look for space in cabinets or shelves where they can be accessed easily.
As an added bonus, removing these kinds of items will leave more space for prep, creativity, and gathering family in your kitchen.
Read: Decluttering Kitchen Countertops: An Easy, Satisfying Organizing Project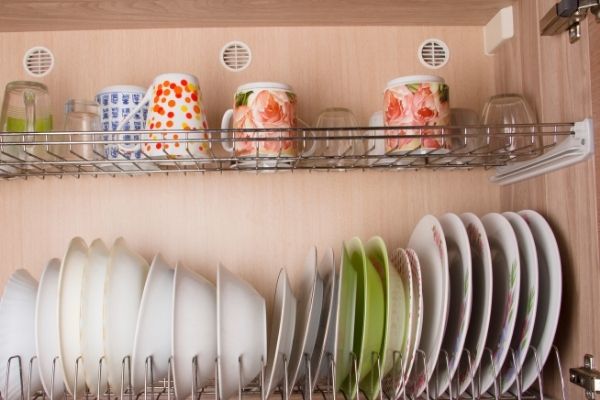 Declutter Kitchen Cabinets
How many coffee mugs are you keeping?
Do you have place settings for 16 when you're only a family of four?
Most of us have way more plates, mugs, and spoons than we actually need (unless, like me, your spoons keep disappearing – where do they go?).
If you have more than a dozen mugs and yet you use the same favorite mug each day, it might be time to declutter your cabinets.
In truth, we really only need enough for ourselves and maybe one or two extras for visitors.
Don't let the "but what if people come over" excuse keep you from organizing your kitchen cupboards.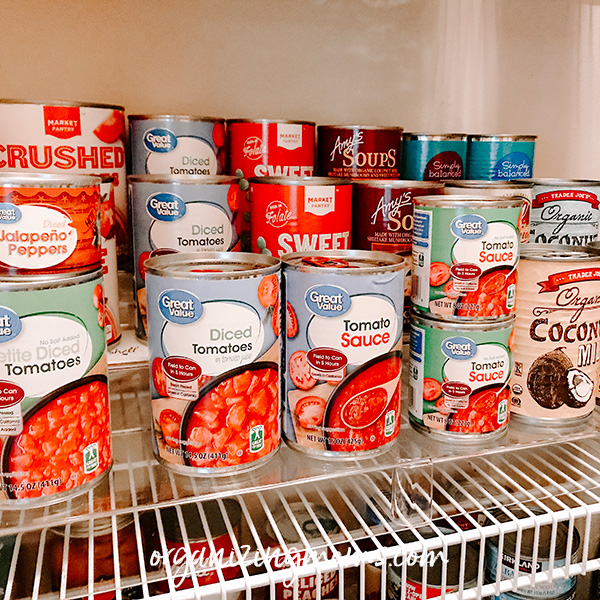 Declutter Kitchen Pantry
As you're decluttering the kitchen, it's easy to forget the pantry.
After all, our houseguests see the countertops, but usually not our pantry.
Spend some time each month tossing out opened items you don't plan on using or anything expired.
Think about the ingredients you use the most, and group them together so you can always see how much you have on hand.
Anything else you don't think will be used can be donations to a local food bank.
Declutter Excess Freebie Packets
If you have a lot of extra ketchup or salt & pepper packets from fast-food restaurants, get rid of most of them.
If you really do use them, limit the amount you keep to a jar so they're not taking up a lot of space in your pantry.
Related: Simple Pantry Organization Ideas for Every Pantry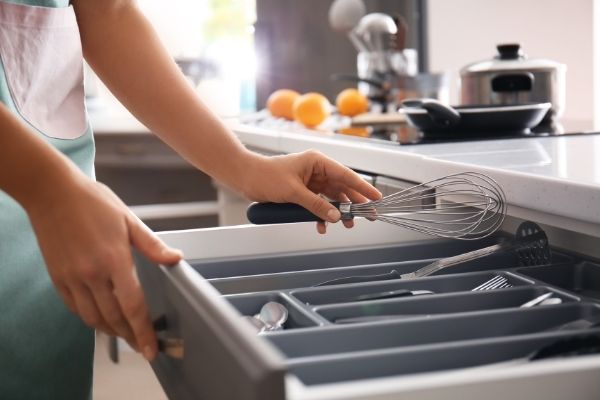 Declutter Kitchen Drawers
Make sure all the items you're keeping in drawers have proper homes.
Designate drawers for cutlery, serving utensils, oven mitts, and kitchen towels.
If there's anything left without a home, truly evaluate whether you need the item before deciding to keep it.
If you have duplicates, keep the ones you use the most, and donate the extras.
Junk Drawer Declutter
Then, tackle the junk drawer. We all have one. It's filled with miscellaneous items from all over the house: staplers, old batteries, cords for electronics we no longer have, etc.
Spend some time finding homes for as many items as you can. Then, get rid of those items you no longer use.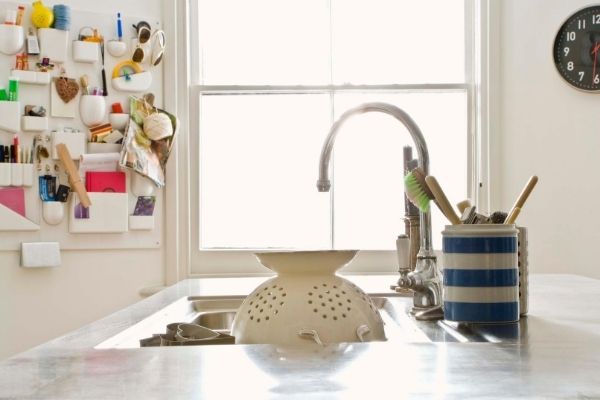 Kitchen Sink
One of the most frustrating things in the kitchen is finding that everything under the sink is cluttered and unorganized. If you're looking for a way to declutter under your kitchen sink, here are a few tips that can help.
The first step is to clear everything out from under the sink. This will give you a chance to really assess what you have and figure out what can be thrown away or donated.
Once you've decluttered, it's important to put everything back in a way that makes sense. For example, store frequently used items like dish soap and sponges within easy reach. You may also want to invest in some organizational tools, such as shelves or baskets, to help keep make the most of this storage space.
Recipes and Cookbooks
If your kitchen is cluttered with half-used cookbooks and piles of recipe cards, it may be time to declutter. But how do you know which recipes are worth keeping and which can be safely discarded? Here are a few tips to help you declutter your recipes and cookbooks.
First, take inventory of what you have. There's no need to keep multiple copies of the same recipe or keep cookbooks that you never use. If a recipe is only available online, print it out or save it to your computer so you can access it easily.
Second, declutter your recipes by type. For example, if you have a lot of dessert recipes, but rarely make them, consider getting rid of some of them.
Or if you have a lot of complicated recipes that take hours to make, but you generally prefer quick and easy meals, pare down your collection accordingly.
Finally, only keep the recipes that you actually enjoy making. There's no point in hanging onto a recipe for a dish that you don't like or that's too difficult to make. So when in doubt, throw it out!
Related: How to Make an Easy-to-Use Recipe Binder
Storage Containers
Decluttering your food storage containers can be daunting, but it's worth it to declutter your kitchen and make meal prep easier.
Here are some tips to help you declutter your food storage containers:
Start by taking everything out of the pantry or cupboard where you store your food storage containers. This will help you get a sense of how many containers you have and what sizes you have.
Sort through your containers and get rid of any that are cracked, damaged, or that you simply don't use anymore.
Wash all of the remaining containers with hot, soapy water.
Dry the containers and put them back in the pantry or cupboard.
Label the containers with their contents and the date. This will help you keep track of leftovers and ensure that you're using the oldest food first.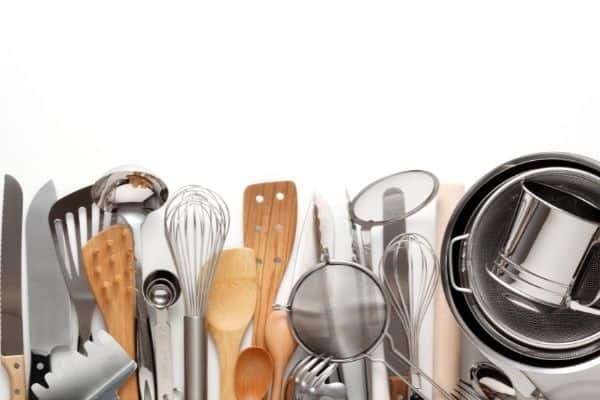 Cooking Utensils
Anyone who loves to cook knows that the right tools can make all the difference.
However, over time, even the most well-organized kitchen can start to feel cluttered and cramped. When this happens, it's time to declutter.
The first step is to take inventory of all the cooking utensils you have. Once you know what you have, you can start to declutter.
Donate or sell any items that you no longer use or that are in good condition but no longer fit your needs.
Next, organize the remaining items so that they are easy to find and use.
Small Appliances
Even though they are designed to help you be more efficient, small kitchen appliances can take up a lot of space in your kitchen.
If you have small appliances like toasters, extra coffee pots, or slow cookers that you don't use, get rid of them.
If your blender is covered in dust, chances are good you don't need it.
You can sell popular gadgets like juicers and Instant Pots online and recoup some of your investment.
If you know anyone who's moving into their first apartment or dorm, they may like to have a coffee pot or tea kettle that you don't use.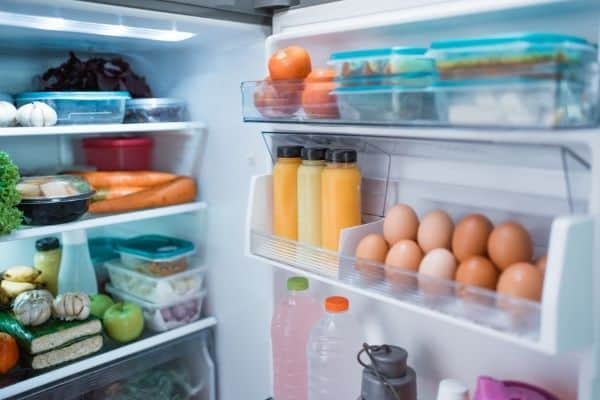 Fridge
Start by removing all of the food from the fridge, including from the shelves and drawers.
Once everything is out, it's time to give the fridge a good cleaning.
Wash down all of the surfaces, inside and out, with a mild soap and water solution.
Once the fridge is clean, it's time to add back in only those items that are still fresh and within their expiration date.
Be sure to also check for any items that have been pushed to the back and forgotten about – these are often the culprits when it comes to fridge clutter.
Another source of clutter is magnets.
Fridge magnets seem to multiply when you're not looking.
Suddenly, your fridge is covered in artwork, school assignments, and grocery lists.
While fridge magnets can be a fun way to personalize your space, they can also quickly become overwhelming. If your fridge is starting to feel cluttered, here are a few easy tips for decluttering.
First, take a look at all of the magnets on your fridge. Do you really need all of them? If not, toss out any that are outdated or that you no longer want on display.
Next, consider grouping similar magnets together. This will help to create a more organized look. For example, you could put all of your family photos in one area and all of your child's artwork in another.
Finally, don't be afraid to use empty wall space. If your fridge is becoming too full, hang a bulletin board or whiteboard on an empty wall to create a new storage space for notes and reminders.
Kitchen Paper
Paper is one of the biggest culprits when it comes to kitchen clutter.
Menus, grocery lists, and flyers can quickly add up, creating a messy pile that's hard to ignore.
The good news is that there are a few simple steps you can take to declutter your kitchen paper.
First, go through your menus and throw out any that are outdated or that you no longer need.
Next, create a designated spot for incoming paper.
A small basket or tray near the door will help to keep things organized.
Finally, make it a habit to go through your paper pile on a regular basis and recycle anything that you don't need.
Related: Why You Really Need an Inbox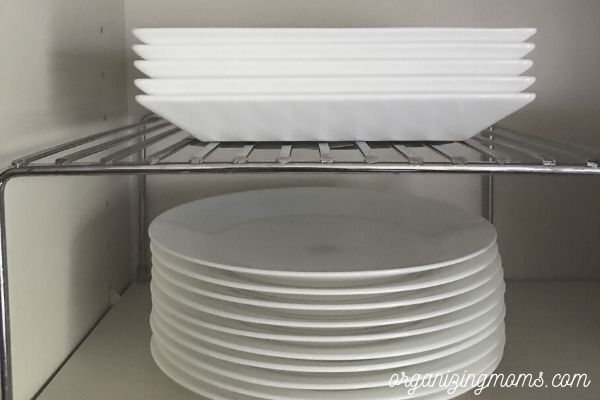 Dishes
Whether you're moving into a new home or simply trying to declutter your kitchen, there's no need to keep every dish you've ever acquired.
Instead, focus on decluttering dishes that are broken, chipped, or that you never use.
Get rid of any dishes that are chipped, cracked, or that you no longer use.
If you're unsure whether or not to keep something, ask yourself when was the last time you used it.
If it's been more than six months, chances are you can get rid of it.
By decluttering your dishes, you'll free up space in your kitchen and make it more functional and efficient.
Pots and Pans
Pots and pans come in all shapes and sizes, which can make decluttering them a bit of a challenge.
However, there are a few simple tips that can help.
First, lids tend to take up a lot of space, so it's important to declutter them on their own.
You can do this by matching each lid to its corresponding pot or pan, and then only keeping the ones that fit snugly.
This will help you to declutter your collection and make it easier to find the right lid when you need it.
Additionally, it's helpful to declutter your pots and pans by type.
For example, you might keep all of your frying pans in one place and all of your saucepans in another.
This will make it easier to find the right pot or pan when you're ready to cook.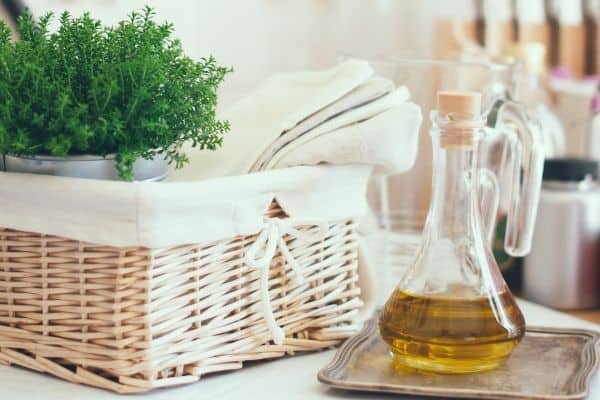 Baskets for Visual Clutter
If you have items that you want to keep on your countertops for easy access, you can use baskets or bowls to reduce the visual clutter.
Related: Practical Ways to Organize with Baskets
Group Like Items on Trays
Another way to reduce visual clutter is to group like items together on trays.
For example, you can create a coffee or tea station by placing a tray with a coffee pot, tea kettle, and mugs next to the coffee and tea supplies.
You can also use trays to store frequently used cooking ingredients, such as olive oil and spices.
By taking the time to organize your kitchen, you can make your workspace more efficient and reduce the risk of creating unwanted clutter.
Consolidate Like Items
If you have multiple packages of things like rice or flour, consolidate them into one big container.
This will reduce clutter, and make it easier for you to see what's on hand.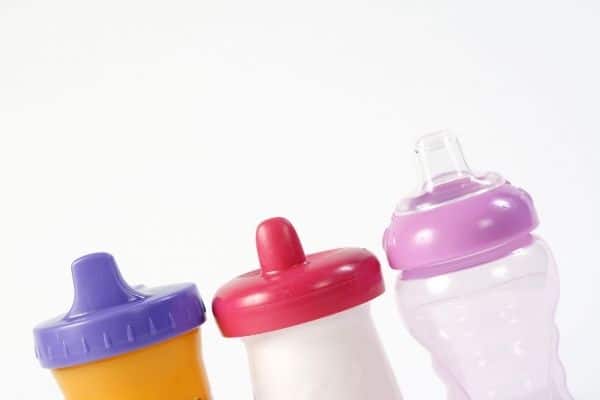 Kids Zone
If you have younger children who use different dishes, cups, and silverware, create a separate kid zone for their things.
If you're able to store their items in a lower cabinet or drawer, they can easily access their items, and even help you set the table!
Read More: An Organized Drawer for Little Helpers
More Kitchen Decluttering Ideas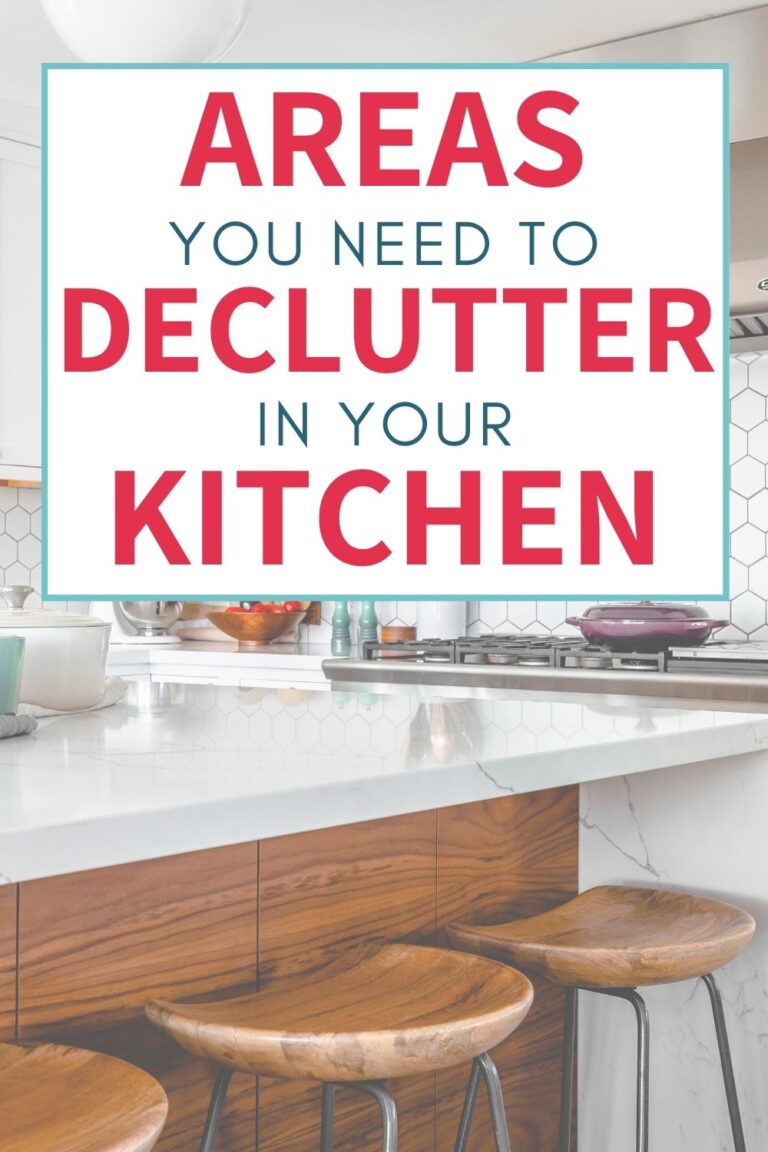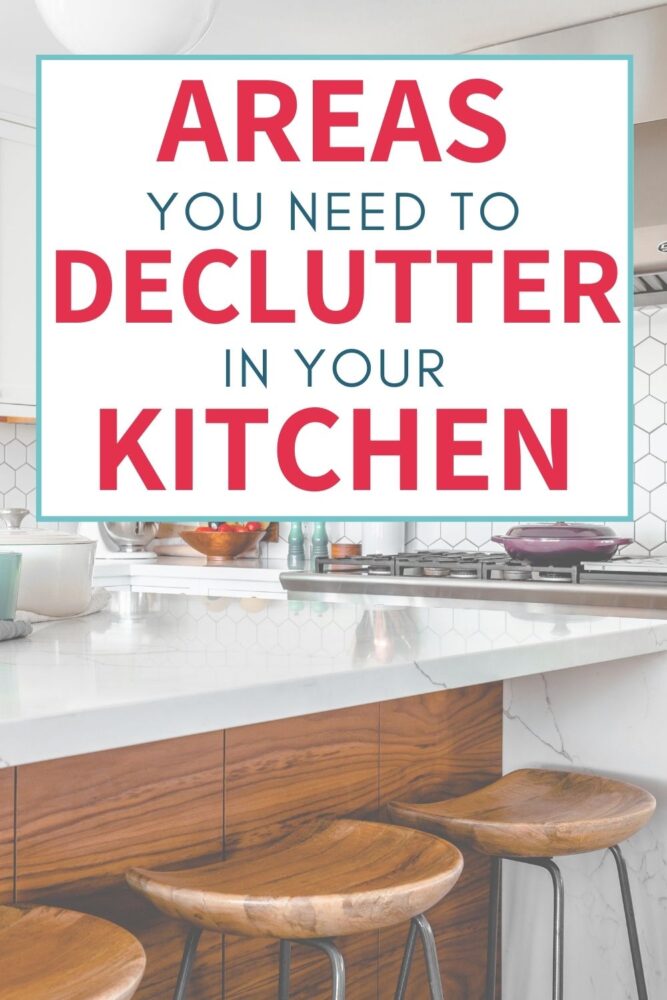 New to this community? Start here, friend!