Amazon Prime Day 2018 officially starts on July 16 at 3 pm EST, and it will last for 36 hours this year (Prime Day and a half?). Last year it was Amazon's biggest sales day, even bigger than Black Friday, and this year the buzz is that there will be even better deals for us.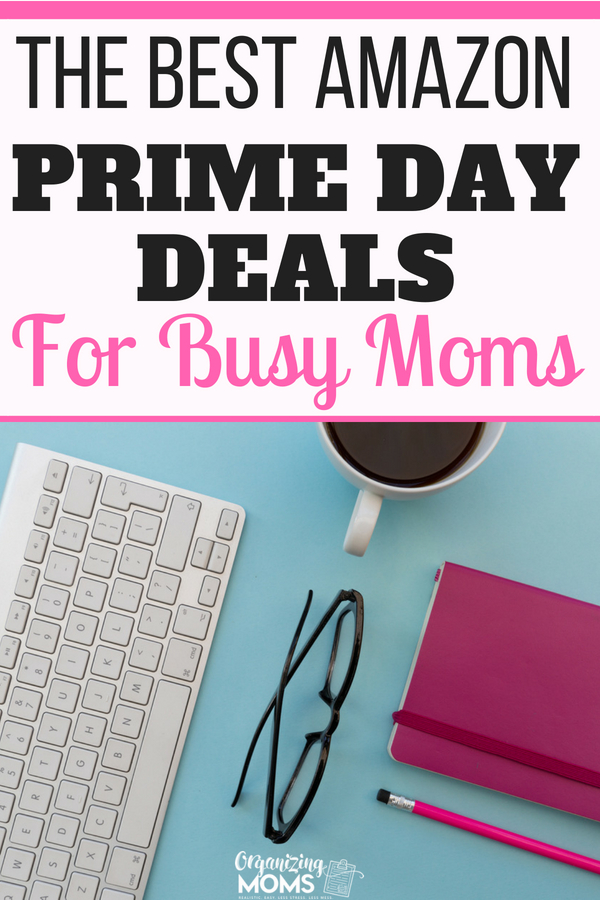 How does Amazon Prime Day work?
During Prime Day, different items will go on sale for a limited amount of time. You need to be a Prime member to participate, but if you're not signed up for Prime, you can do a 30-day free trial, and still take advantage of the big sale.
Rumor has it that Amazon will post new items for sale every 5 minutes.
As we find out which deals Amazon will be offering that would be of interest to busy moms, or anyone who wants to get organized, we will post them here.
Amazon may offer some pre-Prime Day deals as well, so it's a good idea to keep your eye on the sales – especially if you're hoping to get a deal on something specific.
Check back often, as we will be updating the page frequently!
PRIME DAY DEALS FOR BUSY MOMS (IN ORDER OF SALE TIME)
These items will be on sale during Prime Day on Tuesday, 7/17 at the times listed:
These items were on sale YESTERDAY, 7/16 — I'm leaving them here so you can see what sort of deals there were on the first day:
What can you do to get ready for Prime Day?
What things have gone on sale for Prime Day in the past?
You can expect to see awesome deals on Amazon electronics like Kindles, Echos, and more.
Instant Pots and accessories are usually popular Prime Day deals.
Toys and games for early Christmas shopping.
Craft supplies
FitBits and other fitness trackers
Gift cards
Grocery items
Are there any pre-Prime Day deals available now?
Yes! Amazon is already offering deals on several of its subscription services and products:
|
Prime Membership free trial – get this if you don't already have an Amazon Prime subscription!
|
|
Audible – audiobooks subscription service
|
|
Prime Pantry free trial – for grocery and household staples
|
|
Amazon Fresh – fresh grocery delivery
|
|
Kindle Unlimited trial
|
|
Amazon FreeTime Unlimited
|
|
Twitch Prime – great for video game fans
|
|
Amazon Music
|
|
Echo Show
|

FREE 10-Minute Tasks to Help You Declutter & Organize!

Get realistic, easy decluttering & organizing task checklists delivered to your inbox each week when you sign up for the Organizing Moms newsletter. Join over 8,000 moms who want less stress, less mess, and a more organized life!
New to this community? Start here, friend!