Looking for ways to save money and be frugal without feeling totally deprived? Wish you could think of more ways to save or earn money for your family?
This weekly posting of 5 Frugal Feats and Fails will give you new ideas and money saving inspiration. Be sure to read ideas from others in the comments and leave your own tips too!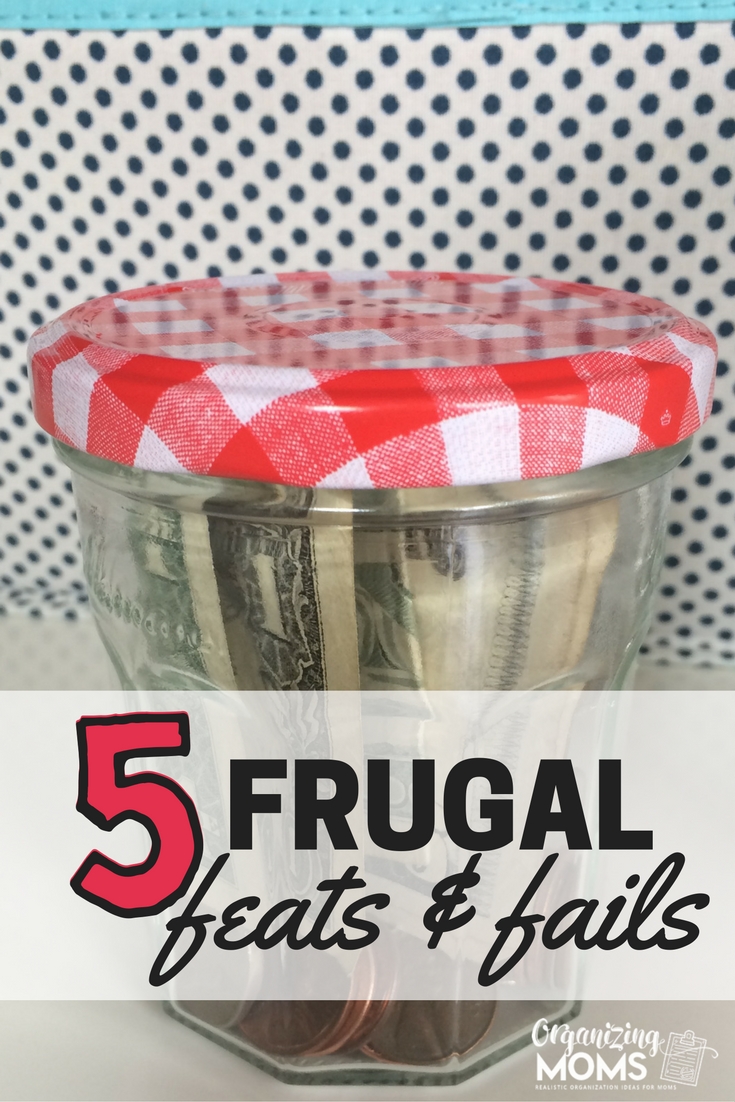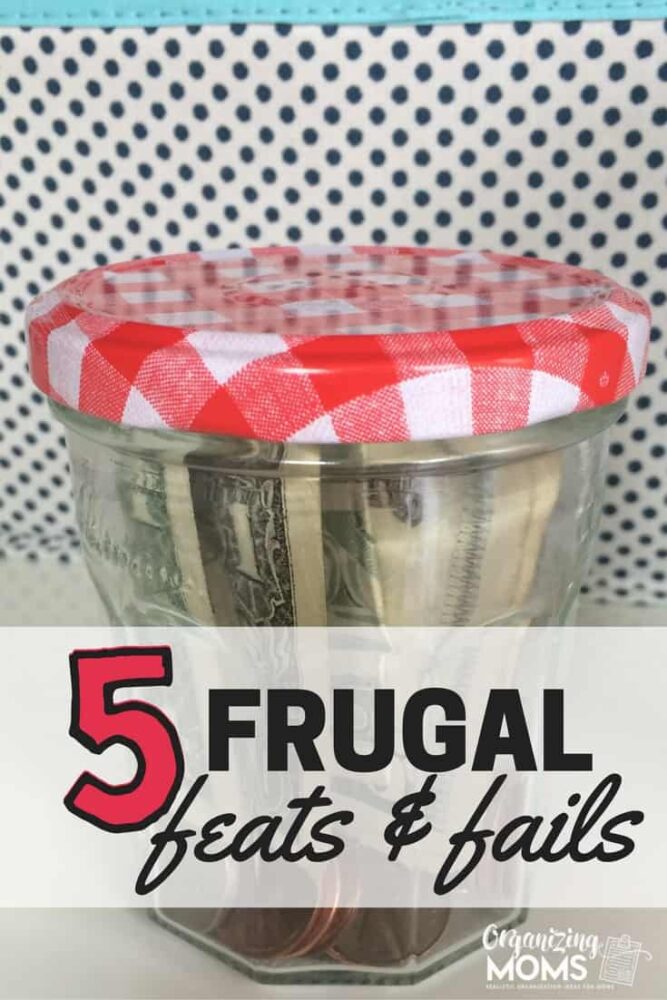 To keep myself accountable, and to open up the chance for us to talk about frugal living tips, I'm going to post 5 frugal feats and fails each week.
Please feel free to leave your own ideas in the comments – the more we share with each other, the better off we'll be! We can learn a lot from each other's feats AND fails.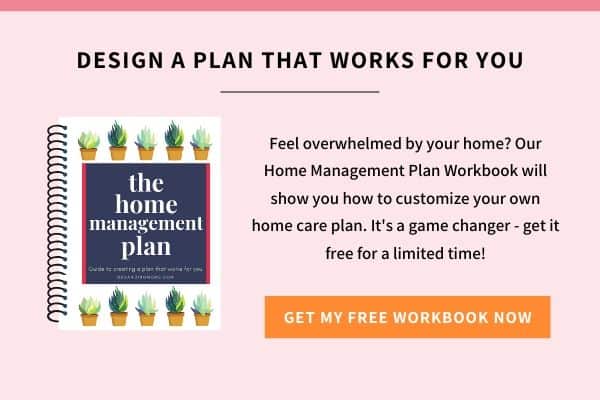 What does frugal living have to do with organizing? Pretty much everything!
Check out this post about how being frugal can help you be organized, and being organized can help you be frugal.
Now, on to the frugal feats and fails!
Frugal Feats
Less expensive lipstick. I've been mourning the loss of my favorite Revlon lipstick shade for a few years now, and I've been looking for an alternative that scored well on the Environmental Working Group's Skin Deep Guide to Cosmetics. I tried Burt's Bees Lip Shimmer in "Raisin," and it looks like it's going to be a great alternative to my old favorite lipstick, and it's about half the price of the lipstick I've been using.
Wasting less food. We've been food-saving ninjas this week. Things that we knew we wouldn't eat soon got frozen. Leftovers were eaten for lunch. We even made a fried rice with a mishmash of leftovers from the week! Of course, the motivation to save money on food was largely motivated by this week's epic frugal fail.
Turning down the thermostat. The second floor of our house is significantly warmer than the first floor, so we've spent more time hanging out upstairs and keeping the thermostat lower. I'm not sure how long this will last, because the first floor of our house is pretty cold.
Waiting to watch Star Wars. We decided that we wanted to watch Star Wars as a family, but when we went to Amazon to stream it, we learned that it was super expensive!! We checked with our library, and they have the Star Wars movies available to check out. We're 9th in line on the hold list!
Frugal Fails
Canceling plane tickets. We were planning on traveling to see our family over Thanksgiving break, and we had to cancel our trip for work-related reasons. Boo! Besides being disappointed, we lost most of what we spent on plane tickets, which was not a small amount. Pleading and working with the airlines did little good. Next time, I'm buying trip insurance! I think this might be our biggest frugal fail ever.
Your turn! What were your frugal feats and fails this week?
New to this community? Start here, friend!