What to do when mom is the one who is sick. Moms rarely get to take a day off, but there are some things you can do to survive a sick day and make things easier on yourself.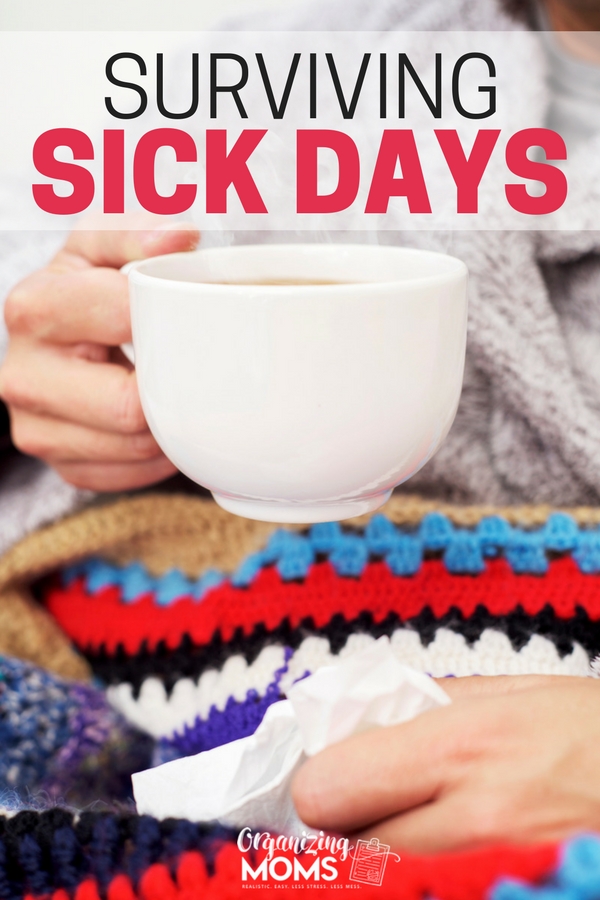 Surviving Sick Days for Mom
Surviving sick days when mom is the one who is sick can be a challenge.
Everyone gets sick now and then, even the "super-est" of super moms.
The problem is that when mom gets sick, it's rare that she is really able to take a sick day.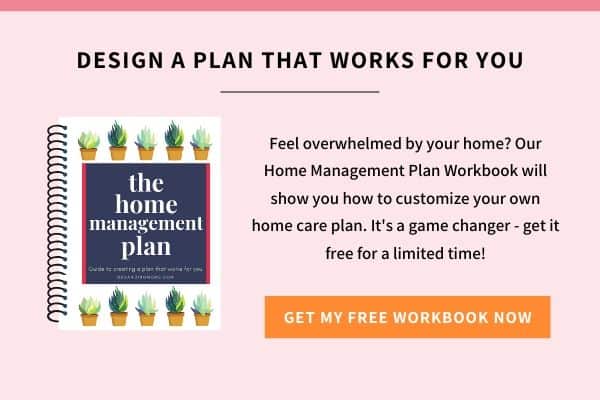 Without that much-needed self-care, it can be harder for moms to shake even a simple cold.
So what is a mom to do when she's not feeling the greatest, but there's so much that needs to be done?
Here are some strategies for surviving sick days that can help you to get some of the rest you need while keeping the house running, at least at the point of survival.
Ask for Help
It's so hard for moms to ask for help from others when it comes to taking care of their families.
However, sick days are the perfect time to call in a favor and get a little helping hand.
Have someone else handle school or daycare drop off and pickup so you can steal a few extra minutes of rest.
See if a friend or family member will take little ones for a few hours to give you some time for a nap.
Enlist your significant other to take on some extra responsibilities around the house so that you can save what little energy you have for the really important stuff.
Related: Things to Do with Kids When You're Stuck at Home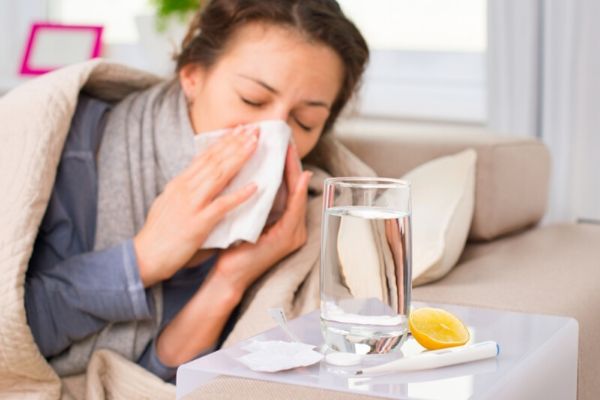 Lower Your Standards
Illness is a perfectly acceptable reason to lower your standards and make exceptions to your household rules.
It's totally okay to set your preschooler up with an extra show or movie while you stretch out on the couch to recuperate a bit.
If your dishes go unwashed for a couple of meals or if the floor isn't vacuumed, the world isn't going to end.
Better yet, assign some of these tasks to older children.
While they might not finish them with the same polish that you would, the extra rest would be worth the lower-quality result.
Prioritize Your Must-Do List
Throw your to-do list out the window and create a must-do list.
Take all of the optional tasks off the table and only include things that are needed to get through the next day or so.
This will help you ensure that the tasks of having everyone fed and clothed are checked off, but those baseboards that need scrubbing down aren't even on your radar for a couple of days.
Then, look at the tasks that remain and remove those that can be done by someone else in the household or that you can get outside help to complete – grocery pickup service, for the win!
Turn to Takeout
Cooking meals and taking the chance of contaminating everyone's food with whatever ick you have acquired simply isn't a great idea. If your significant other isn't able to handle the food prep for the family, call for pizza delivery or use other local takeout options.
UberEats will deliver almost any restaurant to your home. (use my referral code, eats-katiep14170ui to get $10 off your first order)
It'll help you save more energy, plus could prevent the spread of germs to the rest of your family.
The most important thing to remember is that the more you rest, the faster you'll get back to full strength and be able to do all of the things that you need to do.
By lowering the bar and only doing what you have to do, you can survive being sick and still keep your house running, even if it's not up to your normal standards.
Related Articles
How to Make a Sick Kit – be prepared the next time your family gets sick
How Busy Moms Get The Sleep They Need
Get Relief from Mom Burnout With These Ideas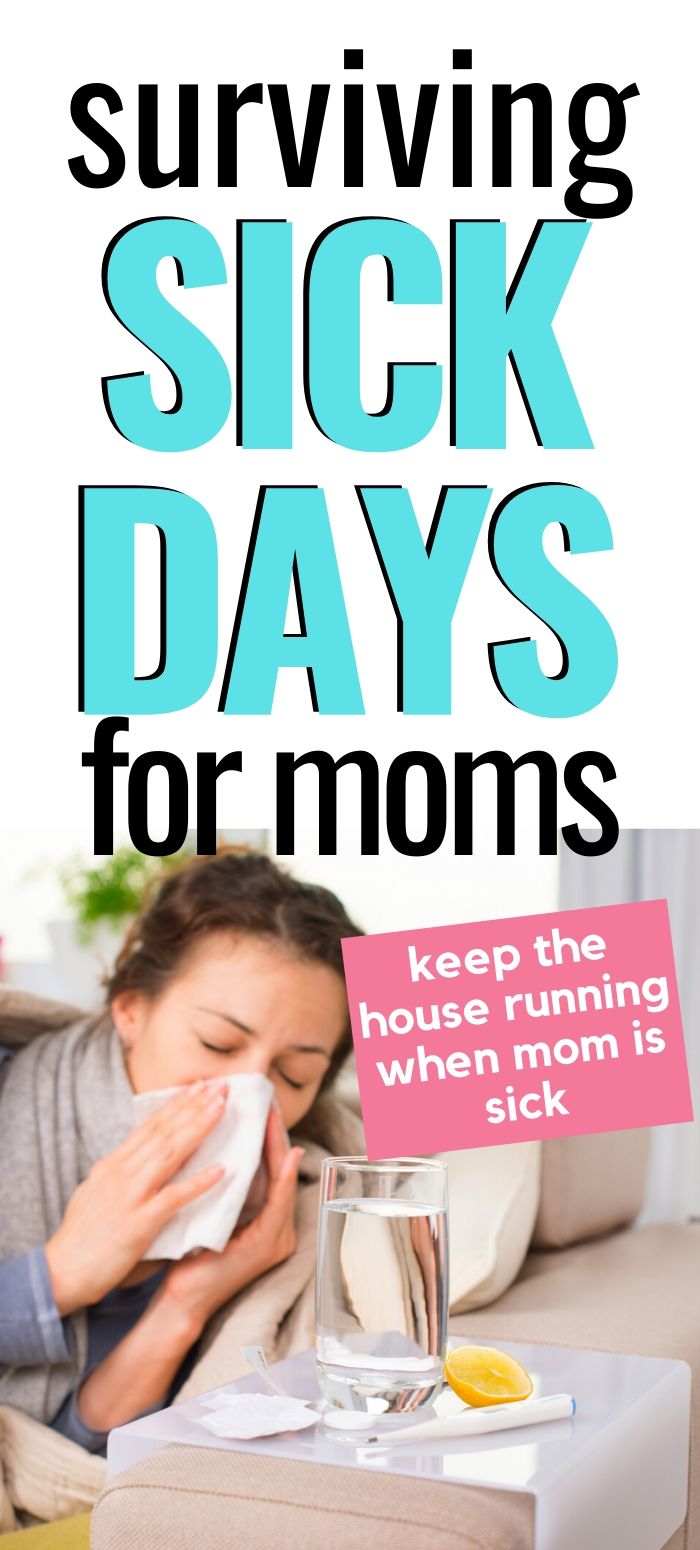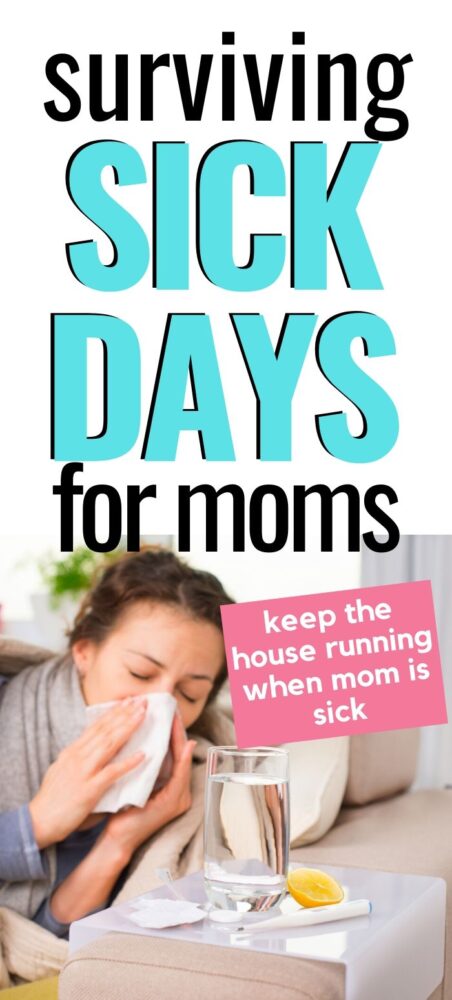 New to this community? Start here, friend!