Wow! I can't believe we're already more than halfway through December. This year has just flown by!
I'm back with another list of some of my favorite things this month. I'm sure that after Christmas, I'll have many more favorite things ideas to share too!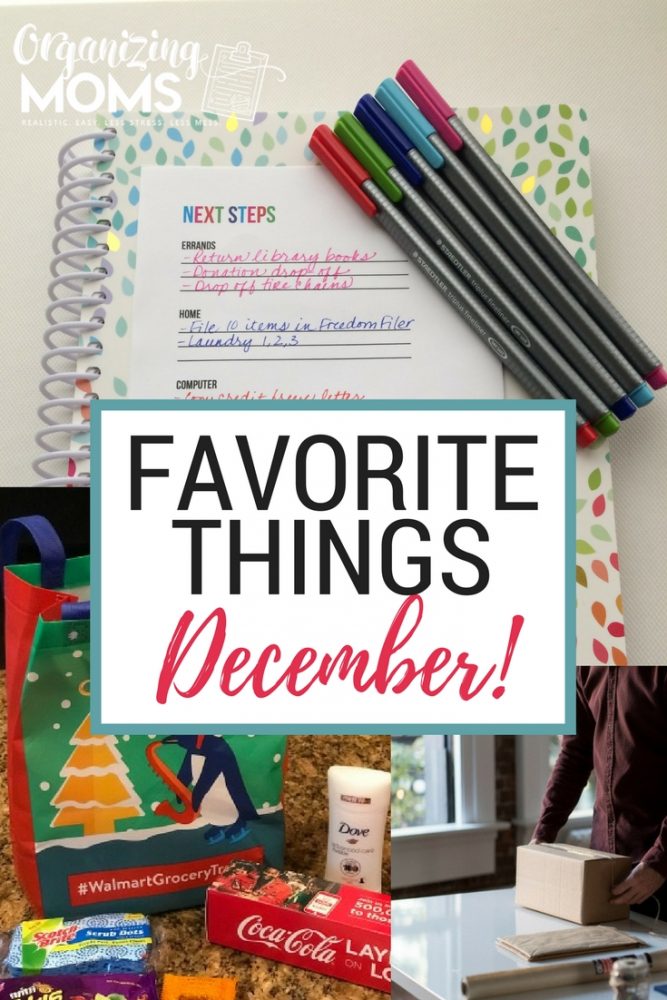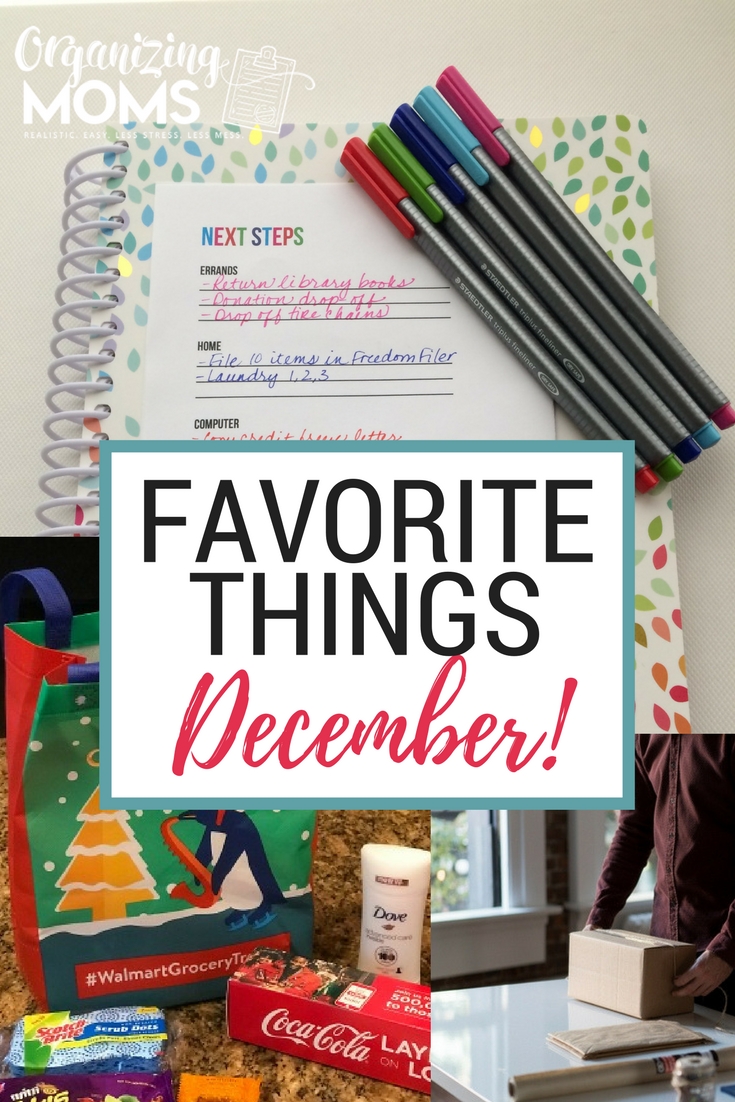 Wal-Mart Grocery Pickup
I'm a fan of any type of grocery pickup, but I'm loving the Wal-Mart Grocery Pickup in particular because it's FREE!
One of my favorite ways to save time and money meal prep is to use grocery pickup. Up until recently, our town didn't offer this service, but in the last 6 months, two stores have started doing grocery pickup. It's been such a time saver!
Last week, I tried Wal-Mart's grocery pickup service, and I was pleasantly surprised. Our local Wal-Mart isn't the greatest, but I really liked using the grocery pickup. Our produce was high quality, and they had everything we needed for the week.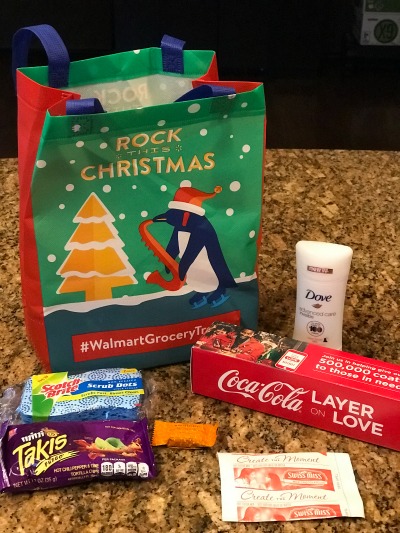 Plus, as a new customer, I got this little care package full of goodies! Totally unexpected, and really nice.
The only thing that was kind of strange is that the bag included a Wal-Mart gift card, but it didn't have any value on it. I guess they just want us to know that Wal-Mart gift cards are available? I'm not sure – but the other freebies were great!
If you'd like to try out Wal-Mart Grocery Pickup, you can use my referral link to get $10 off your first order. Grocery Pickup is not available at all Wal-Marts, but they're adding it to existing stores all the time. If you don't have it yet, keep an eye out for it – it could be at your store soon.
I've also tried Fred Meyer's grocery pickup, and I liked it too. They charge a $5-ish fee for the service.
If you live in an area that has Peapod pickup, I highly recommend it too. We used to use it all the time when we lived in the Chicago area. It was a lifesaver when I had toddler twins and we needed to go grocery shopping in the dead of winter.
Staedtler Pens
Staedtler pens have officially replaced my favorite Sharpie pens as my favorite go-to pens. I love them so much that I try not to bring them out of the house so I don't accidentally leave them somewhere and lose them.
I first tried Staedtler pens when I experimented with bullet journaling. The ink doesn't bleed through pages as much as other felt-tip pens, but they still have a nice, strong line when you're writing.
I originally bought the smaller set of colored pens and planned to use them more for drawing than for everyday writing. But, the darker colored pens in the set quickly became my favorite pens to use for things like signing permission slips and reading logs, making grocery lists, and planning out my days.
My mom brought me a set of all black pens when she came to visit in October, and I was thrilled! They are great for everyday writing tasks, and they're so nice to use.
I've been using them with my Daily Planning Sheets every day, and they make planning so much more fun.
USPS Pickup Service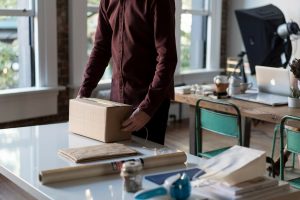 I seem to be on a roll with the pickup services…
Did you know that you can schedule a USPS package pickup from your house? If you go to the United States Postal Service website, there's a drop-down option under "Mail and Ship" to schedule a pickup.
Our local post office is notorious for having hour-long lines, so being able to skip all that craziness has been priceless.
I schedule our package pickups for during our regular mail delivery time, and it's free! I usually ship things Priority Mail, and I buy the postage online anyway, so there's no true need to go to the actual post office.
This has saved me hours upon hours this year, and during this holiday season in particular.
The Skimm

If you watch a lot of news (or check the news on you phone a lot), you might not realize how much it's stressing you out.
Most of the news we consume every day is designed to make us feel a sense of urgency so we keep watching, listening, or clicking.
Over time, that sense of urgency can really wear you down.
If you're feeling burnt out by the news, but you still want to know what's going on, the Skimm is an excellent solution.
When you sign up for the Skimm, you get an email every morning that summarizes the news for you. So, you can go into your day feeling informed about what's going on, but you won't feel as freaked out about it.
I've noticed that on days when I don't check in with the news as often, I feel much calmer. On days when I check my phone obsessively for updates, I'm kind of a mess!
One of my goals for 2018 is to use the Skimm more often, and do much less "checking in" on news websites.
Click here to sign up for the Skimm. (It's free)
---
That's it for this month! What are some of your favorite things? Please tell us about them in the comments!
FREE 10-Minute Tasks to Help You Declutter & Organize!

Get realistic, easy decluttering & organizing task checklists delivered to your inbox each week when you sign up for the Organizing Moms newsletter. Join over 7,000 moms who want less stress, less mess, and a more organized life!
New to this community? Start here, friend!