Last month, I got into a major meal-planning rut. I seriously couldn't think of another thing to cook, and all of the recipes I found online either looked too complicated, or not kid-friendly.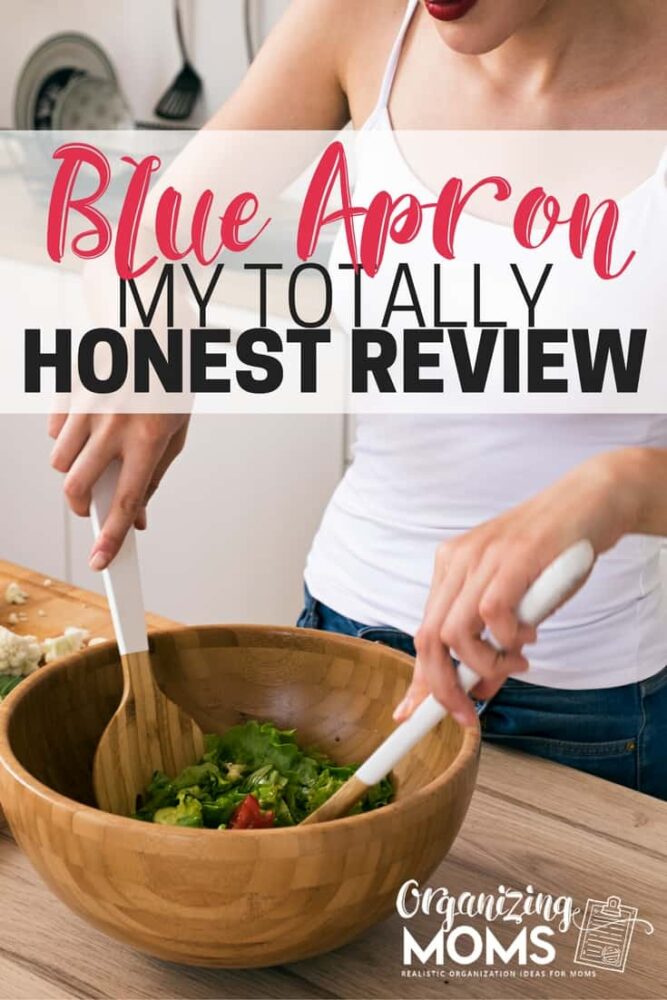 Lack of inspiration, coupled with overall tiredness led me to seek out other options.
And that's what led me to Blue Apron.
Why Blue Apron?
Ads for Blue Apron had been popping up on my computer for a few months, and we'd even received some Blue Apron coupons in the mail (which we never used). I was turned off by the expense of Blue Apron, but I finally decided to give it a try because I was desperate.
The idea of yet another Taco Tuesday was making me nauseous, and we'd rolled into the drive-thru way too many times in the past week.
Pricing
So, I ordered up a family plan. It's supposed to feed four people, and you get two meals a week. For $69.92/week. That works out to about $8.74/person/meal. Not cheap.
First Impressions
I made a video of my first Blue Apron unboxing. I was trying to be open-minded, but I wasn't really impressed:
Cons
I'm listing the cons first, because at first, I was totally negative on Blue Apron. The cons are still valid, even though I've grown to like it a little more:
It comes with a lot of packaging. You get a huge box, and most of it is packaging. There are a lot of ice packs, padded envelopes, etc. Even individual carrots get their own plastic bag. I know it's a necessary part of sending meals via the mail, but it's a lot.
You still have to chop vegetables. For almost $70, I thought everything would at least be chopped up and ready to cook. You have to do meal prep. It's a bummer.
Meal prep takes me from 30-60 minutes. These aren't quick meals. You'll have to dedicate a good chunk of focused time for meal prep. This is not easy when you have hangry littles underfoot.
There will be a lot of dirty dishes. Just like if you made a fancy meal with your own (less expensive) ingredients from the grocery store, you'll have tons of dishes to wash afterwards.
The price. It's just not budget-friendly. If you're trying to save money, this probably isn't a good solution unless you're spending way more at restaurants already.
Pros
After opening our first Blue Apron box, I was ready to poo-poo the whole thing. But, then Blue Apron showed some redeeming qualities:
The recipes/food are really, really tasty. No joke. They're much better than a lot of restaurant food we've had, which is saying something because I got to control the amount of salt, seasonings, butter, etc.
Customer service. In our first order, our basil arrived in pretty bad shape. I emailed customer service about it, and they credited our account for $9.99 right away. They had no idea I was going to write a review about the service – I was just a regular customer.
Blue Apron got us to eat foods we wouldn't normally buy. Kumquats, bucatini, squid ink pasta, red lentils. Those are just some of the ingredients we would never purchase on our own. In fact, I don't even know if our grocery store carries them. They were part of our Blue Apron meals, and we really liked them!
Our picky eater likes it. Normally he protests about eating any type of vegetable or unrecognizable food. But, he's decided he digs Blue Apron. I think he likes seeing what goes into each recipe beforehand by looking at the recipe cards. No surprises for him that way! He asks me several times each week when our next Blue Apron is coming.
Perfectly-sized portions. It's just enough for our family, and we don't end up with a ton of leftovers.
Recycling. After you complete two orders, you can send back the packaging to be reused or recycled.
It got us out of our rut. This is the biggest thing for me. We've had Blue Apron for three weeks now, and it's taken away a lot of the pressure of coming up with something healthy that everyone will like. For the rest of the week I can still use my old standby recipes, and I know that we'll have something unique when our Blue Apron order arrives.
Will We Use Blue Apron Forever?
I'm not sure! The cost is definitely high for us, but right now it's worth it to make a few tweaks in our budget to keep us out of the drive-thru.
For next week I cancelled our order because we're going to have family visiting and we just won't have time to do Blue Apron. I like that I don't have to have the order show up every single week.
I'd like to try some of the other meal services to compare them to Blue Apron. If I could find something that has veggies pre-cut at a lower price, I might switch. But, we really enjoy the recipes from Blue Apron. In fact, I've been putting them all into sheet protectors and storing them in my recipe binder. Some of them might become our old standbys!
Is Blue Apron Right For You?
Maybe? If the cost alone isn't too prohibitive, I'd at least give it a try.
If you're looking for something quick and easy, Blue Apron isn't it.
But, if you're looking for unique recipes, different flavors, and the ability to control the ingredients you use, Blue Apron is a winner. It can help you get out of a meal-planning rut.
I think cooking a Blue Apron meal would be a fun date-night activity, and it's also something the kids could help out with.
If nothing else, it saves you the mental energy of having to figure out what to have for dinner.
Try Blue Apron With A Discount
Ready to give Blue Apron a try? If you use my link, you can get $30 off your first order. This applies to family plans (what we've been getting) and the two-person plan.
Happy cooking!
WANT TO FEEL MORE ORGANIZED & IN-CONTROL?
Join over 4,900 moms who found a way to run peaceful, well-organized homes by busting clutter, creating good routines, and focusing on what their families need - and get this printable guide free! It will help you jump-start your home organization, and give you some relief!