Homeschool room ideas to help you get organized for teaching and learning. Homeschool room setup, and organization ideas to help you plan out your own homeschool learning space.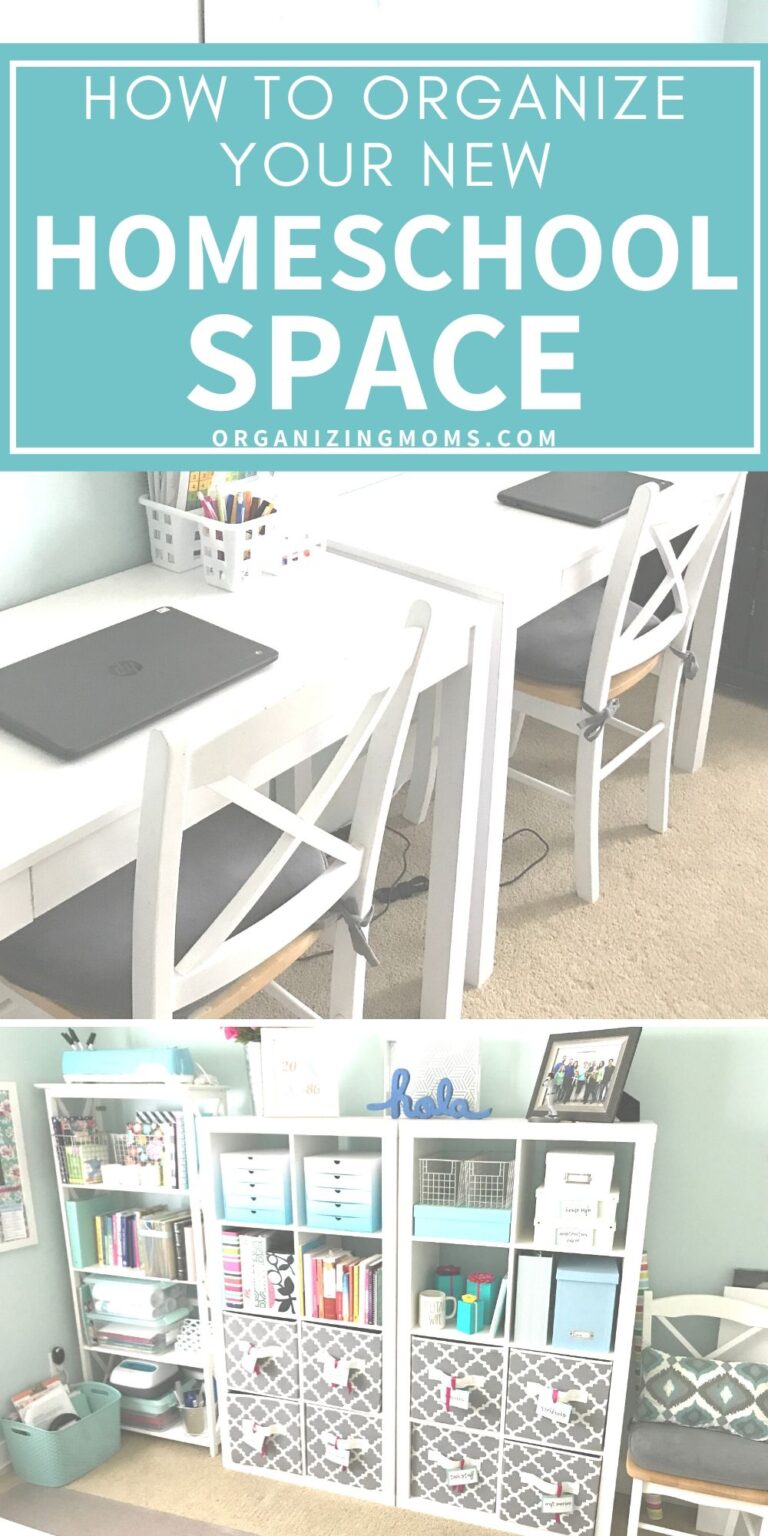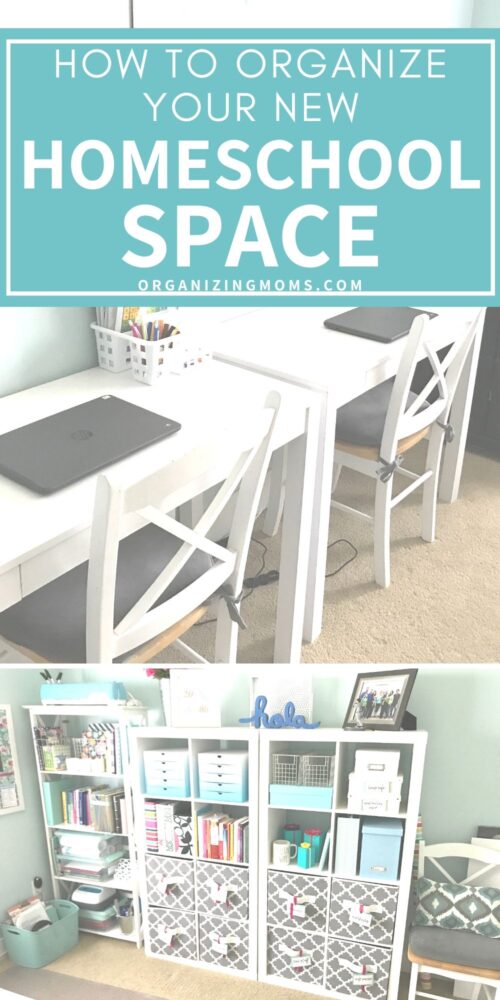 Like many of you, we suddenly started homeschooling when the schools shut down in our state.
It wasn't something we planned to do, but it's something we were happy to do for the safety of our family, our friends, and our community.
Thankfully, I have been working at home for years, and I had a dedicated home office workspace already set up.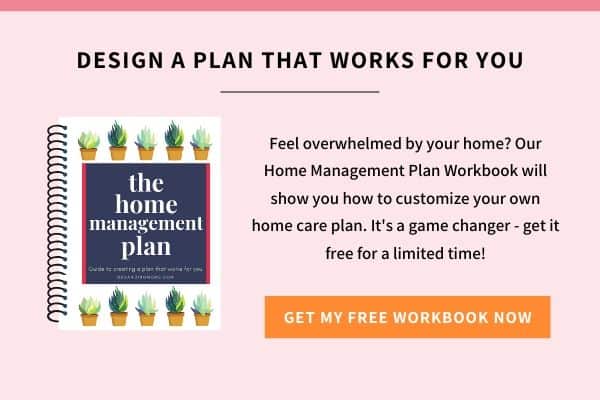 But as I read more about homeschooling, I learned that having a dedicated homeschool room really isn't necessary.
In fact, many families that have been homeschooling for years prefer not to have a dedicated homeschool room.
For us, however, a homeschool room/home office has been the best solution.
It allows me to keep working while also being available to help the kids.
Related: Inexpensive Homeschool Desks You Can Find Online
Homeschool Room Ideas – How to Get Organized
Because our homeschool room is also my home office, we our homeschool room setup depended on my being able to work alongside my children.
Obviously, you might not need or want a workspace for yourself in your homeschool room.
But I hope this article will give you some ideas and inspiration so you can set up a homeschool classroom that works for your own family's needs.
Workspaces in the Homeschool Room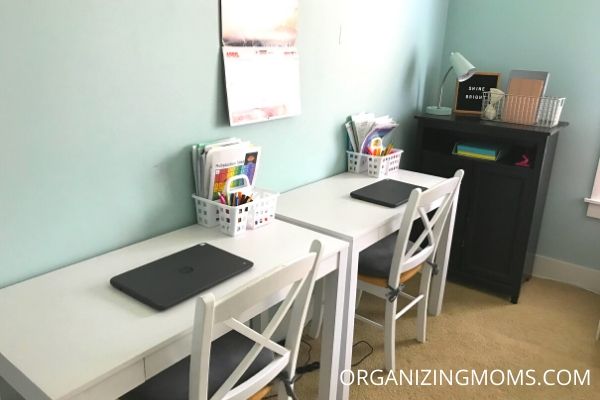 When we first started homeschooling, we used an old kitchen table that was small enough to drag into my home office.
But we quickly realized that it was not going to work.
Anytime one child would erase or move suddenly, the whole table would shake. A lot.
After a lot of trial and error, we finally decided to use these inexpensive student desks. You can also find them on Amazon here.
We used chairs we already had for our kitchen table (you can find the chairs here), and then we added some seat cushions from Costco (find similar cushions on Amazon here).
I like that they're small, yet big enough for a laptop and some supplies.
Related: Practical Homeschool Desk Ideas for This Year
Right behind the student desks, I set up my work desk so I can see what the kids are working on.
In our previous setup, the kids were always interested in what I was doing on my screen, so this setup helped eliminate that extra distraction!
Read: Tips for Working at Home with Kids
Homeschool Supplies Organization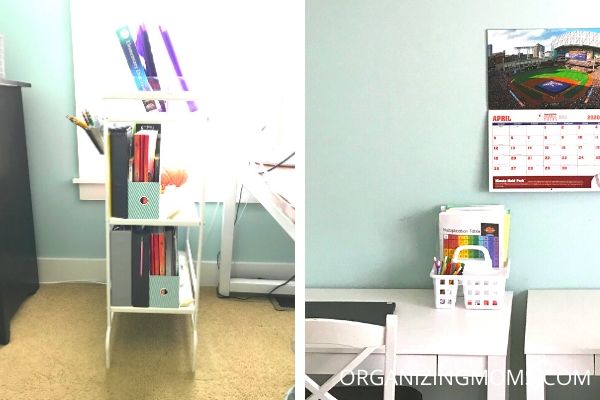 To start out, we just used little caddies from Dollar Tree to hold pencils, markers, and a few important papers that the kids need to reference to do their assignments.
And that seems to be enough!
We put their books, workbooks, and binders on a shelf cart so they can grab what they need.
A lot of the materials the kids need for their work is available to them via Google Classroom, so they haven't needed to use their print materials nearly as much as I thought they would.
Related: 7 Ways to Help Your Homeschooler Get Organized
Internet Connectivity for Homeschooling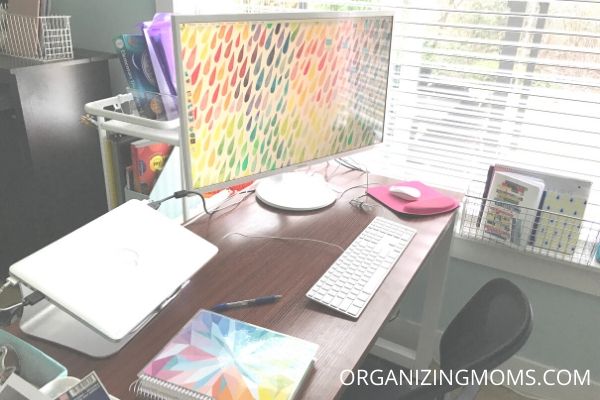 Now that there are four of us using the internet at once, we were concerned that our connection would slow down.
Luckily our house has some ethernet plug-ins, so we try to use those as often as we can.
For the most part, I do almost all of my online work using an ethernet connection, and I'm working on setting up our homeschool room so that the kids can use the ethernet too.
But so far, we haven't had too many issues!
Other Homeschool Room Setup Considerations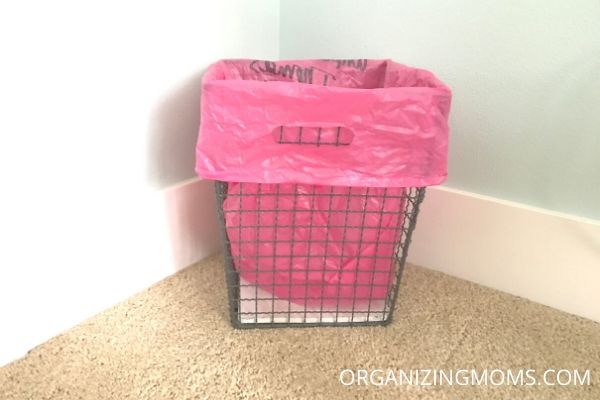 We've tried to make everything that the kids need for their schoolwork easy to access.
Any time there's a disruption based on our setup, we try to brainstorm ways to eliminate that disruption in the future.
Here's some simple things we've done with our setup that have helped us stay focused:
We put a trashcan right next to the student desks.
We put a small pencil sharpener in the desk caddies.
The boys put a calendar above their workspace so they could keep track of the date!
When someone is watching a video lesson, they wear their headphones so they don't distract everyone else.
Each day I make a checklist for the kids. Their teacher allows them to play the Prodigy math game as part of their learning, and the kids love it! But they know that they need to finish their checklists before playing the learning games like Prodigy.
Record Keeping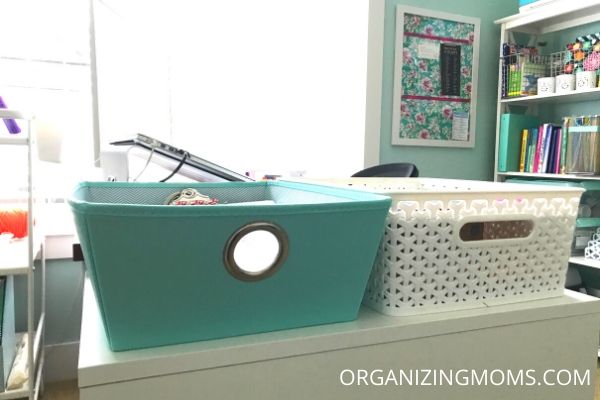 Because our kids are still enrolled in their school, their teachers are keeping records of all of the things they've covered.
I'm also saving all of their written work and checklists in a separate inbox just in case I ever need to document the subjects covered/work they did while the kids were doing school at home with me.
Homeschooling in the Future?
At this point (April 2020), I'm not sure what the future holds for us as far as how our kids will be learning.
As we continue to learn at home, I'm sure we'll also be learning more about how to set up the best learning environments for our kids.
For now, we're taking it day by day and doing the best we can!
More Home Office Organization Ideas
New to this community? Start here, friend!